Chocolate Peanut Butter Macarons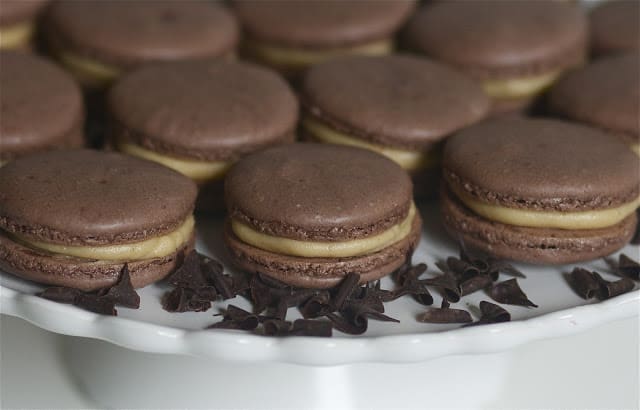 Yes I know I just posted macarons last week, but I must admit that I'm a bit obsessed! I think the main reason is that every time I've tried to make them since discovering this recipe they've turned out so well! And I don't want to jinx myself- but I'm kinda thinking these "delicate" cookies really aren't as scary hard as I always thought. I mean this could easily all backfire the next time I make them, but I've now made versions of this recipe three times, and each was better than the last. Is there a big hoax out there to make us think macarons are harder than they look? Maybe? :)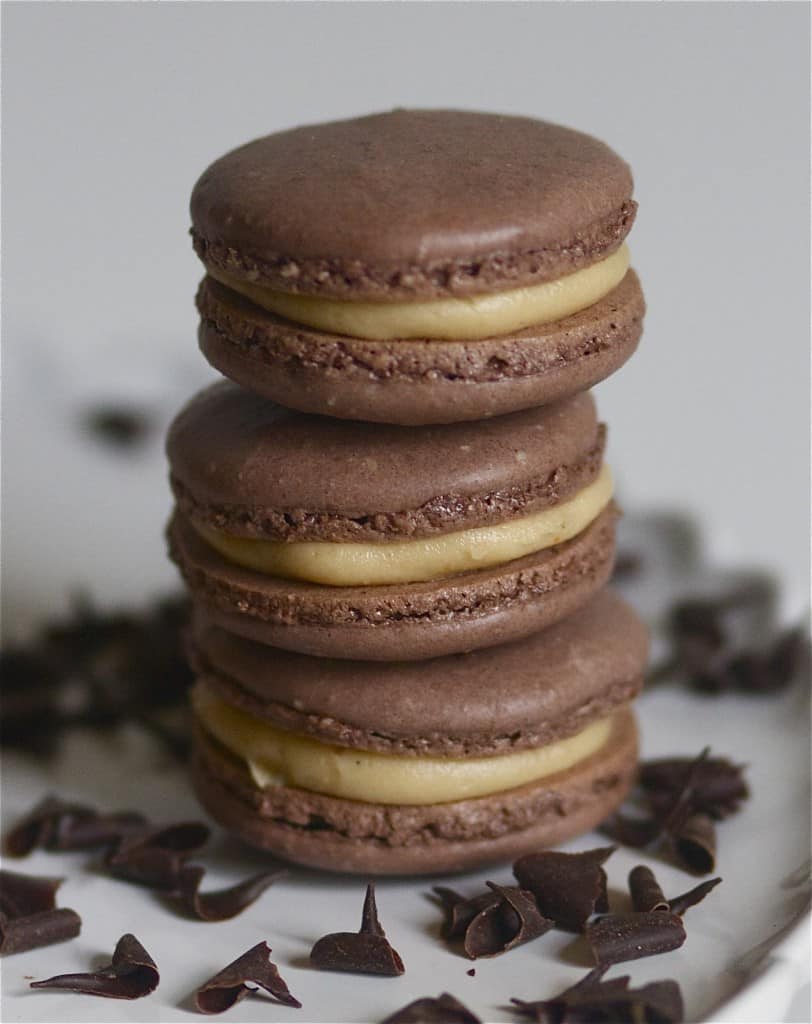 This recipe is almost to identical to the wonderful Vanilla Macarons I posted last week. The only change is- you replace 2 tablespoons of the powdered sugar with cocoa powder and nix the vanilla. Otherwise it's the same simple and quick recipe. (Except the aging the egg part- which I did try this time and though I noticed a few minor differences, I don't think its totally necessary.) For the filling, I just swirled some peanut butter into leftover vanilla butter cream. (Did you know that you can keep frosting in the fridge for a long time? I just recently discovered that and now have a frosting bank accumulating!)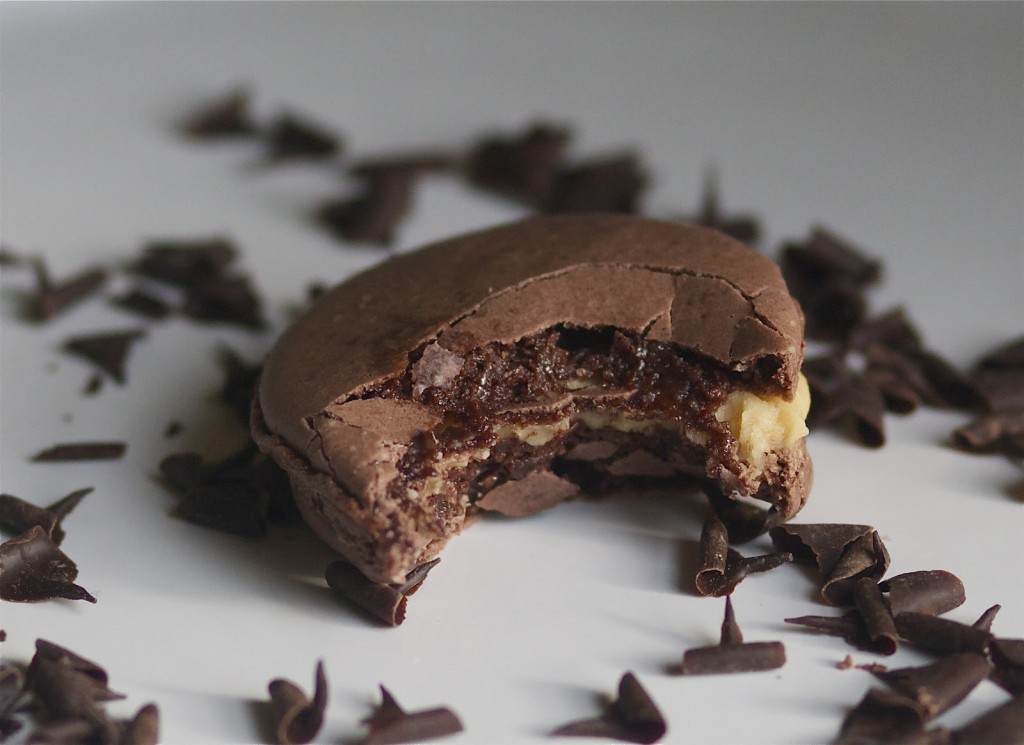 Two last things: Thank you all so much for the positive feedback on the my first video tutorial. I am going to try to learn a bit more about editing and camera work so this can be a regular thing. I really appreciate the support.:)
Also- tune in this Sunday to the CBS Sunday Morning show. Today I'm filming a segment to be a part of the "Oreo's 100th Birthday" portion of the show that airs in a couple of days! I'm teaching them how to make Homemade Oreos! Woohoo!!
Chocolate Peanut Butter Macarons
Ingredients
110 grams blanched slivered almonds or ground almond flour
200 grams confectioners sugar minus 2 Tablespoons
2 Tablespoons unsweetened cocoa powder, dutch process is best
100 grams egg whites, from 3 eggs, separated 24 hours in advance or microwaved for 8 seconds
50 grams granulated sugar
vanilla buttercream
2 tablespoons of creamy peanut butter
Instructions
Pulse the almonds/almond flour and cocoa powder, and confectioner's sugar several times in your food processor until thoroughly mixed. Place egg whites in a clean bowl and beat using mixers (or whisk) until soft peaks form. Add the sugar and turn the mixer to high, whisking until you have a glossy meringue with stiff peaks.
Fold the dry ingredients into the egg whites gently, briskly at first to break up the meringue a bit, until thoroughly mixed. (It's important you don't over mix the batter, but it should be well combined and is supposed to "ribbon" off the the spatula when lifted from the bowl.)
Transfer the batter to a piping bag fitted with a large round tip and pipe rounds of 1.5 inches along two parchment or silicon-lined baking sheets (leaving ample space between each.) Let sit one hour at room temperature to develop a shell.
Heat oven to 300. Bake for 10-12 minutes. Cool completely and remove from the pan.
To make filling, simply spoon the peanut butter into vanilla buttercream and stir until combined.
Match up like sized cookies and pipe with buttercream or other filling of choice. Helen says they taste even better when stored in the fridge for a couple days and I agree!
Nutrition Information:
Serving Size:

1 grams
Amount Per Serving:
Unsaturated Fat:

0g
Recipe adapted from Confections of a Foodie Bride via Tartelette