Chocolate "Rose" Cupcakes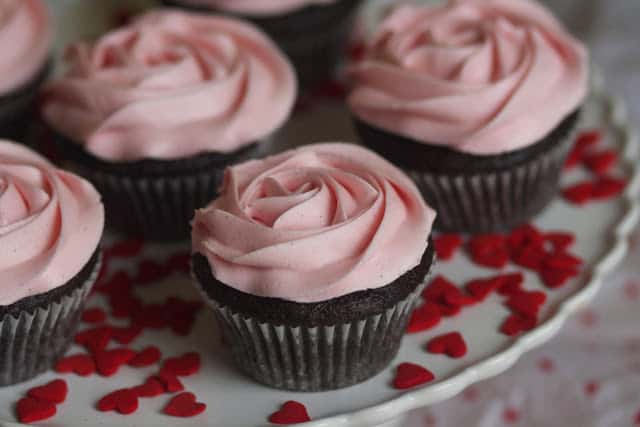 Ok- confession: I totally watch The Bachelor. I have been for a couple years now and I love it in that "this show is so awful that I actually find it entertatining" sort of way. Last Monday my dear friend
Natalie
was in town and came over to my sister Nadia's for a little viewing party. Nat is known for the hillarious Bachelor commetaries she writes on her blog, and we were in near hysterics the whole time. I seriously wish we could all watch together every week!
For the occasion (and since these are perfect for V-day,) I thought I'd make some "rose" cupcakes. I dorkily asked all the girls if they would "please accept this rose," and they of course accepted. (Maybe I gave myself two roses so what?)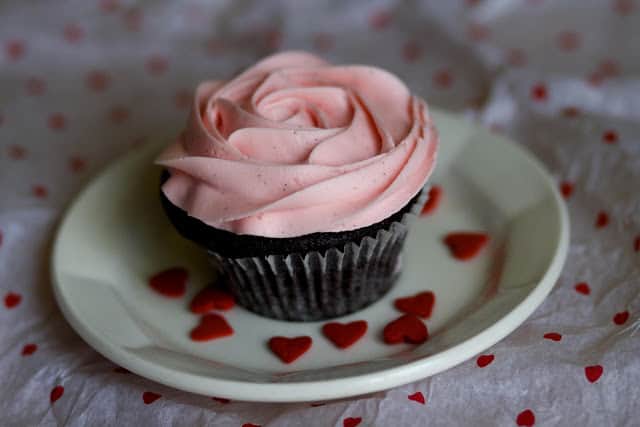 For these cupcakes I used my favorite One-bowl chocolate cupcake and vanilla bean buttercream. I only had a couple hours to whip these up so I wanted something easy. To pipe on the roses, I used a Large #1 Wilton star tip and starting in the center of the cupcake- piped in a circular motion until I got my pretty pink rose. It really takes about 5 seconds and looks so pretty! Everyone was very impressed with my "roses" (which I guess are techinally called rosettes.) Either way- they sure make for a sweet love-inspired treat.
PS- I am calling now that Ben is going to choose the annoying model in the end. I hate her but I think he's just that dumb. :)
Chocolate "Rose" Cupcakes
Ingredients
3/4 cup unsweetened cocoa powder
1 1/2 cups all-purpose flour
1 1/2 cups sugar
1 1/2 teaspoons baking soda
3/4 teaspoon baking powder
3/4 teaspoon salt
2 large eggs
3/4 cup warm water
3/4 cup buttermilk
3 tablespoons safflower oil, canola is also fine
1 teaspoon pure vanilla extract
For Frosting
2 sticks of butter softened
2 1/2 cups powdered sugar
2 tsp. vanilla bean paste or a vanilla bean split length wise, lately I'm all about the paste though- so easy.
2-6 tablespoons of milk or cream
Instructions
Preheat oven to 350 degrees. Line standard muffin tins with paper liners; set aside. Sift together cocoa powder, flour, sugar, baking soda, baking powder, and salt into a large bowl. Add eggs, warm water, buttermilk, oil, and vanilla, and mix until smooth, about 3 minutes. Scrape down the sides and bottom of bowl to assure batter is well mixed.
Divide batter evenly among muffin cups, filling each 2/3 full. Bake until tops spring back when touched, about 20 minutes, rotating pan once if needed. Transfer to a wire rack; let cool completely.
For Frosting
Beat Butter and scraped out vanilla bean with an electric mixer until pale and fluffy, (about 3 minutes.) Add the powdered sugar and beat well until mixture is thick and almost paste like. Add extract and 1 tablespoon of milk/cream. Beat well. Slowly add more milk 1 spoon at a time if you think your frosting is too thick or dry. Frost cooled cupcakes as desired.
Nutrition Information:
Yield:

18
Serving Size:

1 grams
Amount Per Serving:
Unsaturated Fat:

0g
Cupcake Recipe from Martha Stewart