Cinnamon Brown Sugar Pop-tarts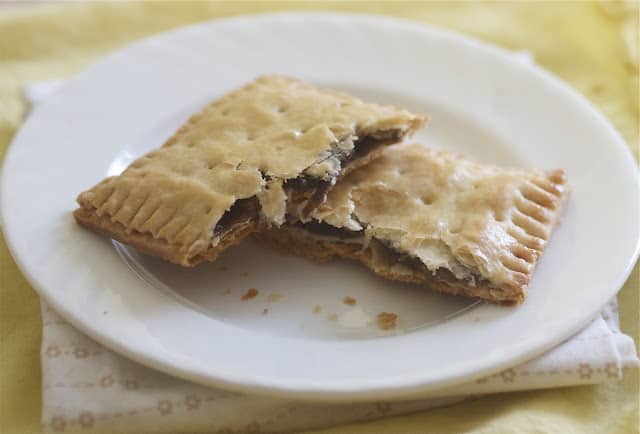 As I've mentioned before, my Mom didn't let us have junk food in the house. And I mean EVER. I think once we were allowed Cinnamon Toast Crunch to have as dessert but that's pretty much it. In hindsight, I'm so thankful for her diligence, but at the time I was pretty bummed about it. I remember diving for the junk food every time I was at a friend's house to the point of probably looking underfed. Pop-tarts were one of my most exciting finds. We'd had the health-food store version before, but they couldn't quite compare. Lucky for me, once I hit 17 I became a bit of a health nut myself and never really missed them.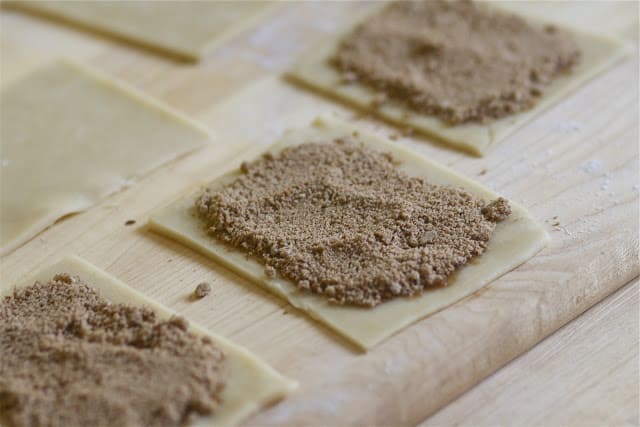 All these years later, I still haven't forgotten how good those Cinnamon Brown Sugar Pop-tarts were. Right out of the toaster, they were pretty much heaven. Kinda like a pocket cinnamon roll with the brown sugar all warm and gooey on the inside and the crust all buttery and crisp. So, when I decided I wanted to try to make homemade pop-tarts again last week, I knew this was the one.
These pop-tarts are widely adaptable, easy, and so satisfying. I opted to go without a glaze since the insides were pretty sugary, but of course a glaze would only make them more delicious. I used my favorite butter pie crust which always puffs and browns so beautifully. I can't wait to try them with other fruit fillings, nutella and numerous other things!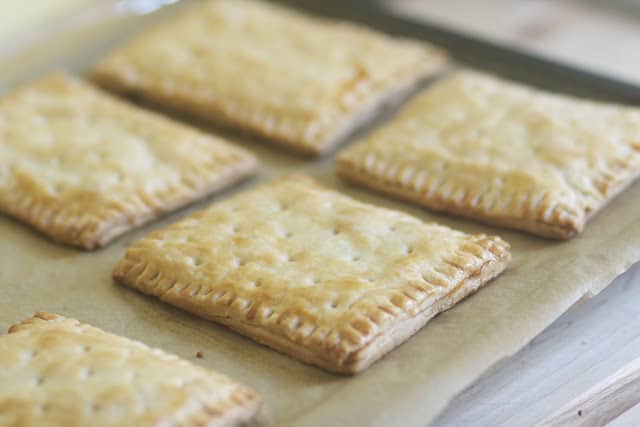 Cinnamon Brown Sugar Pop-tarts
Ingredients
1 recipe pie crust
1/2 cup 3 3/4 ounces brown sugar
1 to 1 1/2 teaspoons ground cinnamon, to taste
4 teaspoons all-purpose flour
1 large egg, to brush on pastry before filling
Instructions
If the dough has been chilled, remove it from the refrigerator and allow it to soften and become workable, about 15 to 30 minutes. Place one piece on a lightly floured work surface, and roll it
into a rectangle about 1/8? thick, large enough that you can trim it to an even 9? x 12? Repeat with the second piece of dough. Set trimmings aside. Cut each piece of dough into thirds – you'll form nine 3? x 4? rectangles.
Beat the additional egg and brush it over the entire surface of the first dough. This will be the "inside" of the tart; the egg is to help glue the lid on. Place a heaping tablespoon of filling into the center of each rectangle, keeping a bare 1/2-inch perimeter around it. Place a second rectangle of dough atop the first, using your fingertips to press firmly around the pocket of filling, sealing the dough well on all sides. Press the tines of a fork all around the edge of the rectangle. Repeat with remaining tarts.
Gently place the tarts on a lightly greased or parchment-lined baking sheet. Prick the top of each tart multiple times with a fork; you want to make sure steam can escape, or the tarts will become billowy pillows rather than flat toaster pastries. Brush tops with extra egg wash. Refrigerate the tarts (they don't need to be covered) for 30 minutes, while you preheat your oven to 350°F.
Remove tarts from the fridge and bake for 20-25 minutes or until they're golden brown. Cool pan on rack.
Nutrition Information:
Serving Size:

1 grams
Amount Per Serving:
Unsaturated Fat:

0g
Filling/Assembly from Smitten Kitchen