Cinnamon-filled Banana Bread Scones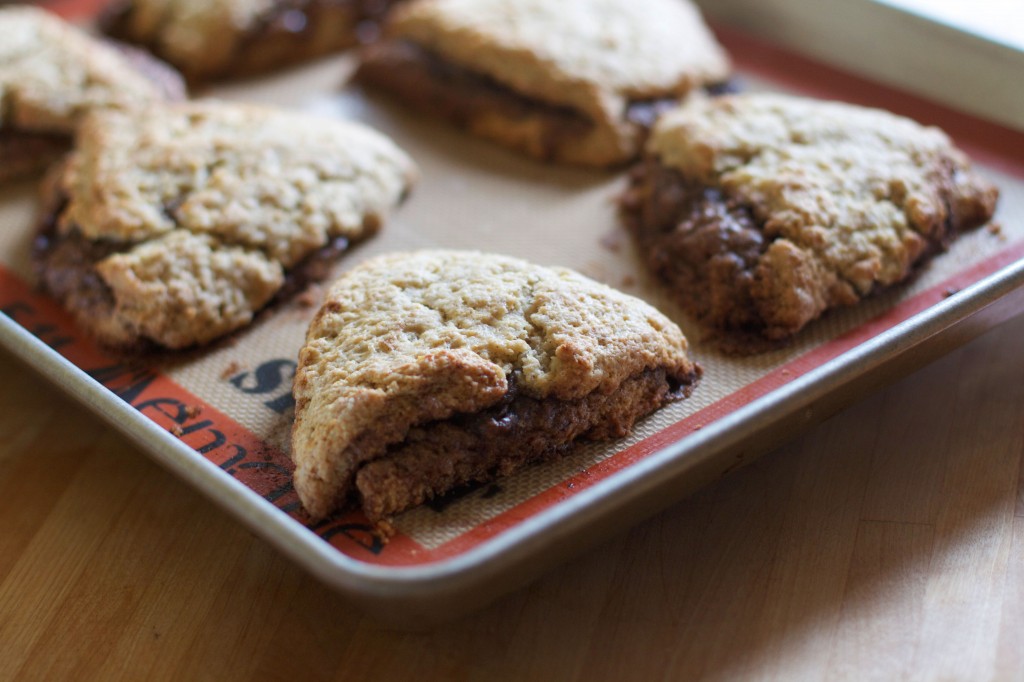 Though I may not be the biggest fan of breakfast, (I'm getting better,) I've never failed to express my love for brunch. I feel like loving brunch is a must while living in New York- as "brunching" on the weekends is something we New Yorkers can't get enough of. Unlimited mimosas or bloody marys? Eggs Benedict? All before 1 PM? Yes please! Though I can't always get behind eating the moment I wake up, I'm always into eating around noon.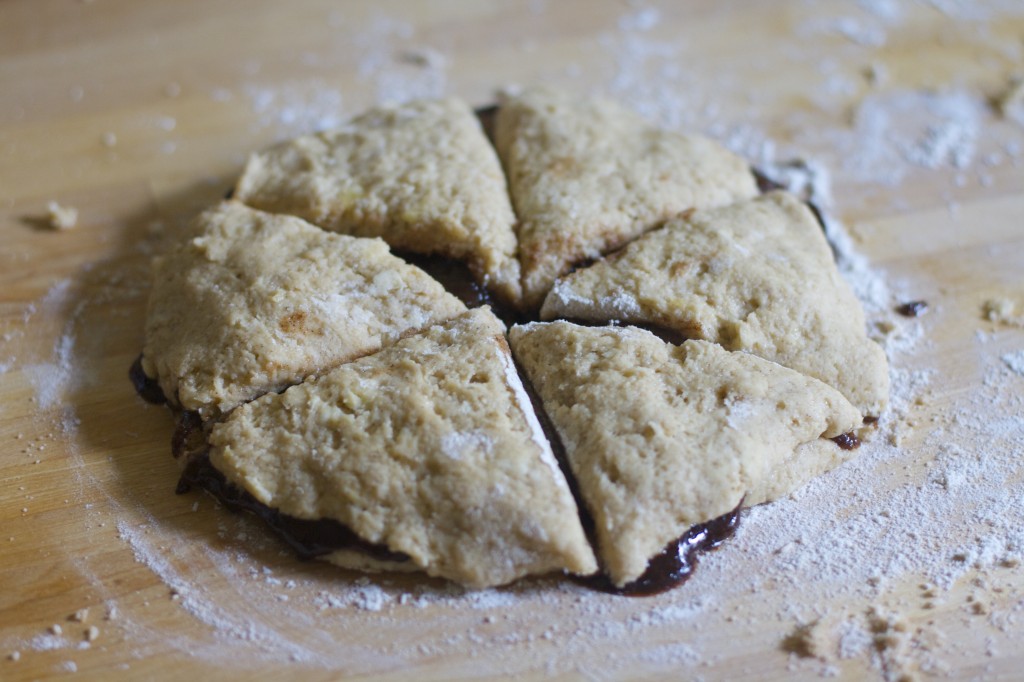 I found myself pretty hungry a couple weekends ago- at noon- with nothing in mind to bake, but a bunch of ripe bananas dying to be used. I had the idea for banana scones, wondering if I could find a good recipe fast enough to be eating them within minutes. Luckily for me, I discovered what seemed to be a lovely recipe from Heather Christo Cooks. I made a few tweaks, and decided that a gooey cinnamon filling sounded kinda amazing, so added that as well.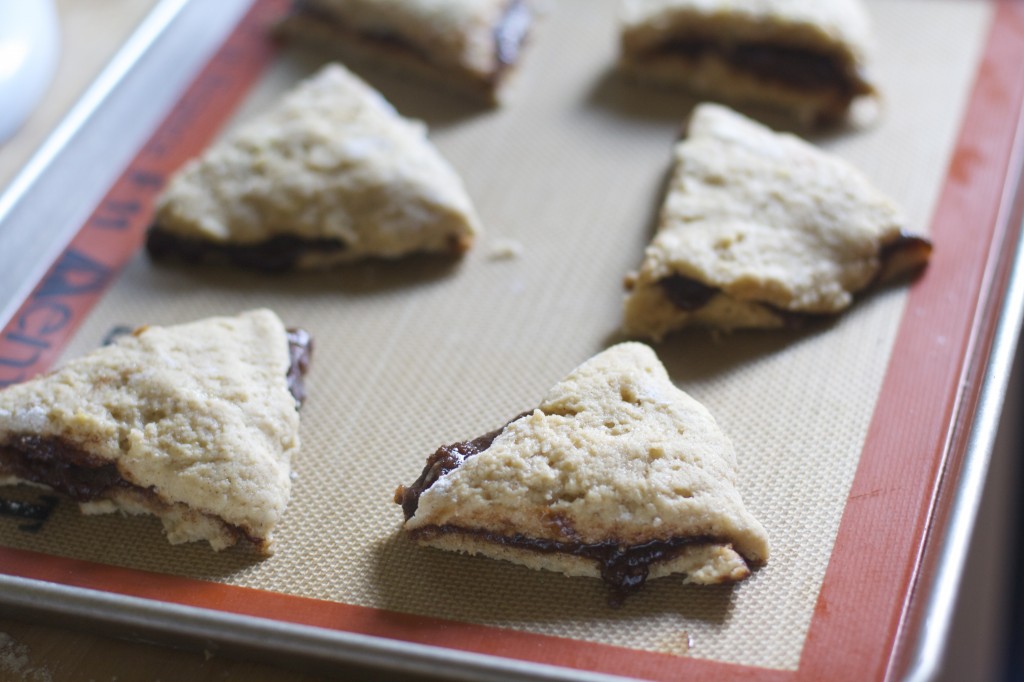 I made my scones pretty huge, and actually ended up cutting them into smaller wedges later, so I could freeze them for perfect snack-sized portions. As you may have noticed- I'm really into freezing leftovers for times that I can't give them away. It works great! (I'm planning on making these again for Easter brunch, and I doubt I'll be having any leftovers that time.)
The bananas keep the texture of these scones super soft and tender, not at all like stereotypical "rock hard" scones. They were just as good right out of the oven as they were a few days later thawed from the freezer! Plus- Andy (who has tried everything I've ever made) claimed these scones were his all-time favorite…that's saying something right?
PS- I'm all signed up and ready for my macaron baking class in Paris! I'll be learning the art of macaron-age in just a short week! I'm so excited to learn a lot and share it all with you when I get back!!
Cinnamon-filled Banana Bread Scones
Ingredients
Scones:
2 cups flour
1/2 cup sugar
1 teaspoon baking powder
1/2 teaspoon baking soda
1/2 teaspoon salt
1/2 teaspoon cinnamon
8 tablespoons cold butter, cut into small pieces
1/2 cup mashed banana
3 T buttermilk
1 egg, beaten
Filling:
3 tablespoons butter- melted
2/3 cup brown sugar
1 1/2 tablespoons ground cinnamon
Instructions
Preheat the oven to 400 degrees, and prepare a sheet pan with a silpat or parchment paper.
In the bowl of a food processor, combine the dry ingredients. Add in the cold butter and pulse until crumbly. (Butter pieces should be pea-sized)
In a glass measuring cup combine the buttermilk, banana and egg and mix them together well with a fork. Add the wet ingredients to the dry ingredients and pulse in short bursts until the dough comes together.
Turn dough out onto a floured surface and gently form into two equal discs. Spread the cinnamon mixture onto one disk, and place the other on top.
Carefully cut the dough into wedges and transfer to cookie sheet.
Bake the scones at 400 degrees for 10-12 minutes. Enjoy warm.
For filling:
Stir together the melted butter, brown sugar and cinnamon in a small bowl.
Nutrition Information:
Yield:

6
Serving Size:

1 grams
Amount Per Serving:
Unsaturated Fat:

0g