Cinnamon Maple Gooey Butter Cake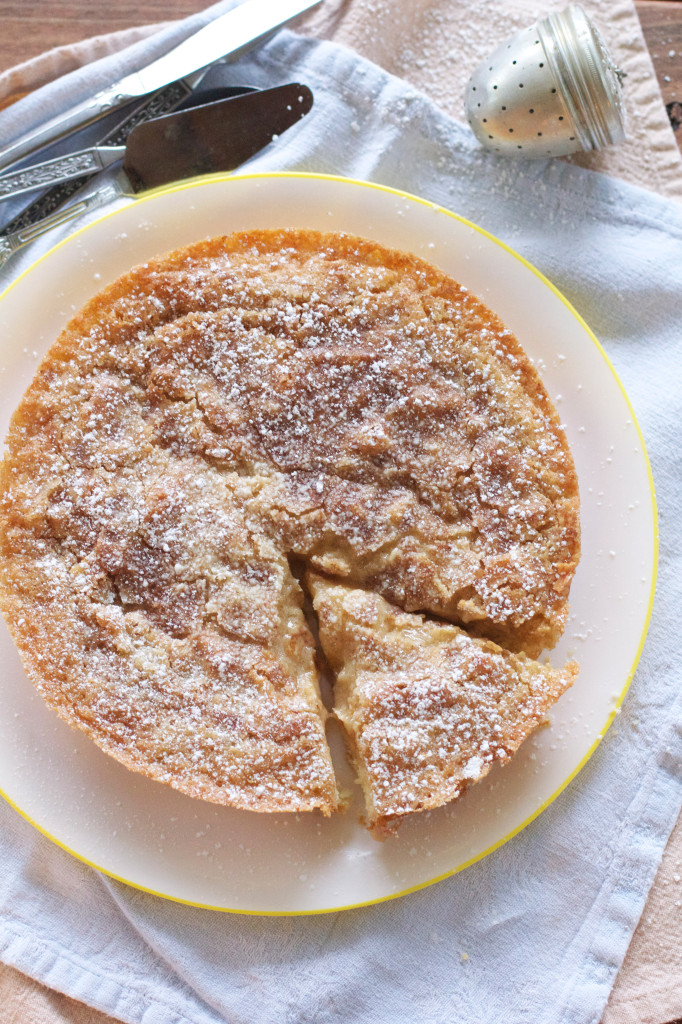 There are many great things about visiting Andy's family, but having a Mother-in-law who likes to cook and bake as much as I do really is the best. Every time we visit I always get a couple amazing blog posts out of it due to her fully stocked kitchen and a large amount of people with a sweet tooth. (It's way more fun to bake for a crowd vs. just the two of us don't you think?) Not only that, but they have the most glorious back porch full of light which makes food photography a breeze. Oh to have more than one dinky window with natural light! Anyway back to the subject at hand…
This cake. This gooey, doughy, cinnamon-sugary delight exceeded all my epectiations. Though really, when it's called gooey butter cake you know its going to be amazing right?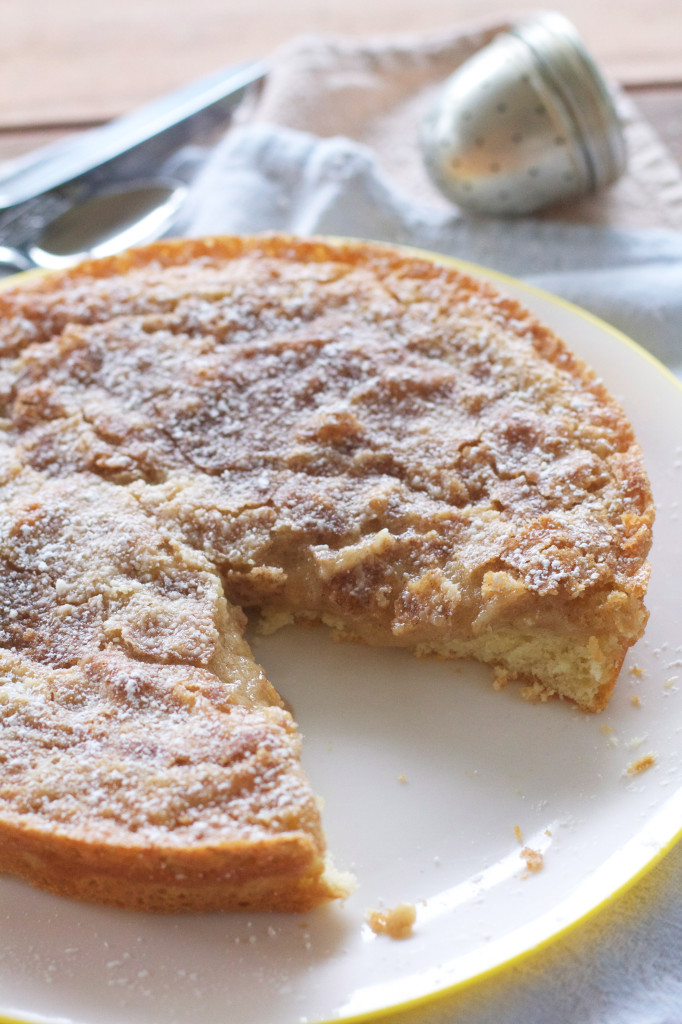 The base is a yeasted dough, which was so interesting in a cake, but added a really wonderful flavor and texture. After proofing, a custard-like dough is spread on top. I made mine with maple syrup and cinnamon which added an amazing touch. The finished product goes something like this: crispy, creme bruleé-esque topping, gooey cinnamon flavored buttery custard, and a soft and tender cake on the bottom. In short- unbeleiveable.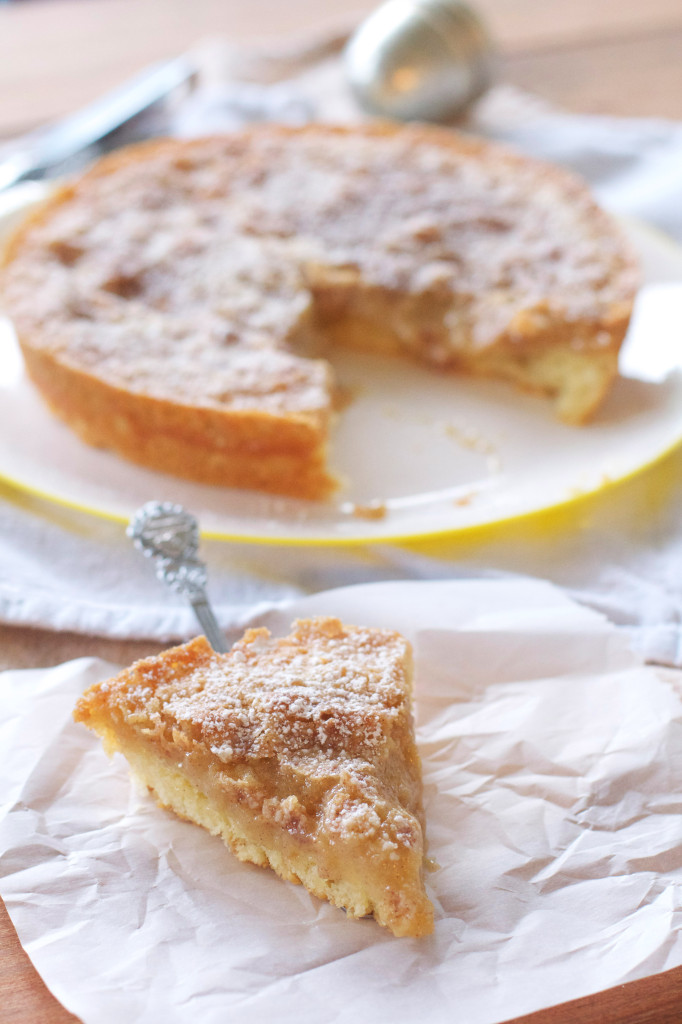 We all agreed this tasted like a cinnamon roll, but with way more of the gooey stuff that everyone pines for. The recipe makes two small cakes and I tried two different versions, one in a round pan sliced into wedges, and another in an 8×8 pan cut into squares. I really like it in wedges- each slice got an equal amount of cake and gooey goodness. Oh man I have been dreaming of this ever since I first tried it! I can't wait to try other flavor combos. Pumpkin Gooey Butter Cake anyone?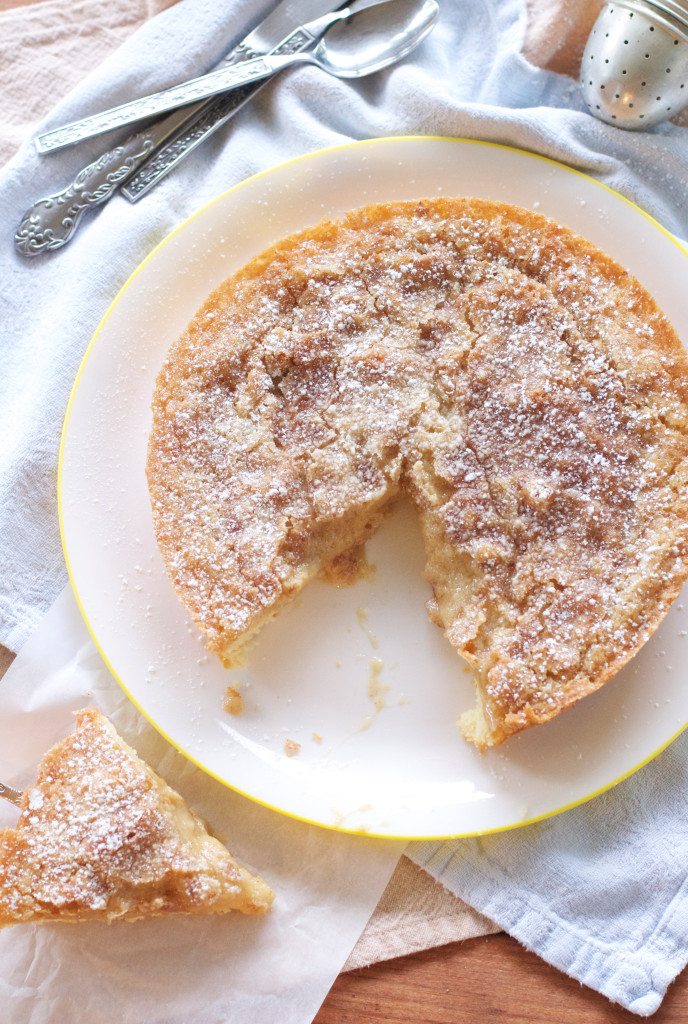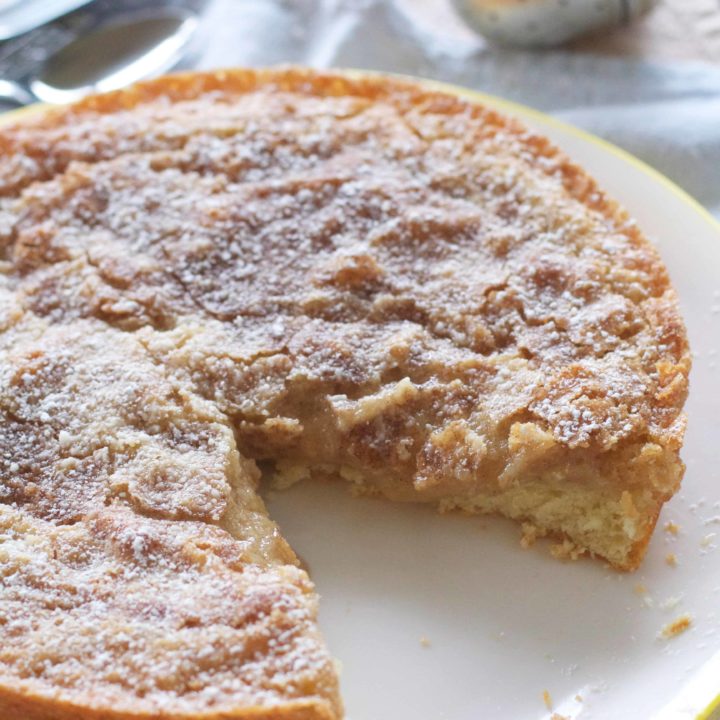 Cinnamon Maple Gooey Butter Cake
Yield: 2 -8 or 9 inch cakes
Ingredients
For the dough:
6 Tablespoons unsalted butter, at room temperature
3 Tablespoons granulated sugar
3/4 teaspoon salt
1 egg
1 3/4 cups all-purpose flour
2 teaspoons active dry yeast
1/4 cup whole milk- warmed to about 110F
For the custard-layer
3/4 cup butter, softened
1 1/2 cups granulated sugar
1/2 teaspoon salt
1/4 cup pure maple syrup
1 1/2 teaspoons vanilla extract
2 eggs, at room temperature
1/4 cup whole milk, at room temperature
1/2 teaspoon ground cinnamon plus more for sprinkling
1 cup cake flour*
powdered sugar, for dusting
Instructions
Butter 2 - 8 or 9 inch round cake pans. Set aside.
For the yeasted dough:
In the bowl of a stand mixer fitted with a paddle attachment, beat the 6 Tablespoons butter, 3 Tablespoons sugar and 3/4 teaspoon salt on medium speed until light and fluffy, about 3 minutes.
Add the egg and scrape the bowl down well.
Stir together the yeast and flour, and add in three batches alternating with the warm milk- starting and ending with the flour mixture. In between each addition scrape the bowl down, making sure the yeast is well-incorporated into the dough. After the last bit of the flour mixture has been added, mix for another few minutes, or until dough is smooth and elastic.
Divide the dough in two and spread each portion into the bottom of the prepared pans one at a time. Use your fingers to press and stretch the dough into the bottom of each pan.
Cover loosely with plastic wrap and let proof for 2 hours. (Dough will be puffy but not doubled like normal yeast dough.)
For the Custard:
When the dough is almost done proofing, cream together the 3/4 cup of butter, 1 1/2 cups sugar, 1/2 teaspoon salt, and maple syrup. Add the vanilla and eggs, (one at a time,) until smooth. Add the milk, cinnamon and flour, and beat on low until smooth and well-combined.
Cover the proofed dough with dollops of the custard batter and smooth with the back of a spoon. Sprinkle with cinnamon and bake for 20-25 minutes at 350F or until golden and crisp.
When cakes have cooled slightly sprinkle with powdered sugar. Serve warm or room temperature.
Notes
*If you don't have the cup of cake flour, use all purpose, but replace a tablespoon of it with cornstarch and whisk the mixture together. It works great! Recipe adapted from: Sweet State of Mine
Nutrition Information:
Yield: 2 Serving Size: 1 grams
Amount Per Serving: Unsaturated Fat: 0g