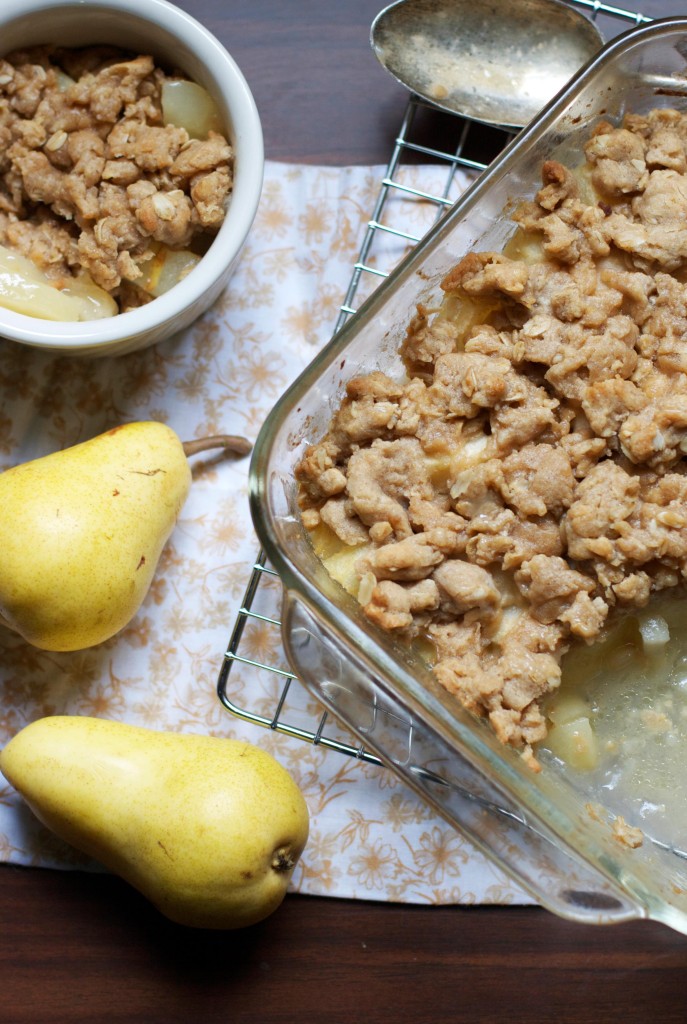 Dear Pears,
I'm really and truly sorry, but when it comes to fall baking- I generally neglect you. It's not that I don't love you, I mean you're actually one of my favorite fruits of all time, but you just get a bit overshadowed by your sister the apple the ever so popular pumpkin. I hope that you can forgive me if I promise to include you in at least a couple delicious recipes this fall starting with this crumble.
Love, Audra
Ok phew, I had to get that apology out of my system. I have been feeling so guilty about it and I really wanted to start this post with a clean slate. (Also yes pregnancy has made me a bit nuts.)
I do love pears, so why do I always forget about them? Luckily I picked up a huge bag from Trader Joes, and have been dreaming of something to make with them all week. The inspiration for this deliciousness came from none other than Shake Shack, my and most of NYC's favorite burger and custard joint. One of their October flavors is "Cinnamon Pear Cobbler" and it is so darn good I just needed to make something similar. (Though I never know what makes something a crisp, cobbler or crumble- anyone know? This seemed more crumble-like than cobbler like to me.)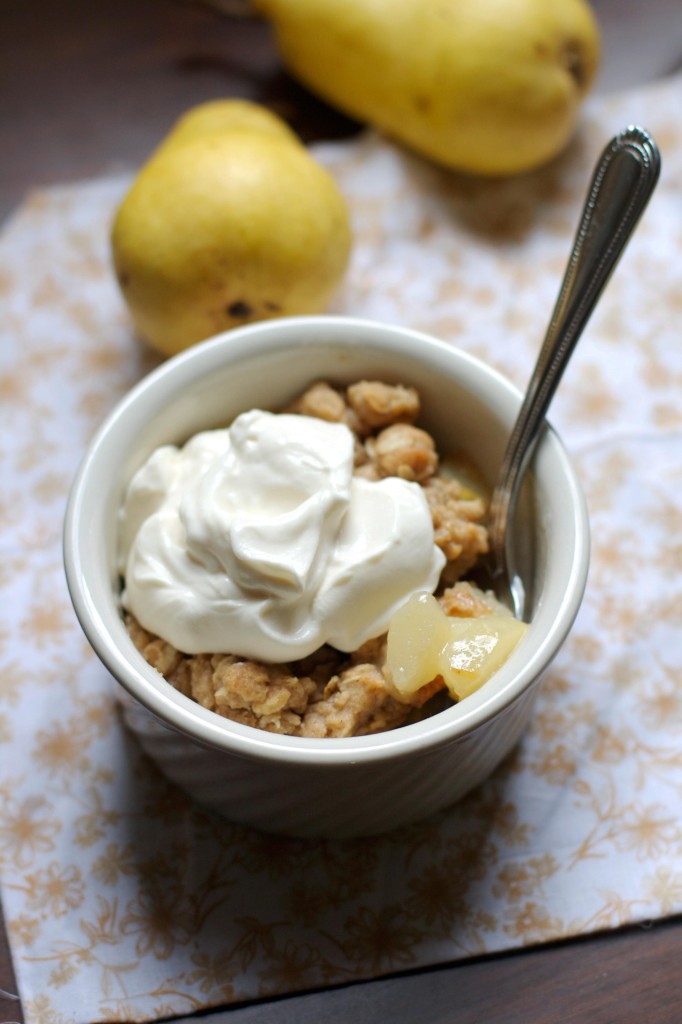 Because I always look for reasons to eat dessert for breakfast, I aimed to make something not overly sweet that could be enjoyed with a scoop of greek yogurt instead of ice cream. (Though ice cream would obviously be amazing as well.) I had this for breakfast yesterday and then also for a late night snack. Andy seemed to have the same ideas as me considering the entire pan was polished off in less than 24 hours. I mean we have juicy pears tossed with ginger and cinnamon and the most crispy, crumbly topping ever- how can you go wrong?
(I made this very *non* sweet so I could rationalize eating it all day long, but I indicate in the the recipe notes how you can adjust this to your liking.) Have a great weekend!!!
Ingredients
5 pears*, peeled and chopped into chunks
1 teaspoon ground ginger
1/2 teaspoon cinnamon
1 tablespoon sugar**
For the topping:
1 1/2 cups all-purpose flour
1/2 cup oats
1/3 cup brown sugar, I used dark, either is fine.
1/3 cup pure maple syrup
1/2 teaspoon cinnamon
1 stick of butter, melted
Instructions
Preheat over to 350F.
Toss pears with ginger, cinnamon and sugar and place in an 8x8 pan (or something relatively similar in size.)
To make the topping, stir together the flour, oats, brown sugar, cinnamon, maple syrup and butter. Mixture will become moist and dough-like.
Use your hands to break it apart and sprinkle evenly over the pears.
Bake for 30 minutes or until the topping is crispy and golden. Serve warm with ice cream or greek yogurt
Notes
*Ripe not-so-juicy pears will totally work for this. If your pears are on the juicier side though, toss with a tablespoon of flour along with the other ingredients before putting them in the pan. **I made this on the very not-sweet side so I could eat it for breakfast! Add up to 2/3 cup of sugar if you want this to be more dessert-like. Recipe loosely adapted from: The Pioneer Woman
Nutrition Information:
Yield:

1
Serving Size:

1 grams
Amount Per Serving:
Unsaturated Fat:

0g