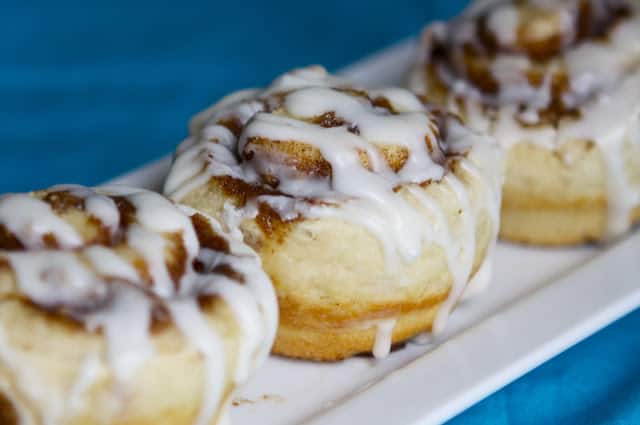 Yesterday morning I woke up craving Cinnamon Rolls. Specifically, a Cinnabon from the stand in my hometown food court. I have many teenage memories of strolling by that counter during my break from work at the Gap- hoping it was a day they gave out free samples. I also now remember going on a field trip to Cinnabon as a 10-year old Girl Scout during their after hours. I think we actually got to go back there and help make some and then take a whole box home……that was the best field trip ever……. Anyway! Yesterday I wanted these but making them really wasn't an option. Even if I could find their recipe online, it would have required me to use yeast, prep the dough and wait for about 4 hours.
Since I'm all for instant gratification, I went in search of alternatives. Cinnamon Roll Scones? Cinnamon Bread maybe? There was lots of interesting recipes out there, but nothing that seemed like exactly what I wanted. Until I found this baby. It seemed too good to be true! Cinnamon Roll Muffins that I had all the ingredients for, that didn't require any yeast and could be made and on my plate in 45 minutes? It was Recipe Kismet!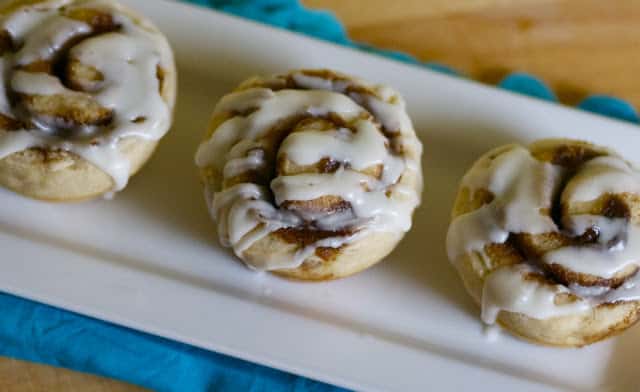 These adorable muffins were so easy and fun to make! I loved rolling the dough and cutting out the perfect individual rolls. They baked up so quickly and perfectly and within minutes my whole apartment was smelling just like the food court! (The Cinnabon part I mean… no Wong's Wok or Sbarro.) My sister who lives in the apartment next door actually texted that she could smell them! And they tasted great too. Of course making the dough using yeast is always a better option, but considering how fast these were- I was thrilled with the results. Soft- doughy-cinnamony sweet mufiin-esque cinnamon rolls. No food courts required.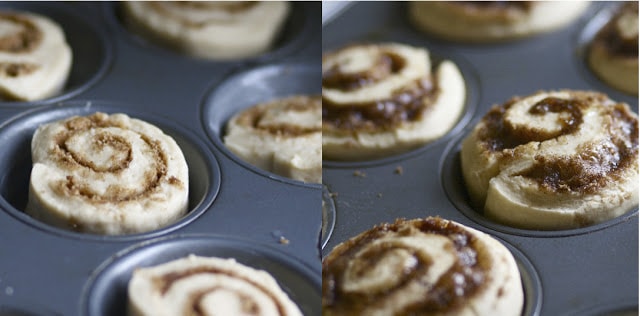 Ingredients
1 cup buttermilk
1/2 cup brown sugar
1 tsp. baking soda
1/2 tsp. salt
1/2 tsp. vanilla
1 egg
3 cups flour plus more for dusting
Filling:
2 tbsp. butter, room temperature
2/3 cups brown sugar
3/4 tsp. ground cinnamon
Icing:
1 cup powdered sugar
2-3 tbsp. milk or cream
Instructions
Preheat oven to 375° F.
Measure the brown sugar, baking soda, salt, vanilla and egg into a mixing bowl. Add the buttermilk. Mix together with a fork. Add the flour. Stir until thoroughly combined with a large spoon - do not over mix!
Turn dough out onto a lightly floured surface and knead for a minute or two. Roll the dough into a 12-inch by 24-inch rectangle. Using a rubber spatula, spread with butter. Sprinkle with sugar and cinnamon.
Roll the dough into a log and stretch slightly. Cut into two-inch pieces and put the pieces into greased muffin tins or muffin tins lined with cupcake papers.
Bake for 15 minutes, or until golden brown. Allow the muffins to cool for 5 minutes, and then remove from the muffin tins.
Drizzle with icing (if using) when cool.
Nutrition Information:
Yield:

1
Serving Size:

1 grams
Amount Per Serving:
Unsaturated Fat:

0g
Source: The Comfort of Cooking