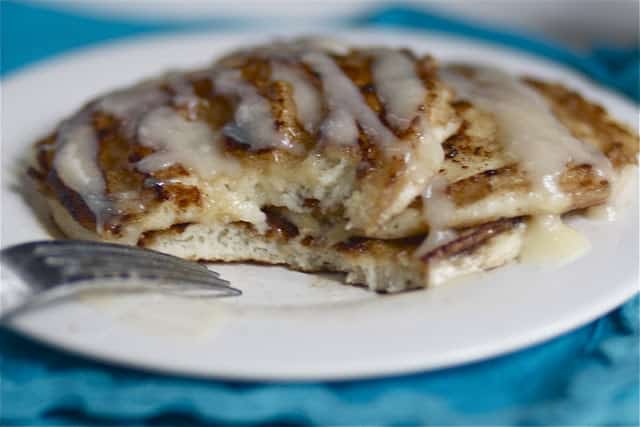 There are certain recipes that when I see I absolutely have to make. This doesn't happen all that often. Usually I'll admire something and bookmark it, maybe getting inspired by another beautiful recipe along the way. But the moment I saw the words "Cinnamon Roll Pancakes," I stopped in my tracks and did a double take. After staring at the picture for a good 5 minutes, I checked that I had all the ingredients and then made these babies. If I could insert a sound clip right now and moan I probably would. Not that any of you would want to hear that but that's just how good these were.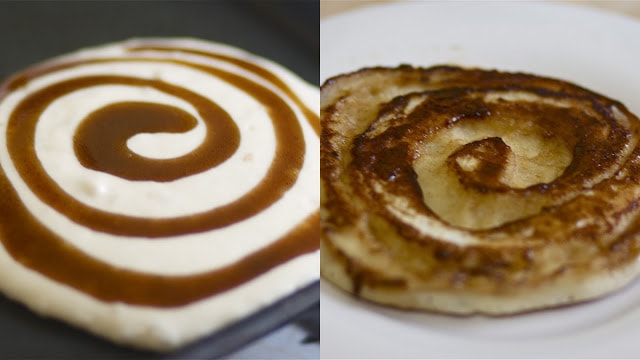 You basically start with a classic pancake, (this recipe below or your own,) and swirl in a cinnamon, brown sugar, butter mixture. When you flip the pancake, it gets all caramelized and delicious. Then you add a warm melted cream cheese glaze and drizzle that on. The result? Breakfast magic. I mean magic. Almost too good for it to be considered breakfast. And like these weren't rich enough, I ate them with bacon and eggs too. May as well right?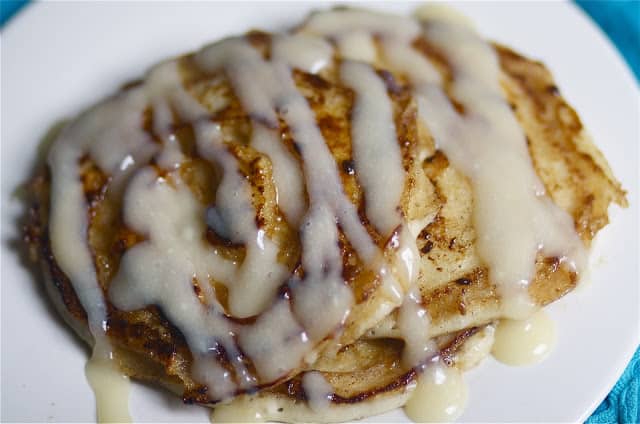 I highly recommend you makes these happen in your life very soon. I was told that the leftovers are just as amazing room temperature. Unfortunately for me I wasn't able to experience that as there were definitely not any leftovers. Make and enjoy!!
Ingredients
1 cup all-purpose flour
2 teaspoons baking powder
1/2 teaspoon salt
1 cup buttermilk
1 Tablespoon canola oil
1 large egg, lightly beaten
Cinnamon Filling:
1/2 cup butter, melted
3/4 cup brown sugar, packed
1 Tablespoon ground cinnamon
Glaze:
4 Tablespoons butter
2 ounces cream cheese
3/4 cup powdered sugar
1/2 teaspoon vanilla extract
Instructions
Prepare pancake batter: In a medium bowl, whisk together flour, baking powder and salt. Whisk in milk, oil and egg, just until batter is moistened (a few small lumps are fine).
In a medium bowl, mix butter, brown sugar and cinnamon. Pour filling into a pastry bag with a small tip or what I did- a squeeze bottle with a small tip. Set aside. (You don't want this to remain super-liquidy. It's best if it becomes a consistency similar to toothpaste.)
In a medium, microwave-safe bowl- heat butter and cream cheese until melted. Whisk together until smooth; whisk in powdered sugar and vanilla extract; set aside. (mine was not smooth. I ran it through the food processor to work through some cream cheese chunks.)
Heat large skillet over medium-low heat. Spray with nonstick spray.
Scoop about 3/4 cup batter onto the skillet. When pancake has started to cook a little, swirl in the cinnamon filling. When bubbles begin to appear on the surface, flip carefully with a thin spatula, and cook until browned on the underside, 1 to 2 minutes more.
Transfer to a baking sheet or platter and keep in a warm oven until ready to serve.
When ready to serve, spoon warmed glaze onto the top of each pancake.
Notes
The filling portion listed above is WAY too much for 4 medium pancakes. If you are making more than 4 (as you should.) don't double the filling recipe. I'd say it makes enough filling for at least 20 pancakes. Adjust accordingly. Or- if you have lots of extra filling like I did...create some sort of cinnamon apple dessert...like I will do. Any ideas? :)
Nutrition Information:
Yield:

4
Serving Size:

1 grams
Amount Per Serving:
Unsaturated Fat:

0g
Source: Adapted from RecipeGirl.com