Puff Pastry Cinnamon Twists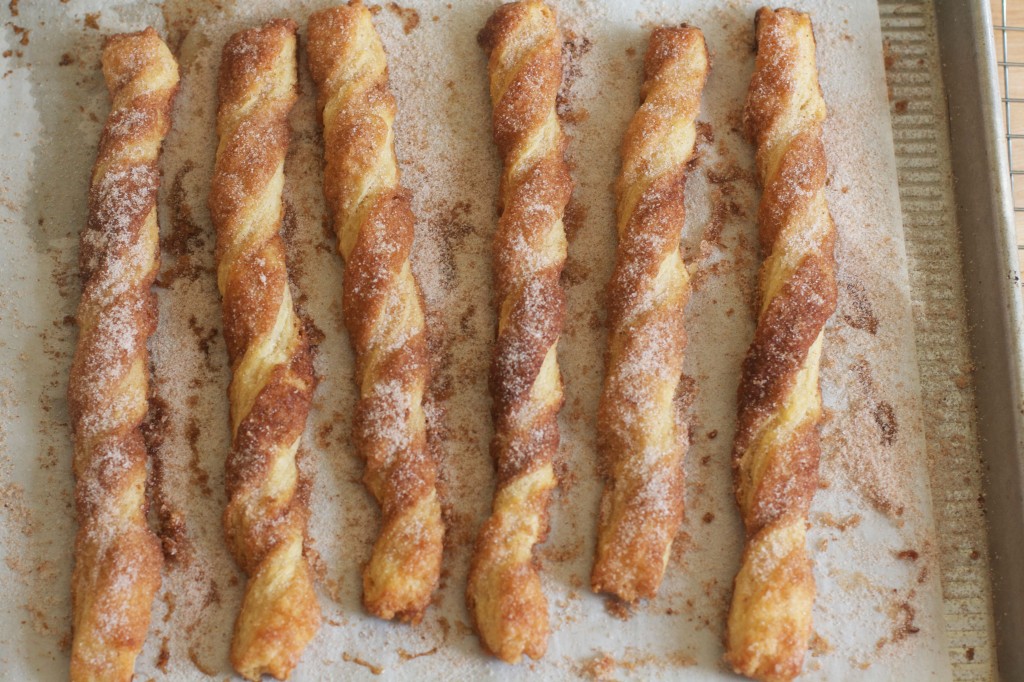 Quick puff pastry seems like an oxymoron right? I mean regular puff pastry is essentially the same thing as making croissants and we all know that isn't really a quick process. This however- is totally quick, easy and doable- and best of all- the results are amazing and can be used anywhere you'd use store-bought puff dough.
I made my "rough puff pastry" into some delicious cinnamon twists, and these are flaky, buttery and full of cinnamon sugar. They are perfect to serve at a holiday party, (they look great all standing up in a glass or vase) or dipped into some morning coffee. And I can't deny that I was inspired by one of my favorite childhood fast food treats- Taco Bell Cinnamon Twists. These are definitely way better!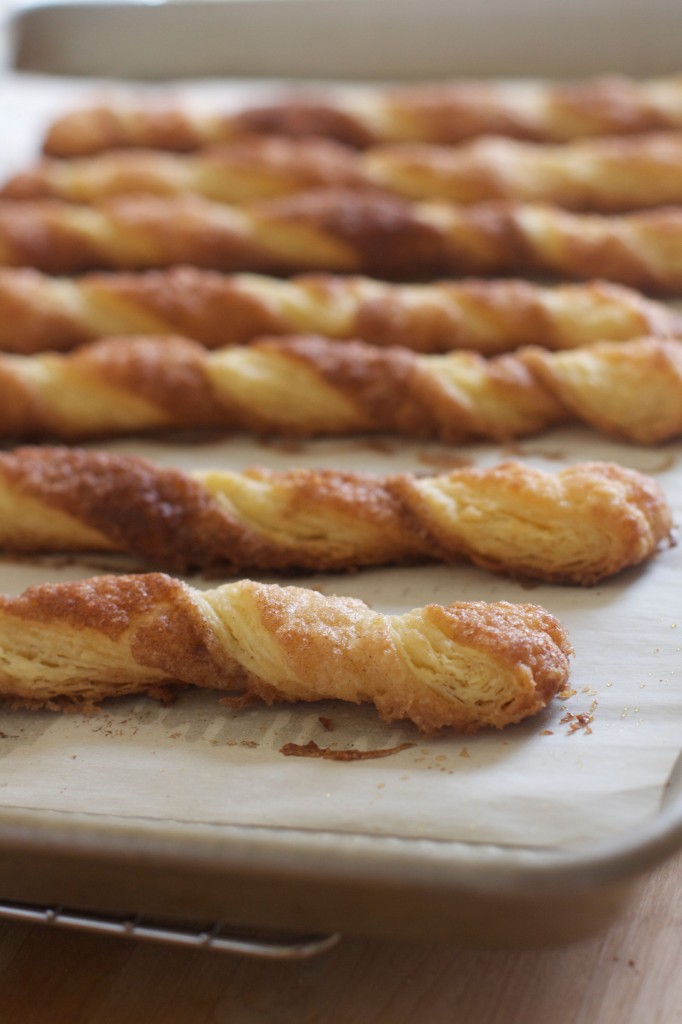 Homemade Cinnamon Twists are a super impressive treat to make, and mastering quick puff pastry is such a great kitchen skill to have. You can use it for the crust of Mini Pot Pies, Apple Turnovers, even puff pastry cinnamon rolls.
Simple Ingredients Needed for Puff Pastry Cinnamon Twists:
Flour
Salt
Baking Powder
Unsalted Butter
Sour Cream
Cinnamon Sugar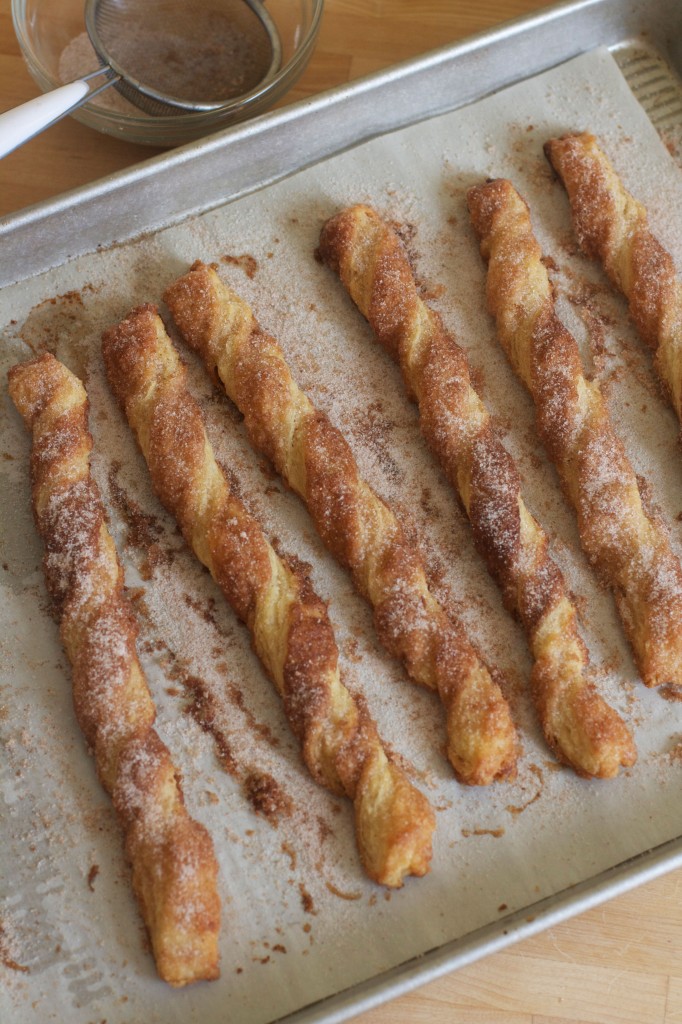 Supplies Needed for Simple Puff Pastry Cinnamon Twists :
Rolling Pin
Pizza Cutter or Sharp Knife
Large Mixing Bowl
Small Bowl
Sheet pan
Can I use a store bought puff pastry sheet instead of homemade puff pastry?
Sure- you can use ready-made puff pastry if you'd like. Thaw a sheet of puff pastry to cool room temperature and them skip to the butter and cinnamon sugar.
In the mood for a savory version? Try brushing the dough with garlic butter and herbs instead
The Process for making Cinnamon Puff Pastry Twists:
Start by combining your dry ingredients in a large bowl. The cut the butter into large chunks and add to the flour mixture.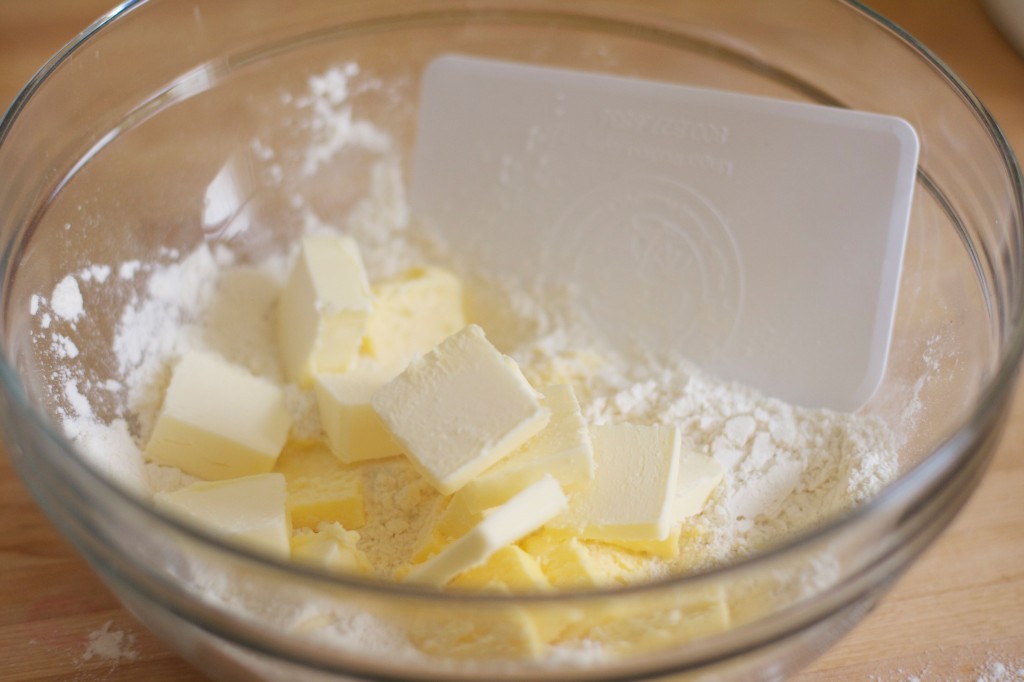 Use your fingers to flatten each butter chunk.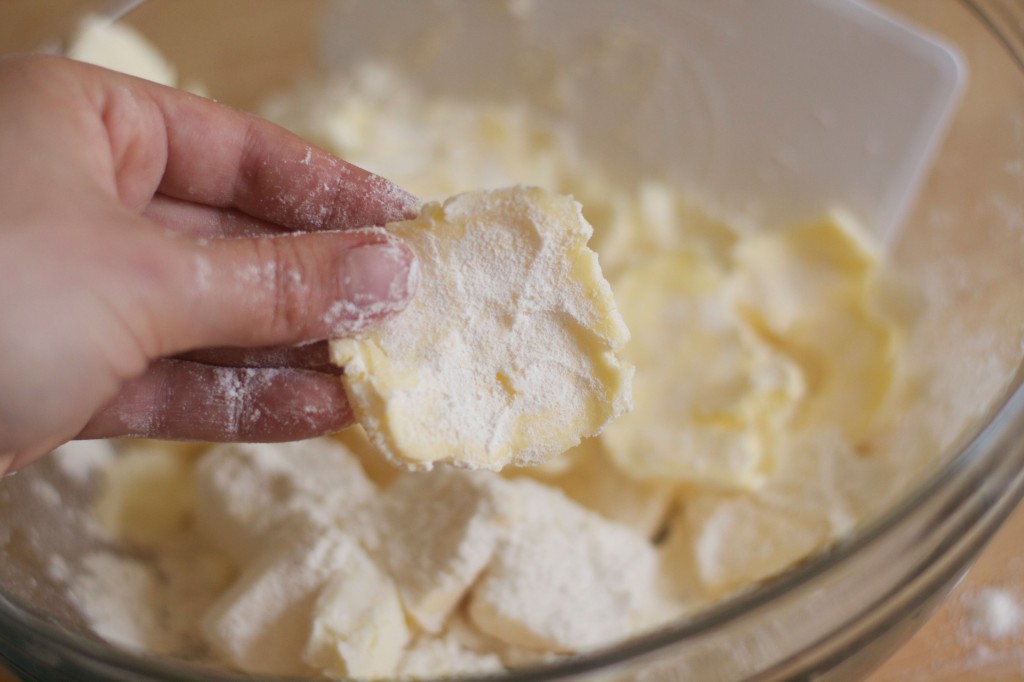 Add the sour cream, and use a large spatula or bowl scraped to incorporate it into the dough. It won't come together completely yet – so don't worry.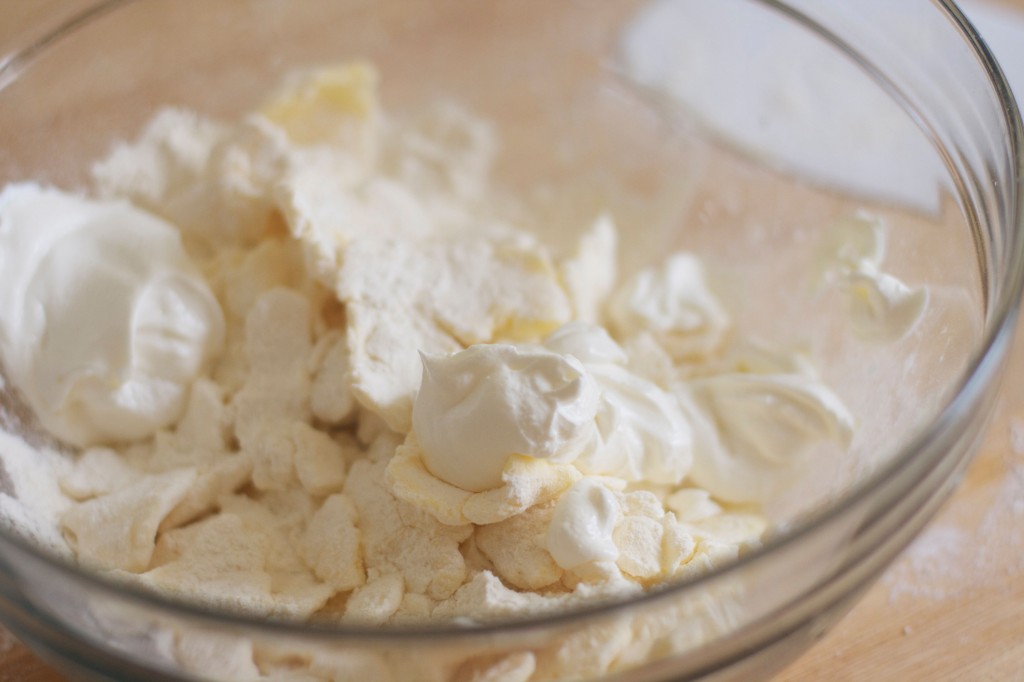 Turn the dough onto a lightly floured work surface. This is how it will look- disastrous right? Don't worry it will be fine. Give it a few quick kneads until it comes together like this: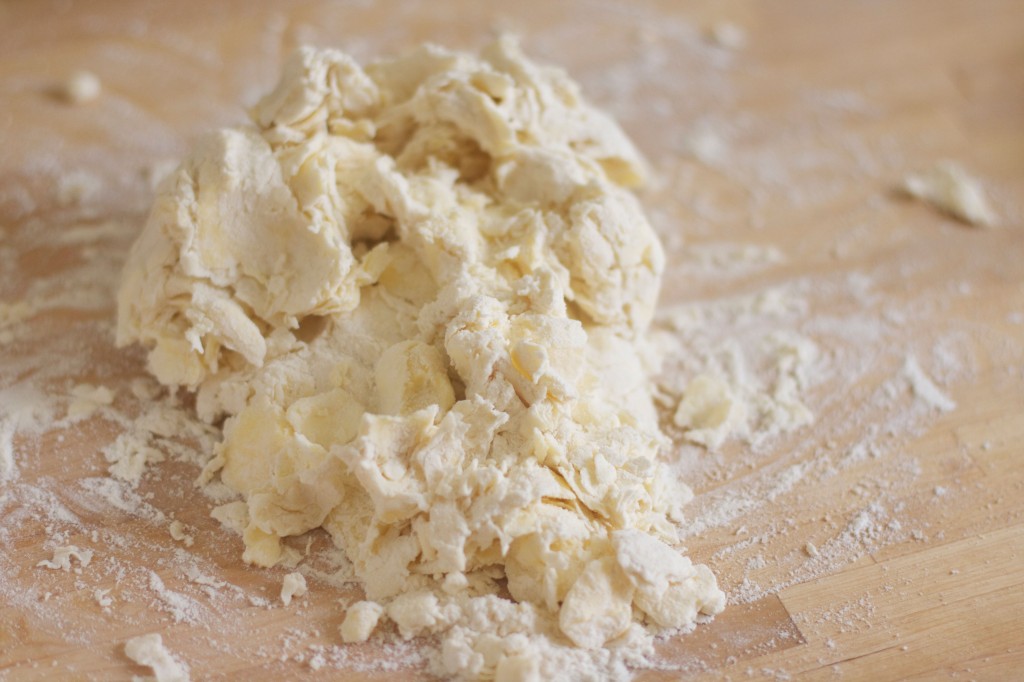 The dough may seem a little dry, but don't fret- it will be hydrate lots as it chills. At this point- flour your rolling pin- and roll dough into an 8 x 10 rectangle. (get your ruler handy!)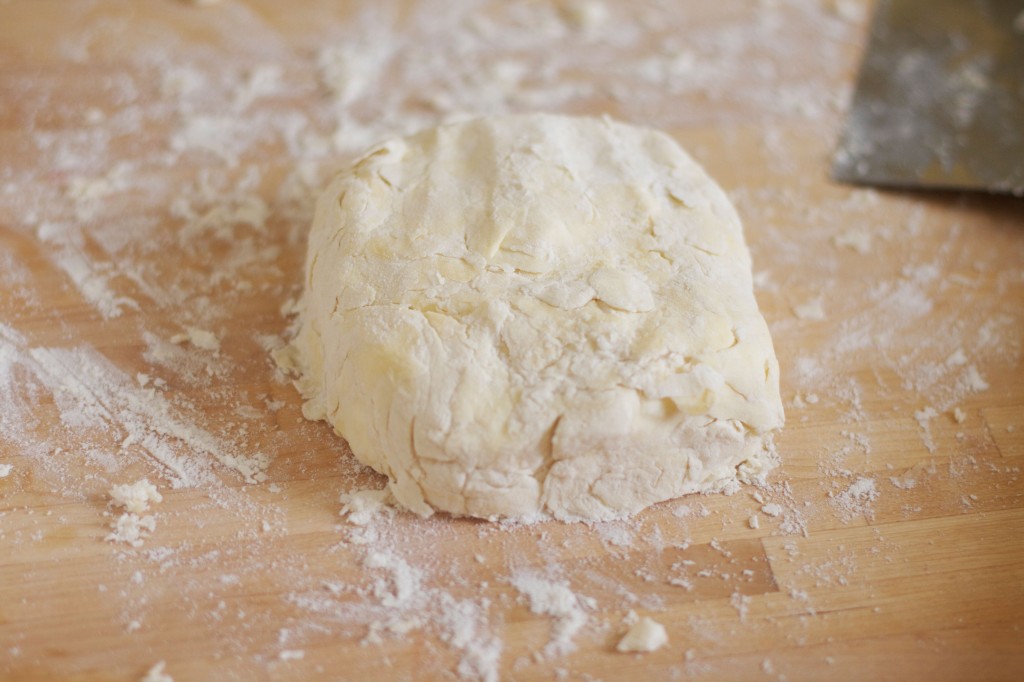 Use a pastry brush to dust off any extra flour from the surface, and fold the dough like a letter- bringing the top down and then the bottom folded over that.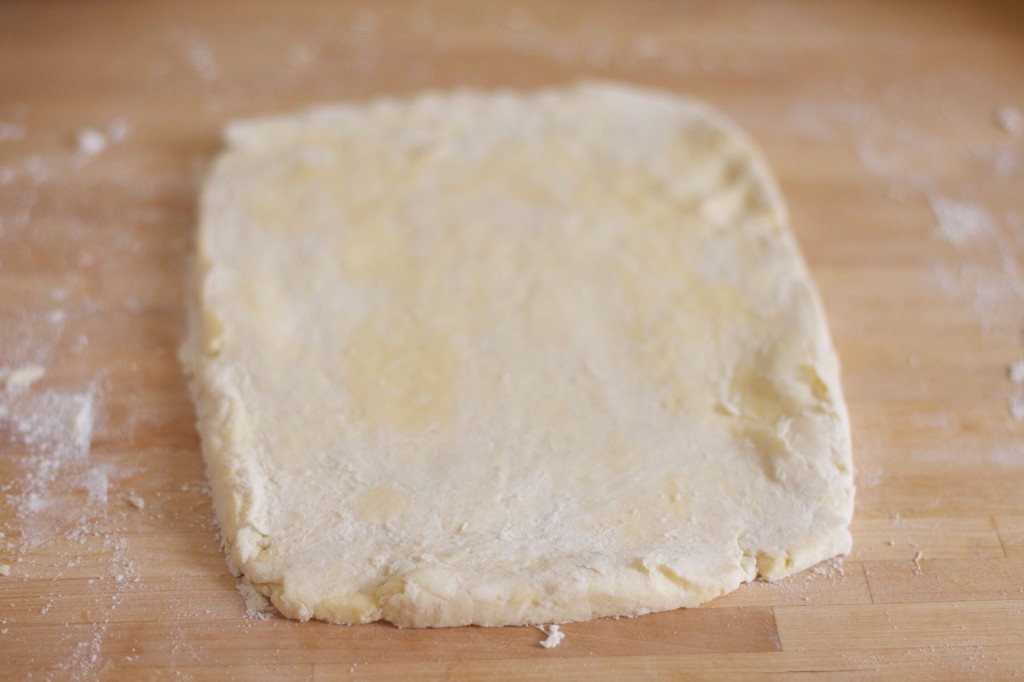 Flip the dough over, rotate it 90˚ so that it's vertical, and repeat the process one more time. Roll into 8×10, dust off, fold like a letter. (add extra flour as needed to prevent sticking)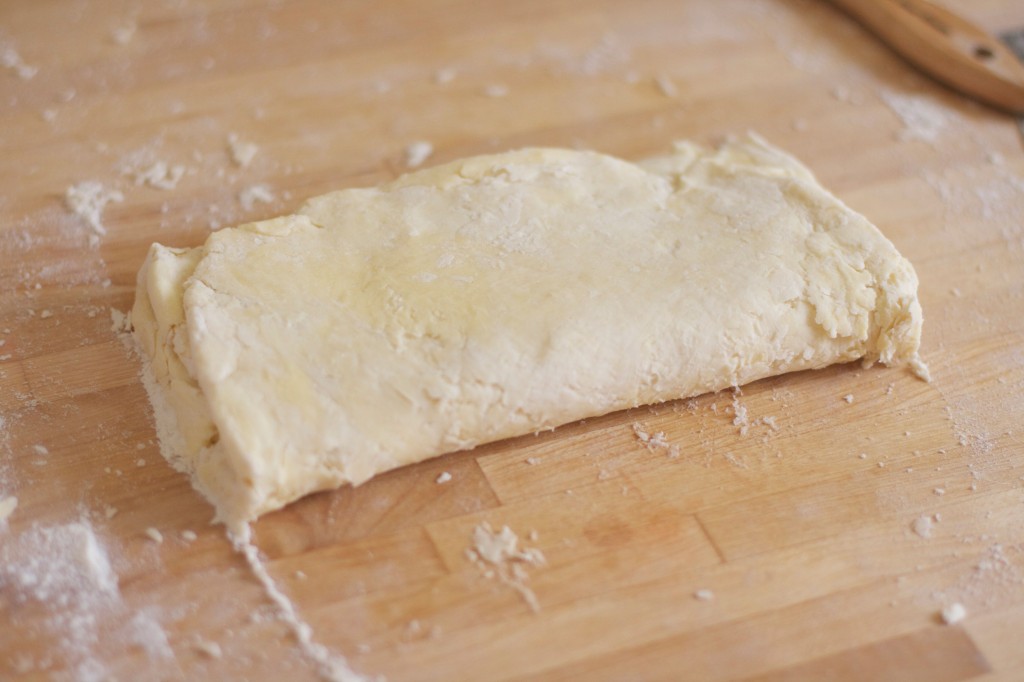 Wrap in plastic wrap and chill dough for at least 30 minutes. (Longer is OK, it can also be frozen at this point and reserved for when you are ready to use it.)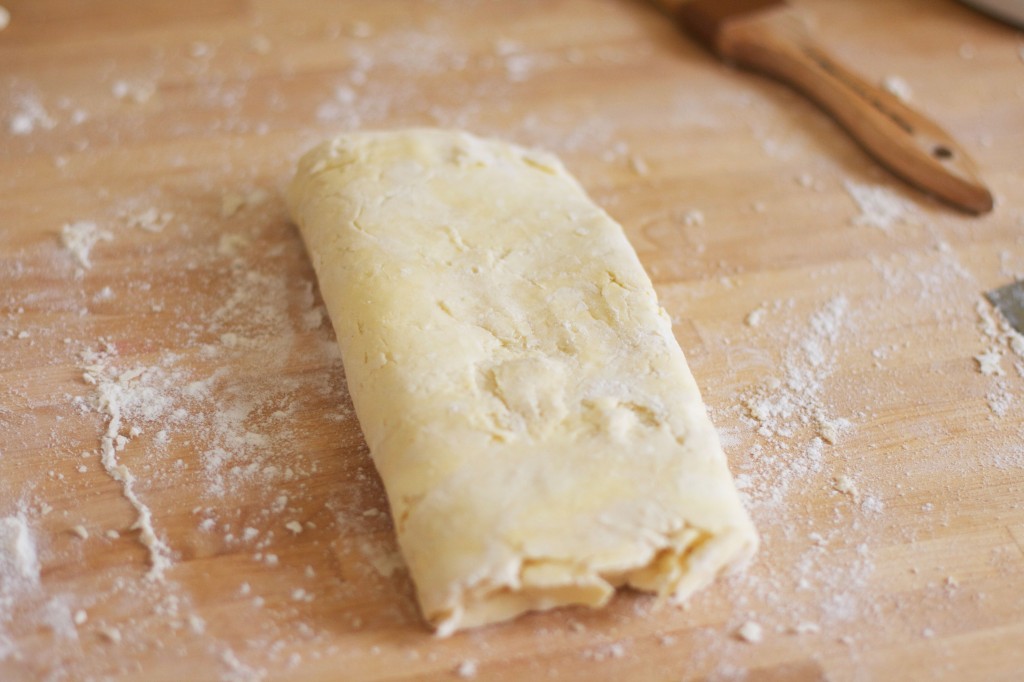 After chilling- you have yourself a chunk of puff pastry dough that can be used for whatever you'd like! For this recipe I transferred it back to a lightly floured surface and rolled it out to about 1/4 inch thick.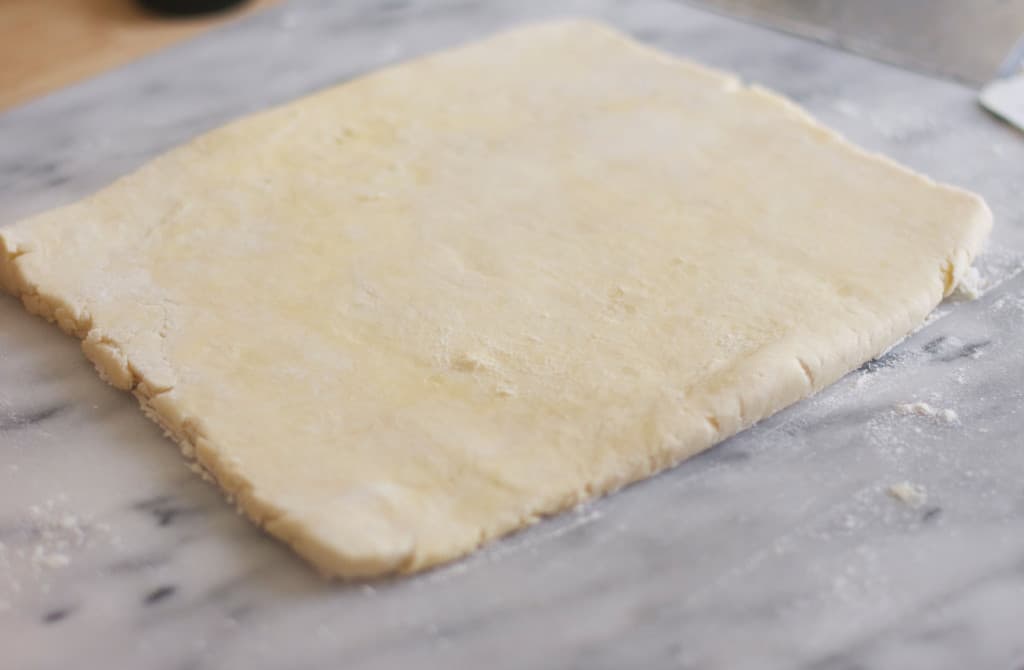 Brushed it with a little melted butter and top with cinnamon sugar mixture, pressing it into the dough- and flip it over.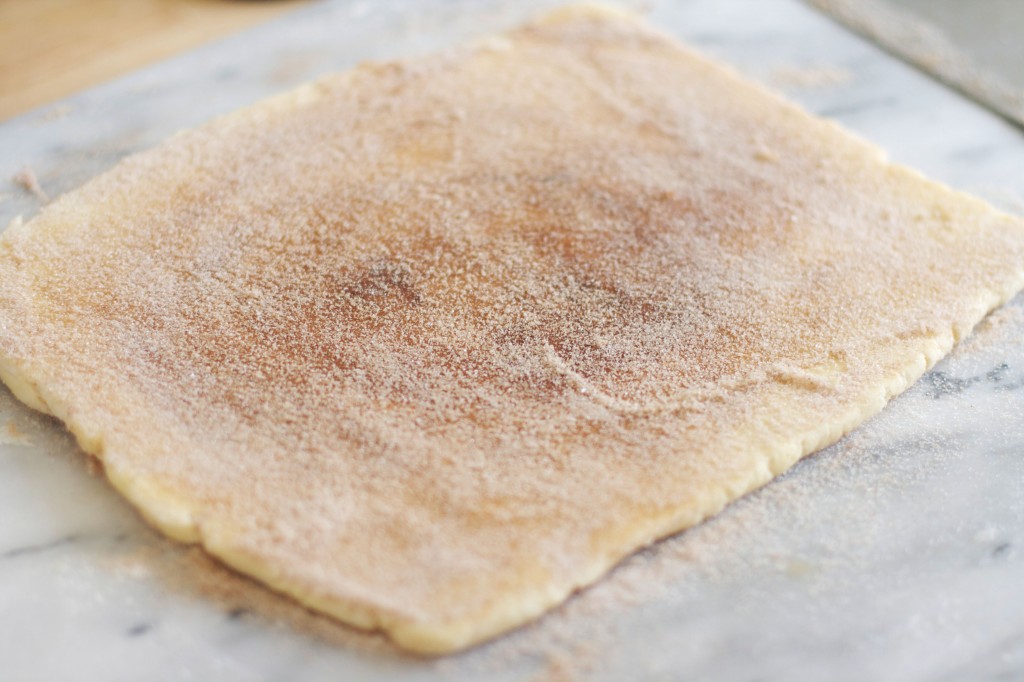 Apply another layer of butter and cinnamon sugar and cut the dough into long strips. Twist them by holding the short side and rotate and twist them. Place twists on a large baking sheet and bake until golden brown.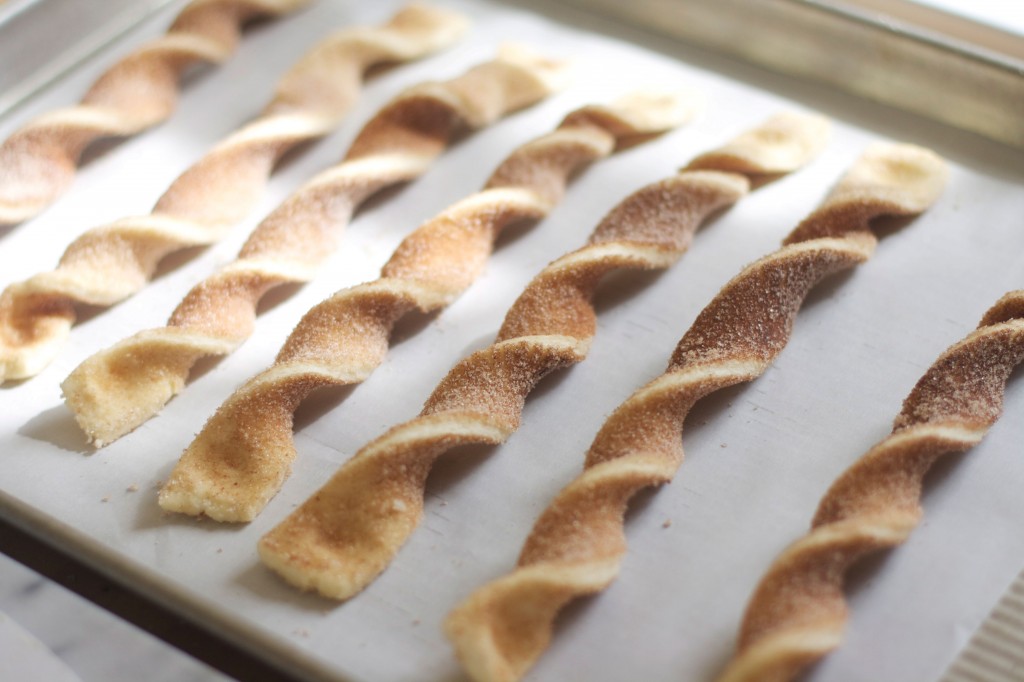 Look at that flaky puff pastry. Would you ever know this wasn't regular puff pastry? I like to sprinkle cinnamon sugar on them again after they cooled because that's how I roll.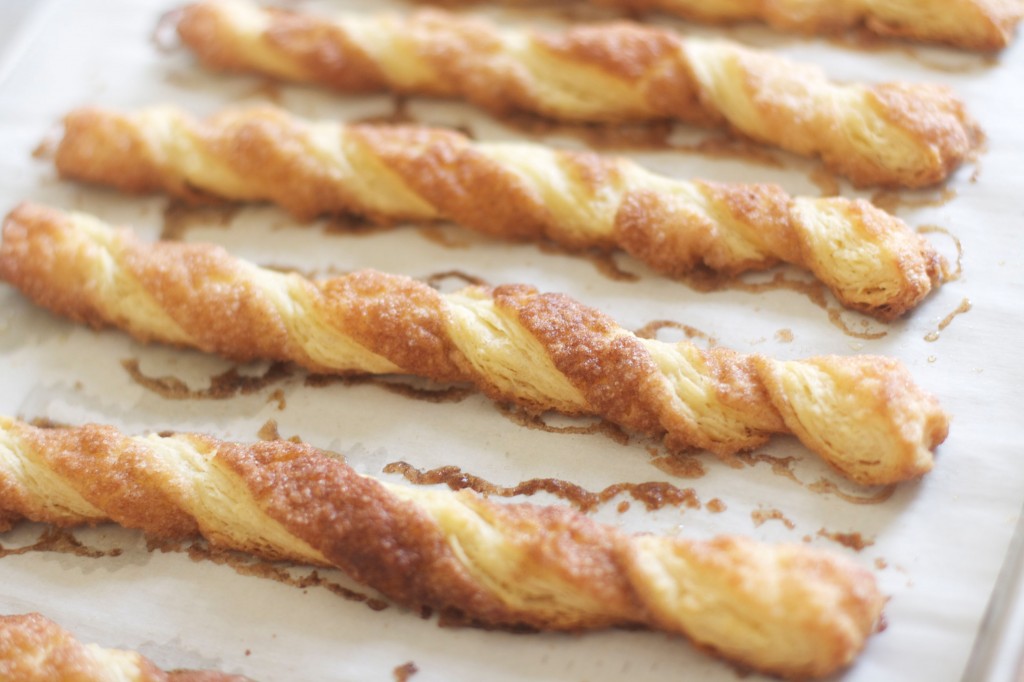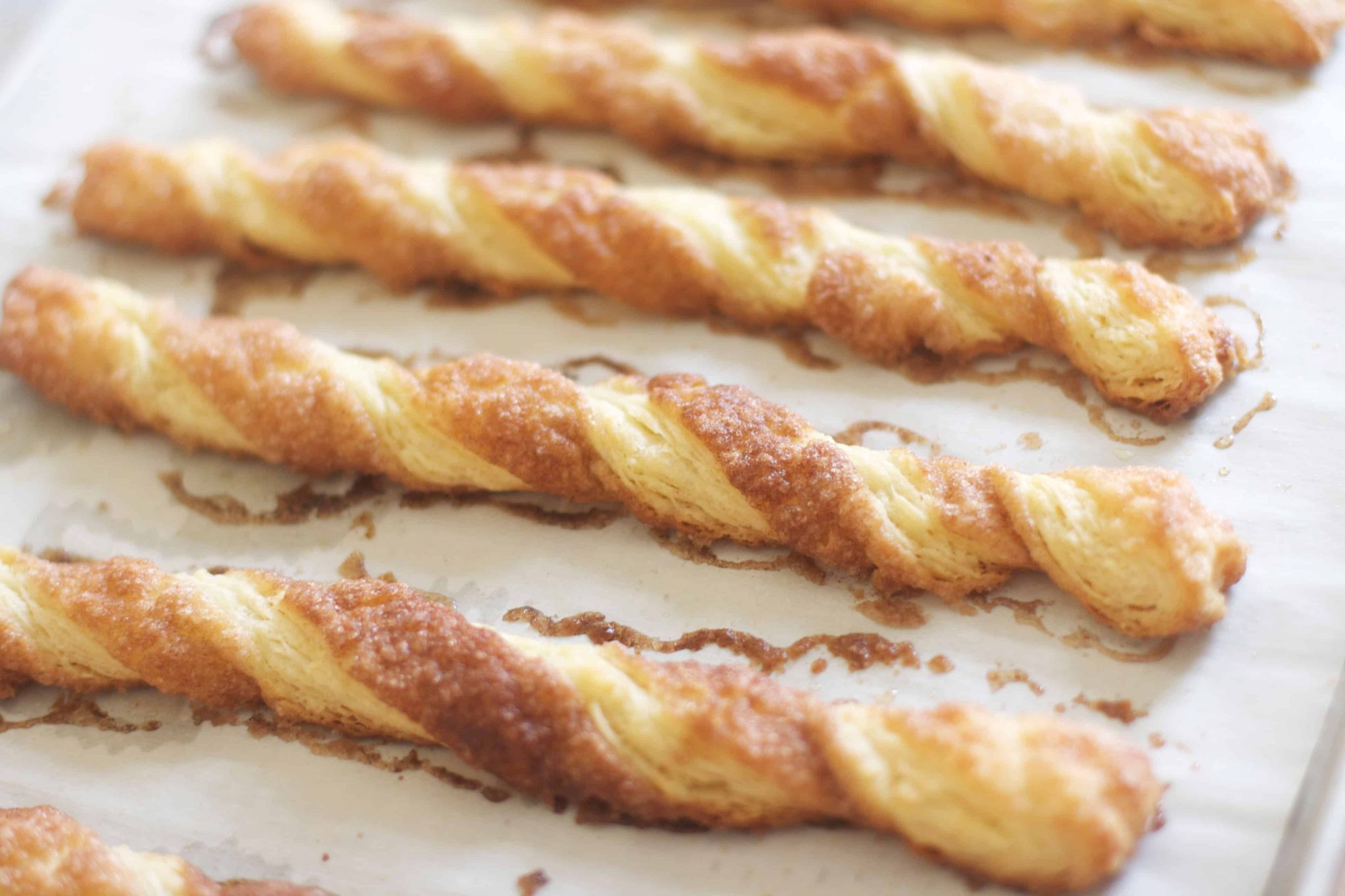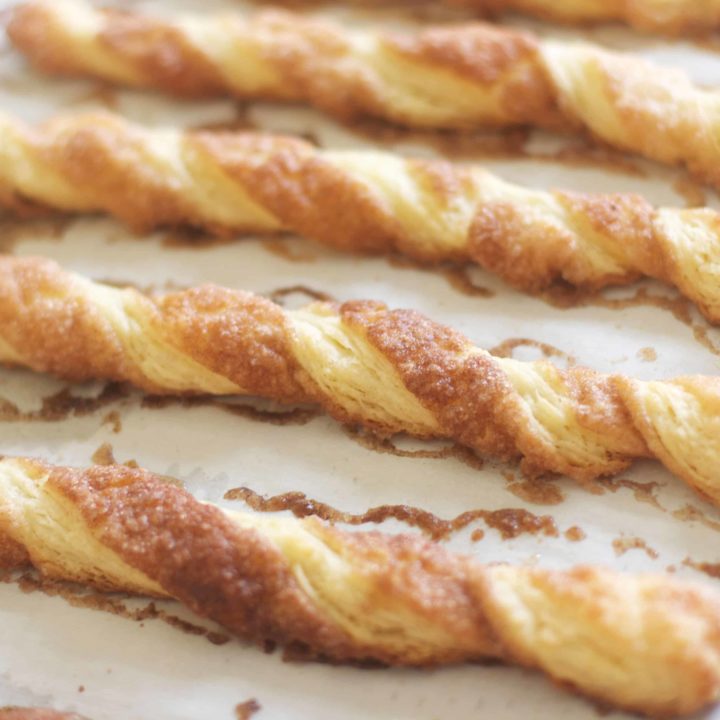 Cinnamon Twists (with Quick Puff Pastry)
Yield:
1 batch of puff pastry
Recipe from: King Arthur Flour
Ingredients
1 1/2 cups all purpose flour, 6 oz
1/4 tsp salt
1/2 tsp baking powder
1 cup 8 oz unsalted butter, chilled well and cut into chunks
1/2 cup 4 oz sour cream (full fat)
For Cinnamon Twists:
2 tablespoons butter, melted
1 1/2 tablespoons ground cinnamon
1/4 cup plus 2 tablespoons white sugar
Instructions
In a medium bowl, combine the flour, salt and baking powder.
Add the chunks of butter into the dough, flattening each piece with your fingers
Add the sour cream, and gently mix it into the dough. It won't be cohesive at this point.
Turn the dough onto a floured work surface and bring it together with a few quick kneads. Pat the dough into a square and roll it into an 8x10 rectangle- using flour as needed to prevent sticking.
Dust off any excess flour from the surface of the dough, and fold in three. (like a letter)
Flip the dough over, rotate it 90 degrees, and repeat the process. (Rolling to an 8x10 rectangle and then folding.) Wrap dough and chill for at least 30 minutes before using.
If making Cinnamon Twists:
Roll chilled dough to 1/4 inch thickness. Brush with melted butter and sprinkle with about half the cinnamon sugar. Press sugar mixture into the dough, flip it over and repeat with another brush of butter and cinnamon sugar topping.
Cut dough into 1 inch strips (I used a ruler to help me stay straight) Pick up each strip and twist the ends into opposite directions until dough is spiraled.
Place twists onto a parchment-lined baking sheet, pressing the ends down as you arrange them. Bake at 400 degrees F for 15-18 minutes or until golden brown. Cool on a wire rack and dust with additional cinnamon sugar if desired.
Nutrition Information:
Yield:

1
Serving Size:

1 grams
Amount Per Serving:
Unsaturated Fat:

0g