Classic Apple Pie for Pi Day and a Pie Giveaway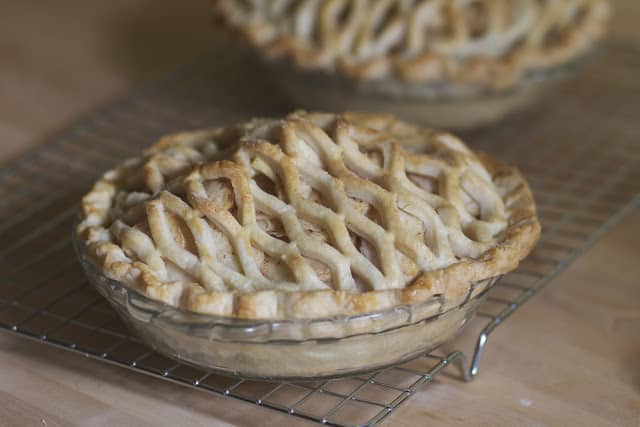 Woohoo it's Pi Day! What is "Pi Day" you may ask? Oh you know…PI….3.14 aka March 14th aka a day where people celebrate Pie. And I mean, what's wrong with a "holiday" that involves pie? I sure like it. I'm especially excited about this day because not only do I have a classic recipe to share, but an exciting giveaway and a special offer for all my readers! Sounds like a holiday to me!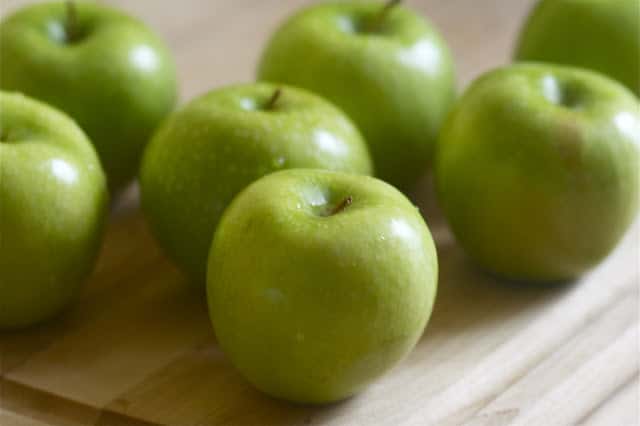 As I was trying to come up with a pie recipe to share with you today, I realized that I really don't have very many pies on this blog at all. I baked a couple with summer fruits last August, but somehow I skipped over them during the fall and winter when pie is all the rage. And in my opinion- no baking blog is really complete without a classic Apple Pie. So I decided to make one. Well actually I made two. It didn't seem like I made two though, since I used the most adorable 7 inch pie plates ever. Seriously they are the cutest- and they are just perfect for people like me who don't want to have several servings of pie leftover in the fridge.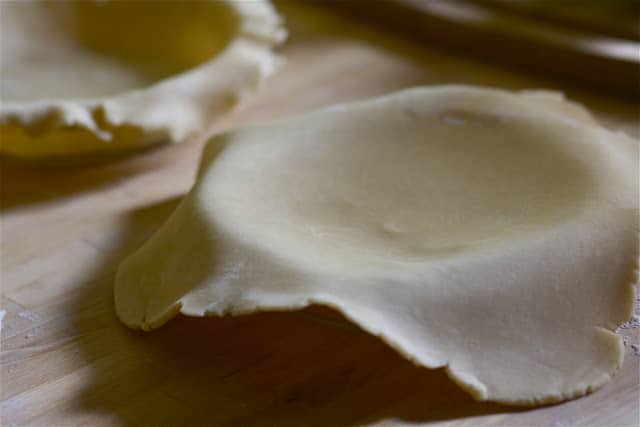 Another thing that makes my classic pie special is the "woven" lattice design on top. If you noticed that it's not really woven- you're right. I used a fancy tool to make this pretty design in seconds. I mean seriously- it is the easiest way to make a pretty top crust for your pie. Now don't get me wrong- I actually have fun weaving a lattice top, but sometimes it's nice to have a variety of crust decor to change things up a bit don't you think?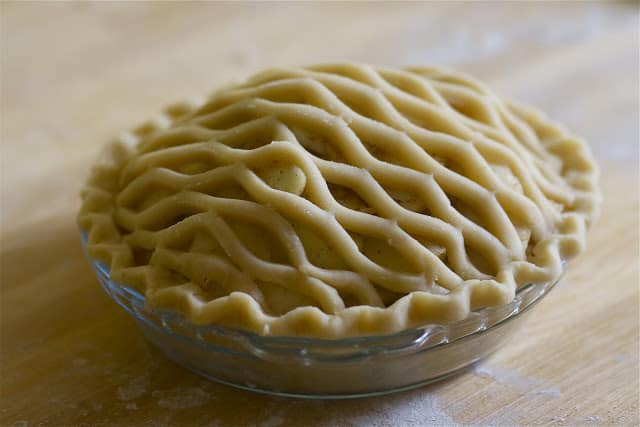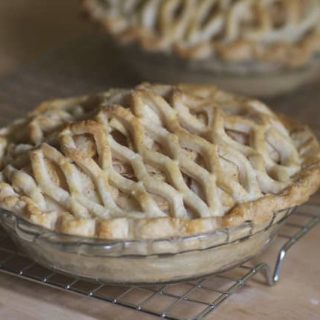 Classic Apple Pie for Pi Day and a Pie Giveaway
Ingredients
1 pie crust recipe
2 tablespoons all-purpose flour, plus more for dusting
6 Granny Smith apples, peeled, cored, and sliced
2/3 cup sugar, plus additional for pie top
1 tablespoon lemon juice
1 teaspoon cinnamon
1/4 teaspoon nutmeg
pinch ground cloves
pinch of ground ginger
2 tablespoons unsalted butter
1 large egg, beaten
Instructions
Heat oven to 375 degrees. On a lightly floured surface, roll out crust into two 1/8-inch-thick circles to a diameter slightly larger than that of an 11-inch plate. (if making 2 mini pies, roll all four of the dough rounds into 1/8 inch thich circles to fit the 7 inch pie plate) Press one pastry circle into the pie plate and chill in fridge until filling is ready.
In a large bowl, combine apples, sugar, lemon zest and juice, spices, and flour. Toss well. Spoon apples into pie pan(s). Dot with butter, and cover with remaining pastry circle or make lattice crust using rolling tool or weaving the dough. If you aren't doing a lattice, cut several steam vents across top. Seal by crimping edges as desired. Brush with beaten egg, and sprinkle with additional sugar.
Bake until crust is brown and juices are bubbling, about 1 hour. (45 minutes if making 2 small pies) Let cool on wire rack before serving.
Nutrition Information:
Serving Size:

1 grams
Amount Per Serving:
Unsaturated Fat:

0g
recipe adapted slightly from: Martha Stewart