Classic Carrot Cupcakes with Cream Cheese Frosting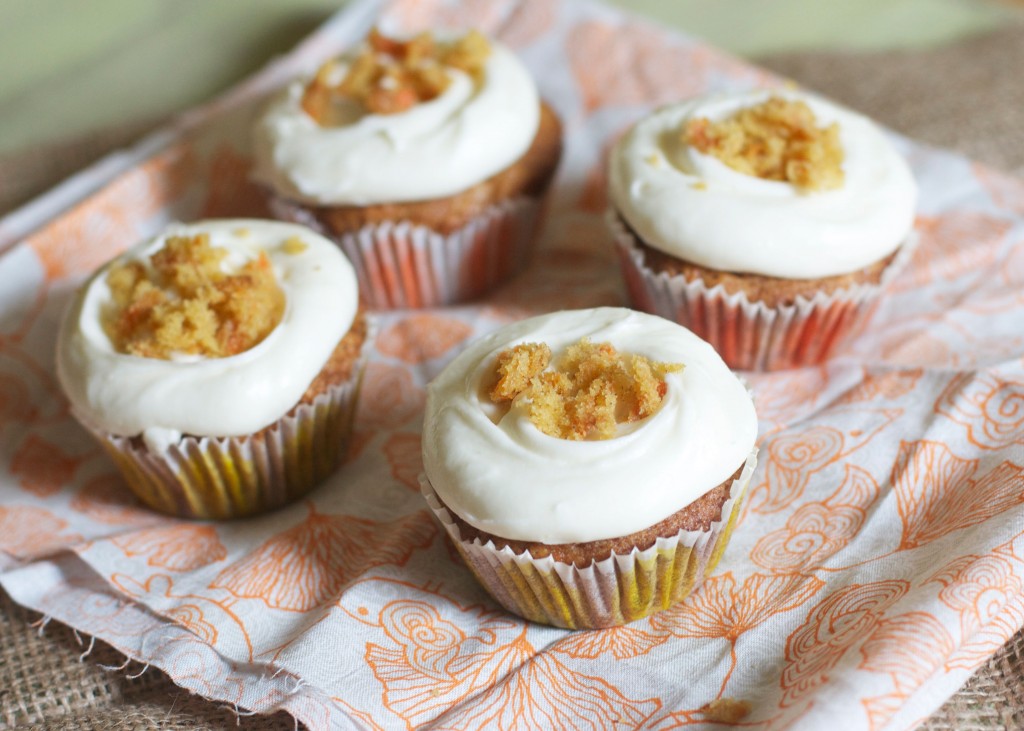 So I'm writing this post a good two weeks before you are actually going to be reading it. You by now must know that I'm in Europe for a little "I'm turning 30" hurrah and today I'm actually in Rome! Nothing like Easter week in Italy huh? Anyway- here are my thoughts on this lovely recipe from two weeks ago. :)
Easter is right around the corner!!! And when we think about Easter, we ultimately think about bunnies right? And bunnies like carrots…so like we make cookies for Santa- how about some delicious Carrot Cupcakes for Mr. Easter Bunny?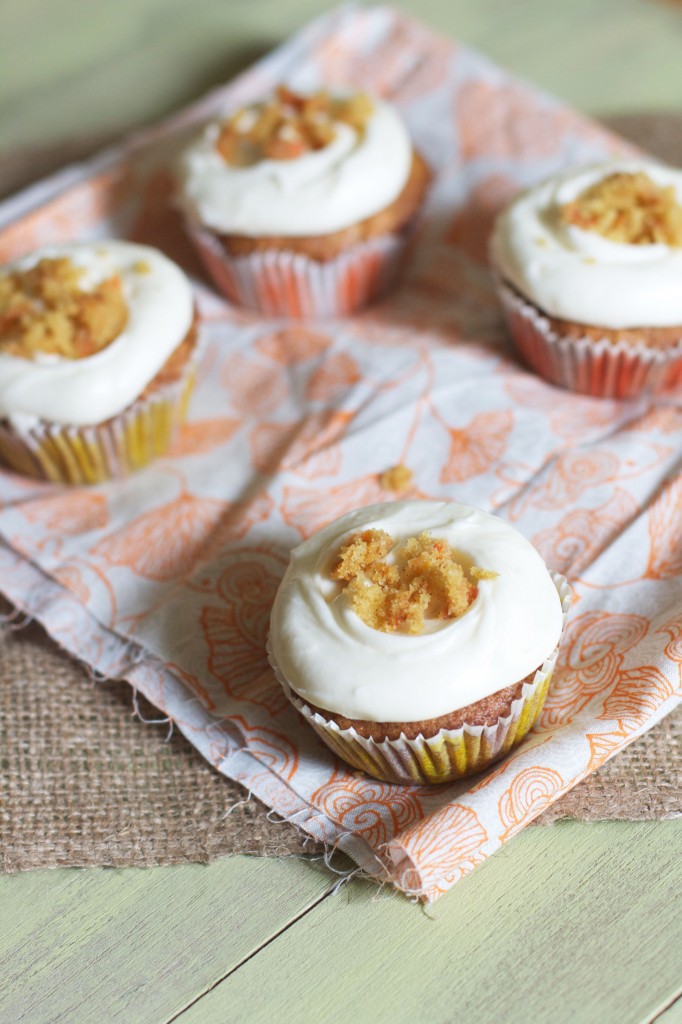 I've always loved carrot cake, as it was one of the few "cakes" that my Mom made for us when we were kids. Her recipe (which I will share with you all eventually,) was full of healthy things- whole wheat flour, natural sugar, pineapple and nuts. Though I love that version, and will probably make if for my kids too, I was on the search for something a little different for these cupcakes.
I wanted a light and fluffy texture that was full of spice. Cream cheese frosting was, of course, a must- and I topped these with a generous dollop and a sprinkling of cake crumbs. (It turns out I find carrot cupcakes strangely hard to garnish. Maybe I need to learn how to make those cute marzipan carrots?)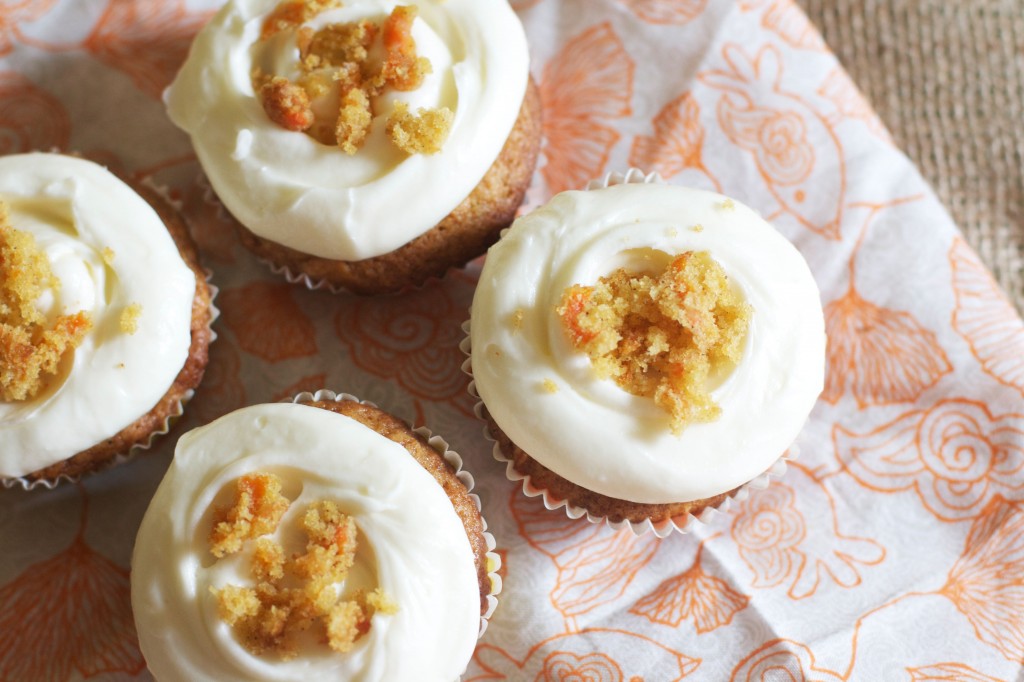 This recipe didn't fail and it has become my go-to carrot cake for my recipe collection. Feel free to add nuts and raisins if you dig that, (I really don't!) I have a fun giveaway for you all on Wednesday, and I'll be back and in my kitchen by the end of the week to begin the process of boring you with pictures from the trip. :)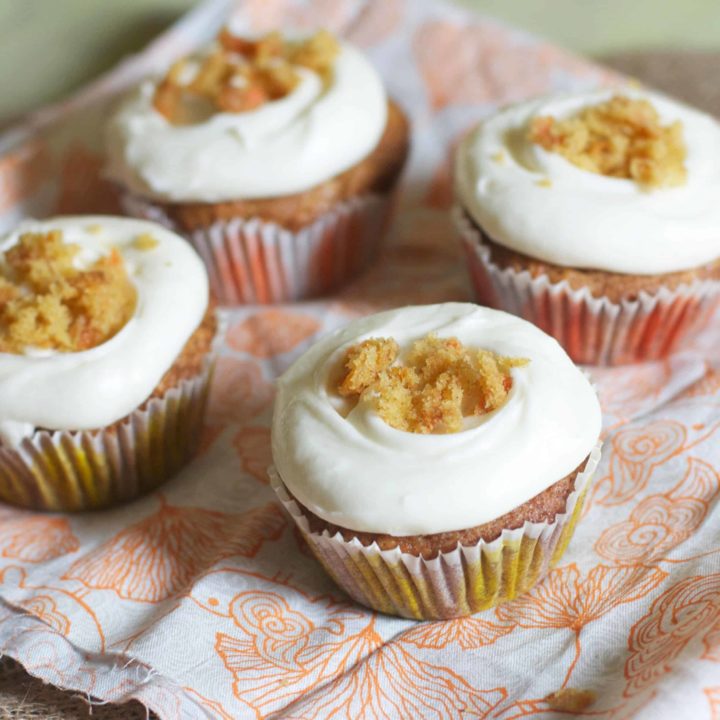 Classic Carrot Cupcakes with Cream Cheese Frosting
Ingredients
For the Cupcakes:
1 1/2 cups all-purpose flour
1 teaspoon baking powder
1/2 teaspoon baking soda
3/4 teaspoon salt
1/4 teaspoon ground cinnamon
1/4 teaspoon ground ginger
1/4 teaspoon grated nutmeg
3/4 cup 1 1/2 sticks unsalted butter, melted
1 cup packed light-brown sugar
1 large egg
2 tablespoons buttermilk or yogurt
1/4 teaspoon pure vanilla extract
1 1/2 cups grated carrots, from about 4 medium carrots
For The Frosting:
1 package, 8 ounces cream cheese, room temperature
1/4 cup 1/2 stick unsalted butter, room temperature
2-3 cups confectioners' sugar
1 1/2 teaspoons pure vanilla extract
Instructions
Preheat oven to 375 degrees. Line a 12-cup standard muffin tin with paper liners.
In a large bowl whisk together flour, baking powder, baking soda, salt, cinnamon, ginger, and nutmeg; set aside.
In another large bowl, whisk together melted butter, brown sugar, egg, buttermilk, and vanilla. Stir in carrots. Gradually add dry ingredients to butter mixture mixing until well combined- but not over-mixed. Divide among muffin tin. Bake 25 to 30 minutes, or until a toothpick inserted in the center of a cupcake comes out clean.
Remove from pan to a wire rack to cool completely before frosting.
For Frosting:
Using an electric mixer, beat cream cheese, butter, and confectioners' sugar until smooth; beat in vanilla. (If frosting is too thick, add a few drops of milk or cream.)
Frost or pipe on cupcakes as desired.
Nutrition Information:
Yield:

12
Serving Size:

1 grams
Amount Per Serving:
Unsaturated Fat:

0g