Classic Carrot Layer Cake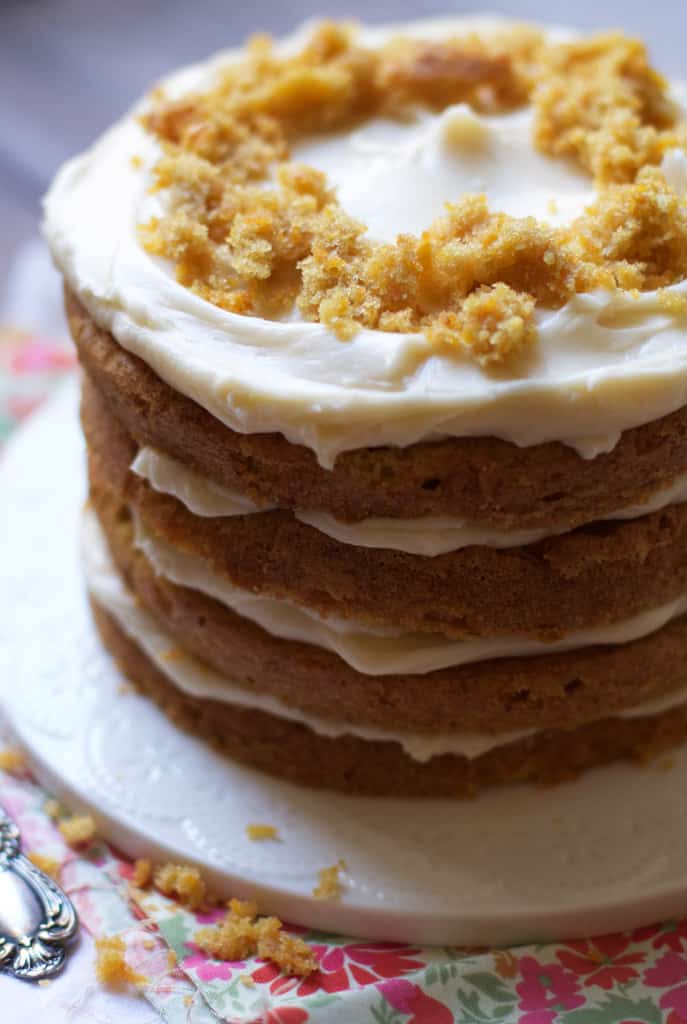 I find the Carrot Cake for Easter connection to be one of the most adorable things ever. Easter >Bunnies >Carrots. I mean it makes perfect sense right? (Though those big Easter Bunnies are totally weird but I'm totally still taking Hugo to meet one!) Somehow even without the bunny thing, Carrot Cake always brings to mind the Spring. It's weird really since in many ways the spices and pairings are right on par with Fall flavors. Truthfully though, I think Carrot Cake is one of those desserts that works all year round. (I mean I'll eat it any old time!)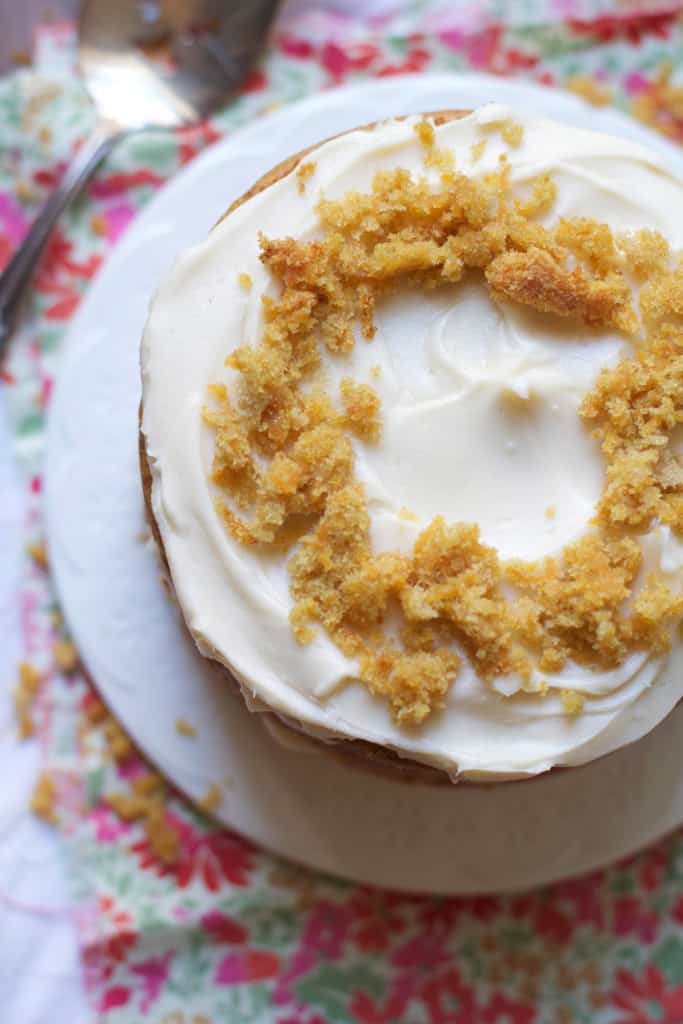 Now when it comes to Carrot Cake, it seems like there are two pretty distinct camps. The side that likes all the goodies in the batter like nuts, raisins, and pineapple, and then the types who prefer their Carrot Cake simple- carrots and spice together in a light and fluffy cake with rich cream cheese frosting. As a kid, we only ate the first kind. I think my Mom figured that the more fruit and nuts she could cram in there the healthier the whole thing was, and truthfully we were none the wiser and loved it. Fast forward to when I met Andy who is a strict "no mix-ins in my Carrot Cake" type, and I guess he pulled me a bit to his side. There is something pretty awesome about a super simple Carrot Cake. Soft moist cake with cream cheese frosting on every bite- nothing to take away from the texture and spice. If you're a "keep the fruit and nuts out of my Carrot Cake" person this recipe is for you.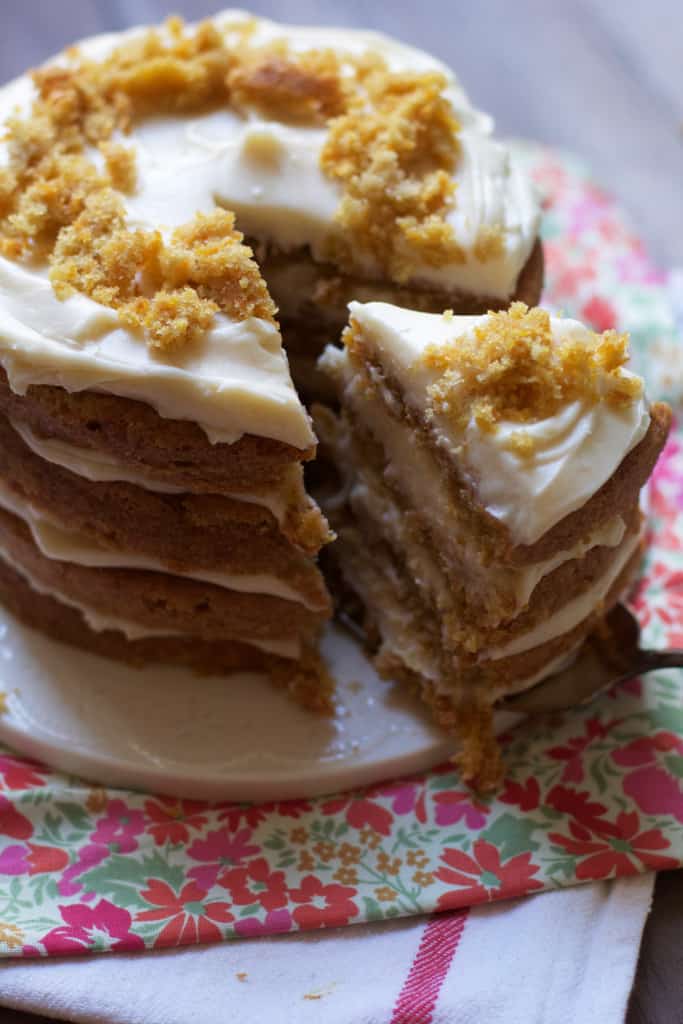 I actually used the base cake recipe from the Momofuku Milk Bar Cookbook. (Remember when I used to be baking my way through!?) Well back when I was doing that- we made Carrot Cake Truffles. Basically they consisted of this cake crushed up and rolled into balls then dipped in white chocolate. They were amazing, but I could never forget the perfect texture of that cake before we demolished it. I have never tried anything like it. It is so moist that it almost melts in your mouth and is just so fluffy. It's not too sweet at all, so pairing it with a rich cream cheese frosting is a match made in heaven. (And I pretty much made this with equal parts cake/frosting which was to die for.)
Of course if adding raisins or nuts is your thing, you can go ahead and toss some into the batter, but I have to say I'm a simple Carrot Cake convert. This one is my new favorite!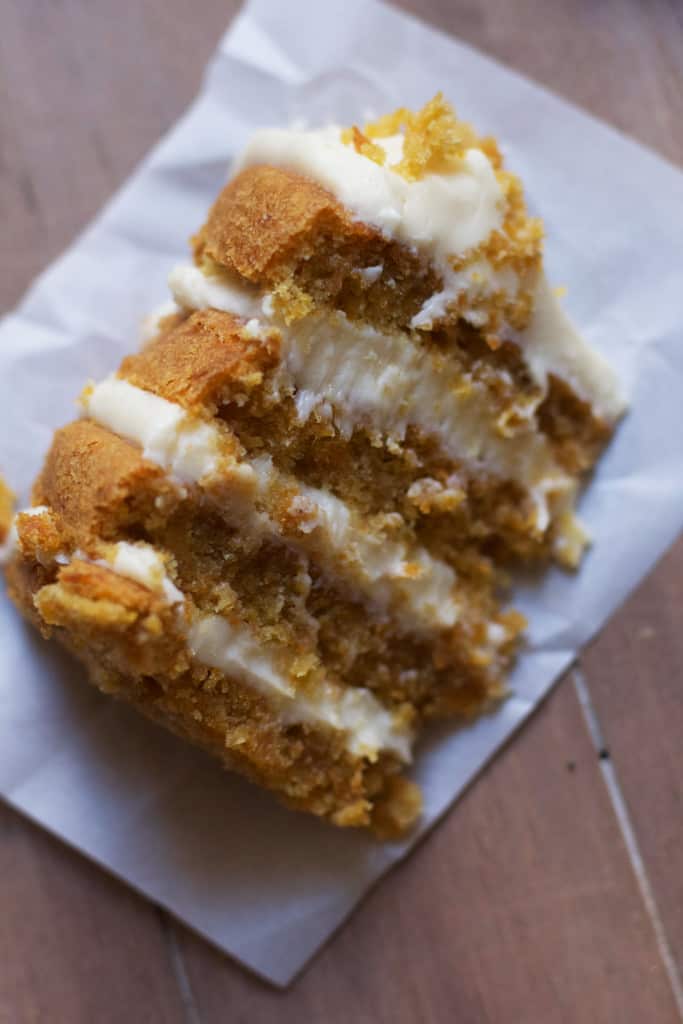 Classic Carrot Layer Cake
Ingredients
1 stick butter- room temp.
1/2 cup packed light brown sugar
1/2 granulated sugar
2 eggs
1/4 cup grapeseed or vegetable oil
1 teaspoon vanilla extract
1 1/4 cups flour
1 tsp. baking powder
1/4 tsp. baking soda
3/4 tsp. ground cinnamon
1 1/4 teaspoons salt
2 1/2 cups shredded peeled carrots, 2-3 large sized carrots
For the Frosting:
12 oz cream cheese, softened
1 stick, 1/2 cup of butter, softened
2-4 cups of powdered sugar
1 teaspoon vanilla extract
1 teaspoons cinnamon
Instructions
Preheat oven to 350. Prepare 2 6,8, or 9 inch cake pans* by buttering, flouring and lining the bottom with parchment paper. Set aside.
Combine the butter and sugars in the bowl of a stand mixer fitted with the paddle attachment and cream together on a medium-high for 2 to 3 mins. Scrape down the sides of the bowl, add the eggs, and mix on medium-high for 2 to 3 mins. Scrape down the sides of the bowl again.
On low speed, stream in the oil, Increase the mixer speed to medium-high and paddle for 4 to 6 mins, until the mixture is practically white, twice the size of your original fluffy butter/sugar mixture, and completely homogenous, with no streaks of fat. (Mixing this batter what feels like a lot is part of what makes it so amazing.) Stop the mixer and scrape down the sides of the bowl.
On low speed, add the flour, baking powder, baking soda, cinnamon and salt. Mix for 45-60 seconds, just until your batter comes together and any remnants of dry ingredients have been incorporated.
Dump the shredded carrots into the bowl and, with a spatula, fold hem into the batter. scraping down the sides of the bowl and giving the batter one last fold.
Evenly divide the batter between your prepared pans.
Bake for 25-30 mins or until a toothpick inserted into the center of the cake comes out clean. Let cakes cool on a wire rack while you prepare the frosting.
For the Frosting:
Cream together the butter and cream cheese until light and fluffy. Add the vanilla and cinnamon, and then the powdered sugar, one cup at a time, until the frosting is smooth and thick. The more powdered sugar you add the more stiff it will be so start with 2 cups and add a little more at a time if needed.
Slice the cake layers in half if desired to make 4 layers, or just frost the two layers. Store in the fridge until ready to serve.
Notes
*I used 6 inch pans and my layers were thick enough to slice into 4. If you use an 8 or 9 inch pan, they may end up thinner and making four layers may not be needed- either option is fine. Base recipe from: Milk, The Momofuku Milkbar Cookbook
Nutrition Information:
Yield: 1 Serving Size: 1 grams
Amount Per Serving: Unsaturated Fat: 0g