Classic Cheesecake with Sour Cream Topping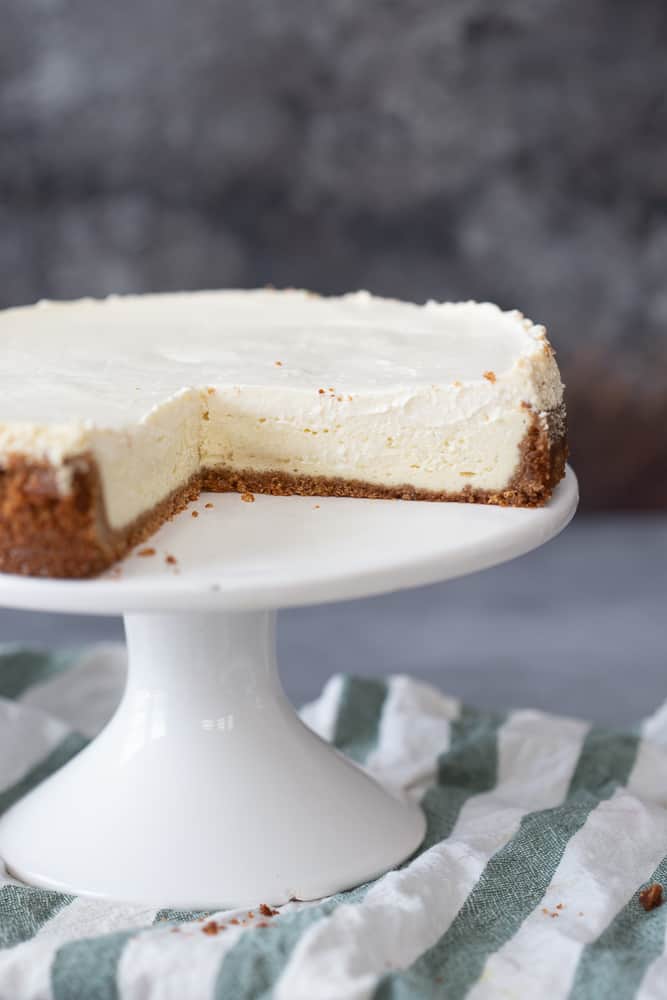 This post was originally published on 6/15/2011. It has been updated with new text and pictures but this popular recipe is the same!
Earlier this week was my husband Andy's birthday. In anticipation I asked him weeks ago what kind of birthday cake he wanted.
I had images of layers and fillings and frostings floating through my mind. I couldn't wait to make him something elaborate and festive!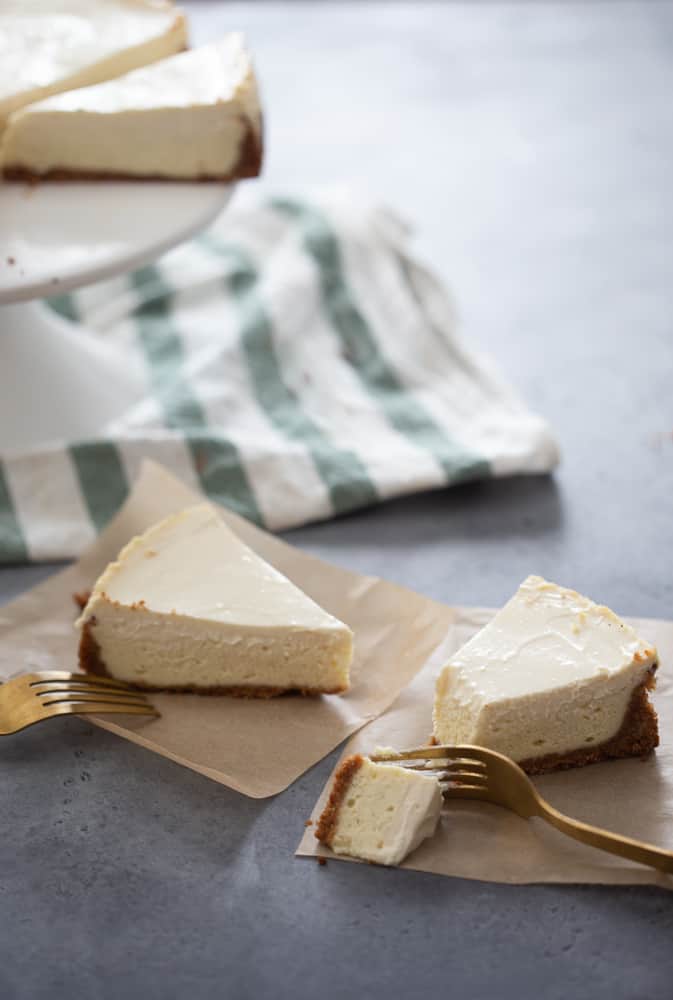 Andy, however, wanted a cheesecake. Not just any cheesecake, his Mom's cheesecake.
Creamy and simple with a thick graham cracker crust. "Ok!" I said. "What flavor? Any toppings? Any sauces? Anything colorful and pretty and blog-worthy??" "No….." He said, "I just want my Mom's cheesecake!"
Sigh….the food blogger side of me was itching to add a beautiful flavor swirl or a fruit coulis on the side. But the wife side of me gave him what he wanted on his birthday. A simple creamy cheesecake with a thick graham cracker crust.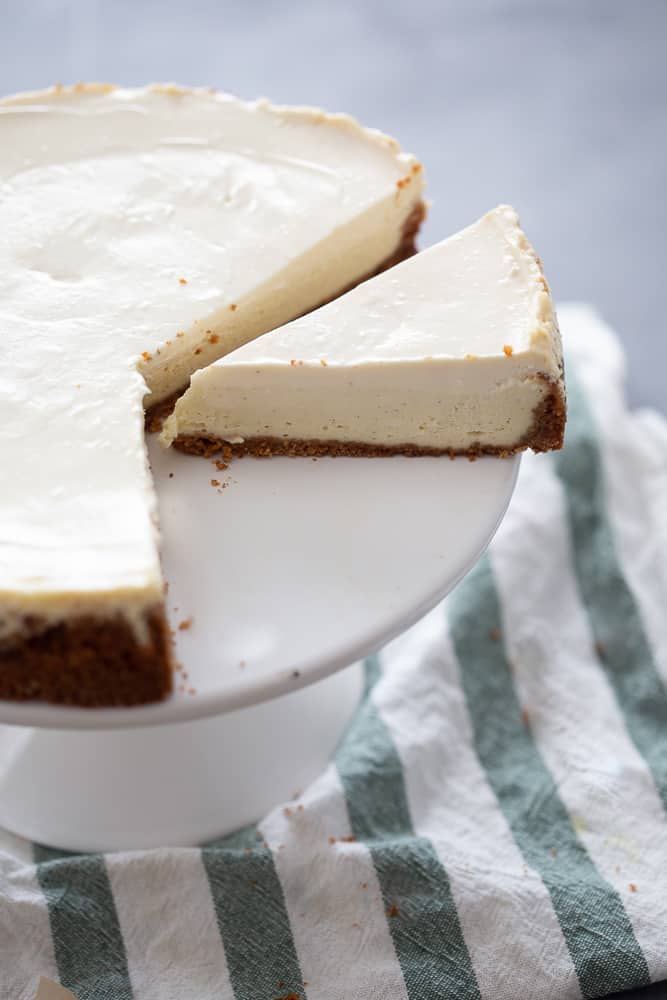 Now even though it was simple, this cheesecake was really pretty great. The crust was crisp and thick, the consistency of the cake was creamy and silky and the birthday boy was happy which is really all that matters.
I wasn't even going to post it originally because it seemed to simple, but we all loved it so much I had to share the recipe with you. It is slightly adapted from his Mom's recipe, but he said it tasted just as good so that made me happy. Enjoy!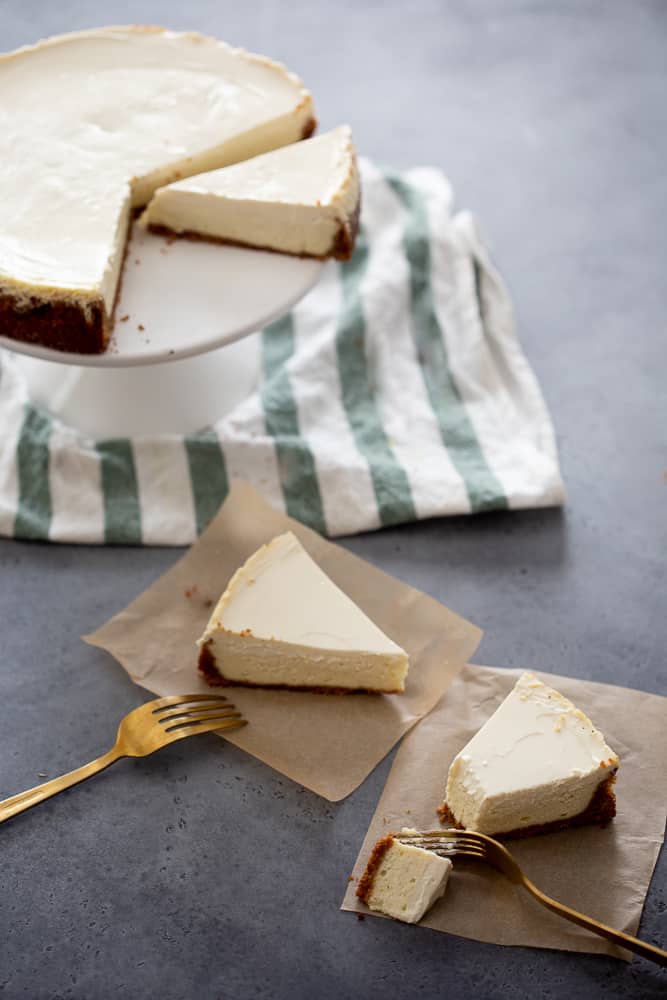 PS: One of the best things about this cheesecake is that it is virtually "crack-proof." You know those dreaded cracks that sometimes form on the top of cheesecake? Well even if that happens in this case, the sour cream topping smooths right over it and won't crack with you bake it. Yay!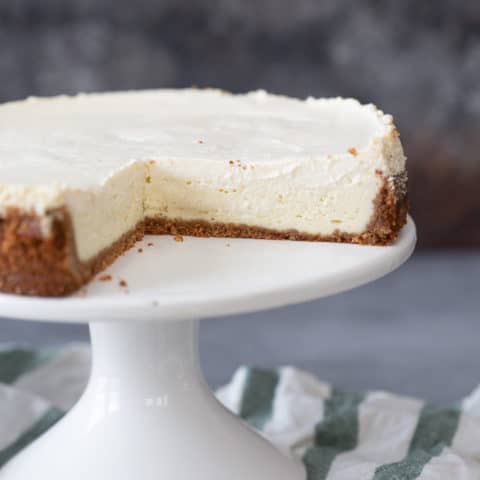 Classic Cheesecake with Sour Cream Topping
Ingredients
Crust:
1½ cup crushed Graham Crackers (about half a box)
¼ cup melted butter
¼ cup sugar
Filling:
2-8oz packages of cream cheese at room temperature
½ cup sugar
3 large eggs - at room temperature
1 tsp. pure vanilla extract
Sour cream topping:
1 pint sour cream
¼ cup sugar
1 tsp. pure vanilla extract
Instructions
Crust- Preheat oven to 375. Put half of the box of Graham crackers into the bowl of a food processor fitted with a steel blade. Pulse until finely ground. Measure out 1½ cups into a medium sized bowl.
Stir together the crumbs and the sugar, and then evenly pour the melted butter into the mixture. Stir using a fork until everything is evenly blended.
Pour crust mixture into a 9 inch springform pan. Press it evenly around the bottom and and inch up the sides until an even layer is formed. (I used the bottom of a cup for this) Set aside.
Filling: In a large bowl, mix the softened cream cheese and sugar together on medium to medium-high speed. Once fully combined, add the vanilla and one egg. Blend until smooth and fully incorporated. Scrape the bowl down from time to time to ensure everything is being mixed together. Add the remaining eggs, one at a time, mixing thoroughly each time. (Don't mix on high speed - this will incorporate too much air into the batter and the cheesecake won't be as dense once it bakes.)
Pour mixture over the crust. Gently tap the pan to encourage any air bubbles to rise to the surface.
Place the cheesecake into a preheated oven and bake for approximately 25 minutes, or until the center no longer jiggles when gently shaken. Once the first layer has baked, let it cool for at approximately 15 minutes. Increase the oven temperature to 450° F.
For the Sour Cream Topping:
While the cheesecake is cooling, whisk the sour cream, sugar and vanilla together until smooth. Once the cheesecake has cooled for approximately 15 minutes, pour the sour cream topping over top. Using a rubber spatula or offset spatula, smooth out the surface.
Place back into the oven (remember the heat should have been increased to 450° F) and bake for about 10 minutes. Remove from the oven and place on a cooling rack to let cool to room temperature.
Refrigerate the cheesecake overnight to set. *Don't put cheesecake in the fridge until it has cooled to room temperature.
Notes
Recipe adapted from Andy's Mom!
Recommended Products
As an Amazon Associate and member of other affiliate programs, I earn from qualifying purchases.