Classic (One Bowl) Chocolate Cake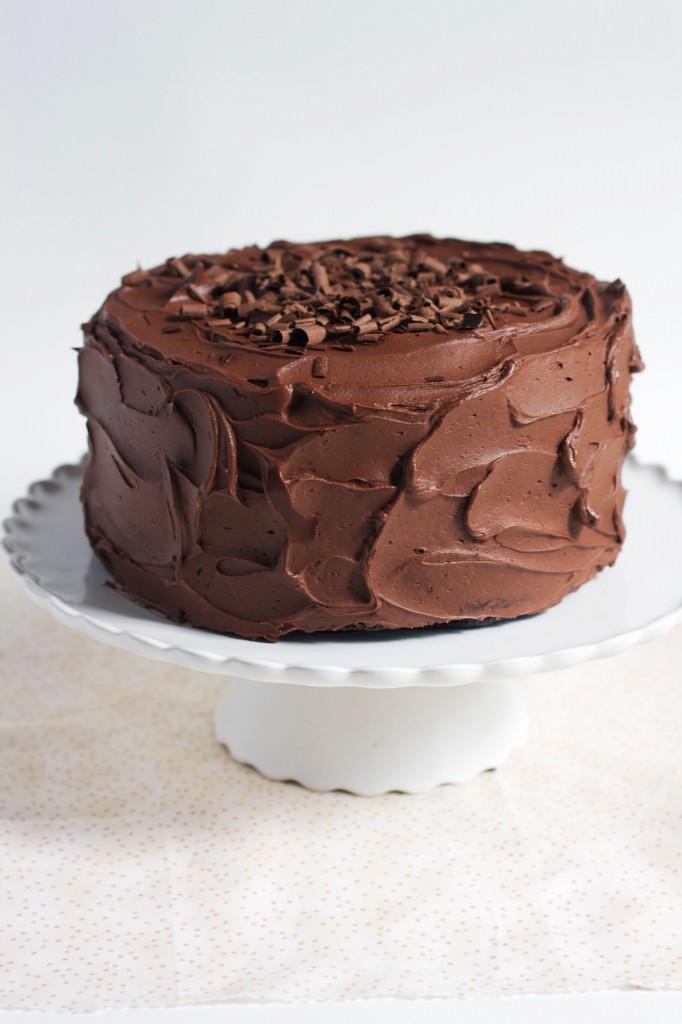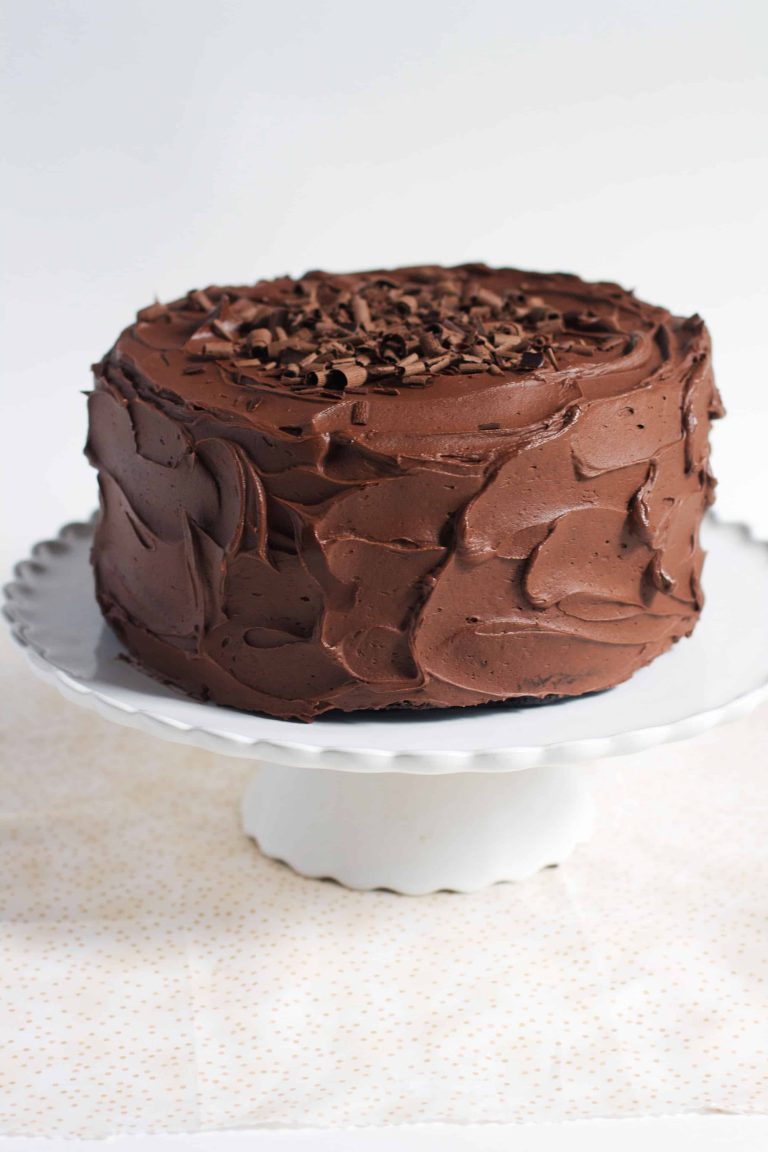 I know I just talked about avoiding turning my oven on in the summer, but if I am going to turn it on it has to be for something 1- easy and 2- delicious. Also- it happened to be my husband's birthday and he wanted cake and that's what he got. Classic, rich, fudgy chocolate cake that is so easy to throw together I may be turning my oven on for it on a weekly basis.
I have never had too much luck with layer cakes, (they always seem to be lopsided or the filling ends up oozing out the sides,) so I was very proud that this baby was straight and pretty. (Though I still need lessons in decorating, "rustic swirls" seem to be the only trick up my sleeve as of now.) The fact that this cake is much more fluffy than dense helps with the layering too- maybe next time I'll be brave and try 3 layers!!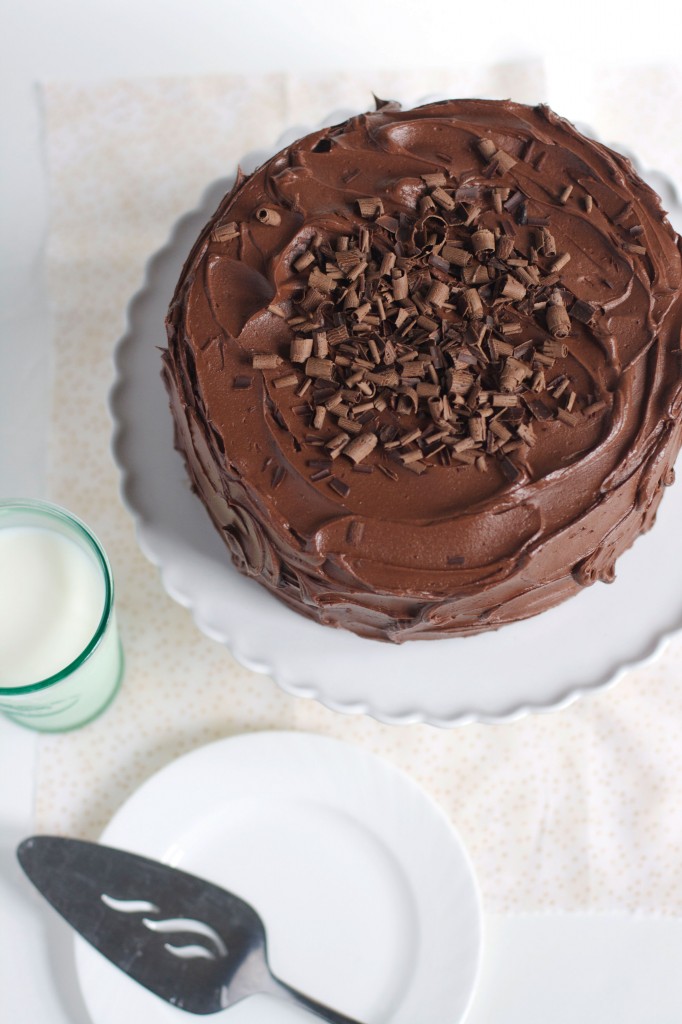 Oh funny story- as delicious as this cake ended up, you should have seen the two layers that I wasted my fancy cocoa powder on that ended up in the trash. I knew they looked a little weird and I was so surprised that they baked in 12 minutes (it should have taken at least 30.) I figured maybe my fancy cocoa powder was to blame so I left them to cool, thinking they actually didn't rise much and I'd probably need a third layer. I start whipping up another small batch of batter and then a huge lightbulb goes off. SUGAR. Oh man yup- I just totally forgot to add sugar to the first batch. Isn't it crazy how much more than taste it affects? I laughed at myself for a few minutes, cried a little inside and then started over.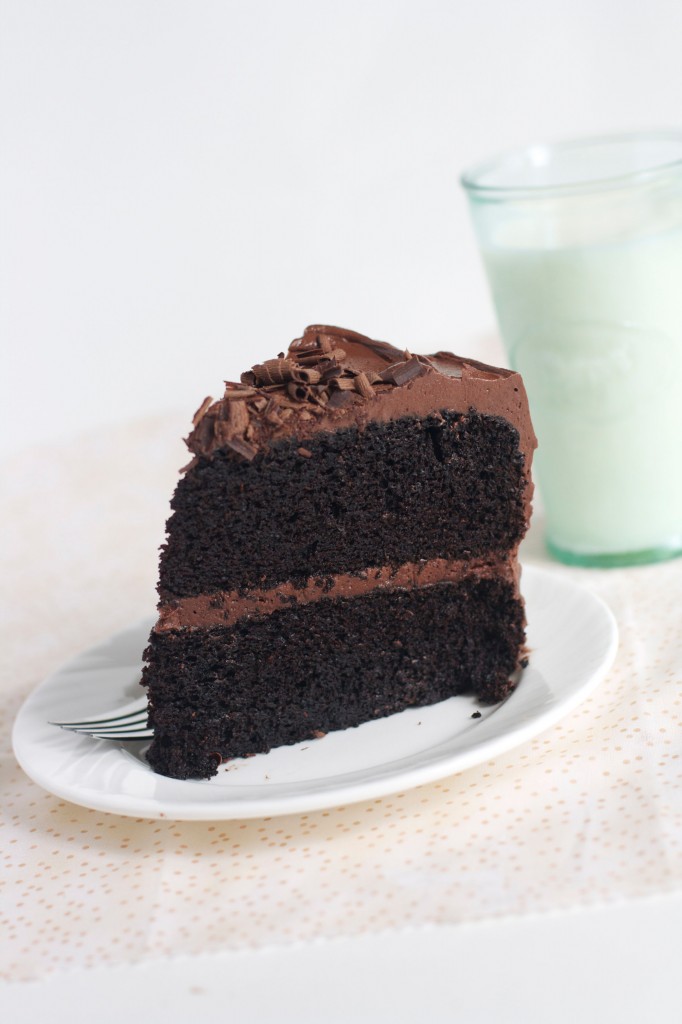 One last thing- I am having the hardest time getting inspired with summer recipes that both sound good/doable. It may be a combination of me being under the weather and not really feeling like sweets, or the heat, or just wanting to relax in the summer sun. Anyway- things may be a little slower over here for the next few weeks. I promise I'm not going anywhere, I just want to give you quality over quantity and I need to wait until more good ideas come my way. Feel free to pass some on and I so appreciate your patience. I will try to think of other ways to fill my blog space in the meantime too!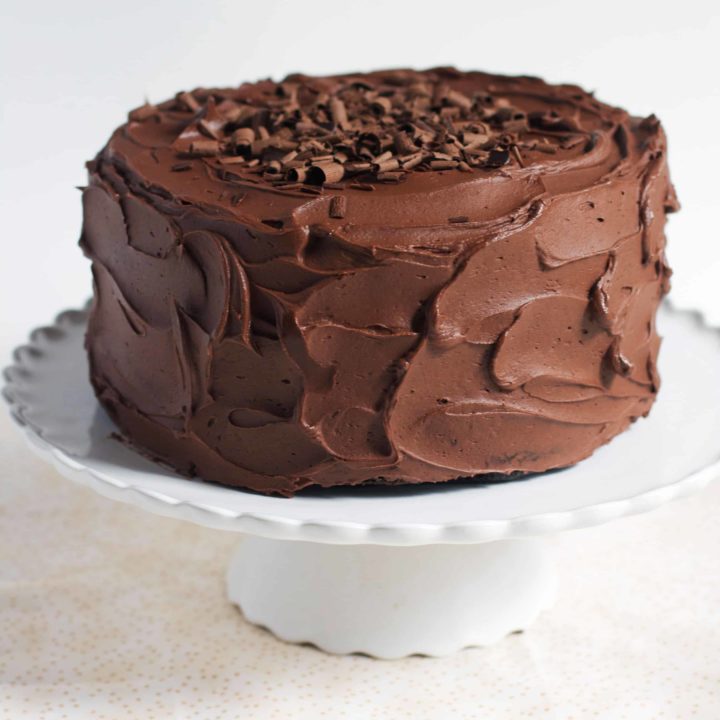 Classic (Easy) Chocolate Cake
Yield:
1 8/9 inch layer cake
Ingredients
1 cup plus 2 tablespoons unsweetened cocoa powder*
2 and 1/4 cups all-purpose flour
2 and 1/4 cups sugar
2 and 1/4 teaspoons baking soda
1 teaspoon baking powder
1 teaspoon salt
3 large eggs
1 cup plus 2 tablespoons warm water
1 cup plus 2 tablespoons buttermilk
4 1/2 tablespoons safflower oil
1 1/2 teaspoons pure vanilla extract
For Frosting:
2 sticks unsalted butter, softened
1/2 cup cocoa powder*
3 cups powdered sugar
1/2 cup semi sweet chocolate chips, melted and cooled slightly
1/2 teaspoon vanilla extract
3-4 tablespoons milk or cream
Chocolate chips or shavings for garnish*
Instructions
For the cake:
Preheat the oven to 350 F. Butter two 8 or 9 inch round cake pans, sprinkle with flour and line with parchment rounds. Set aside.
In a large bowl combine all the dry ingredients (flour, sugar, cocoa powder, baking powder, soda and salt.) Whisk together until well combined.
Add all the rest of the ingredients- (eggs, buttermilk, warm water, oil and vanilla,) and whisk until smooth, clump-free and glossy. (Don't over-mix)
Divide the batter evenly among the pans, and bake for 30-40 minutes, (depending on your oven,) or until a cake tester inserted into the center comes out clean. Cool completely before frosting.
For the Frosting:
In a medium-large bowl, combine the butter, powdered sugar and cocoa and mix with an electric mixer until the dry ingredients have been worked into the butter, and the mixture is thick and paste-like. Fold in the melted chocolate and then add the extract and 3 tablespoons of milk or cream and mix on high speed until smooth and fluffy. At this point, create thicker or thinner frosting by adding more milk/cream or powdered sugar as needed.
Frost and layer cake as desired.
Notes
* I used dark dutch-process cocoa for both the cake and the frosting. Regular cocoa with work just fine though if that's what you have.
Cake recipe adapted from Martha Stewart
Nutrition Information:
Yield:

1
Serving Size:

1 grams
Amount Per Serving:
Unsaturated Fat:

0g