Classic Vanilla Cupcakes with a Little Announcement!
Can you guess what I'm announcing today? I thought about just coming right out and telling you- but I figured that when you have a food blog that is really mostly sweets- its best to bake this sort of news into a cupcake. You may remember that last week I told you about all the things that I was looking forward to this month- finding out our baby's gender being one of them. Well….
A boy!! The first boy in my family of 5 daughters which is really just so so exciting. To be honest, I really thought deep down it was a boy. I'm not really sure why except that maybe, just maybe I thought that if I convinced myself that I was having a little dude I wouldn't be disappointed if I found out it wasn't a girl. You see I get girls. I understand what to do, having had three younger sisters and countless little lady babysitting charges. I am so close with my own Mom, and I've dreamed about having that kind of relationship with a daughter someday. Remember the dorky letter I wrote to my future kids? Well to my 15-year old self I think I always just figured they would be girls…like my own family. I wanted a boy too, but I thought that if I just had my girl first I would never have to worry about not getting one later, which to me felt like a devastating thought.
So as I went in for that sonogram I prepared myself, thinking "It's gonna be a boy- a boy! a boy!" really trying to get jazzed, knowing that if she said girl instead I would secretly be elated. But then I was on the table and then started to see the picture of my baby- little feet, the sweetest perfect head, hands and elbows. I even swooned over the ribs and spine which were so perfectly developed for such a teeny, banana-sized thing. I started welling up sitting there while she told me that my baby was doing flips in my belly, making it difficult to get the right pictures. My little baby doing flips in my belly? I honestly couldn't think of anything cuter. And finally at the end she got to the money shot, pointed out his sweet little butt and the very obvious fact that he was a boy, and I was just so darn happy. A son. I'm gonna have a son. A Mama's boy, a sweet little man that I already love more than anything.
I still hope and pray that I get a daughter, but I have spent the last few days getting more and more excited about having a son and all that comes with it. I may not have been someone who imagined herself with boys, but now that I know that I have one it's all I can think about. I feel bad for having wanted anything other than what I have, but trust me when I say that now I wouldn't trade it for the world. I fell so in love with those pictures of the little human growing inside me. I love that he's a boy, and I'm just so excited.
So there's my honest confession of the day.
Also- this is my new favorite vanilla cupcake recipe and it's delicious. I'm sharing it below!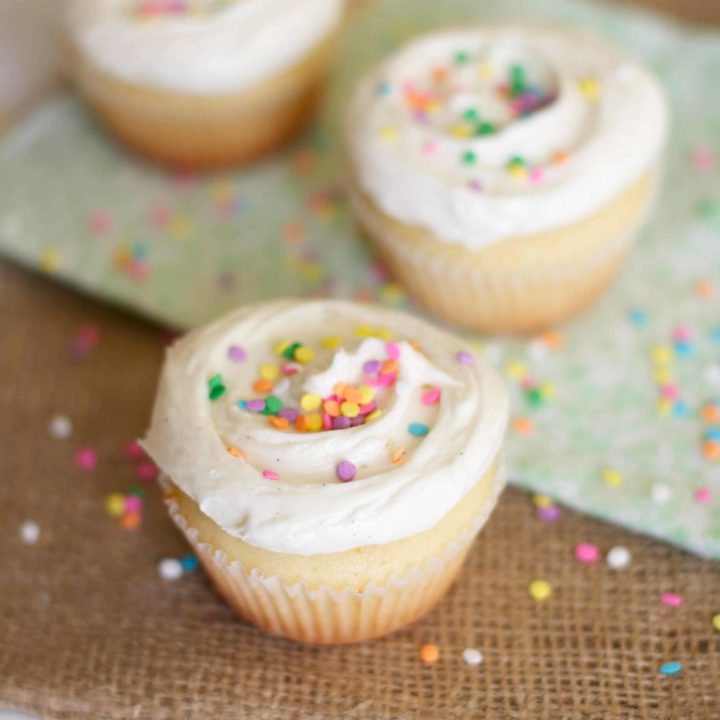 Classic Vanilla Cupcakes
Ingredients
3 cups all-purpose flour, 12.75 oz
1 1/2 teaspoons baking powder
3/4 teaspoon salt
12 tablespoons 1 1/2 sticks unsalted butter, room temperature
1 1/2 cups sugar
4 large eggs
2 tablespoons pure vanilla extract
1 1/4 cups buttermilk
For Frosting:
2 sticks of butter softened
2 1/2 cups powdered sugar
1 vanilla bean, split lengthwise
2 tsp. vanilla extract
2-6 tablespoons of milk or cream
Instructions
Preheat oven to 350F.
Line cupcake pans with liners; set aside.
In a medium bowl, whisk together flour, baking powder, and salt.
In a large mixing bowl, cream the butter and sugar until light and fluffy. Add eggs, one at a time, beating well after each addition, mix in vanilla.
Add flour mixture and buttermilk alternately, beginning and ending with flour. Scrape down the bowl- don't over mix the batter.
Divide batter evenly among liners, filling each about three-quarters full. Bake until tops spring back when touched, about 20 minutes. Transfer to a wire rack; let cool for 5 minutes and then remove from pan. Let cupcakes cool completely before frosting.
For Frosting:
Beat butter and scraped out vanilla bean with an electric mixer until pale and fluffy, (about 3 minutes.) Add the powdered sugar and beat well until mixture is thick and almost paste like.
Add extract and 1 tablespoon of milk/cream. Beat well. Slowly add more milk 1 spoon at a time if you think your frosting is too thick or dry. Frost cooled cupcakes as desired.
Nutrition Information:
Yield:

24
Serving Size:

1 grams
Amount Per Serving:
Unsaturated Fat:

0g