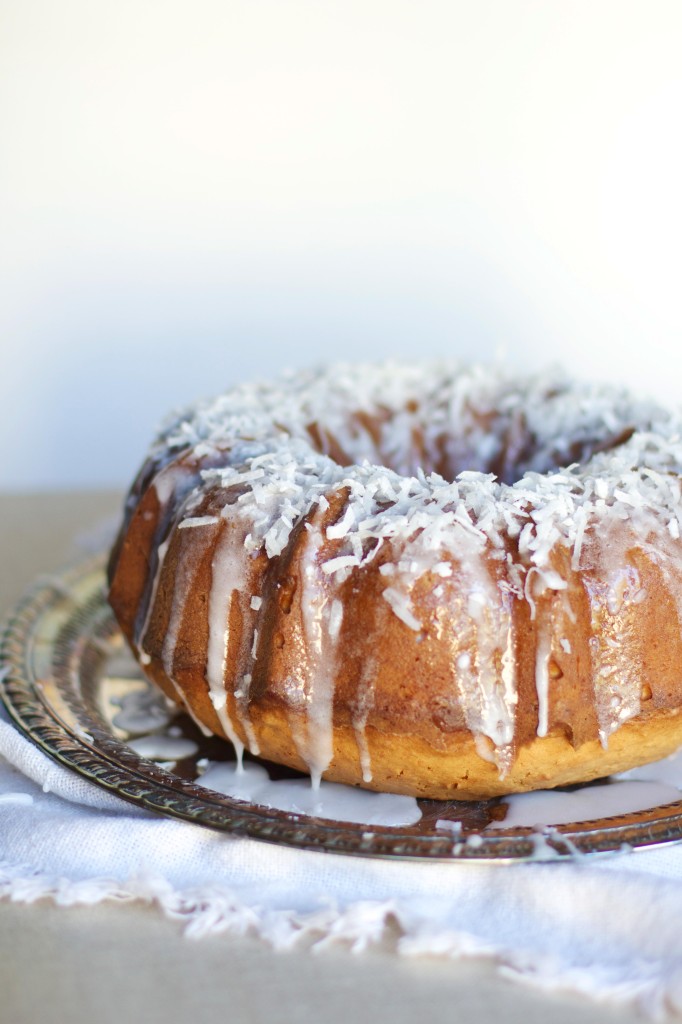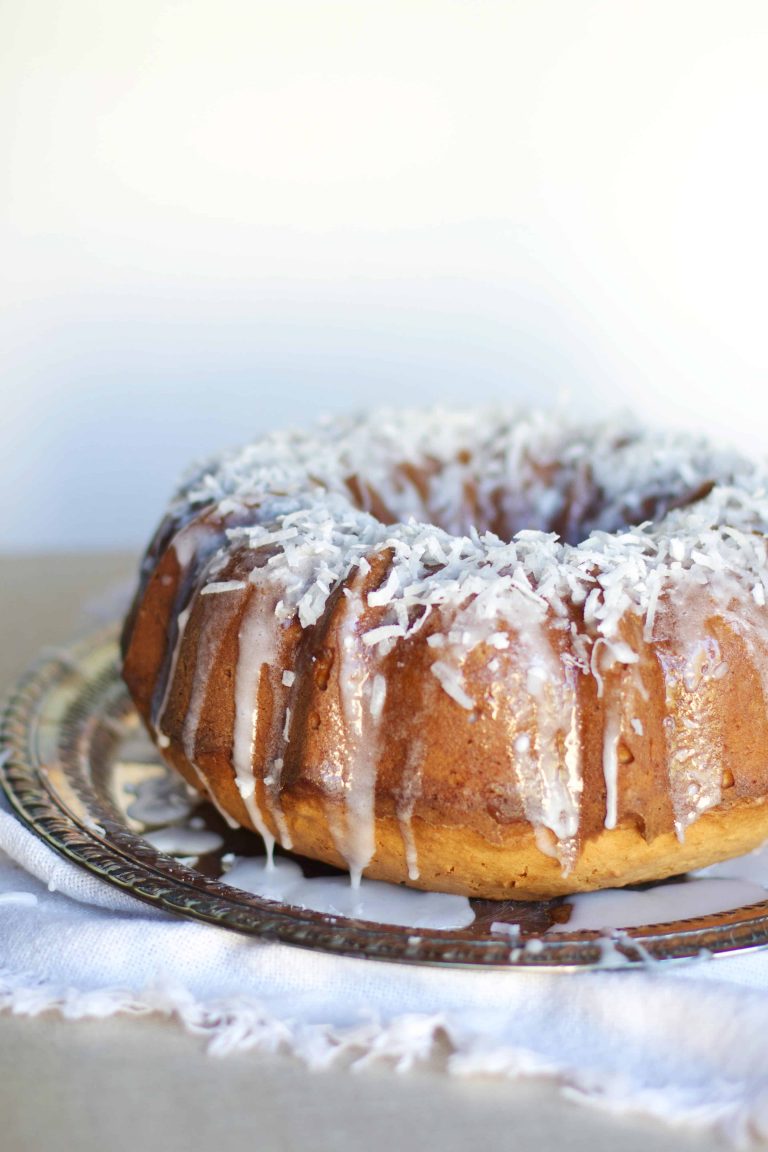 Are you doing anything special for Easter? In terms of holidays- Easter has always been a free for all as far as I am concerned. Every year is different and I don't have any family traditions that I feel a strong need to hold on to like with Christmas and Thanksgiving. This year we'll be visiting Andy's family in South Carolina and introducing them to Hugo which is very exciting!! (He may or may not have an adorable outfit planned complete with a bow-tie!) The only thing I care about when it comes to Easter is celebrating with loved ones on what is (hopefully) a lovely spring day complete with lots of pastel and delicious food!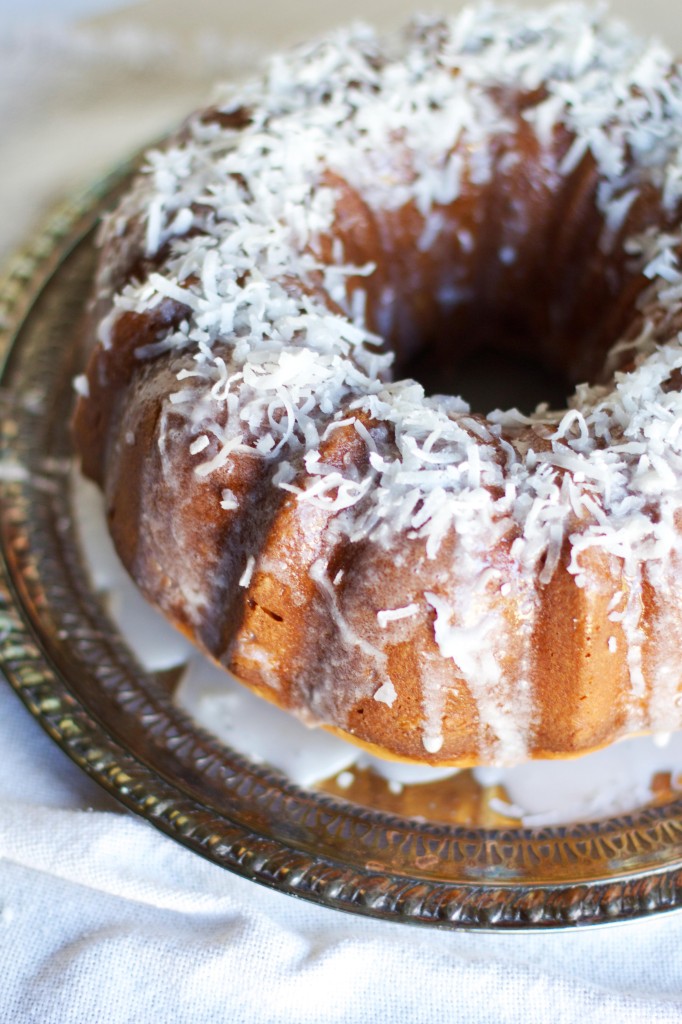 Anyway- if I were the type to host an Easter brunch with all my family and friends, I would love to feature this delectable cake right smack dab in the center. Something about the fluffy coconut and milky white glaze reads Easter to me! This cake is just loaded with coconut. Coconut oil is in the batter, as well as shredded coconut and coconut extract. Then coconut milk and is poured all over the cake, letting it soak up even more fresh coconut flavor. This really is the ultimate coconut cake for anyone that loves the flavor as much as I do! I served it with some homemade caramel sauce to make it even more decadent- but it's also delicious on its own!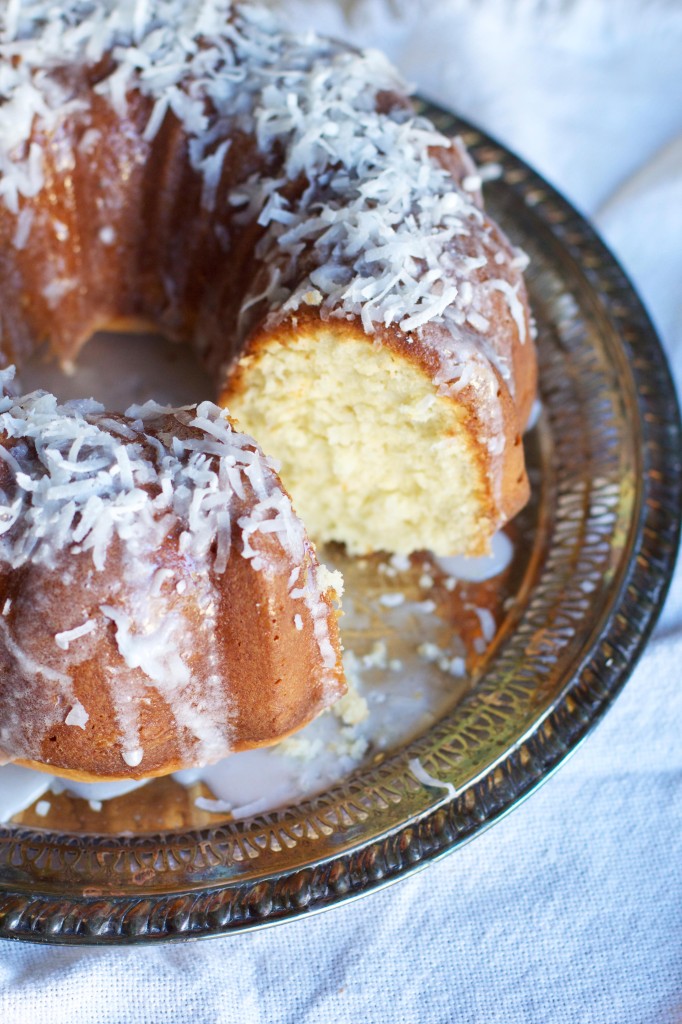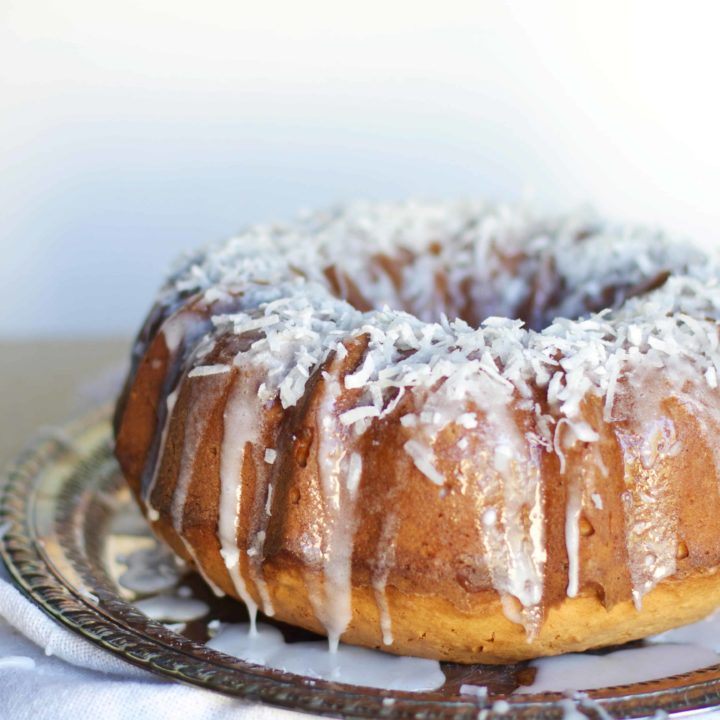 Coconut Cream Bundt Cake
Ingredients
1/2 cup 1 stick butter, softened
3/4 cup coconut oil
1 8 ounce package cream cheese, softened
2 1/2 cups white sugar
6 eggs- room temperature
1 teaspoon coconut extract
1 teaspoon vanilla extract
3 cups all-purpose flour
1/2 teaspoon baking powder
2 cups flaked coconut
2 cups unsweetened coconut milk*
2 cups powdered sugar
flaked coconut for topping
Instructions
Preheat the oven to 350F. Grease and flour a 10 inch bundt cake pan.
In a food processor- pulse the 2 cups of flaked coconut for a few seconds until broken down into teeny pieces.
In a large bowl, cream together the butter and cream cheese until smooth. Mix in the coconut oil and sugar, and beat until light and fluffy. Blend in the eggs one at a time, scraping the bowl down after each is added- then stir in the extracts. Mix in flour and baking powder until just combined and then fold in the coconut. Spoon batter into the prepared pan.
Bake for about 60 minutes, or until a knife inserted into the cake comes out clean. Allow the cake to cool in the pan for 10 minutes before inverting onto a cooling rack.
Use a fork to prick holes all over the cake. Brush 1 cup of coconut milk over the cake, letting it soak in fully before adding more. (This may take a few minutes as you wait for each layer to really soak into the cake.
For the Glaze:
Combine the 2 cups powdered sugar with a tablespoon of coconut milk. Gradually add more coconut milk until glaze is desired consistency. Drizzle the glaze over cooled cake and top with flaked coconut.
Notes
Recipe adapted from All Recipes * I used unsweetened coconut milk. If you can only find sweetened- I would take 1/2 cup of sugar out of the cake.
Nutrition Information:
Yield:

12
Serving Size:

1 grams
Amount Per Serving:
Unsaturated Fat:

0g