Coconut Pineapple Sorbet Sandwiches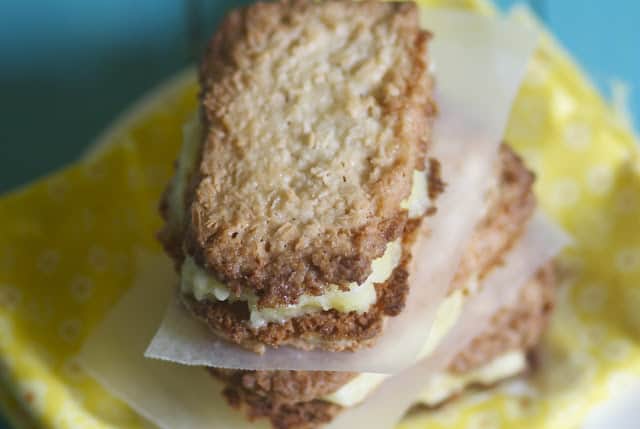 <
Like much of our country, spring has sprung full force here in NYC. Last week we had a few days where temperatures hit the 70s and New Yorkers were proudly sporting their flip flops and sundresses. It's amazing how quickly we're willing to shed our puffy coats and embrace the sun. The other true sign that summer is on it's way is the sound of the Mr. Softee truck roaming around the block. As I saw countless folks happily devouring their swirly soft serve with a chocolate shell, I knew it was time to make a frozen treat.
And of course when it comes to anything ice cream related, my tried and true "The Perfect Scoop" by David Lebovitz was the first place I went for recipe inspiration. I wanted to make ice cream sandwiches, but nothing too heavy. (I'd just finished a piece of cinnamon bun pie.) I also really wanted to embrace the warm weather by imagining I was on vacation with a frosty pina colada in hand. The result- crisp coconut cookies with smooth pineapple sorbet sandwiched inside.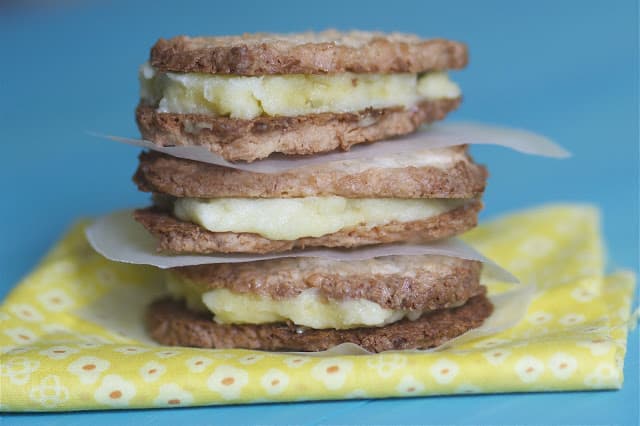 The dough of these cookies is simple to throw together, then formed into a log, frozen for a half hour and sliced. The cookies bake up quickly and before you know it- you have drips os fruity sorbet all over yourself. You could easily sub any ice cream or sorbet filling as the cookies would go with a lot. I think they'd be great with chocolate ice cream, caramel, mango sorbet etc. I stashed one of these in the back of my freezer and even loved it yesterday when it was cold again. (Wah!) Enjoy :)
Coconut Pineapple Sorbet Sandwiches
Ingredients
1/2 cup 1 stick unsalted butter, room temperature
1/2 cup sugar
1/4 teaspoon salt
3/4 cup all-purpose flour, spooned and leveled
7 ounces sweetened shredded coconut, 2 2/3 cups, loosely packed
for sorbet:
1/2 pineapple, peeled and cored (2 cups pineapple chunks)
8 tablespoons granulated sugar
1/2 cup water
Instructions
For the Cookies:
With an electric mixer, beat butter, sugar, and salt until smooth. Mix in flour, then coconut, beating until a dough forms. Transfer to a piece of waxed paper; pat into a rectangular log, about 3 inches wide and 6 inches long. Wrap with waxed paper; freeze until firm, about 30 minutes.
Preheat oven to 350 degrees, with racks in upper and lower thirds. With a serrated knife, slice log of dough crosswise 1/4 inch thick (you should have 24 slices); arrange slices on two baking sheets.
Bake until golden, rotating sheets from top to bottom and front to back halfway through, 20 to 25 minutes (watch closely toward end of cooking time to avoid overbrowning). Cool completely on sheets.
Dividing evenly, spread sorbet on flat side of half the cookies; sandwich with remaining cookies, flat side down. Freeze on a baking sheet until firm, about 3 hours.
For the Sorbet:
Cut the pineapple into chunks and puree in a blender with granulated sugar and water. Mix until smooth.
Chill the pineapple mixture in the refrigerator for at least one hour. Freeze in your ice cream maker according to the manufacturer's instructions. If you are making the sandwiches you can spread the soft sorbet onto the cookies right away- otherwise freeze overnight for a more firm sorbet.
Nutrition Information:
Serving Size: 1 grams
Amount Per Serving: Unsaturated Fat: 0g
Cookie recipe from Martha Stewart
Sorbet recipe from The Perfect Scoop by David Lebovitz