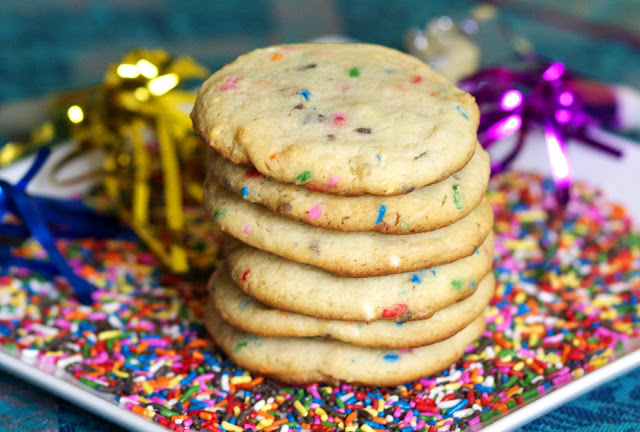 New Years Eve and I have always had a bit of a love/hate relationship since living in NYC. There's always a constant pressure to do something fabulous and more often than not I end up a bit disappointed. This year, I've decided to have a chill night with friends, playing poker and eating good food. The moment I saw the recipe for these cookies I knew they were perfect for the occasion. Especially after last year's NYE where I somehow ended up in a private Times Square viewing area, 10 feet away from New Kids on The Block- covered in a stream of gold confetti. (True Story.)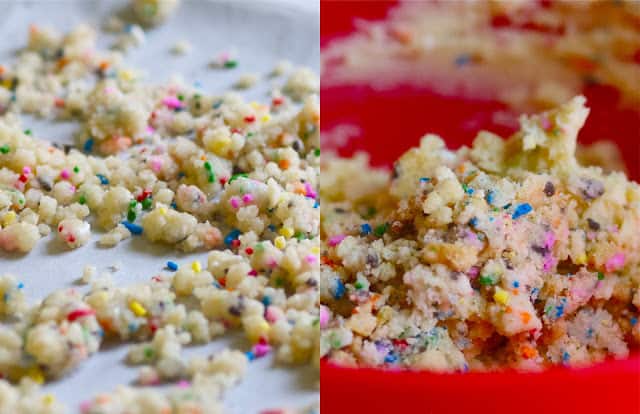 This wonderful recipe comes from one of my new Christmas Presents: The Momofuku Milk Bar Cookbook. I am ashamed to say I've never actually been to the Milk Bar, but after reading all of the amazing recipes in the book I'm sure that I'll be heading there soon. The book is full of whimsical and complex desserts that sound too good to not try. (Cereal Milk Ice Cream anyone?) Even the simple cookie recipes are more involved than some, but I think it would be a good New Years challenge to attempt some more difficult recipes! (I'm actually thinking of trying to bake my way through it- anyone interested in this?)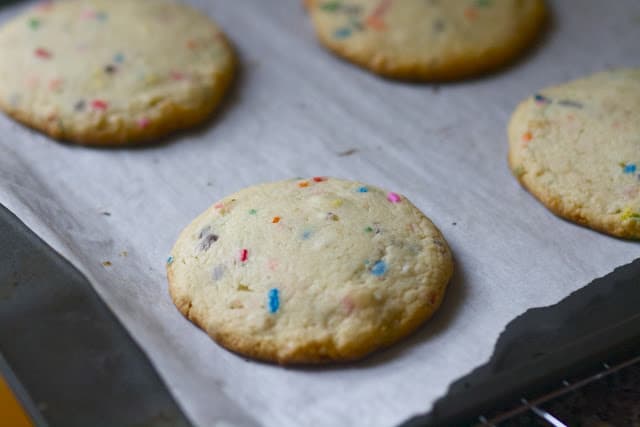 What makes these cookies unique is the use of a "crumb" integrated into the cookie dough. The "crumb" concept is used a lot in the book and I really like the idea. In this case- I made some Birthday Cake crumb and then mixed it into the dough. It really gave these cookies that cake batter/funetti taste that I love so much. Upon tasting these, I think there's no better way to describe them than: Crispy on the outside, soft centers, taste like birthday cake. Perfect right??
*Note- the Momofuku recipe is written in both grams and cups/spoons. I didn't bother with weighing everything, but I left that in if you choose to. Also- I know this recipe contains lots of steps, but trust me it's worth it. These cookies are SO good.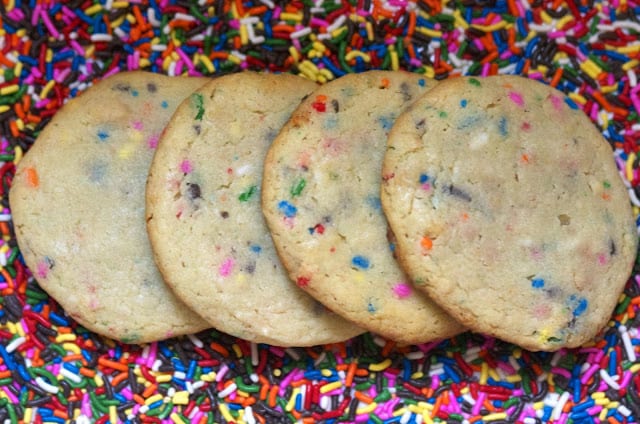 Confetti Cookies
Yield:
Makes about 2 dozen cookies
Ingredients
16 tablespoons (225 grams, 2 sticks) butter, at room temperature
1½ cups (300 grams) sugar
2 tablespoons (50 grams) glucose or 1 tablespoon (25 grams) corn syrup
2 eggs
2 teaspoons (8 grams) clear vanilla extract
2½ cups (400 grams) flour
⅔ cup (50 grams) milk powder (*really the star ingredient in these cookies!)
2 teaspoons (9 grams) cream of tartar
1 teaspoon (6 grams) baking soda
1¼ teaspoons (5 grams) kosher salt
¼ cup (40 grams) rainbow sprinkles
½ recipe Birthday Cake Crumb (recipe follows - I halved the recipe, but by all means make the whole thing- wouldn't it be great in some ice cream?)
Instructions
For the Confetti Cookies Combine the butter, sugar, and glucose (corn syrup) in the bowl of a stand mixer fitted with the paddle attachment and cream together on medium-high for 2 to 3 minutes. Scrape down the sides of the bowl, add the eggs and vanilla, and beat for 7 to 8 minutes. ?(Don't skip this 10 minute creaming step- it is what makes their cookies so good! You want the mixture to get really fluffy, pillowy and pale.)
Reduce the mixer speed to low and add the flour, milk powder, cream of tartar, baking soda, salt, and rainbow sprinkles. Mix just until the dough comes together, no longer than 1 minute. (Do not walk away from the machine during this step, or you will risk overmixing the dough.) Scrape down the sides of the bowl with a spatula. ??
Still on low speed, add the birthday cake crumbs and mix in for 30 seconds—just until they are incorporated. ??
Using a 2¾-ounce ice cream scoop (or a ⅓-cup measure), portion out the dough onto a parchment-lined sheet pan. Pat the tops of the cookie dough domes flat. Wrap the sheet pan tightly in plastic wrap and refrigerate for at least 1 hour, or up to 1 week. Do not bake your cookies from room temperature—they will not bake properly. ??
Heat the oven to 350°F.
Arrange the chilled dough a minimum of 4 inches apart on parchment- or Silpat-lined sheet pans. Bake for 18 minutes. (Once again mine needed less- 14 minutes was the perfect time for mine. I'd keep checking on yours to find the sweet spot.)
The cookies will puff, crackle, and spread. After 18 minutes, they should be very lightly browned on the edges (golden brown on the bottom). The centers will show just the beginning signs of color. Leave the cookies in the oven for an additional minute or so if the colors don't match and the cookies still seem pale and doughy on the surface.
Cool the cookies completely on the sheet pans before transferring to a plate or an airtight container for storage. At room temp, the cookies will keep fresh for 5 days; in the freezer, they will keep for 1 month.
Birthday Cake Crumb
Ingredients
½ cup (100 grams) granulated sugar
1½ tablespoons (25 grams) light brown sugar, lightly packed
¾ cup (90 grams) cake flour
½ teaspoon (2 grams) baking powder
½ teaspoon (2 grams) kosher salt
2 tablespoons (20 grams) rainbow sprinkles
¼ cup (40 grams) grapeseed oil (or canola oil.)
1 tablespoon (12 grams) clear vanilla extract
Instructions
For the Birthday Cake Crumb: Heat the oven to 300°F.??
Combine the sugars, flour, baking powder, salt, and sprinkles in the bowl of a stand mixer fitted with the paddle attachment and mix on low speed until well combined.??
Add the oil and vanilla and paddle again to distribute. The wet ingredients will act as glue to help the dry ingredients form small clusters; continue paddling until that happens.??
Spread the clusters on a parchment- or Silpat-lined sheet pan. Bake for 20 minutes, breaking them up occasionally. The crumbs should still be slightly moist to the touch; they will dry and harden as they cool.??? (Mine needed WAY less time. They were done after 10/12 minutes. I'd set your timer for 12 and check on them. You don't want them to be browned.)
Let the crumbs cool completely before using in a recipe or scarfing by the handful. Stored in an airtight container, the crumbs will keep fresh for 1 week at room temperature or 1 month in the fridge or freezer.??
Recipe from: Momofuku Milk Bar by Christina Tosi