Cookie Butter Krispie Treats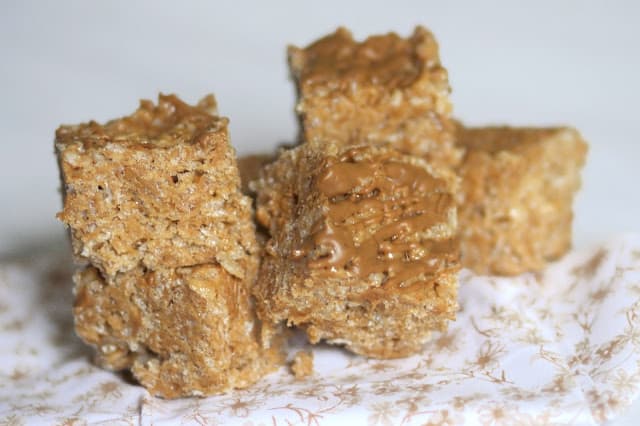 As a kid, did your parents ever trick you into thinking that one food was actually something else? For example, thinking that "ice cream" was actually yogurt. Or a "cookie" was something healthier like a graham cracker? In my case, I was convinced until my teenage years at least that Rice Krispie Treats were actually brown rice cereal mixed with peanut butter and honey- cut into bars. I mean to your credit Mom, the concept is the same, but a classic butter and marshmallow variety never was a part of my childhood.
Now, while I certainly appreciate my Mom depriving me of the processed sugary kind of these treats, I really did love them when I finally got a taste. There is just something heavenly about the chewy, crunchy texture of these treats. And while I'll probably give my own kids the healthy version and trick them just the same, I couldn't resist these bars.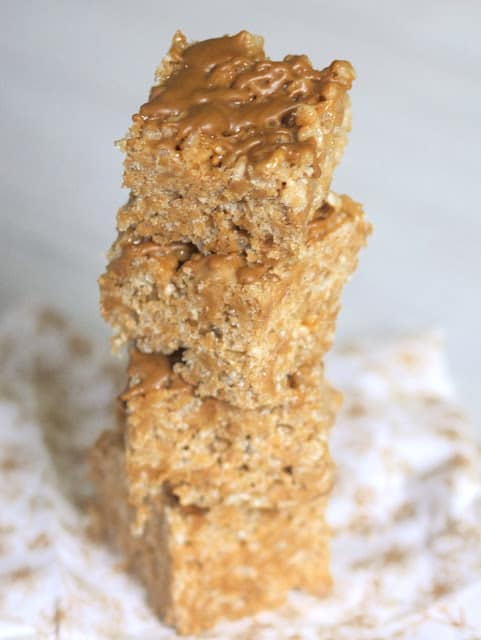 The secret ingredient that made these a step above your run of the mill krispie treat was the addition of my new favorite thing- cookie butter. Also known as Biscoff spread, this delicious creation is made from those cookies that you may remember getting from stewardesses on flights. The cookie itself is a gingerbread-type cookie that hails from Netherlands and is delicious beyond belief. Imagine this cookie in a peanut-butter-like spread and you might know how these are so good.
I got my cookie butter at Trader Joes, but you can also use Biscoff spread if your store sells it OR order it online here.
Cookie Butter Krispie Treats
Ingredients
1/2 stick of butter
1 10 oz bag of marshmallows
5 1/2 cups of rice krispies
3/4 cup cookie butter, divided
Instructions
Spray or butter an 8x8 baking dish, set aside.
In a large saucepan over medium low heat, melt the butter completely. When butter is melted, add marshmallows and stir until smooth and creamy.
Remove from heat, and stir in 1/2 cup of the cookie butter.
Add rice krispies a little at a time, stirring to coat well with the marshmallow mixture.
When everything is evenly coated, spread the mixture into your prepared pan.
Chill the bars in fridge or freezer until cool to the touch and firm.
Cut bars into squares. Melt remaining 1/4 cup of cookie butter and drizzle over cut bars. Allow drizzle to set before serving. Enjoy!
Nutrition Information:
Serving Size: 1 grams
Amount Per Serving: Unsaturated Fat: 0g
Recipe adapted from: Shugary Sweets