Cranberry Buttermilk Upside Down Cake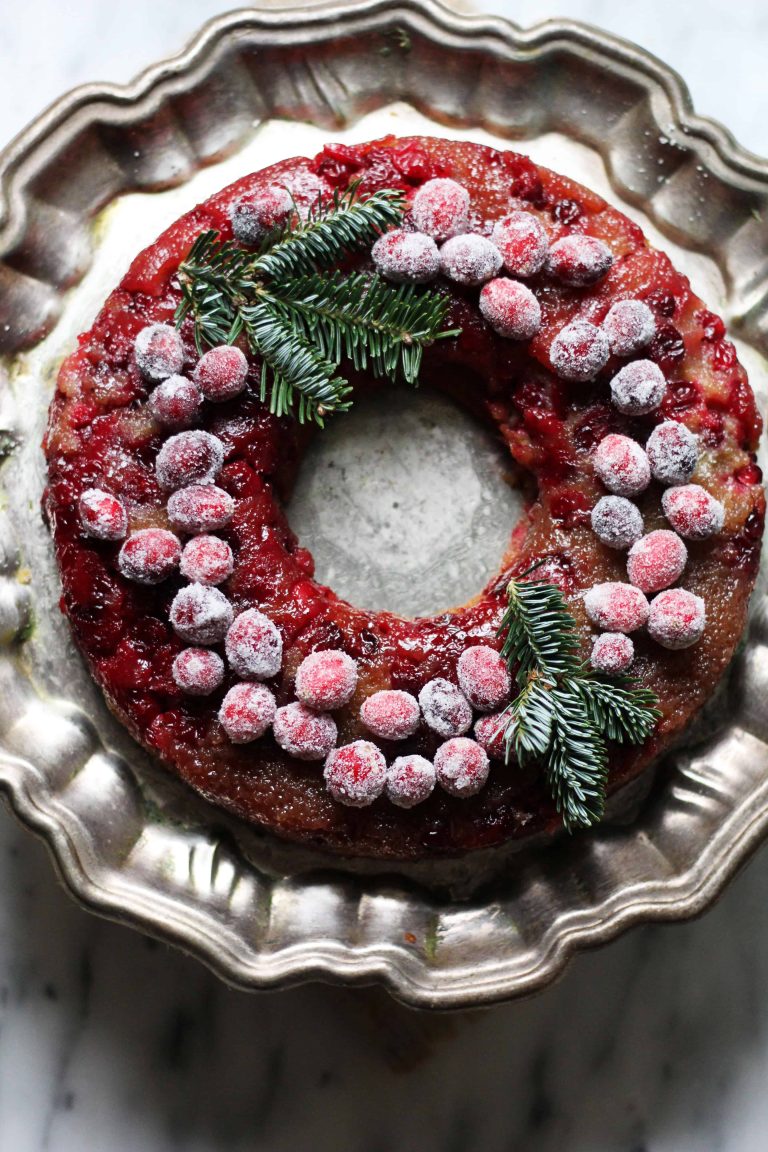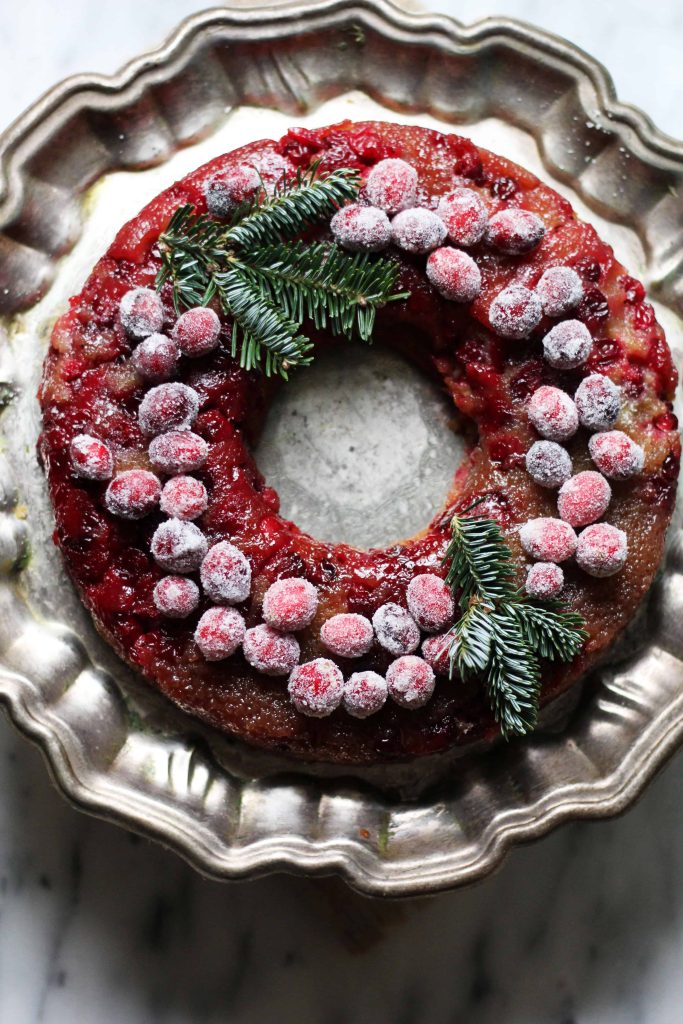 Holiday baking has officially commenced folks! I needed a short break after my Thanksgiving Pie-making bonanza to just breathe and reboot, but here I am with lots of ideas and excitement for December! I am starting the month out with super festive and delicious cake that would be a sure showstopper for any holiday spread. It's also actually quite easy to throw together which makes it even more wonderful.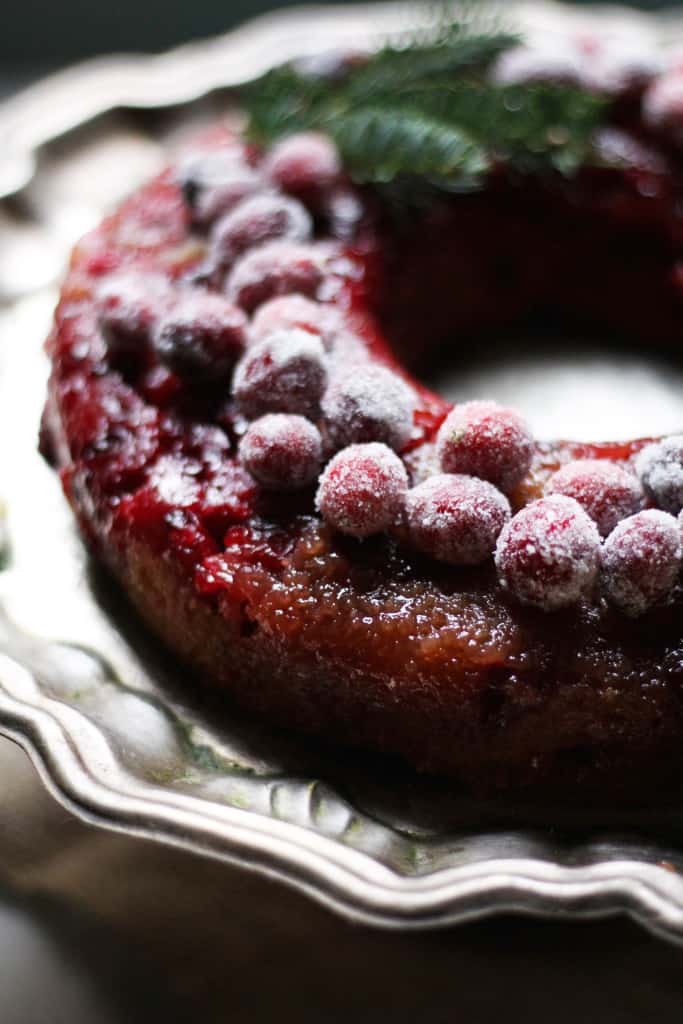 Fresh cranberries are tossed with melted butter, cinnamon and sugar and then placed into the bottom of your cake pan. (I used a ring pan for this but I think a regular cake pan or bundt would work too, more notes on that in the recipe.) Then a simple buttermilk cake batter is poured on top and the whole thing bakes up beautifully. I decided to get fancy and make some sugared cranberries to go on top, (I followed Annie's recipe to a T,) but they are totally optional.
The cake is so incredibly good, with a bit of tang from the berries and a buttery, melt-in-your-mouth texture. I served this to some mom friends with an afternoon cup of tea, but I think it would be a special dessert for just about any festive, wintery gathering.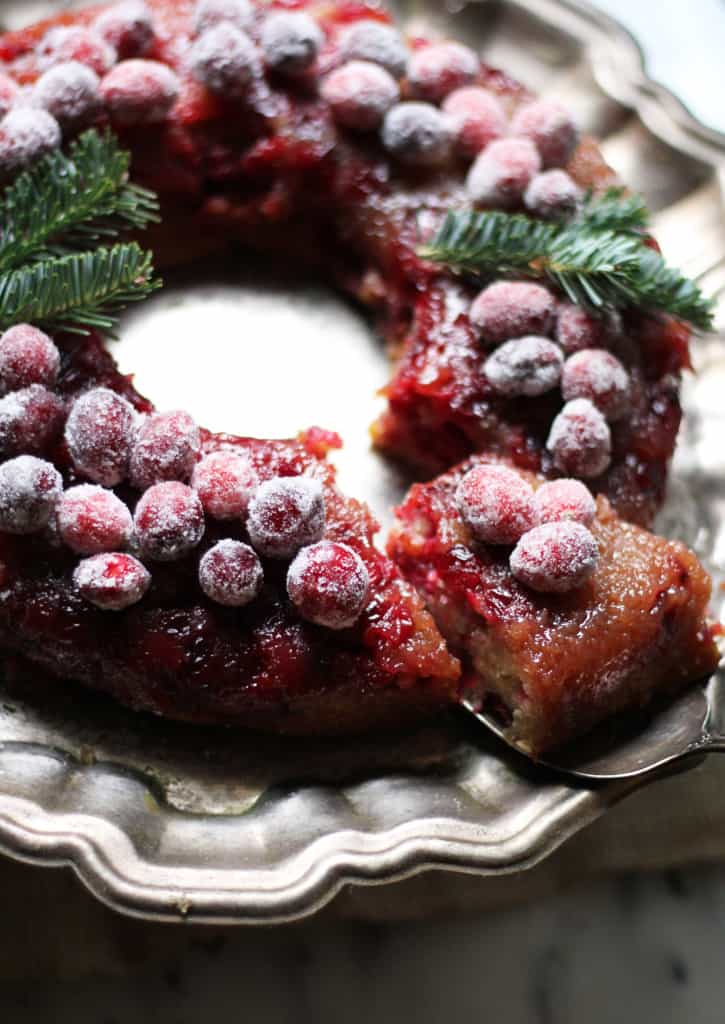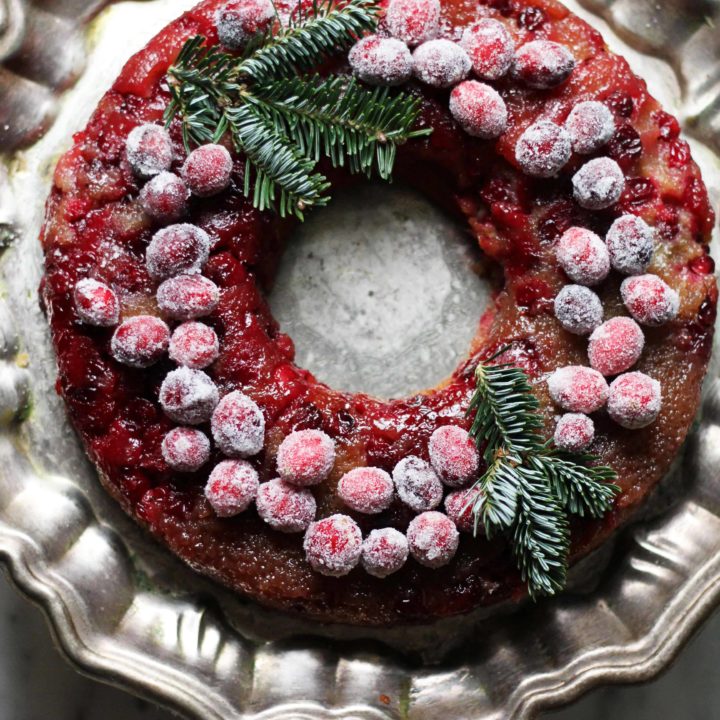 Cranberry Buttermilk Upside Down Cake
Total Time:
1 hour
5 minutes
Ingredients
1/2 cup plus 6 tablespoons butter, separated
3/4 cup plus 1/2 cup white sugar, separated
2 teaspoons vanilla extract or vanilla bean paste, separated
1 teaspoon ground cinnamon
1 (12 ounce) bag fresh or frozen cranberries
1 1/2 cups flour
1/2 teaspoon baking soda
1/2 teaspoon salt
1/2 cup brown sugar
2 eggs
1 cup buttermilk
Instructions
Thoroughly pray or grease a 10-inch ring pan, 9-inch cake pan or bundt pan*. Preheat oven to 350F.
In a medium sized saucepan, combine the stick of butter, 3/4 cup sugar, cinnamon, 2 tablespoons of water, and 1 teaspoon of vanilla. Stir until the butter has melted and then add the cranberries, tossing until they are coating in the butter mixture. Pour into the bottom of the cake pan, set aside.
In a large mixing bowl fitted with a paddle attachment, cream together the 6 tablespoons of butter with the remaining 1/2 cup of white sugar and the brown sugar. Add the eggs, one at a time, vanilla, and buttermilk.
Whisk the dry ingredients together and slowly add to the butter mixture, mixing on low speed until well combined.
Pour/scoop the batter over the cranberry mixture and use the back of a spoon to smooth if needed.
Bake for 35-50 minutes, depending on your pan, or until a toothpick inserted into the center comes out clean.
Notes
*This amount of batter was perfect for the 10 inch ring pan I used, but I think if I made this as a bundt cake I would keep the amount of berries the same but increase the amount of batter just to fill the pan a bit more.

Recipe adapted fromAll Recipes