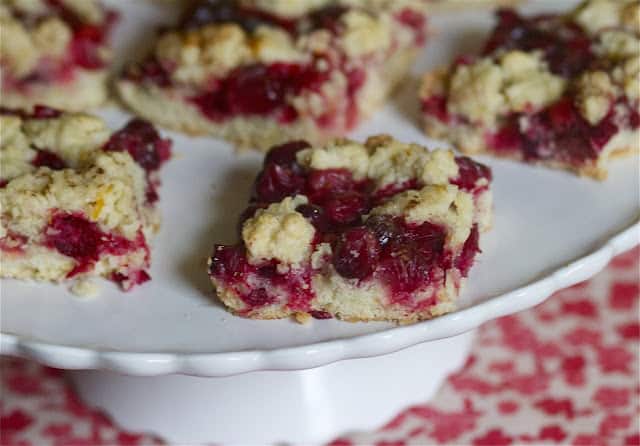 Happy Thanksgiving Eve! I'm writing this post from a cozy nook on my Parent's couch, very happy to be back in the Midwest for the week. Unfortunately I have a nasty head cold and feel kind of miserable, but there's nowhere in the world I'd rather be than with my Mama who is the best at taking care of me when I'm sick. (Aren't all Moms?)
I had a different recipe planned to share today, but yesterday I whipped these up before I flew to Milwaukee and my plans were changed. I always try to bring a treat of some kind home with me for my fam and this was a last minute thought. I had a bag of cranberries in the fridge, some oranges (sick girls need their vitamin C you know,) and all the other simple ingredients needed to make this. I made a blueberry version of these over the summer, and have been waiting for a chance to change up the filling. Anyway- my family loved these so much last night that I thought I should share them with you right away!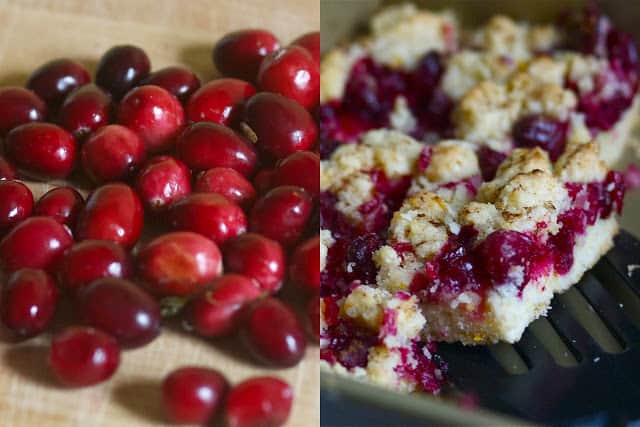 These bars are simple to throw together, festive, and delicious. They would be great for a Holiday dessert spread, gift box, or any other of the fun activities that may be coming over the next month. I'm all about bar desserts that look pretty and come together in an instant and these are all of that and more. Whatever you end up making for your feast tomorrow I hope you all have a wonderful Thanksgiving! I'll make sure to post some highlights from our meal over the weekend. And cross your fingers that my wedding venue search on Friday is s big success!!! :)
Ingredients
1 cup white sugar
1 teaspoon baking powder
3 cups all-purpose flour
1 cup cold unsalted butter, 2 sticks or 8 ounces
1 egg
1/4 teaspoon salt
Zest from one orange
2 tablespoons of orange juice
4 cups fresh cranberries
1/2 teaspoon cinnamon
2/3 cup white sugar
4 teaspoons cornstarch
Instructions
Preheat the oven to 375 degrees F (190 degrees C). Grease a 9×13 inch pan.
In a medium bowl, stir together 1 cup sugar, 3 cups flour, and baking powder. Mix in salt and orange zest. Use a fork or pastry cutter to blend in the butter and egg. (I use my hands.) Dough will be crumbly. Pat half of dough into the prepared pan.
In another bowl, stir together the sugar, cornstarch and orange juice. Gently mix in the cranberries, add the cinnamon. Sprinkle the cranberry mixture evenly over the crust. Crumble remaining dough over the berry layer.
Bake in preheated oven for 45 minutes, or until top is slightly brown. Cool completely before cutting into squares.
Nutrition Information:
Yield: 24 Serving Size: 1 grams
Amount Per Serving: Unsaturated Fat: 0g
Adapted from: Smitten Kitchen