Cranberry Orange Sweet Rolls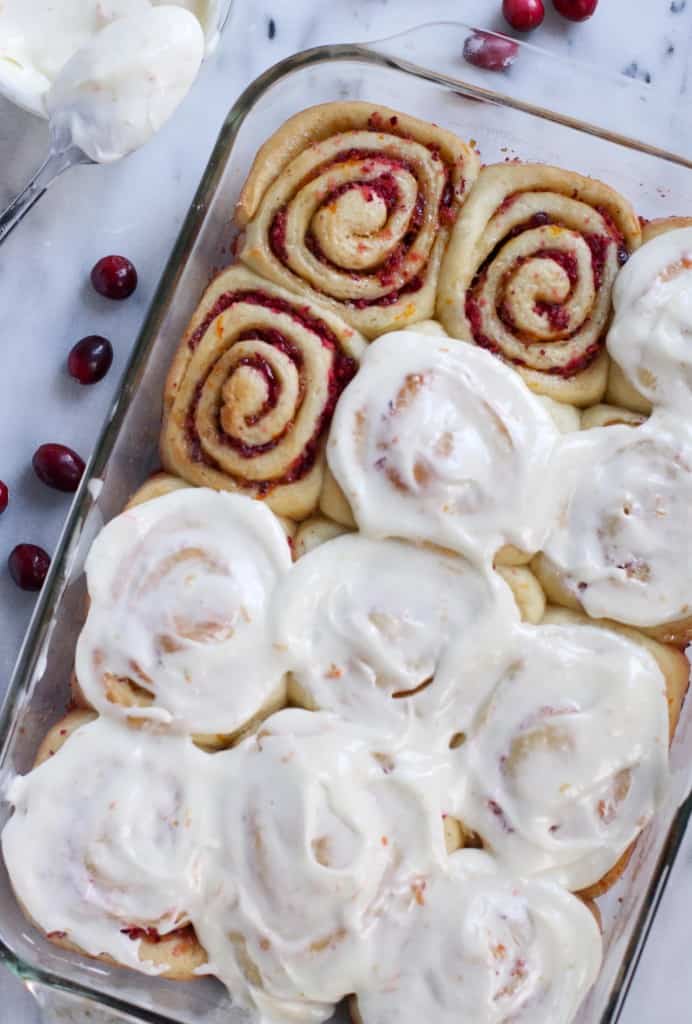 Depending on where in the world you are, you may or may not be experiencing some festive or not so festive weather. It's supposed to be 70 degrees here in New York today which is beyond weird. But then I just got off the phone with my family in Wisconsin and it's a full-on blizzard over there. Is it bad that today I'd actually prefer the snow to the warm? Maybe I'm just feeling a tad homesick for my Wisconsin Christmas that I've never missed before- and this balmy weather isn't really helping me get into the spirit over here. I know our Christmas will be quiet and lovely, it's just all a bit weird.
Anyway- a festive breakfast like this can only help boost up the spirit in the house. Maybe it's the smell of them baking which is amazing, (how can you go wrong with cranberry, orange and spice?) Or maybe the perfectly red swirls that come out of the oven puffy and tender? Or just the taste of biting into a sweet bun with a warm cup of coffee sitting by the tree? Anyway- these are just so delicious- and just thinking about them makes me think it's cold and blustery outside. (In the meantime I'm gonna go put on my flip flops ;) )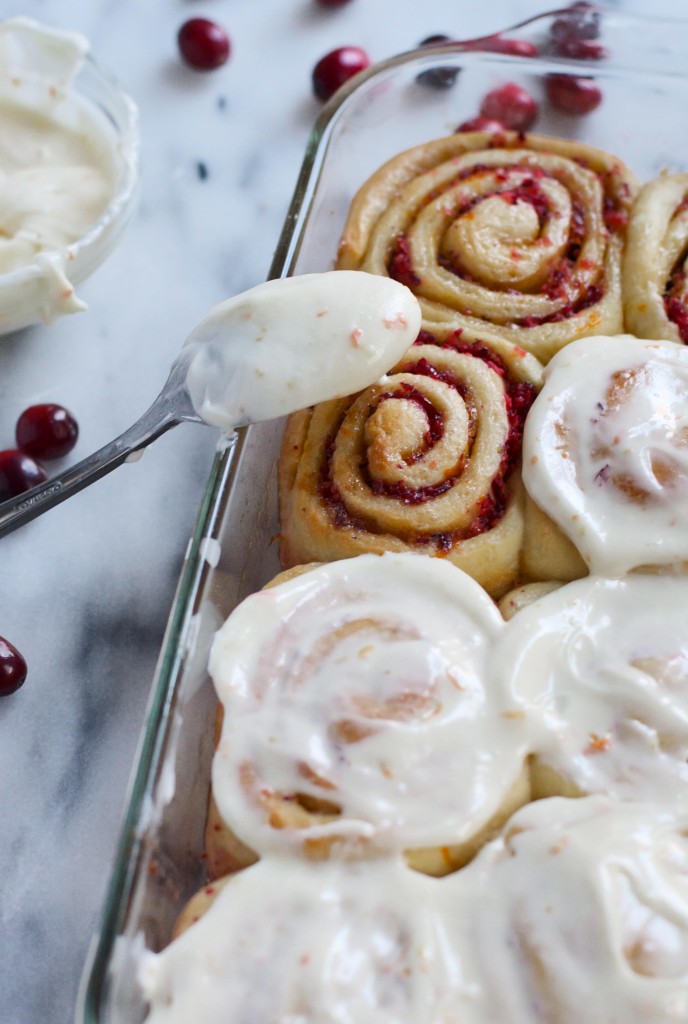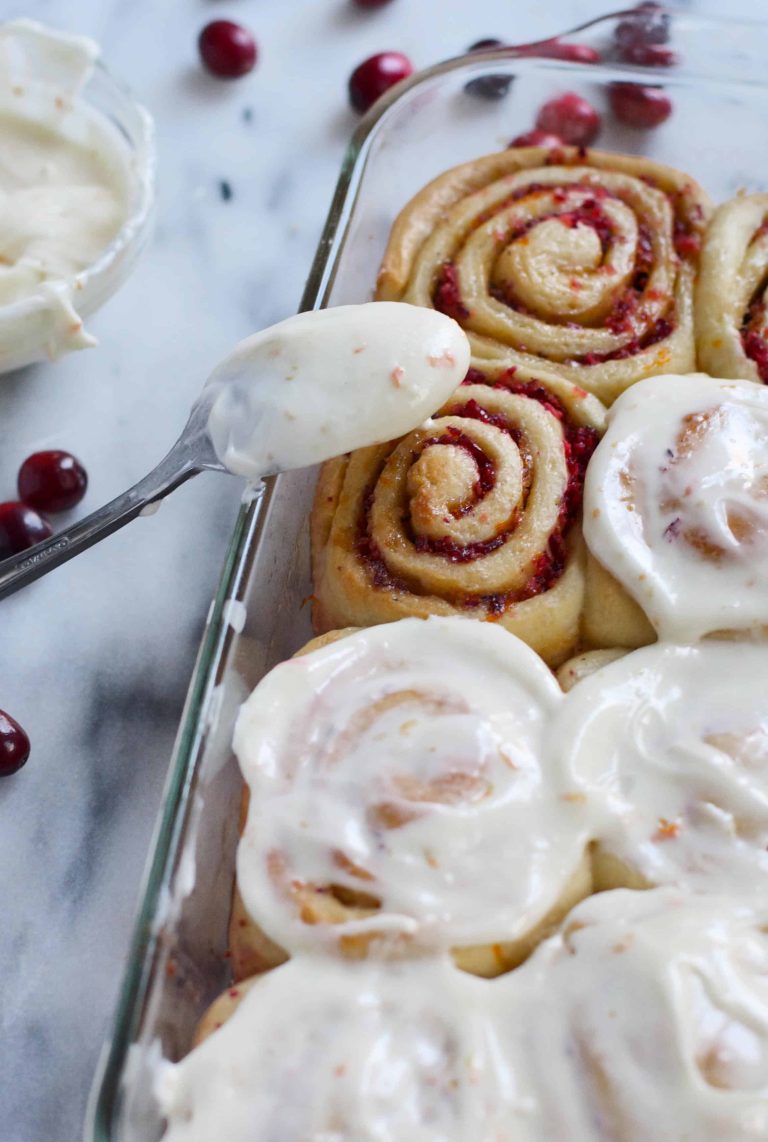 If you've read my blog for any amount of time- you know my obsession with swirly buns of all kind. I made these Caramel Apple Cinnamon Rolls in the fall, Savory Garlic Cheddear Swirl Buns a few months before that, and Blueberry Cinnamon Rolls in the winter. Last Holiday time, these Salted Caramel Sticky Buns were our special Christmas morning breakfast and now we have these beauties. They all come from the same base recipe- my favorite 90- minute Brown Butter Cinnamon Rolls which I make all the time and clearly can't stop adapting. Maybe some Lemon Raspberry Rolls sometime soon? Chocolate Buns? Ok- give me more ideas. I am swirly bun happy!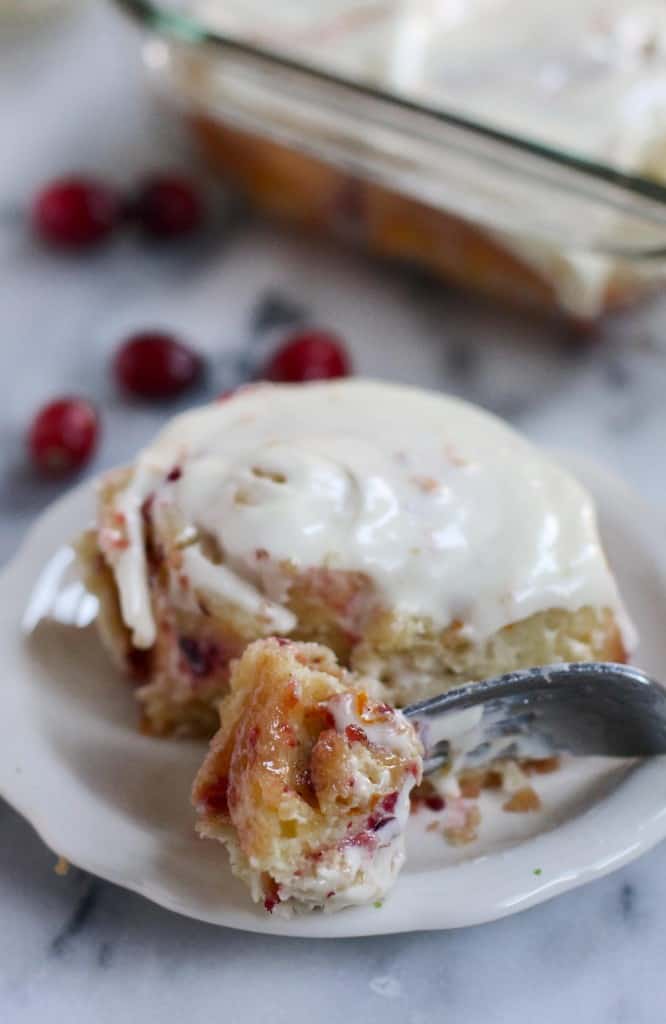 The filling of these buns contain ground up fresh cranberries, lots of orange zest, brown sugar and bit of cinnamon and nutmeg. They are topped with a delicious orange cream cheese icing that is perfectly gooey and orange-y. I love slathering it on when they're still warm so it can get even gooe-ier and find it's way into all the nooks and crannies of the rolls. If you're looking for a special breakfast Christmas morning- look no further! Plus- these can be made and proofed in advance so you just have to let them come to room temperature and bake in the morning!
I hope you have a lovely and wonderful week- hopefully with your family, full of love and Holiday Cheer. I'll be bake in a few day! xoxo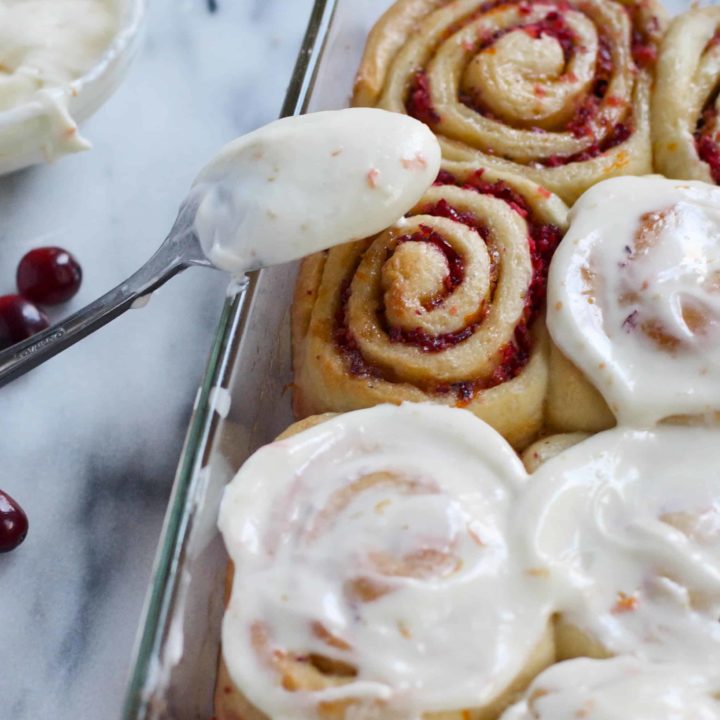 Cranberry Orange Sweet Rolls
Ingredients
For the dough:
3/4 cup milk
1/4 cup butter
3 1/4 cups all-purpose flour
1 .25 ounce package instant yeast
1/4 cup white sugar
1/2 teaspoon salt
1/4 cup water
1 egg
For the filling
1/4 cup butter, melted
1 cup brown sugar
1 cup fresh cranberries
zest of 1 large orange
1/4 teaspoon cinnamon
1/4 teaspoon nutmeg
For the icing:
3 oz cream cheese, very soft
2 cups of powdered sugar
2-4 tablespoons of orange juice
2 teaspoons of orange zest
Instructions
For the dough:
Heat the milk in a small saucepan until it bubbles, then remove from heat. Mix in butter; stir until melted. Let cool until lukewarm.
In a large mixing bowl, combine 2 1/4 cup flour, yeast, sugar and salt; whisk together. Add water, egg and the milk mixture; beat well with an electric mixer or by hand with a whisk.
Add the remaining flour, 1/2 cup at a time, using a wooden spoon to stir well after each addition. (dough will be too thick and sticky to use the mixers or whisk at this point.)
When the dough has just pulled together, turn it out onto a lightly floured surface and knead until smooth, about 5 minutes. (dough will spring back when lightly pressed.)
Cover the dough with a damp cloth and let rest for 10 minutes.
Meanwhile prepare the filling:
In a food processor, pulse the cranberries until they are in small coarse pieces but not puréed. (You could chop them very very small if you don't have a food processor.)
Mix together the brown sugar and spices.
To assemble rolls:
On a lightly floured surface, roll out dough into a 12x9 inch rectangle. (use your 9x13 baking dish as a guide.) Using a pastry brush- slather the dough with the butter.
Sprinkle dough with the sugar/spice mixture and then sprinkle on the cranberries and zest. Press in lightly so it doesn't fall out when you roll it. Roll up dough starting with one of the short ends and pinch seam to seal. Cut into 12 equal size rolls and place in a 9x13 baking dish. Cover and let the rolls rise in a warm place until doubled, about 30-45 minutes. Preheat oven to 375 degrees F (190 degrees C).
Bake in the preheated oven for 20 minutes, or until browned. Let cool for about 10 minutes and then spread them with icing. (directions below) Serve warm.
Orange Cream Cheese Icing:
Whisk the cream cheese until it's smooth and creamy. Add the powdered sugar and continue to mix. Add a tablespoon of orange juice and zest and continue to whisk. If the icing seems thick, add more orange juice if needed.
Nutrition Information:
Yield:

12
Serving Size:

1 grams
Amount Per Serving:
Unsaturated Fat:

0g