Cranberry Swirl Mini Cheesecakes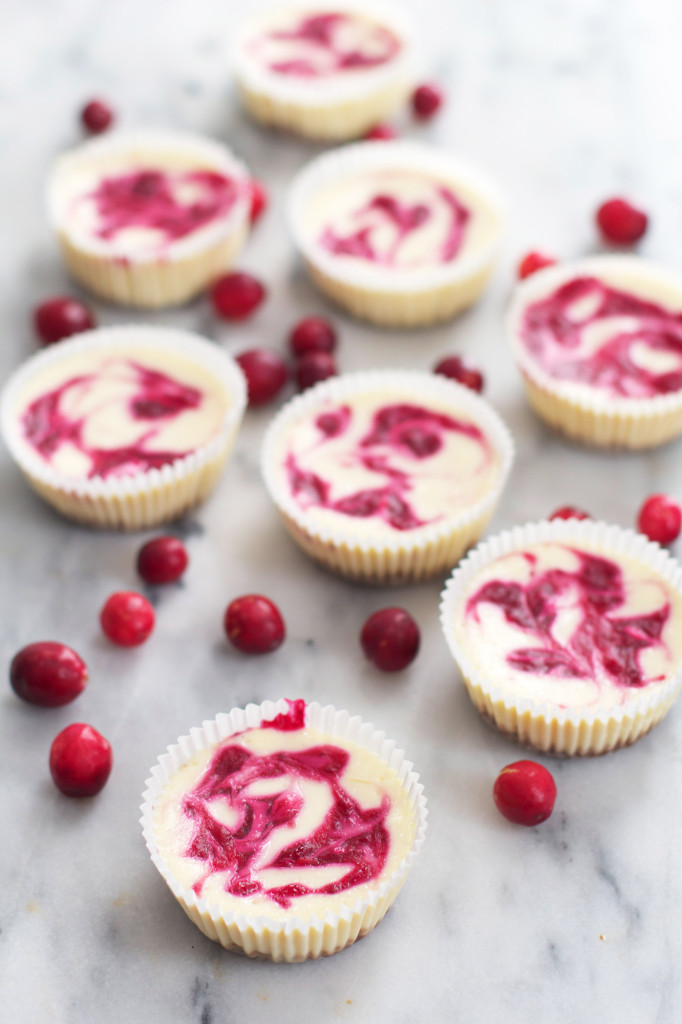 What types of desserts are part of your Thanksgiving traditions? Classics like Pumpkin, Apple & Pecan Pie? A dessert buffet with a mish mash of all types of sweets? All of the above? I personally like to have a healthy mix of classics and some new and fun desserts. A Pumpkin dessert of some kind is a must, a classic Pecan Pie for my brother-in-law, and Salted Caramel Apple Pie as well. Beyond that, I like to change it up every year with at least one thing unexpected and a bit different.
I love a creamy and rich cheesecake and these are exactly that. Add in a swirl of seasonal cranberry and it may be my new favorite holiday dessert. These are crazy good, like so good that I cannot be trusted around them.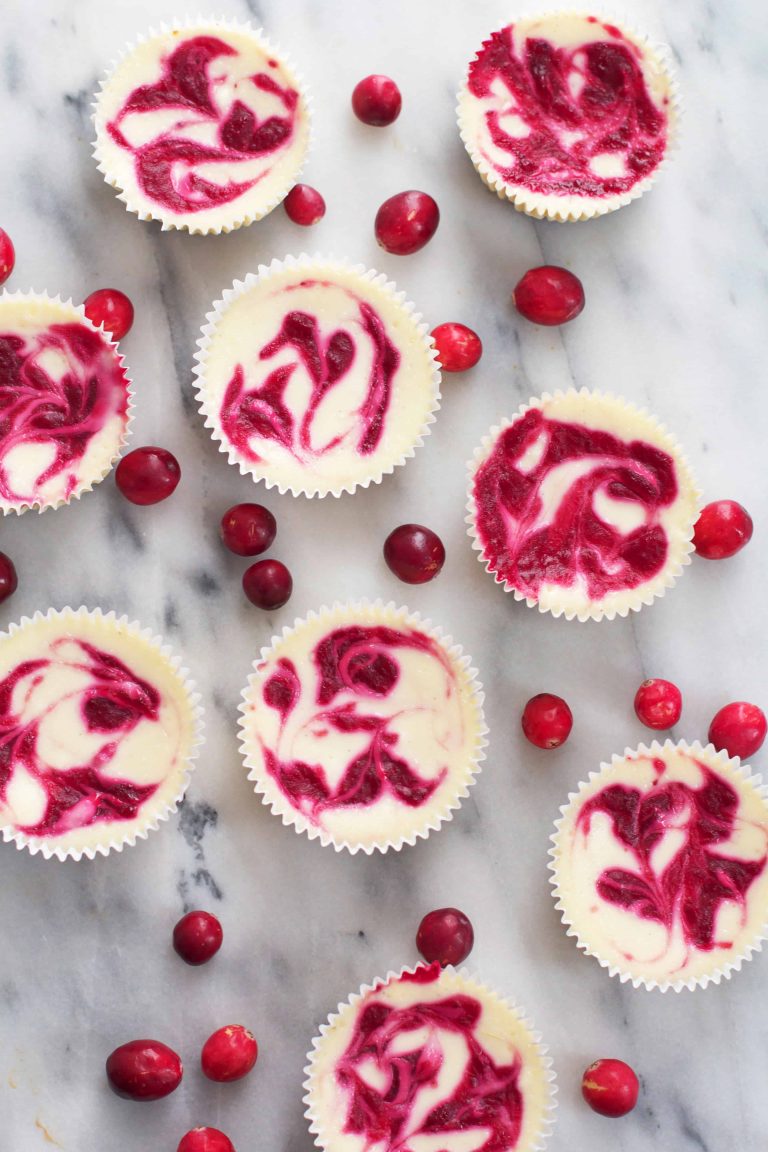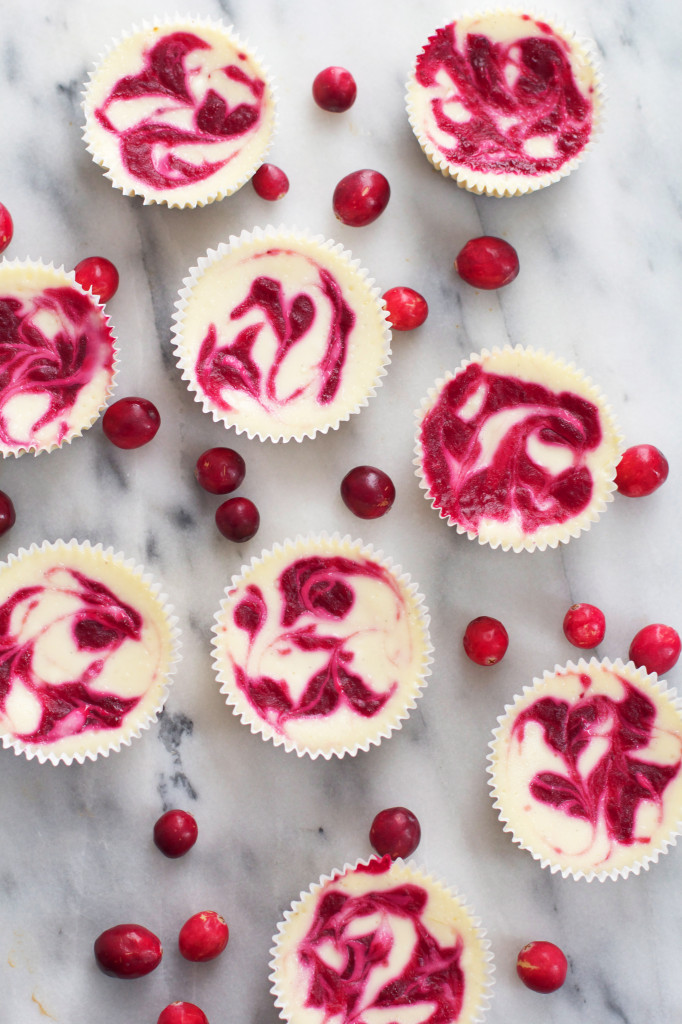 Confession: I never bake cheesecake in a water bath even when directions say to. What can I say? Sometimes I skip steps and that one always seems to get the cut. I can't say it made a difference in the past, but I went for it with these babies and oh my goodness. Holy creamy, dreamy gooey cheesecake! The texture of these was like no other- so wonderful.
The cranberry swirl adds a nice tart touch which makes these the perfect holiday mouthful. I love a diverse dessert spread and this would be a lovely addition don't you think? And an important question: Are there any desserts/dishes you'd like to see here on the blog before Thanksgiving? Let me know and I will try to get one made for you.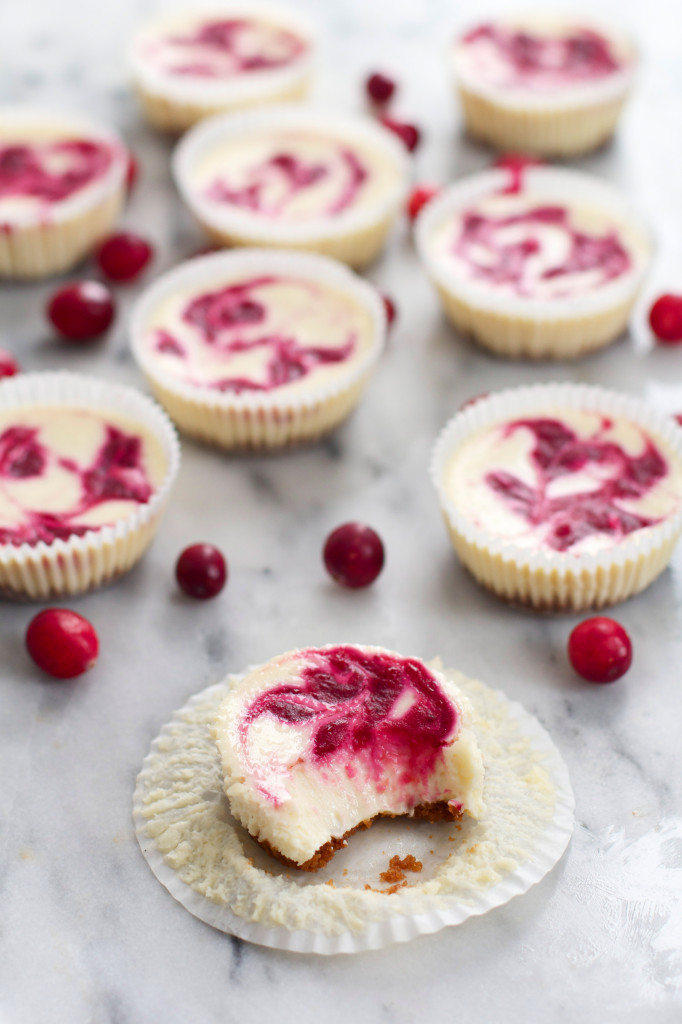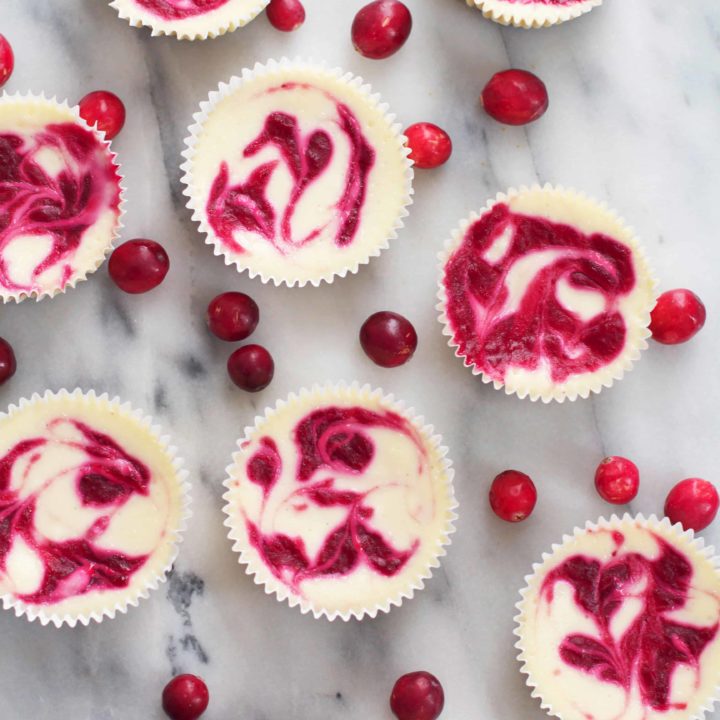 Cranberry Swirl Mini Cheesecakes
Ingredients
For the Crust:
3/4 cups graham cracker crumbs
2 tbsp. unsalted butter, melted
2 teaspoons sugar
For the Cranberry Swirl:
1/2 cup of fresh or frozen cranberries
1/8 cup granulated white sugar
1/2 cup water
1/2 tsp lemon zest
For the Filling:
16 oz. cream cheese, at room temperature
3/4 cup sugar
Pinch of salt
1/2 tsp. vanilla extract
2 large eggs, at room temperature
Instructions
Preheat the oven to 325F. Line cupcake pans with paper liners- set aside.
For the cranberry sauce:
Combine the cranberries, sugar, water & lemon zest in a small saucepan and cook on medium-high heat until boiling, stirring to dissolve the sugar. Reduce the heat to medium low and gently cook the filling, stirring frequntly to prevent burning, until it becomes thick. Allow to cool while you prep the rest.
For the crust:
In a small bowl, combine the graham cracker crumbs, butter and sugar. Stir together until well-combined and moistened. Spoon a tablespoon of the crust into each liner and press down with your fingers. Bake for 5 minutes and transfer to a cooling rack.
For the cheesecake:
Beat the cream cheese on medium-high speed in the bowl of an electric mixer until fluffy. Blend in the sugar until smooth. Mix in the salt and vanilla. Beat in the eggs one at a time, mixing well after each addition.
To assemble, fill each cupcake liner 3/4 of the way with cheesecake filling. Dot about a teaspoon of the cranberry sauce on top of cheesecake filling. Use a toothpick or a wooden skewer to lightly swirl and create a marbled effect.
Place the cupcake pan into a roasting pan filled with water- hitting about halfway up the side of the cupcake tin.* Bake until the filling is set, about 22 minutes.
Transfer to a wire cooling rack and let cool to room temperature. Once cool- cover with plastic wrap and chill completely in the tins.
Notes
*I used the water bath, but if you choose to skip it I still think these will be delicious, just possibly not as creamy and maybe a bit sunken. I used 2 6-cupcake tins and baked them in 2 batches... Recipe adapted from Martha Stewart
Nutrition Information:
Yield:

12
Serving Size:

1 grams
Amount Per Serving:
Unsaturated Fat:

0g