Cream Cheese Pound Cake with Vanilla Bean Glaze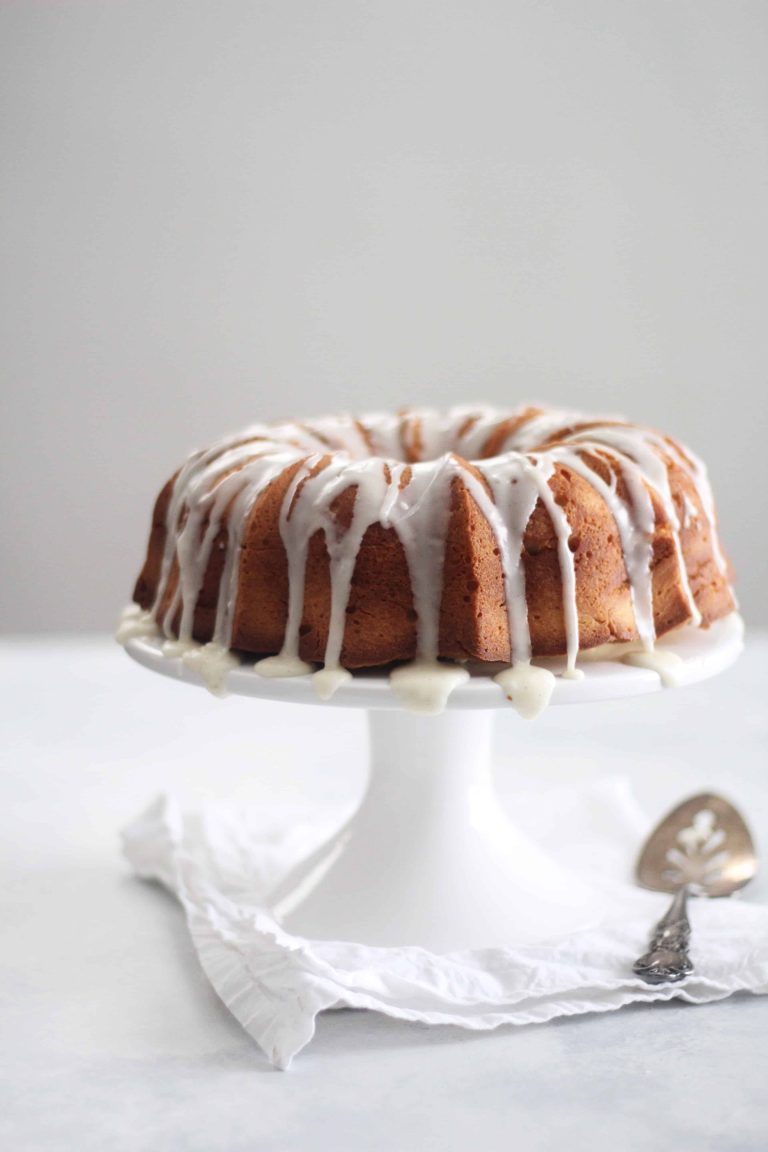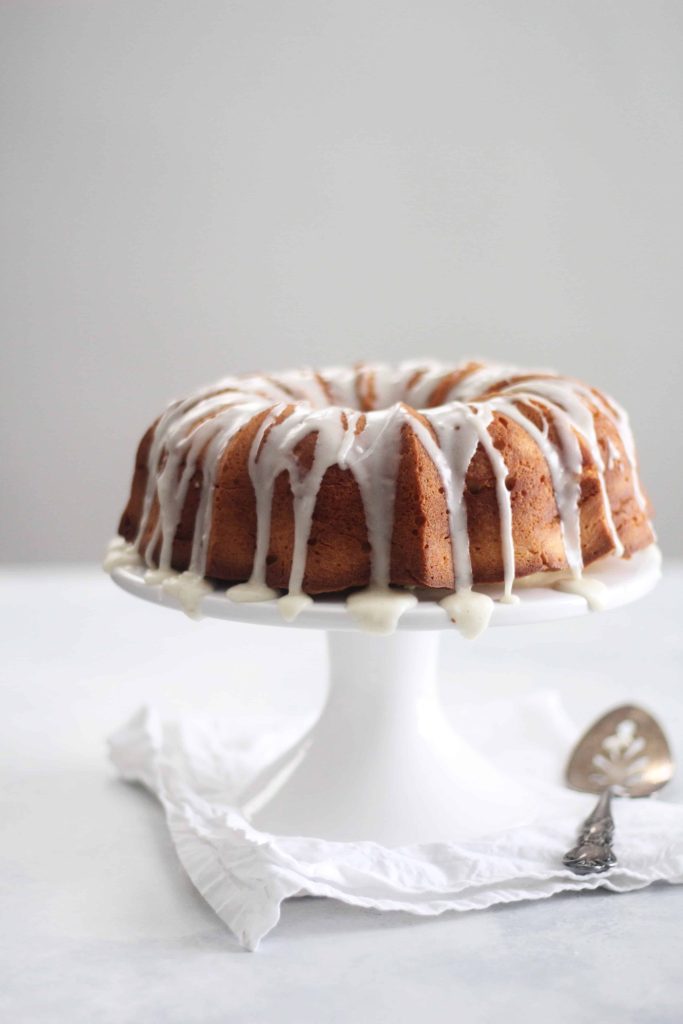 *Original Recipe posted January 2013. New photos and slightly tweaked recipe as of March 2017.
Oh the bundt cake, such a beautiful molded pan that makes me reminiscent of cakes my Mama used to make in my childhood. I got a bundt cake pan as a wedding gift, but I hadn't actually found a use for it until this beauty. Yup- this was my first bundt and I can't tell you how thrilled I was to flip the pan over and see this beautifully shaped cake. (This was before I even cut into it and tasted the most soft and velvety pound cake I've ever had.) This recipe is truly out of this world good.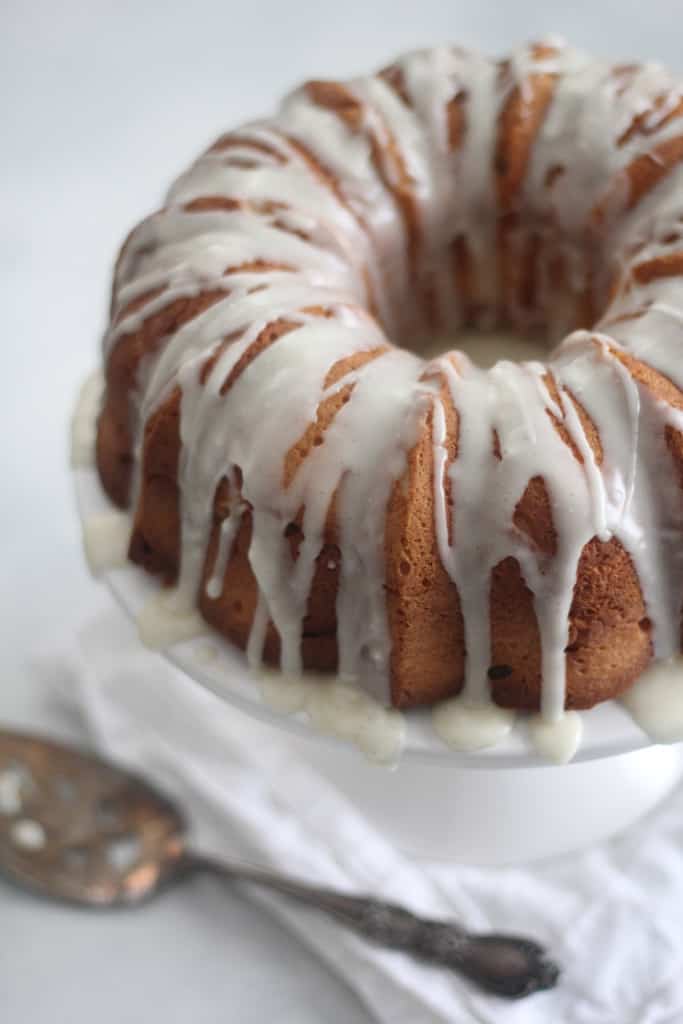 Butter and cream cheese are whipped together for this beauty as well as 6 whole eggs and some flour and sugar. I was surprised to see that the recipe didn't call for any baking powder or baking soda, and couldn't imagine how this cake would be anything other than tough and flat. Well, it turns out that 6 eggs and a fluffy creamed mixture really do make this cake rise and poof a bit while also keeping that perfect dense pound cake texture.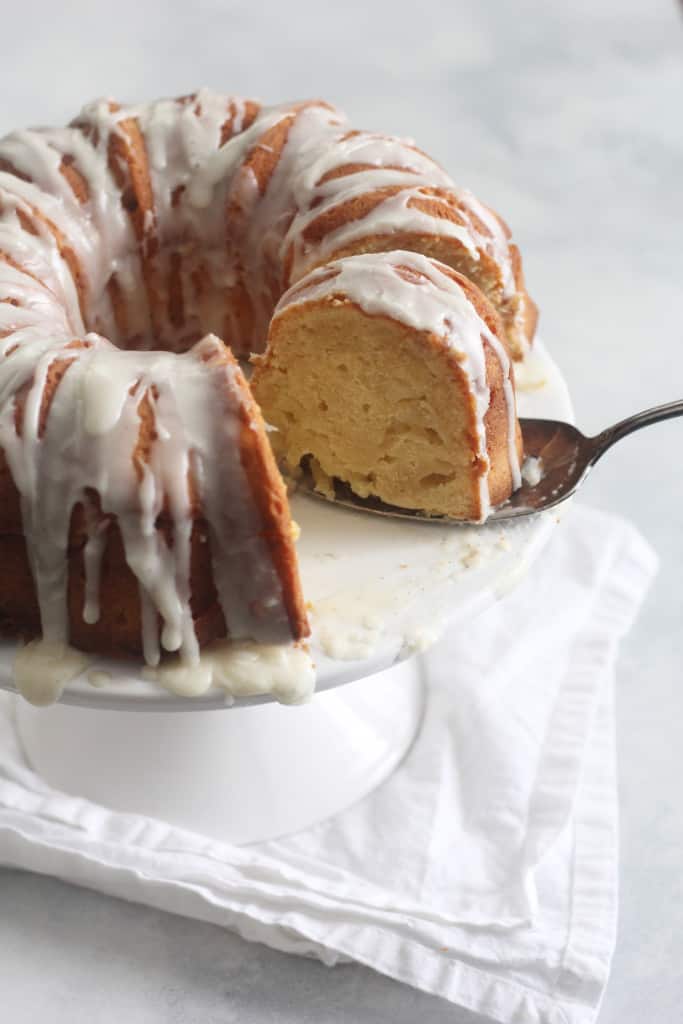 The cake on it's own isn't overly sweet and the addition of the vanilla bean glaze made for the perfect bite. When it comes to classic recipes you need in your collection- this is one of them. Dense, buttery pound cake with a creamy vanilla glaze- simple cake perfection!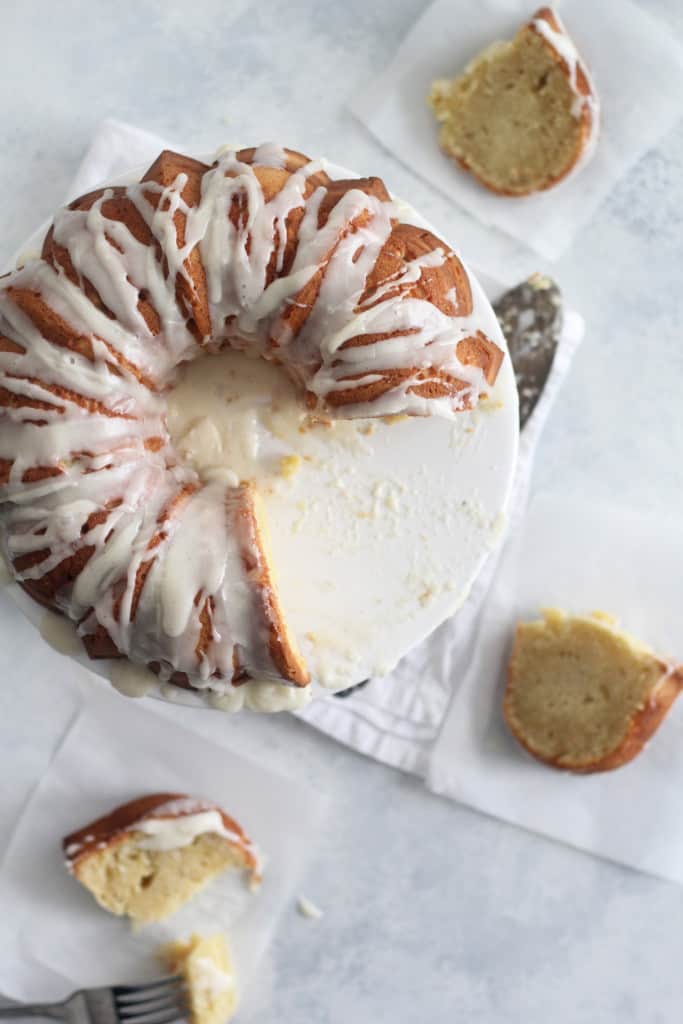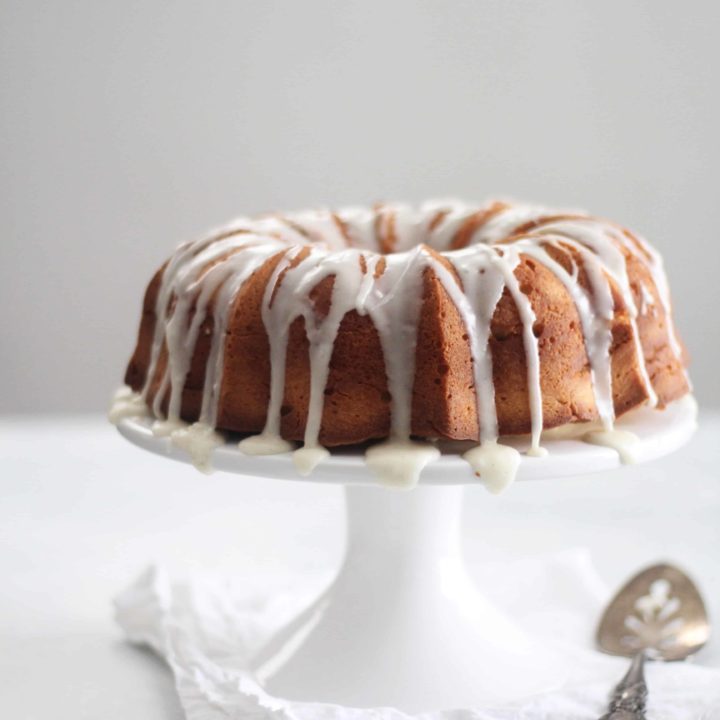 Cream Cheese Pound Cake with Vanilla Bean Glaze
Ingredients
1 1/2 cups butter, 3 sticks- softened
1 8 ounce package cream cheese- softened
2 1/2 cups white sugar
1 tablespoon vanilla extract
1 teaspoon lemon or almond extract, optional
6 eggs- room temperature
3 cups cake flour- sifted *
1 vanilla bean split open
3 tablespoons of whole milk, or a mixture of lowfat milk and heavy cream
1- 2 cups powdered sugar.
Instructions
Preheat oven to 325 degrees F. Spray well or grease a 10-inch bundt cake pan.
Cream together the butter, cream cheese, and sugar for about 5 minutes or until very light and fluffy.
Stir in the extracts.
Add the eggs, one at a time, scraping down the bowl as needed.
With the mixer on low speed, add the flour slowly and gradually. Do not over-mix!
Pour batter into the prepared pan.
Bake at 325 degrees F for 65-75 minutes or until a toothpick inserted in the center comes out clean.
For the glaze: Pour the milk into a glass measuring cup and scrape the vanilla bean in.
Let it steep for an hour to really make the milk mixture have a strong vanilla flavor. (If you start the glaze it when the cake goes into the oven, it will be ready as it's cooling.)
Add the powdered sugar and whisk with a fork until thick and the right consistency for drizzling.
Drizzle over the cooled cake.
Notes
*I really like cake flour for the perfect velvety texture. If you don't have it though, you can use all-purpose and subtract 3 tablespoons. Add 3 tablespoons of corn starch and gently whisk together before using. Cake recipe adapted from: All Recipes and Southern Living Magazine
Nutrition Information:
Serving Size:

1 grams
Amount Per Serving:
Unsaturated Fat:

0g