Cream Cheese-stuffed Ginger Cookies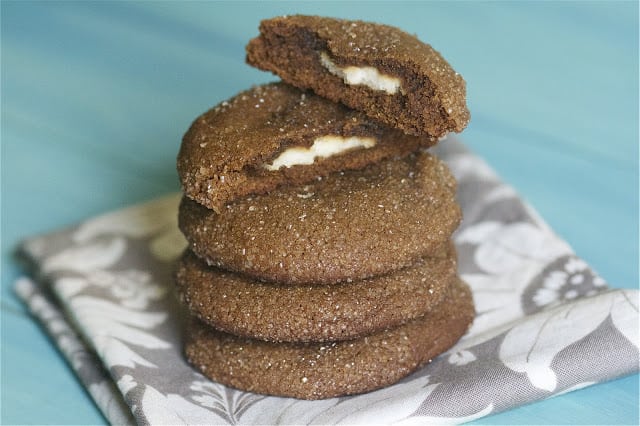 Ever since I made those Caramel-stuffed Snickerdoodles I've been on the hunt for another creative stuffed-cookie option. I loved the novelty of a surprise filling inside an already delicious cookie, and it wasn't long before I came up with this idea. I am obsessed with those Newman's Ginger Os (ginger cookies with vanilla cream filling,) so why not just stuff it inside? The combo of the two flavors together seemed like a wonderful holiday cookie idea don't you think?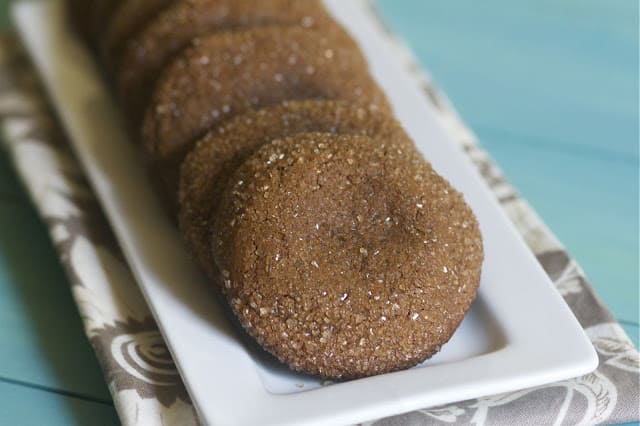 I'm not gonna lie, these cookies are bit time consuming to make because you have to chill the dough after each step. But I promise you it is worth it. These were the perfect cookies to make on a cozy night in while watching Season 2 of Parenthood on Netflix. (Anyone else a fan?) While my dough chilled I caught up on the Braverman antics and paused while I popped the next batch in.
When thinking about Christmas cookie ideas- this is a great one to add to the spread. Nothing is more festive than a soft and spicy Ginger cookie- but add a tangy cream cheese filling- and we have cookie bliss. Even without the filling- this is an amazing cookie: chewy, tons of spice, crackly top- perfect. If you don't feel ambitious enough to add the filling, just make them as is- you'll thank me when you start to smell the spicy goodness in your home. Enjoy!
PS- Sorry I couldn't take some photos of the process of assembling these cookies. My hands were way too full of cookie dough!
Cream Cheese-stuffed Ginger Cookies
Ingredients
2 1/4 cups all-purpose flour
1 1/2 teaspoons ground ginger
1 1/4 teaspoon baking soda
1 teaspoon ground cinnamon
1/2 teaspoon ground allspice
1/2 teaspoon fine salt
5 cracks freshly ground black pepper
3/4 cup 1 1/2 sticks unsalted butter, at room temperature
1/2 cup sugar, plus more for rolling the cookies
1/4 cup dark brown sugar
1 large egg yolk
1 teaspoon pure vanilla extract
1/2 cup unsulphured molasses
2 tablespoons ginger preserves*
Cream Cheese Filling:
8 oz softened Cream Cheese
1/4 cup Sugar
2 tsp Vanilla Extract
*If you can't find the preserves, you can use chopped up crystalized ginger.
Instructions
In a small bowl, mix together the cream cheese, sugar and vanilla until smooth and creamy. Put in the fridge to chill.
Next- whisk the flour, ginger, baking soda, cinnamon, allspice, salt and black pepper together in a medium bowl.
Beat the butter and the sugars with a hand mixer electric mixer on medium-high until light and fluffy, about 2 minutes. Scrape down the sides of the bowl. Add the egg yolk and vanilla and beat on medium speed until just incorporated, about 20 seconds. Add the molasses and ginger preserves and continue beating until the batter is an even light brown color, 30 seconds more.
Add the dry ingredients all at once, beating slowly to make a soft, smooth dough. Use a rubber spatula to make sure all ingredients are combined. Then beat again for 20 seconds. Cover the bowl with plastic and refrigerate the dough until firm, about 25 minutes.
Put about 1/2 cup sugar in a small bowl. To assemble cookies: Scoop about a tablespoon of cookie dough and flatten into a small disc. Place a teaspoon of the cream cheese mixture into the center. Make another tablespoon-sized disc and sandwich the filling between the two. Pinch the edges together to seal and gently roll into a ball. Roll the tops of the balls in the sugar, and space them 2 inches apart on a parchment-lined cookie sheet. Refrigerate until firm, about 25 minutes. (The chilling is what gives this cookie a beautiful, crackly crunch on top, and a soft, chewy center.)
Preheat oven to 375 degrees F.
Bake until the top is crackly, and the insides peeking out through are dark and moist but not raw, about 15 minutes. Briefly cool the cookies on the baking sheets, then transfer to racks to cool completely.
Serve or store in a tightly sealed container for up to 3 weeks.
Nutrition Information:
Yield:

24
Serving Size:

1 grams
Amount Per Serving:
Unsaturated Fat:

0g
Cookie recipe adapted from: The Food Network
Cream Cheese idea inspired from: Cookies and Cups