Creamy Cauliflower Shells and Cheese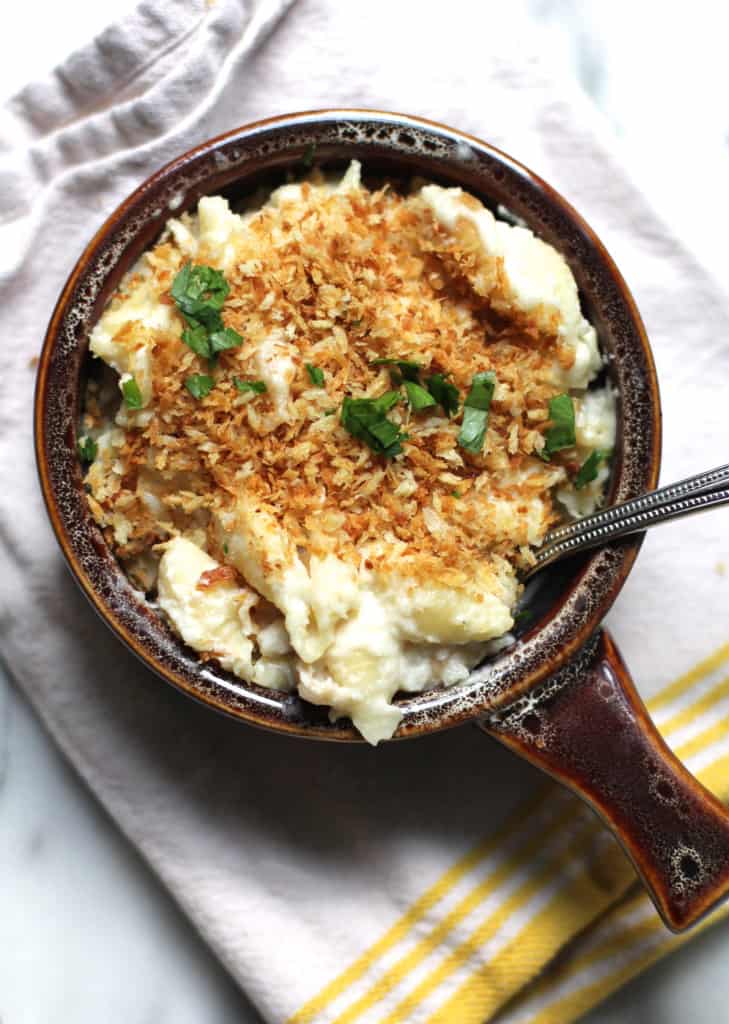 I cannot believe how long it has been since I posted a new recipe on here. I feel both sad and guilty about it, knowing that while this is my own space to do with as I choose, feeling like my cooking mojo has been on vacation and I just would like it to come back please. I think this is partially due to long warm summer days where turning the oven on feels like a chore, and an energetic little boy who prefers to be at the playground all day than playing at home while I bake. Sometimes I really wonder how so many Moms keep up their food blogs so much better than I do. If there is a secret to this please let me know. More on this subject in a future post, but I am optimistic that with the crisp fall air will come my excitement about being in my kitchen again. I am always the most inspired by pumpkin, apples, pears and all the warm cozy food that brings people together. Stick with me friends- I'm on the up and up I promise.
Ok, now for the present moment and this simple dinner I whipped up for Hugo the other day. I wasn't originally planning to photograph or share it, as I've already made Pumpkin Mac & Cheese and Sweet Potato Mac & Cheese, but I figured the more toddler friendly meals the better, plus it's super delicious and Andy & I loved it too. Any time I can eat a cruciferous veggie without sacrificing my creamy mac & cheese texture is a win win for me.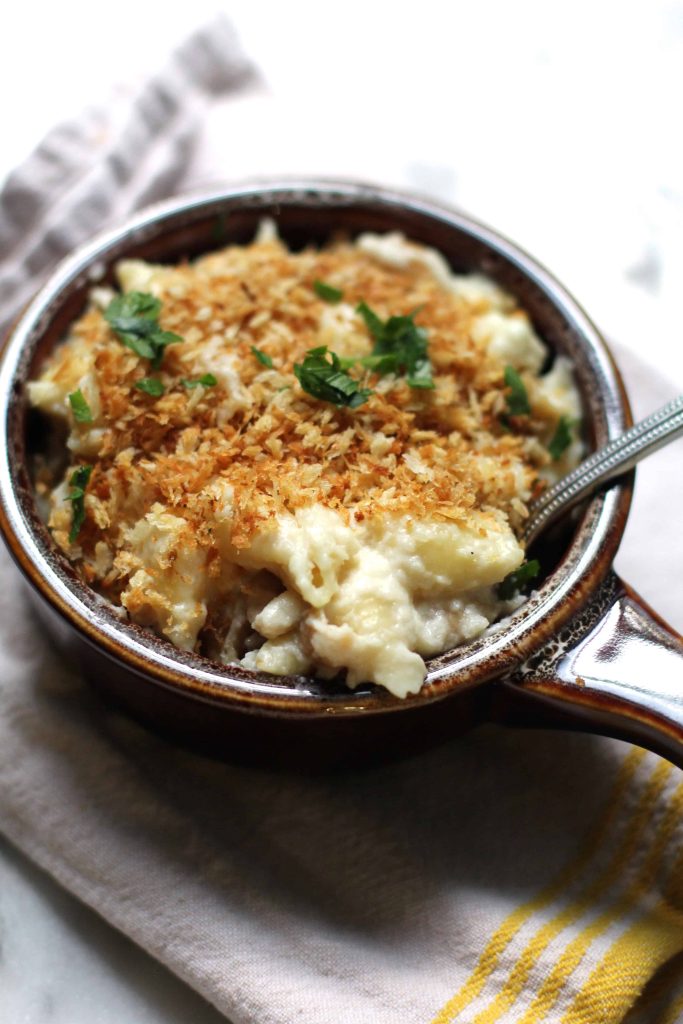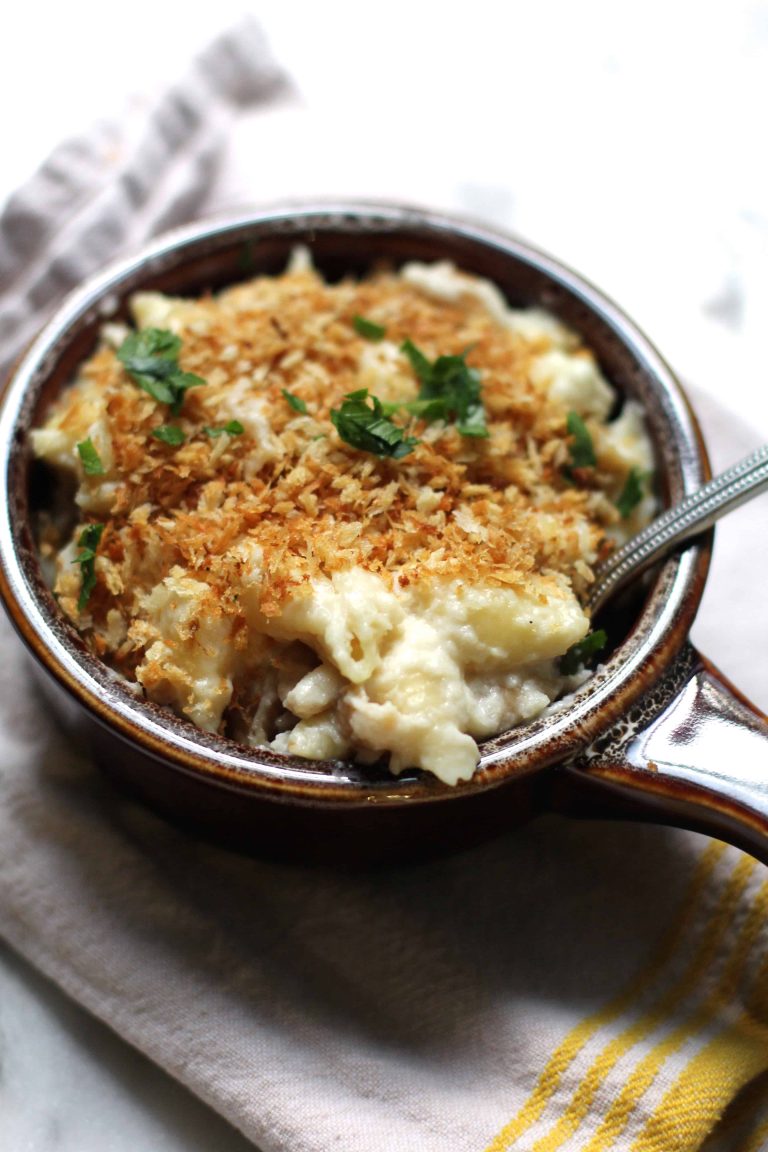 Like the other recipes, this one involves making a puree of cooked cauliflower that gets folded into a cheese sauce. I actually added the whole cauliflower to the prepared cheese cause and used my favorite immersion blender to puree it until silky smooth. (If you don't have one of those things you must get one- inexpensive and one of my favorite kitchen gadgets.)
The sauce gets tossed with the pasta and the whole think gets baked for a little extra bubbly cheese action. (totally optional but I always like baking mine for a few minutes.) I sprinkled some toasted panko on top for a little crunch and there you have it. Hugo has gobbled this up for dinner the last three nights!
There you have it- I hope to be back with some thing fabulous very soon!
Creamy Cauliflower Shells and Cheese
Ingredients
pasta, cooked al dente and drained. (I used shells but any kind will do)
1 small head of cauliflower, cut into florets
3 tablespoons of butter
3 tablespoons of flour
3 cups of milk
2 cups of white cheddar cheese, grated
1/2 cup panko bread crumbs
salt & pepper to taste
Instructions
In a large pot of salted water, boil the cauliflower until super soft, about 7 minutes. Drain and set aside.
In a large saucepan or dutch oven, melt the butter. Add the flour and whisk constantly until golden brown. Gradually add the milk and stir until smooth and thickened (about 5 minutes.)
Add the grated cheese, and then salt & pepper to taste. Stir until smooth and creamy.
Using a food processor or blender, pureé the cauliflower until smooth, . Or, put the cauliflower florets directly into the cheese sauce and use an immersion blender to pureé the sauce.
Stir in the cooked pasta, tossing until evenly coated.
Turn the sauce/pasta into an 8x8 baking dish. Top with a bit more freshly ground pepper if you have, and bake for 10 minutes or until golden and bubbly.
While cooling, toast the panko in a medium sized skillet with a little bit of olive oil, stirring frequently until golden brown. Sprinkle over the pasta and enjoy!
Nutrition Information:
Yield:

4
Serving Size:

1 grams
Amount Per Serving:
Unsaturated Fat:

0g