Guess what guys? I'm taking a break from the summerly fruit-based desserts and ice cream to share the first cupcakes I've made in ages. When a friend who loves coconut has a baby and you want to bring them something special, there doesn't seem like much of an alternative right? I've had my eye on this recipe for ages and couldn't wait for that baby to come so I could shower her with sweet, creamy coconut-y goodness. :)
A couple weeks ago when I attended the Big Summer Potluck a lovely food blogger named Jackie made the most spectacular coconut layer cake for our big Friday night potluck event. It's actually a variation of Ina's recipe and I knew it would be a sure fire hit. It's a super moist coconut cake frosted with cream cheese frosting that I added a bit of coconut extract to which made the coconut flavor shine even more.
With the fluffy frosting piled on and the white coconut sprinkled on top of that, these give off almost an angelic, heavenly vibe don't you think? I also am feeling a snow-like look which means I will be likely making these again around the holidays. Though really is there ever a time of year when coconut isn't to die for?
PS- I've been in Seattle the last few days for a good friend's wedding and to visit Andy's sister and family who live in the area. We went blackberry picking yesterday and I made the most juicy and delicious blackberry pie with our crop this morning. I'll be sure to share that in the coming days. Tomorrow we head to San Francisco for the rest of the week and i am just so excited. Gotta get lots of travel in while we can right??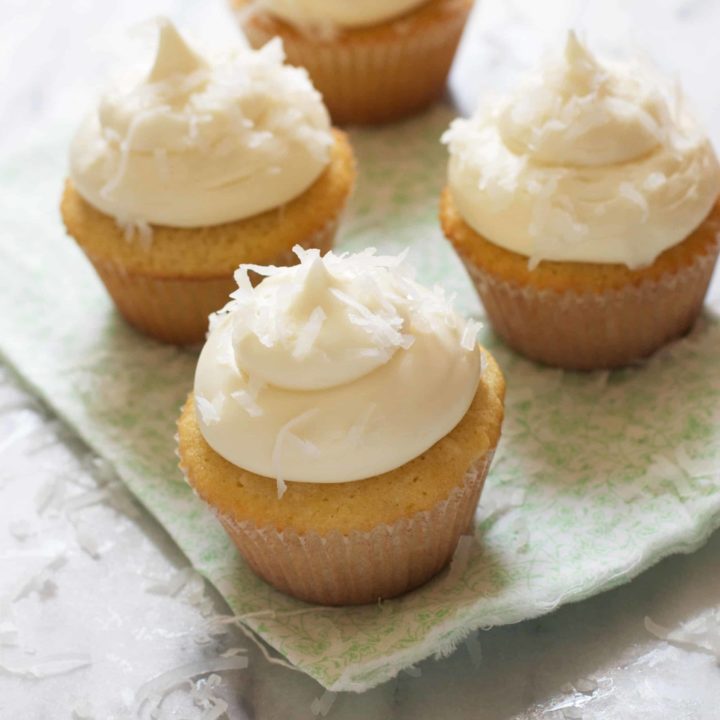 Creamy Coconut Cupcakes
Ingredients
For the cupcakes:
1 and 1/2 sticks unsalted butter, room temperature
1 cup sugar
3 large eggs, at room temperature
1 teaspoons pure vanilla extract
1 1/2 cups all-purpose flour, measured correctly
1/2 teaspoon baking powder
1/4 teaspoon baking soda
1/4 teaspoon salt
1/2 cup buttermilk
1 packed cup of sweetened, shredded coconut
For the frosting:
1 8 oz package of cream cheese, at room temperature
1 1/2 sticks unsalted butter, at room temperature
1 teaspoon coconut extract, optional, you can use vanilla instead.
4-6 cups powdered sugar*
Extra coconut for sprinkling.
Instructions
Preheat the oven to 325 degrees F. Line 12 muffin tins with paper liners- set aside.
In a large bowl, cream the butter and sugar together until light and fluffy- about 5 minutes. Add the eggs one at a time beating well between each addition, scraping the bowl as needed. Add the vanilla extract and mix well.
In a separate bowl, whisk together the flour, baking powder, baking soda and salt. Add the dry ingredients in three parts, alternating with the buttermilk, starting and ending with the flour mixture. Mix just until ingredients are incorporated, being careful not to over mix. Fold in the coconut.
Fill each cup 3/4 of the way with batter. Bake for 20-25 minutes, until the tops are golden and a toothpick comes out clean. Cool in pan for 5 minutes and then transfer to a wire rack to cool the rest of the way.
For the frosting:
Cream the butter and cream cheese together with an electric mixer. Add extract. Add the powdered sugar, a cup at a time until creamy. Frost cupcakes as desired and sprinkle with coconut.
Notes
*I like my cream cheese frosting to be stiff enough to hold up when piped so i tend to add lots of powdered sugar. If you don't mind it being a bit more runny- feel free to add less. I added the full 6 cups of powdered sugar in this recipe, but you have to eye ball it until you get the right texture. Recipe adapted from Ina Garten via Jackie Ourman
Nutrition Information:
Yield:

12
Serving Size:

1 grams
Amount Per Serving:
Unsaturated Fat:

0g