Creamy Key Lime Coconut Bars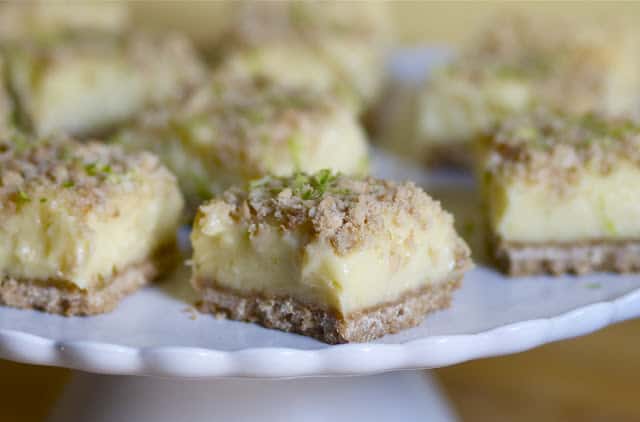 Every year around this time I start having serious vacation fantasies. I think that after about 3 months of cold my body just craves warmth and sunshine and I dream about a sandy beach, a cozy book, waves at my feet and a tropical drink. Now anyone living near NYC knows the last few days have been way warmer than normal for January, but I still want a beach vacation! I'm getting married this year instead though, so for now my daydreams will have to be enough!
When I saw a cute bag of key limes at my grocery store last week, I knew they'd be just the thing to brighten these dreary days. Are key limes in season in the winter with all the other citrus? I always thought they were a summer fruit, but I guess it makes sense they'd make their appearance now. And maybe it's just their flavors that remind me of summer: crisp, bright, tangy, and refreshing (all the things I look for in a good tropical beach cocktail.)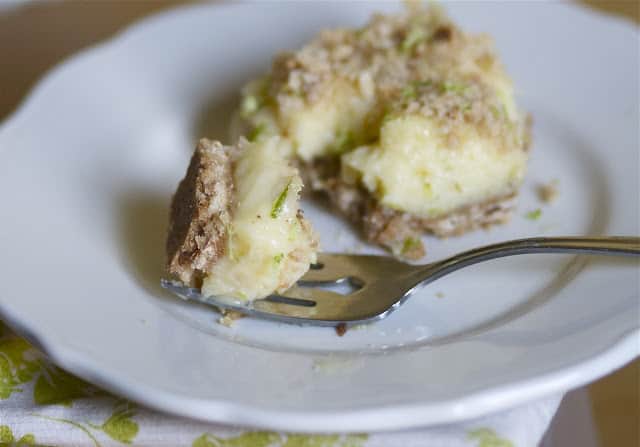 This recipe is really wonderful. The coconut crust is crunchy and sweet with just enough coconut flavor to offset the tangly key limes. The filling is creamy, silky with the perfect amount of tart. A crumble of crust on top and a pinch of lime zest makes these bars perfectly well balanced and satisfying. I made a few changes from the original King Arthur's Flour recipe, mainly doubling the amount of filling, as I wanted it to be thicker and the main part of the bars. I also added some lime zest to the filling and the topping to up the flavor. Yes- I'd obviously prefer these flavors in a frosted glass with a paper umbrella, but they did the trick in a pinch. :)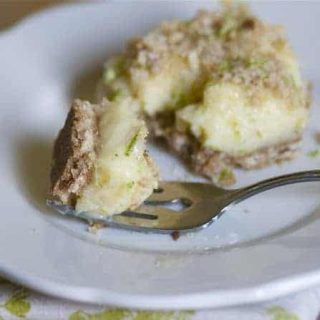 Creamy Key Lime Coconut Bars
Ingredients
1/3 cup brown sugar
7/8 cup unbleached AP flour
1 1/2 cup shredded sweetened coconut, toasted*
1/4 tsp. salt
1/4 tsp. vanilla or coconut extract
1/4 cup 1/2 stick unsalted butter, cut into cubes
Filling:
1 8 oz. package cream cheese, low-fat is fine, softened
1 3/4 cups sugar
pinch of salt
3 tbsp unbleached AP flour
4 large eggs
1/2 cup Key Lime juice- from about 24 Key Limes, or regular lime juice
zest of a lime
Instructions
Preheat oven to 350. Line a 9x9 or 8x8 square pan with parchment paper using two long pieces criss-crossed with a couple of inches of over-hang. This will allow you to easily lift the bars out.)
For the Crust:
Combine all the crust ingredients in a medium sized mixing bowl or in the bowl of a food processor. Mix or process until mixture is crumbly. Set aside 1/2 cup of the crumbs and press the remaining crumbs into the bottom of the pan.
Bake about 15 minutes, until it's golden brown.
For the Filling:
In a medium sized bowl, beat the cream cheese until soft. Add the sugar and salt and beat util well blended.
Stir in the flour, then beat in the eggs, one at a time, beating well after each addition.
Stir in the lime juice and zest mixing util smooth. Pour onto the crust.
Bake the bars for 15 minutes.
Remove bars from oven and sprinkle top with reserved crumbs and bake an additional 15 minutes or until bars are set around the edges but still slightly wobbly in the middle.
Remove from oven and let cool at room temp. for 1 hour.
For easiest slicing, refrigerate for several hours. (I recommend overnight)
Notes
* To toast coconut, place on a cookie sheet and spread in a single layer. Bake in a 325 oven for 8 to 10 minutes or longer until the coconut is golden brown. I'd recommend checking it after 5 minutes and stirring it a bit so the edges don't burn.)
Nutrition Information:
Serving Size:

12 grams
Amount Per Serving:
Unsaturated Fat:

0g
Recipe adapted from:
The King Arthur Flour Cookie Companion