Creamy Peanut Butter Ice Cream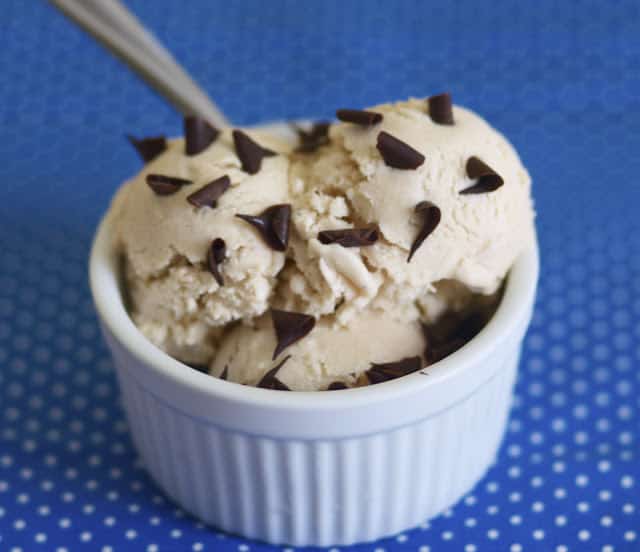 It's starting you guys……. NYC Summer. Unfamiliar? I am referring to the hottest most humid days that make air conditioning a must-have and walking a block in the sun a chore. It also makes baking in kitchens that lack central air near impossible. Don't worry- I have AC in my apartment, the layout of my place just really makes it difficult to cool the kitchen. So it's an oven in there, which means actually turning on my oven makes it hellish.
In these coming months you should expect much more puddings, no-bake cheesecakes and creamy, cool, ice cream. Not only is it pretty much all I want to eat when it is that hot out, but I am still amazed at how easy making ice cream at home can be. I am also amazed at how cheap ice cream makers are. The one I got was under $30, works great, and doesn't require any rock salt or anything.
Win Win!!
This particular ice cream flavor was originally supposed to be the center for some cookie sandwiches that were going to be made from
these
cookies. However, the cookies didn't last an hour and most of the ice cream was devoured instantly as well. And honestly, it was so perfect on it's own, I wouldn't want the cookies to over-power it. I chose to sprinkle some chocolate curls on top, but this would be great with an endless list of toppings. (Chocolate syrup, hot fudge, jam etc.) It tastes like the inside of a peanut butter cup, and a sprinkle of chocolate meant I had found my favorite combination and before I knew it I was eating this in bed at 1 AM. So what?? It was that delicious.
Creamy Peanut Butter Ice Cream
¾ cup smooth peanut butter
¾ cup plus 2 tablespoons sugar
2 2/3 cups half-and-half
Pinch of salt
1/8 teaspoon vanilla extract
Dark Chocolate Curls for topping (optional)
Puree the peanut butter, sugar, half-and-half, salt, and vanilla in a blender or food processor until smooth.
Chill the mixture thoroughly in the refrigerator, then freeze it in your ice cream maker according to the manufacturer's instructions. Sprinkle with chocolate curls or other topping before serving.
*Note- every Ice Cream maker is obviously different, but when I make it in mine, I always need to put it in the freezer for an hour or so after churning for it to get to real ice cream consistency. It never gets firmer than soft-serve right out of the machine. So if you have to do this too don't worry!
Source: David Lebovitz