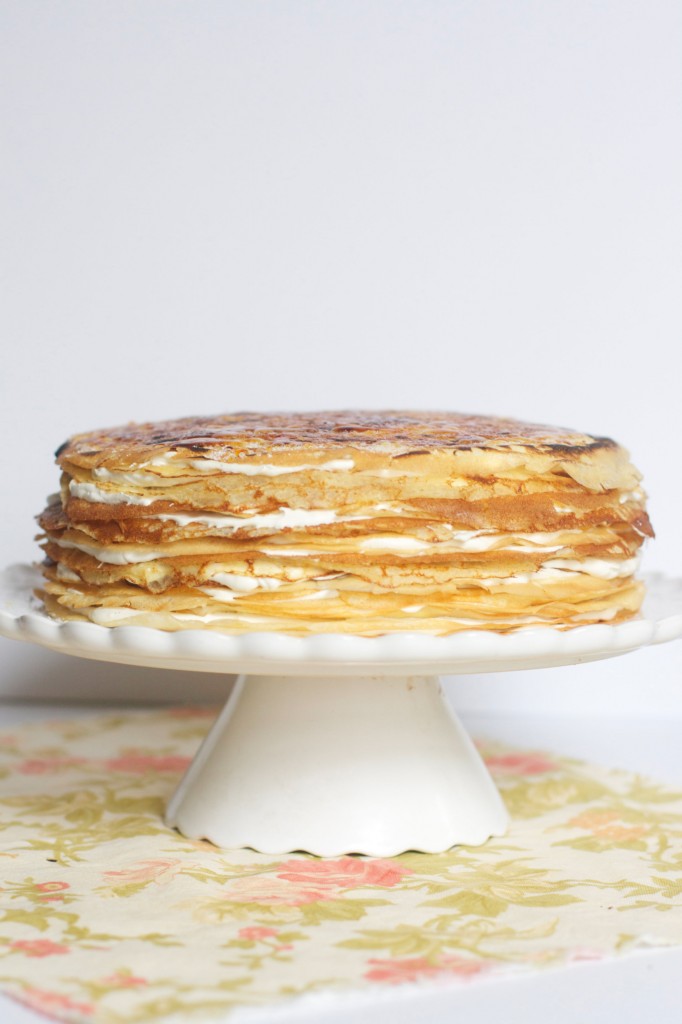 It's taken me a few cranky, jet-lagged days, but I finally got back into the kitchen! After two weeks of eating everythng in sight, I just couldn't get inspired to make more sweets. (Until yesterday that is.)
I woke up at the crack of dawn (which has been the norm as I work my way back to NYC time,) and since Andy and I didn't have much planned for Easter, I had the sudden yearning to make crepes. After having them in Paris, I've been dying to try my hand at them, but honestly thought it would be a very challenging recipe I'd need many tries to master. Turns out- I was wrong! I found them easy as pie to make- which made the assembly of this cake simple as can be, (even though it seems fancy and complicated.)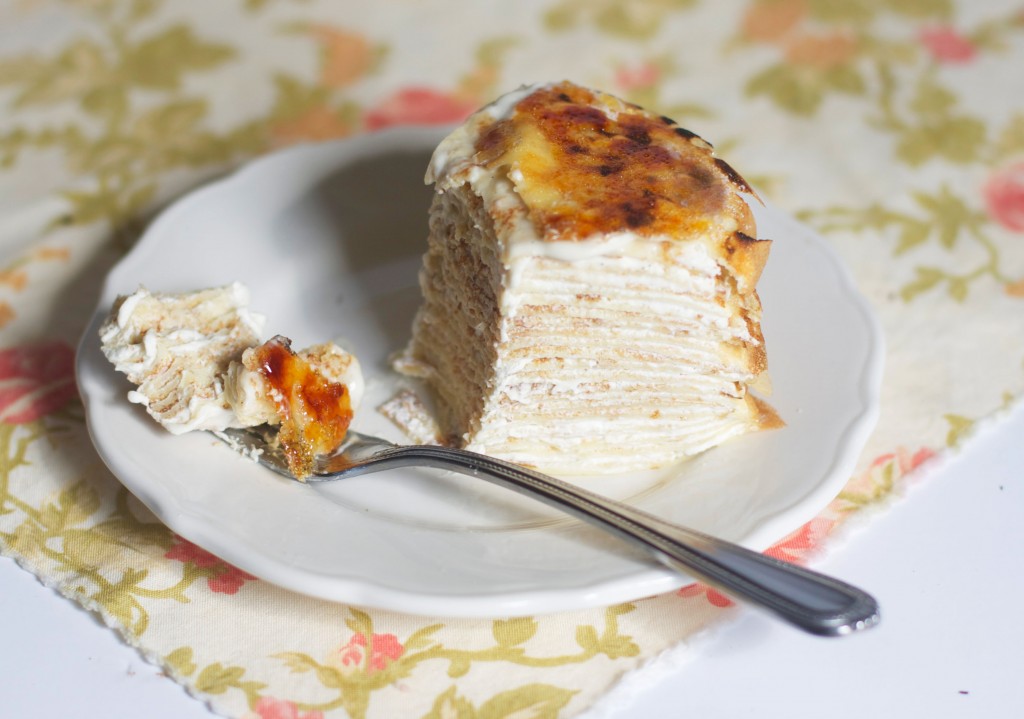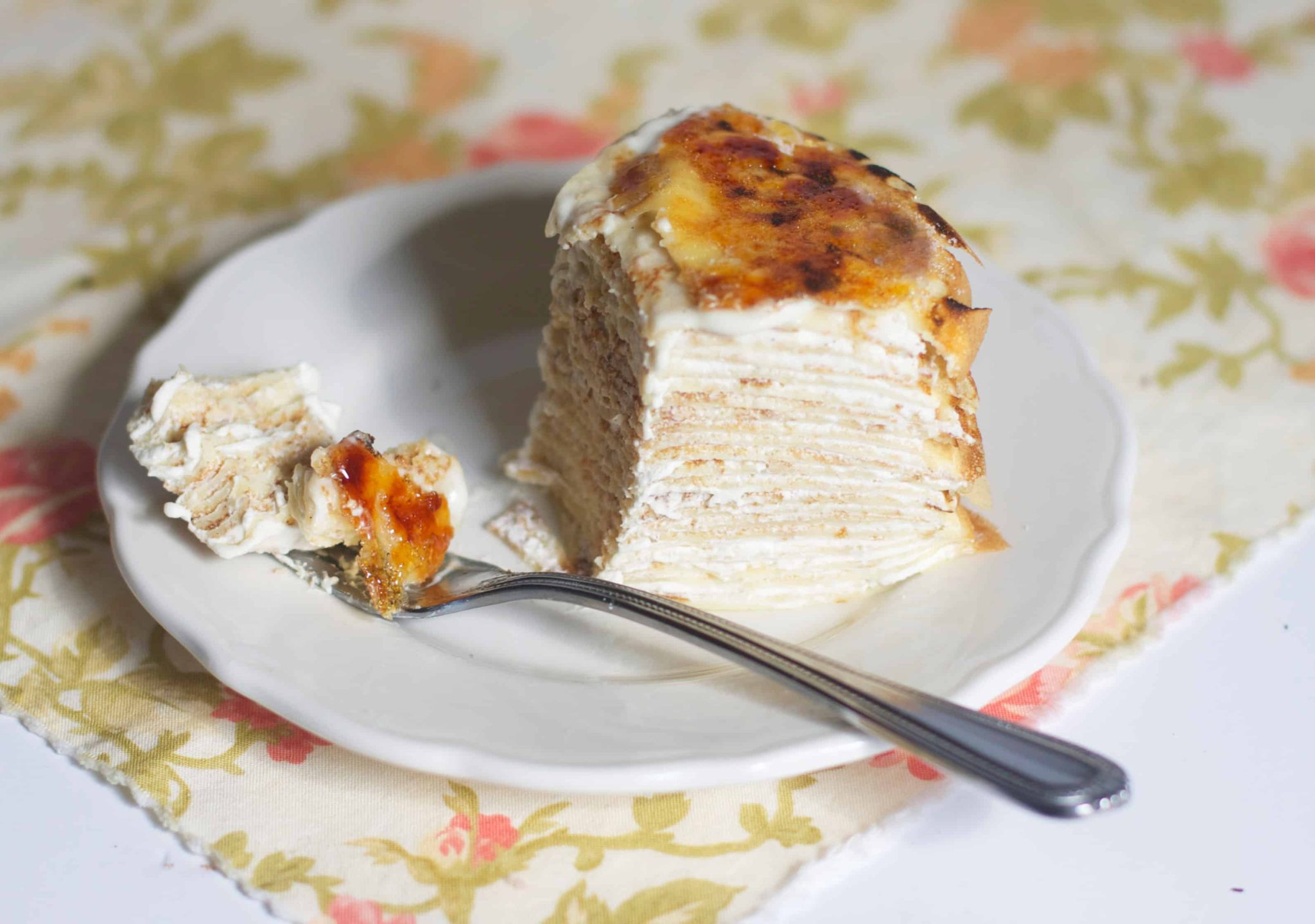 Have you ever had crepe cake? There's a famous version from the Lady M bakery here in NYC that I am obsessed with. It melts in your mouth, isn't too sweet and is so light and airy it's (almost) guilt free! My favorite part about the Lady M version is the crunchy bruleéd top- so I made sure to include that in my cake (even though the recipe that I used didn't mention it.)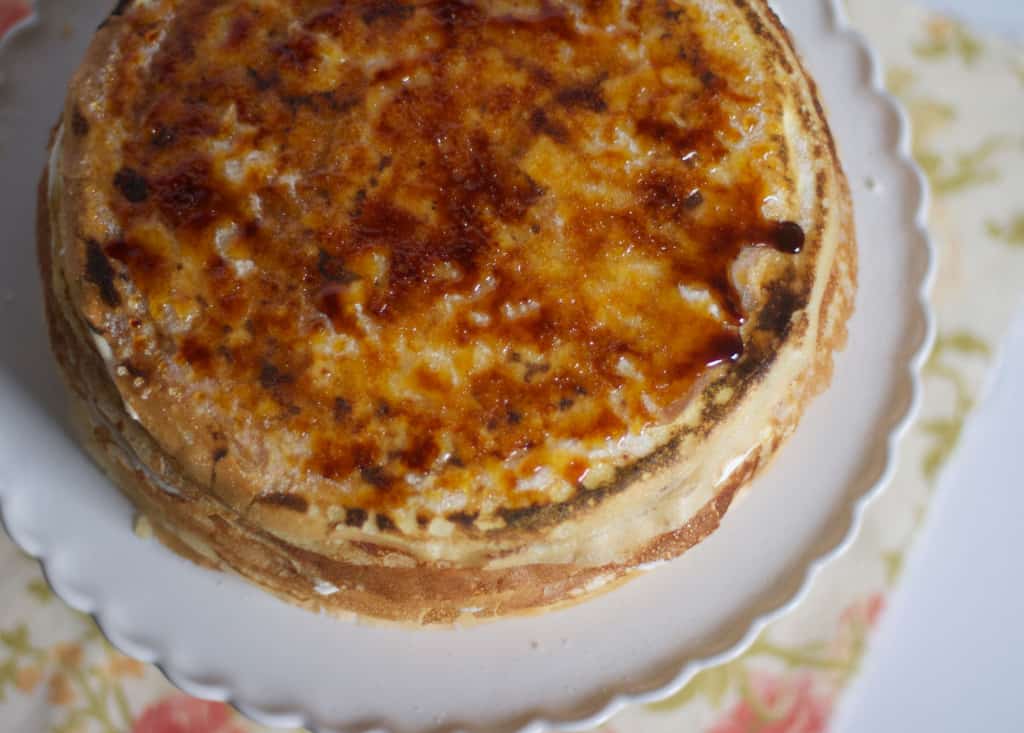 The assembly of this beauty is simple as well, merely spreading a pastry cream/whipped cream filling between the crepe layers. Bruleéing the top is totally optional- and if you don't have a kitchen torch, a sprinkling of powdered sugar would be great as well. After a brief chilling period for everything to set- it's ready to be devoured!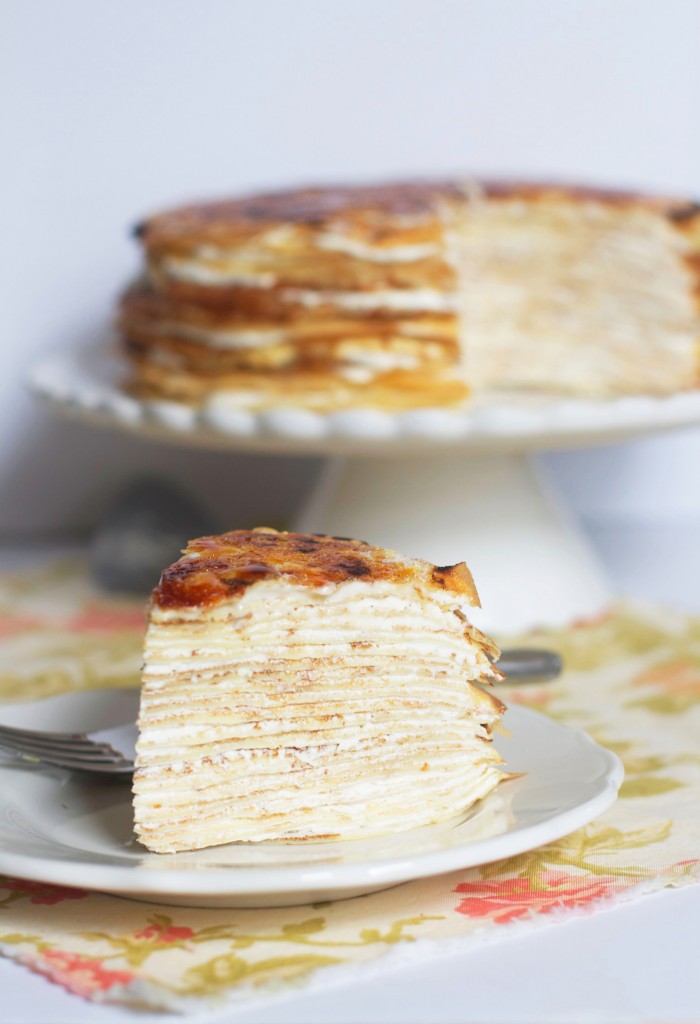 Now that I know how easy crepes really are to make, (I think a non-stick pan with raised edges is the key. I used this one.) I can't wait to try more crepe recipes- both for cakes and just for a fun and versatile breakfast. (Nutella and banana was my favorite filling in Paris!) Wouldn't this cake be so lovely with thin sliced strawberries between the layers? Or lemon curd? This isn't the last crepe cake you'll see from me I can promise you that!
PS- I'm still editing the Italy pictures but I'll be sharing them any day now. :)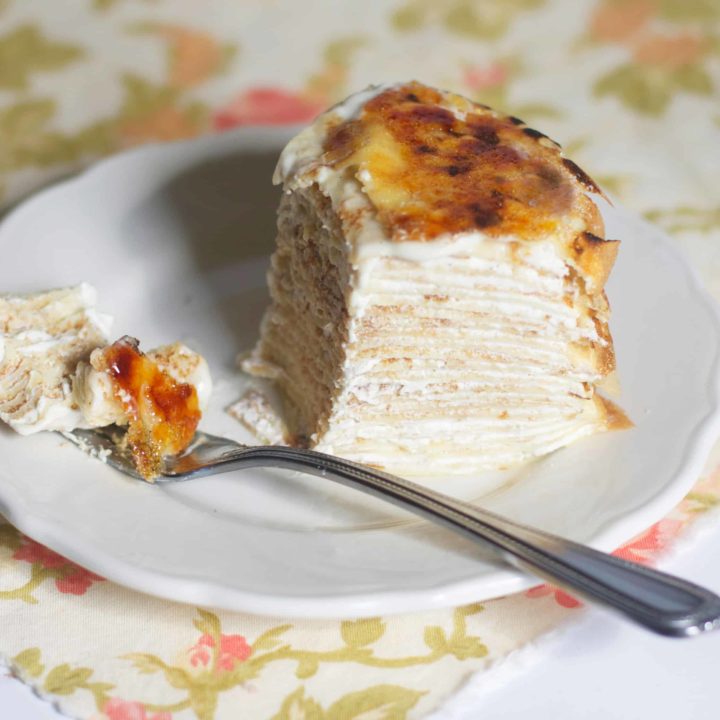 Creme Bruleé Crepe Cake
Ingredients
Crepe Batter, see recipe below
Pastry Crème Filling, see recipe below
2 cups heavy cream
3 tablespoons granulated sugar
Crepe Batter:
6 tablespoons butter, melted
3 cups milk
6 eggs
1 1/2 cups all-purpose flour
7 tablespoons granulated sugar
Pinch salt
Pastry Cream Filling:
1 egg
1 tablespoon all-purpose flour
2 tablespoons granulated sugar
1 tablespoon cornstarch
1 cup milk
1 teaspoon pure vanilla extract
1 teaspoon hot water
Instructions
First make the Pastry Cream:
In a small bowl, add egg, flour, sugar, and cornstarch; whisk until smooth.
In a saucepan over low heat, bring milk almost to a boil (simmer). Immediately remove from heat and slowly whisk it into the egg mixture.
Return all ingredients to the saucepan, and whisk constantly for about 5 minutes, until thickened and bubbly like lava.
Remove from the heat. Add vanilla extract and hot water; stir until dissolved into the mixture.
Refrigerate mixture until thick and cool. (3 hours, or half hour in the freezer and 1 1/2 hours in the fridge.)
For the Crepe Batter:
In a small pan, warm the milk until steaming; remove from heat and set aside to allow to cool slightly.
In a large bowl using your electric mixer at a low speed, mix together the eggs, flour, sugar, and salt. Slowly add in the warm milk and melted butter. Pour the batter into a tightly-sealed container to refrigerate for at least 2 hours (or overnight.)
To make the crepes:
Remove the prepared Crepe Batter from the refrigerator and bring to room temperature:
Prepare some sheets of parchment paper for cooling the finished crepes. (You don't want to stack them directly on each other, but with a layer of parchment between they will be OK.)
Use a nonstick pan over medium-low heat. (I didn't have to add oil to mine since it's very non-stick- but you may need to.) Pour about 3 tablespoons of the crepe batter into the pan, and swirl to cover the surface of the pan. Cook approximately 1 minute or just until the bottom of the crepe becomes lightly browned. Use a spatula to help lift the edge, and then use your clean fingers to gently and carefully turn the crepe over and continue cooking for another 15-20 seconds. Remove the cooked crepe and place on parchment to cool.
Repeat this process until you have 20 perfect crepes. (If their sizes are slightly different that is OK, but you want them to be round without tears.)
When the pastry cream is cold and firm, make whipped cream by beating the heavy cream until stiff peaks form, fold in 1 tablespoon of sugar, and then fold in the pastry cream. (If the pastry cream seems too solid before you add it to the whipped cream, beat it with your mixers for a minute to loosen it up.)
To assemble the cake:
Place one prepared crepe on a large cake plate.
With a small spatula, completely cover the crepe with a thin layer of the pastry cream mixture (about 1/4 cup).
Cover with another dry crepe and repeat covering with the Pastry Crème until you have reached 20 layers. Save the nicest looking crepe for the 20th (top) layer.
Refrigerate the prepared cake for 1-2 hours. Sprinkle the top with 2 tablespoons of sugar and use a kitchen torch to bruleé the top. (or dust with powdered sugar) Let cake come to room temperature before slicing and eating.
Nutrition Information:
Yield:

1
Serving Size:

1 grams
Amount Per Serving:
Unsaturated Fat:

0g