As much as I love having a bunch of friends over to enjoy a big pot of chili on football Sunday, sometimes nothing is nicer than just hanging on the couch with Andy. Lately- since he's on a fantasy football league plus we're in a weekly pool PLUS he's just generally obsessed, he's pretty glued to the games while I come in and out with snacks and such. I made us these meatballs a couple weeks ago and we just kept 'em in the crockpot snacking on them all day. They're exceptionally easy and a bit better for you than the frozen meatball+bbq sauce+grape jelly kind. (Which I'm sure I've eaten before and loved, but who knew about the grape jelly??)
You can use any BBQ sauce you'd like, but I highly recommend a really good quality one. We had a bottle of from Dinosaur BBQ which is an amazing restaurant here in NYC, but I normally like Sweet Baby Rays or anything else with some tang. Since the pan-browned meatballs are simmered in the crock pot with nothing but the BBQ sauce, you really want it to have loads of flavor. (You could of course make your own as well, I just didn't want to mess with that on this particular day.) We finished a half batch of these one afternoon just the two of us, but these would be absolutely perfect to make for a party or potluck as well.
PS- I am posting savory recipes now! Hopefully once a week- don't stop reading OK!? :)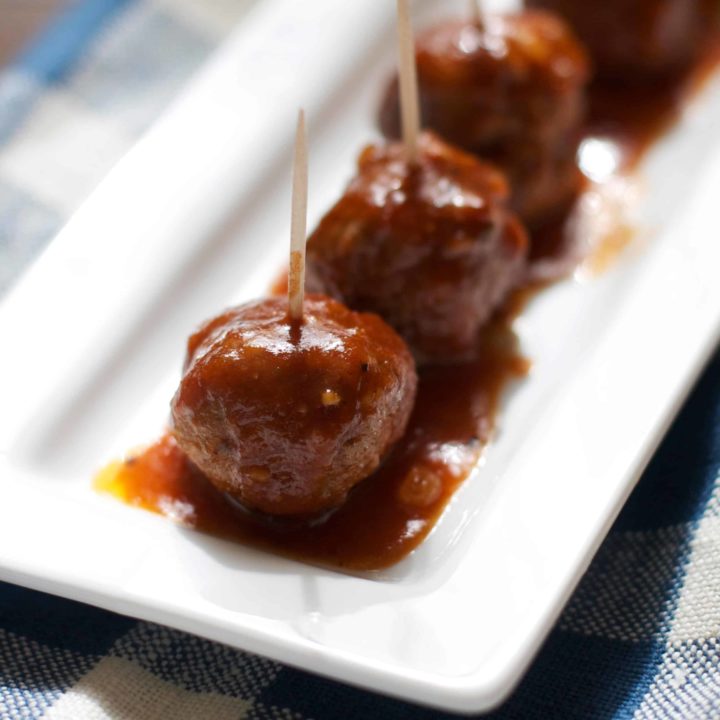 Crockpot BBQ Meatballs
Ingredients
2 lb. ground beef
1 1/2 cups bread crumbs
1 cup very finely chopped onions, a food processor works great for this
2 tsp. salt
1 tsp. ground black pepper
1 tsp. dried oregano
1 tsp. garlic powder or fresh minced garlic
2 teaspoons worcestershire sauce
2 eggs
4-5 cups of your favorite BBQ sauce
Instructions
In a large bowl, combine all the meatball ingredients and use your (gloved?) hands to thoroughly mix everything together.
Roll meatballs about 1 to 1.5 inches in diameter.
Brown meatballs in a large skillet over medium high heat. (If you are using very lean beef you may want to drizzle your pan with a little olive oil.) Place browned meatballs in the bottom of your crockpot as you continue to brown them in batches.
Pour the BBQ sauce over all the browned meatballs, using the full 5 cups if needed to make sure all the meatballs are covered in sauce.
Cook on high for 1 hour or low for 3 hours until meatballs are hot and fully cooked.
Notes
Recipe adapted from this one via Cooks.com
Nutrition Information:
Serving Size:

1 grams
Amount Per Serving:
Unsaturated Fat:

0g