Cucumber Salad with Yogurt and Mint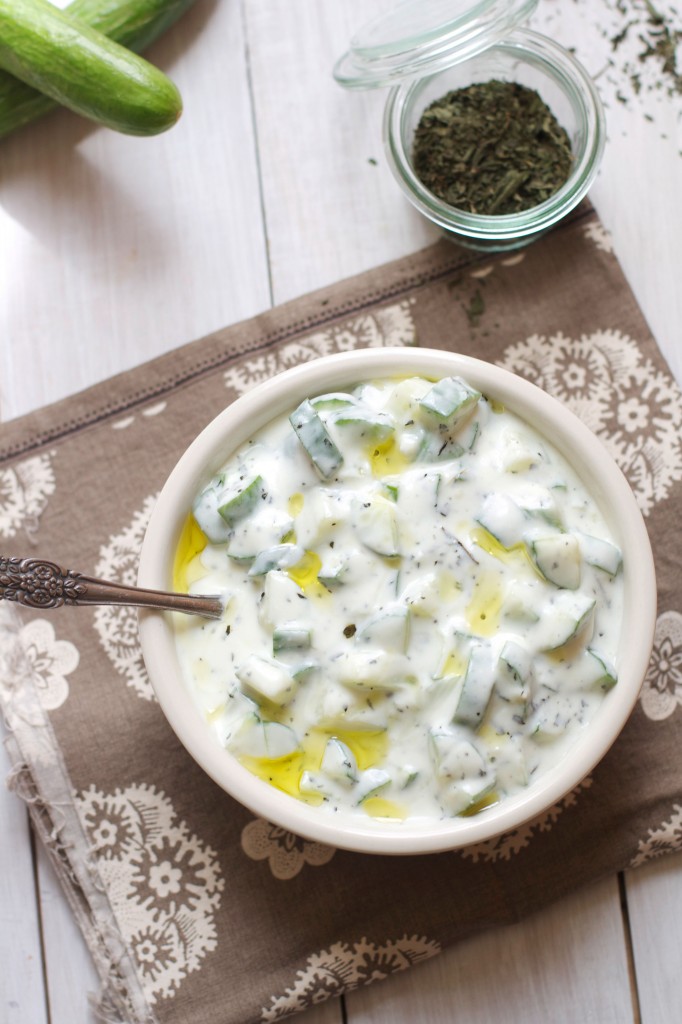 Something crazy has happened. I am sharing a recipe that isn't baked. At all. Or even sweet. It is however what I've been craving for the last two weeks. So much so that I haven't been able to think of anything else but this light and summery salad that is oh so delicious.
Andy and I ordered my Dad's version of this a couple weeks ago when we were visiting Milwaukee and eating at his Middle Eastern restaurant Sababa. We ordered kabobs and a variety of small plates including this salad. Well, unfortunately for Andy I ate the entire plate. And then I ordered another one and had all that too. (And none of the other food we'd ordered.)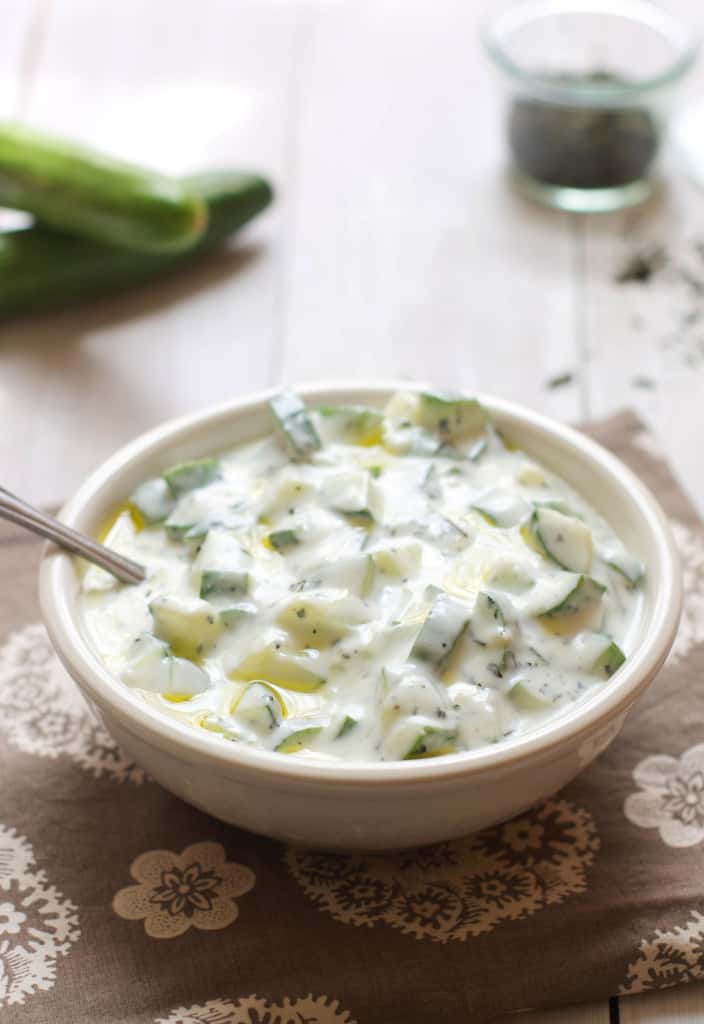 My Dad has been making a version of this salad for us as long as I can remember, but the version I had last week was particularly good. It's fresh, full of flavor and really refreshing. I love it all on its own, but it's also delicious on the side of say Chicken Kebob or a spicy Lamb Burger.
This is the first of what will be weekly savory posts (assuming I still crave them.) I can't possibly blog all about desserts when so many other delicious things have been happening in my kitchen. I hope you're cool (as a cucumber,) with that. ;)
Cucumber Salad with Yogurt and Mint
Ingredients
5 Persian cucumbers, quartered and sliced
1 cup plain yogurt
1/4 cup sour cream
1 small clove garlic, minced
1 tablespoon extra virgin olive oil
1 tablespoon dried mint
salt and pepper to taste
Instructions
In a medium-sized bowl, combine all ingredients and toss to combine.
Add salt and pepper to taste. (I like mine pretty salty.)
Notes
I like Persian cucumbers best because they don't require peeling, are seedless and are crunchy as can be. If you can't find them- use 2 1/2 cups chopped regular cucumbers. I used dried mint made from the mint in my Mom's garden, but if you can't find good dried mint, finely chopped fresh mint will work, (but I much prefer dried!)
Nutrition Information:
Yield:

3
Serving Size:

1 grams
Amount Per Serving:
Unsaturated Fat:

0g