Dark Chocolate Banana Swirl Muffins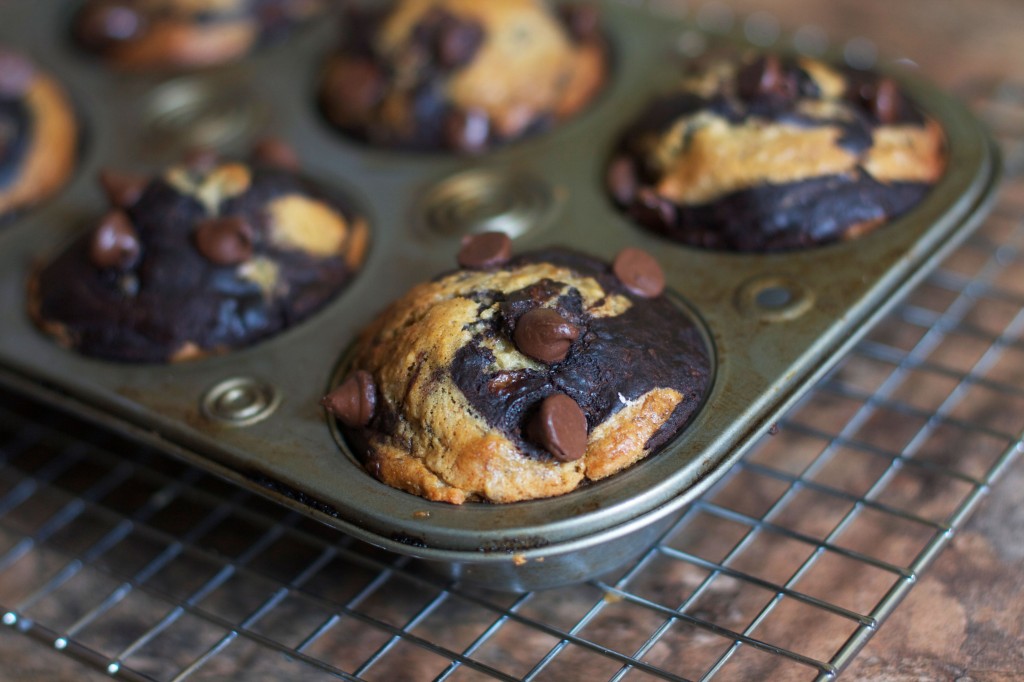 Short and sweet today..after two macaron-making sessions in the last week, I have been craving an easy recipe. You know- something that you just basically stir together and bake. These muffins are easy as pie to make, little mess, no mixer needed and I didn't have to separate a single egg. If you saw my kitchen after "Macaron mayhem" as I like to call it- you'd understand why I loved making these so much.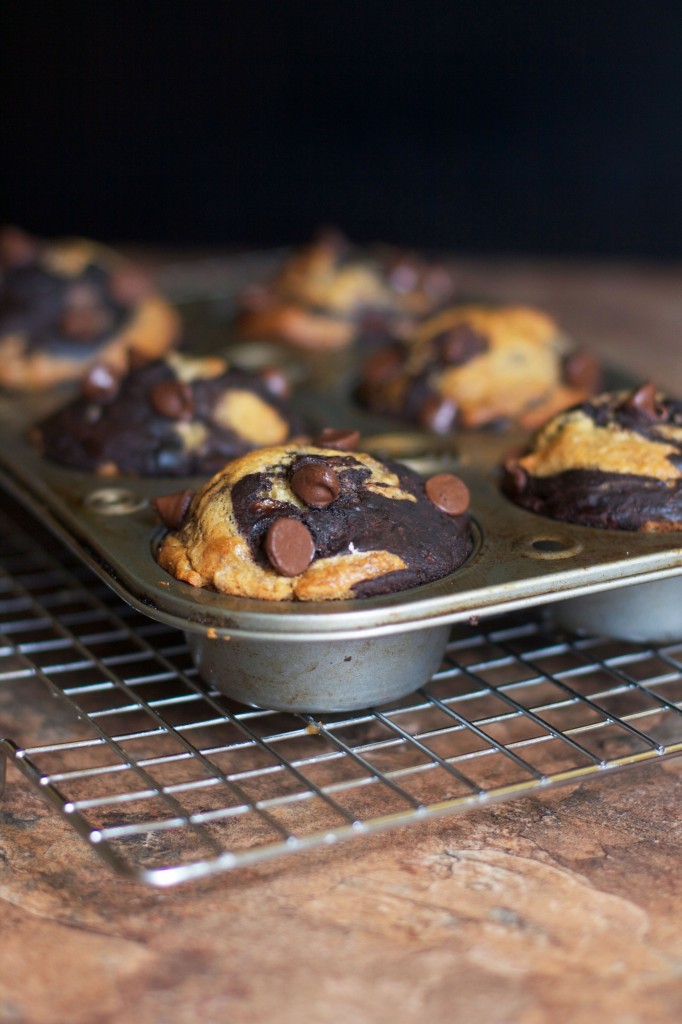 Ever since making Marble Pound Cake I've loved the idea of swirling a dark chocolate batter into my favorite Banana Muffin recipe to see what happened. The end result- was my new favorite muffin! Full of banana flavor with a twist of dark chocolate and a few melty chocolate chips on top. Not the healthiest breakfast maybe- but it has fruit so its totally OK. Right?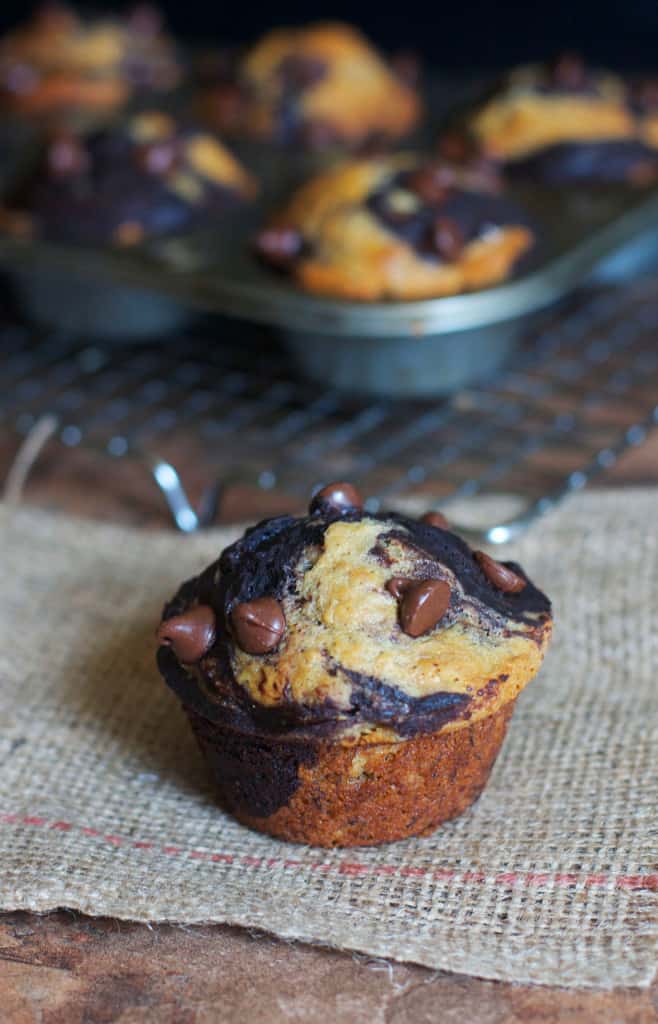 I used dark valharona cocoa powder in these, and I highly recommend picking some up before making them. Regular cocoa powder *may* be OK, but I'm really not sure of how it will react with the leaveners in the recipe. To be safe- get some dark chocolate good stuff!!
PS- Did you know you can ripen bananas in the oven? I wanted some really brown almost mushy bananas for this, and mine were pretty yellow to start. Just preheat the oven to 250- and bake bananas for about 30-60 minutes, keeping an eye on them in case it takes less time.
Dark Chocolate Banana Swirl Muffins
Ingredients
1 1/2 cups all-purpose flour
1 teaspoon baking soda
1 teaspoon baking powder
1/2 teaspoon salt
3 bananas, mashed
1/4 cup white sugar
1/2 cup brown sugar
1 egg, lightly beaten
1/3 cup vegetable oil
1/2 tsp vanilla
1/4 cup dutch process cocoa powder
3 tablespoons boiling water
chocolate chips for topping
Instructions
Preheat oven to 375 degrees F
Lightly grease 12 muffin cups, or line with muffin papers.
In a bowl, mix together flour, baking powder and baking soda
In a large bowl, mix together bananas, sugars, egg and oil, and vanilla. Gradually add the flour mixture into the banana mixture just until moistened.
Spoon 1/3 of the muffin batter into another bowl. Stir the cocoa powder and boiling water together until smooth, and then stir the cocoa mixture into the batter that you set aside.
Spoon a dollop of regular into each muffin well- just enough to cover the bottom. Follow with a dollop of chocolate batter, another small spoon of regular and then a small little spoon of chocolate, filling to a maximum of 3/4 of the way.
Use a toothpick or skewer to swirl all the batter together, and sprinkle a few chocolate chips on top.
Bake for 20-25 minutes or until muffins are golden and a toothpick inserted into the center comes out clean.
Nutrition Information:
Yield:

10
Serving Size:

1 grams
Amount Per Serving:
Unsaturated Fat:

0g