Dark Chocolate Candy Bar Cookies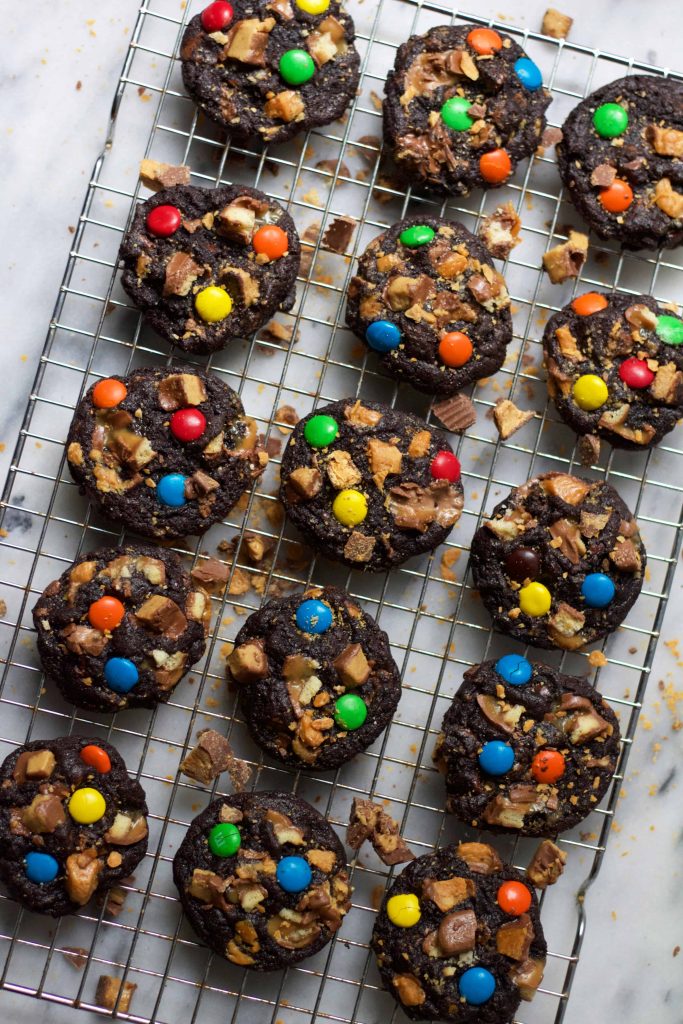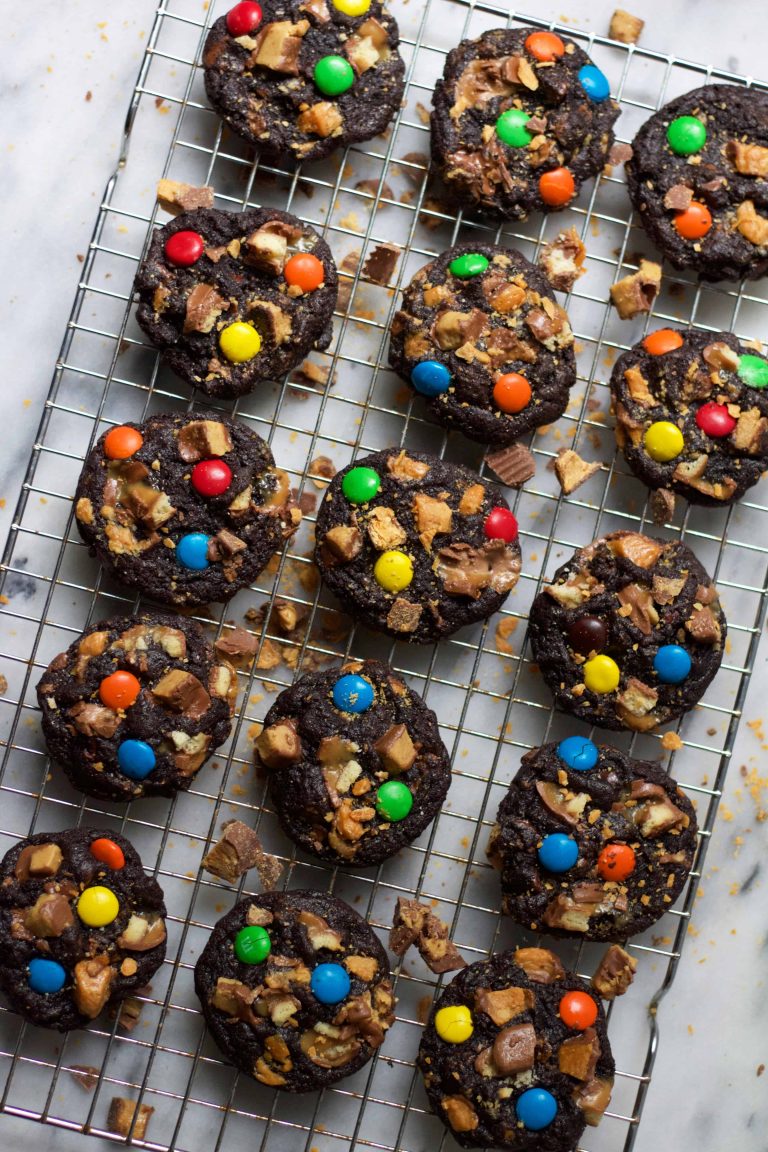 I have a confession, my toddler has no clue what cookies are, or chocolate for that matter. I'm not going to pretend that cookies are actually graham crackers or anything like that, but I figure as long as I need keep them a secret the better right? He did learn what chocolate chips were after picking up a couple that had fallen to the floor from the making of these cookies, but I'm pretty proud of how I've managed to keep him in the dark this long. (The last thing I need is him begging and whining for something new haha!)
So this brings me to Halloween this weekend and Trick or Treating. Do you go with an almost 2 year old? It seems silly to walk around with him getting candy I don't intend to let him actually eat, but at the same time, our family costume is going to be freaking adorable and well, I want to show it off. So I guess the only thing to do is go trick or treating, let my cute get get a basket of candy, and then take it home and eat it myself right? I mean what other choice do I have??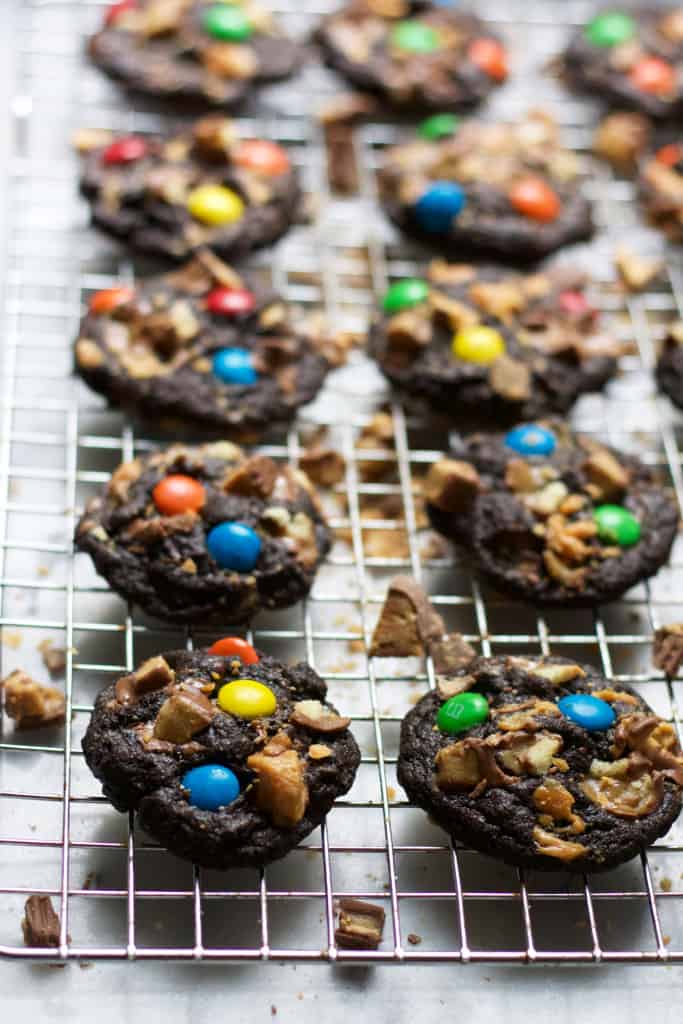 If you're someone who finds your house full of leftover candy come Sunday and you don't want to just sit around eating it all yourself, these cookies are a fabulous place for all your extras. My favorite Double Chocolate Cookies with Sea Salt served as the base recipe, and I loaded it up with M&Ms, Milky Ways, Twix, Butterfingers & Peanut Butter Cups. You can really use anything though and these cookies will be fabulous. Every type of candy bakes a bit differently so the finished result had all sorts of crunchy, gooey surprises in store.
If you have to end up with a bucket of candy come Halloween like me then you may as well have a fun baking project at the end of the day right??
I want to end the post on a more serious note. If you read other food blogs, you make have caught wind that one of our fellow bloggers, Joan from Chocolate, Chocolate and More, suddenly passed away last week. I met Joan once and though I didn't know her well, it was clear that she was a warm, loving and sweet lady who really loved life and her family. Please join me and the rest of the food blogging community as we celebrate Joan's life and her love for chocolate. I wanted to post something that I knew would be up Joan's alley and I hope this recipe is it. Please give her blog some love, as any revenue her blog gains will go straight to her 3 kids. With recipes like Brownie Bottom Cheesecake Bars and Lunch Lady Brownies I doubt you'll have a hard find finding something to love on her site.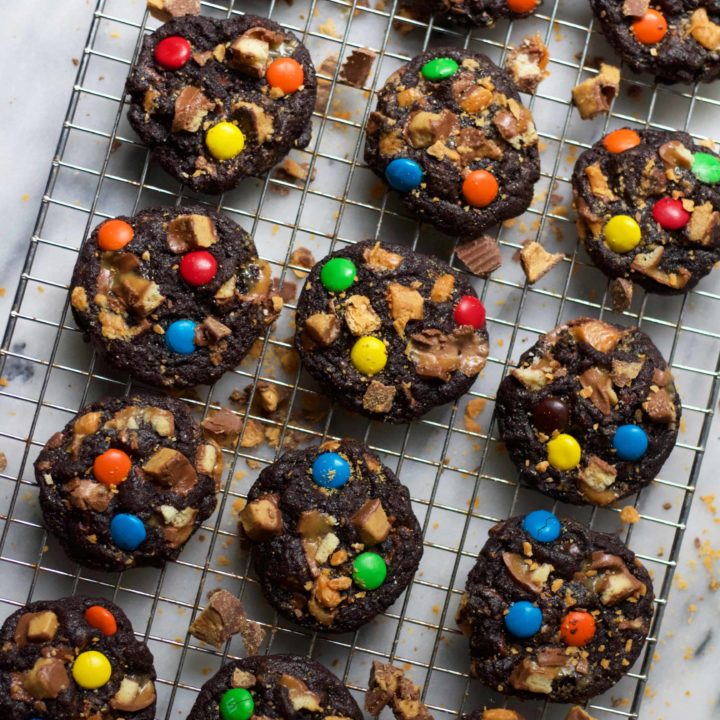 Dark Chocolate Candy Bar Cookies
Yield:
24-36 cookies depending on size
Ingredients
¾ cup butter, softened (1½ sticks)
¾ cup brown sugar
½ cup granulated sugar
1 large egg
2 teaspoons vanilla extract
1¾ cups all-purpose flour
⅜ cup dark cocoa powder
1 tablespoon cornstarch
1 teaspoon baking soda
1 teaspoon salt
1/2 cup semi-sweet or dark chocolate chips
1 1/2 cups of chopped up candy/candy bars of your choice
Instructions
In a medium sized bowl, whisk together the flour, cocoa powder, baking soda, cornstarch, and salt set aside.
In a large mixing bowl, cream together the butter and sugars until light and fluffy. Add the egg and vanilla and mix for another minute or two until smooth and creamy.
Gradually add the dry ingredients and mix until just combined. Fold in the chocolate chips and half of the candy pieces.
Scoop dough into 2-inch balls and arrange on a cookie sheet or plate. Press the rest of the candy pieces into the top of the dough. Freeze for 30-60 minutes or until dough is super firm.
Preheat oven to 350F.
After dough has chilled, Place cookie dough on sheet, 2 inches apart.
Bake for 10-12 minutes or until the edges are set. Cool for a few minutes before removing from cookie sheet and cooling on a wire rack. Repeat with remaining dough!