Dark Chocolate Caramel Espresso Cookies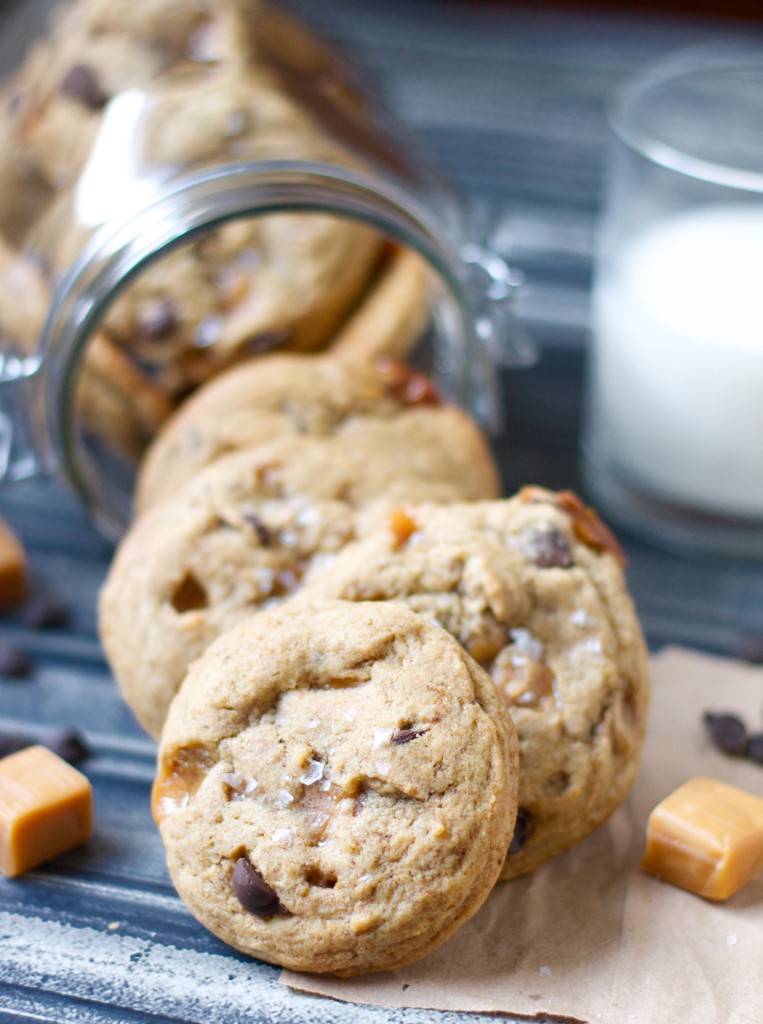 First- thank you all so much for the well wishes about baby Hugo's arrival. I am so glad that I had several posts prepared so I haven't had to worry about anything that cuddling with my babe. I'm feeling really great though and getting the hang of things- so I should be back in the kitchen soon! Also- stay tuned later this week for Hugo's birth story! (To be found in the "Baby updates" section- found on the top right button on the homepage.)
Onto the cookies: I don't really watch cooking reality shows too often, but when I do- I have to be honest- they terrify me. Maybe its because as a baker/cook- I can imagine myself in those contestants' shoes and having to come up with something under a time constraint and it gives me the sweats. I'm not a fan high pressure situations and I like to take my time to come up with recipes and flavor combos.
That being said…last month when my neighbor Melissa had a birthday, I asked her what her favorite flavors in a dessert were. She said- dark chocolate, salted caramel and coffee and also mentioned she liked "milk dipping cookies"- and man did I love the challenge of incorporating all of that into a special birthday treat!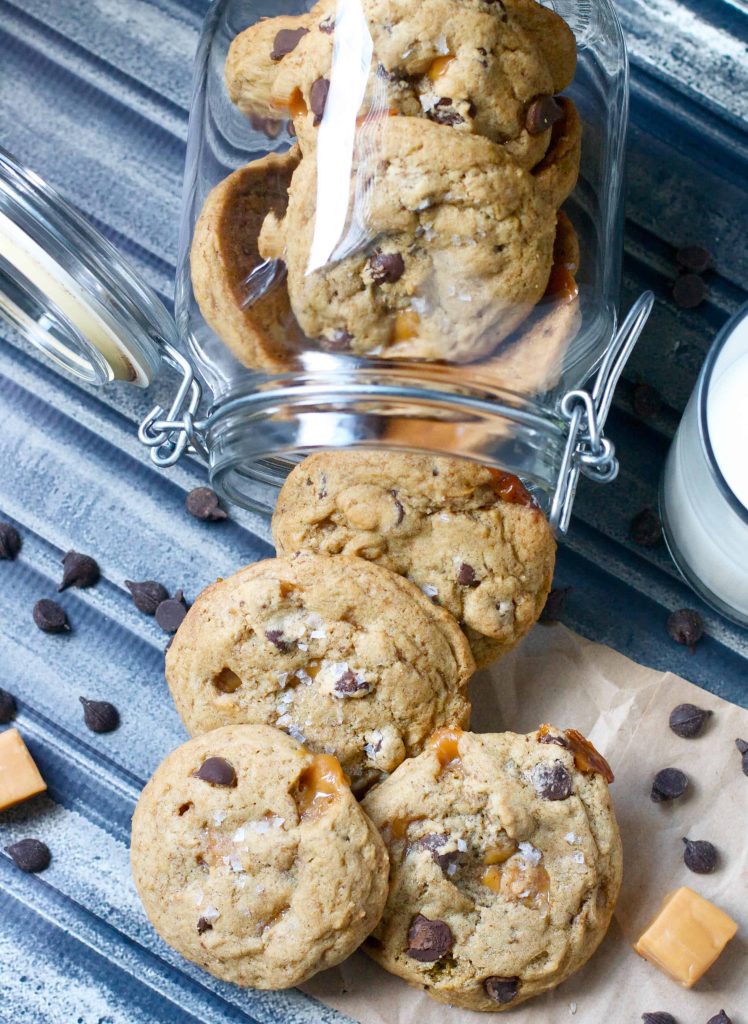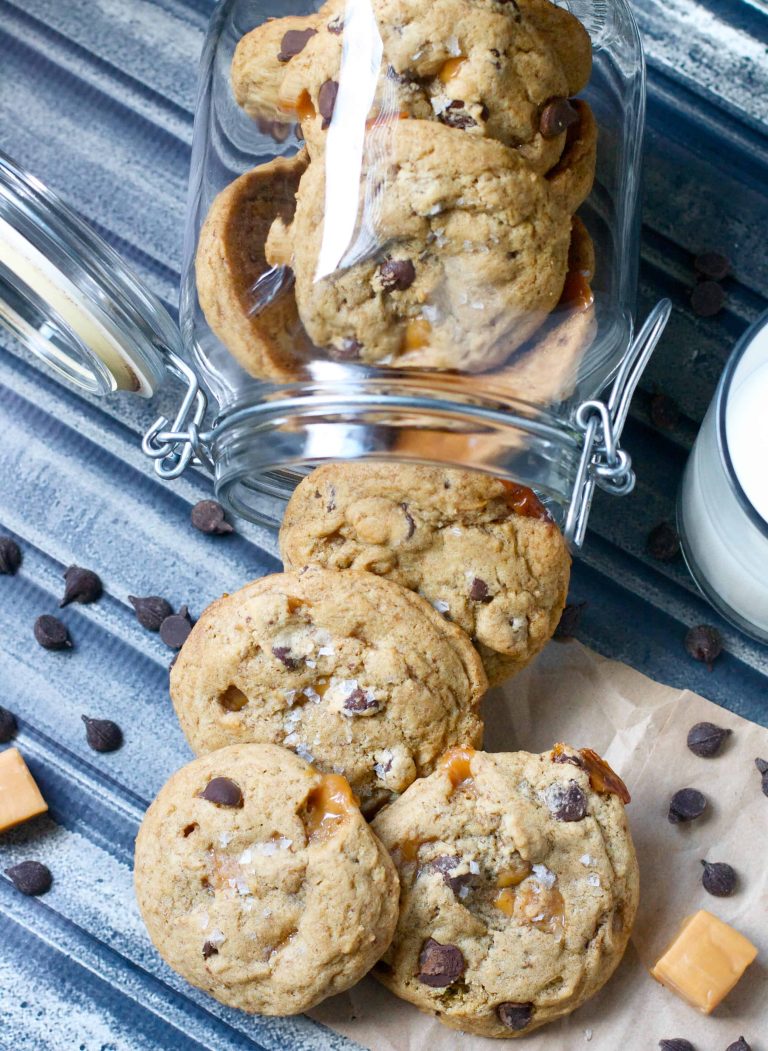 Since she mentioned liking cookies- I thought a chewy chocolate chip-type cookie with ground espresso powder and bits of caramel would be perfect, (topped with flaky sea salt of course!) I found a similar recipe and changed it up a bit to fit her requests. Man oh man did they turn out well! These cookies were super soft and chewy and full of so many wonderful flavors. The dark chocolate chips and espresso powder are a match made in heaven and of course melty bits of caramel and sea salt just put them over the top. Cutting the caramels into small pieces is the only time consuming part of this otherwise easy peasy recipe but trust me- its so worth it to taste that first gooey bite!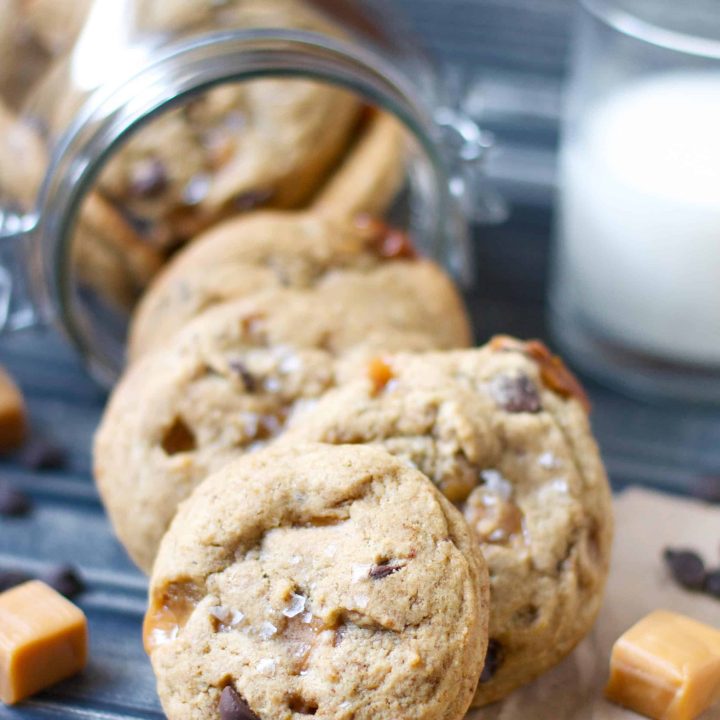 Dark Chocolate Caramel Espresso Cookies
Ingredients
3½ cups all-purpose flour
1 teaspoon baking soda
1 teaspoon sea salt plus more for sprinkling-, optional
2 tablespoons espresso powder
1 cup 2 sticks unsalted butter, at room temperature
¾ cup packed brown sugar
1 cup granulated sugar
2 large eggs
1 tablespoon plus 1 teaspoon of vanilla extract
1 1/2 cups dark chocolate chips
1 cup soft caramel candies cut into small pieces
Instructions
Preheat the oven to 350? F. Line cookie sheets with silicone baking mats or parchment paper and set aside.
In the bowl of an electric mixer, combine the butter and sugars and cream together on medium-high speed until light and fluffy, about 3 minutes.
Add the eggs one at a time, beating well after each addition. Add the vanilla extract.
Sprinkle the flour, espresso powder, baking soda and salt over the butter mixture and mix on low speed until just combined with no flour-y streaks. Use a spatula to fold in chocolate chips and caramel bits.
Use a cookie scoop or spoon about 2 tablespoons of dough onto prepared baking sheets*
Bake for about 14-16 minutes or until just set with the edges slightly golden, rotating the pans halfway through baking.
Let cool on the baking sheets about 5 minutes before transferring to a cooling rack. Store in an airtight container.
Notes
When you are scooping dough- if you see chunks of caramels on the bottom of the ball of dough they tend to get gooey and sticky and make storing/transferring the cookies a bit of a pain. I suggest pushing them into the middle of the cookie and kinda patching the bottom with more dough to make everything easier :)Recipe adapted from Annie's Eats via Budding Baketress
Nutrition Information:
Serving Size:

1 grams
Amount Per Serving:
Unsaturated Fat:

0g