Chocolate Peppermint Cake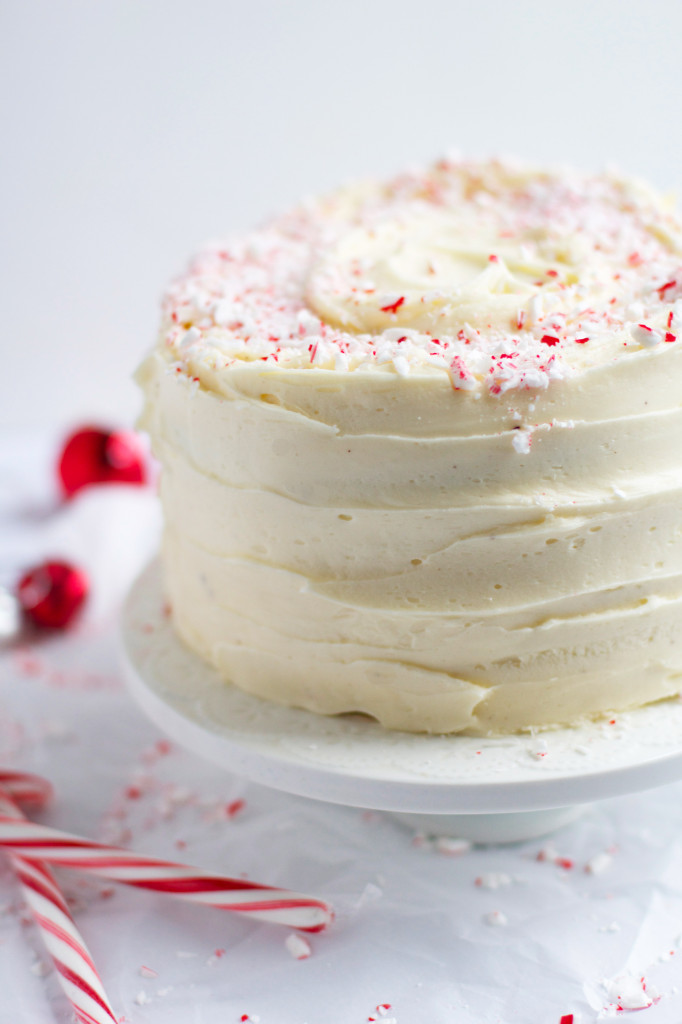 As the holiday season approaches, it's the perfect time to indulge in a festive and delicious Chocolate Peppermint Cake. This moist chocolate cake is sweet, fudgy, and is the perfect dessert for your holiday table. It starts with a homemade chocolate cake that comes together quickly, and each layer is topped with rich peppermint chocolate ganache. The whole cake is frosted with a creamy peppermint frosting and decorated with crushed candy canes.
In this post I'll outline everything you need to make the cake as well as some helpful tips and tricks for mastering this delightful chocolate peppermint cake recipe!
Ingredients needed for Chocolate Peppermint Layer Cake:
All Purpose Flour
Dark Cocoa Powder
Sugar
Baking Soda
Baking Powder
Salt
Eggs
Buttermilk or Sour Cream
Vegetable oil
Vanilla Extract
Dark Chocolate
Heavy cream
Peppermint extract or peppermint oil
Cream Cheese
Butter
Powdered Sugar
Crushed candy canes or peppermint candies for decorating
Supplies needed for Peppermint Chocolate Cake:
Parchment paper
Electric mixer
Large mixing bowl
Wire rack for cooling
Small saucepan
Piping bag if desired for frosting
Offset spatula for frosting
How to make Chocolate Peppermint Layer Cake:
In a large bowl whisk the dry ingredients together. Add in the wet ingredients and using an electric mixer, mix on medium speed until the batter is well combined. Don't over-mix!
Divide batter into prepared cake pans and tap lightly on the counter to remove any air bubbles.
Bake cakes according to the recipe directions and cool cakes on a wire rack. When the cakes have cooled, place the first layer on a cake stand and top with chocolate ganache and frosting. Add the next layer, repeat the ganache and frosting and then add the final layer. Add more frosting around the sides and top and then sprinkle crushed candy canes or peppermint bark on top of the frosted cake for decoration.

Tips and Tricks:
1. Preparing the Cake Pans: For even baking, use high-quality cake pans and ensure they are properly greased and lined with parchment paper. You can grease by brushing butter into the pan or using a nonstick spray. I like to trace circles onto parchment with tabs on the sides for easy lifting.
2. Sift the Dry Ingredients: Sifting the cocoa powder and flour eliminates lumps and results in a smoother batter. I also have found that taking the extra step of sifting powdered sugar results in amazingly creamy frosting.
3. Room Temperature Eggs: Allow your eggs to come to room temperature; this helps create a smoother batter with everything mixing more evenly.
4. Gradual Mixing: When adding the dry ingredients to the wet mixture, do so gradually to prevent overmixing, which can lead to a dense cake.
5. Perfect Bake Time: Keep a close eye on the cakes as they bake. Use the toothpick test to determine doneness; it should come out clean with only a few moist crumbs.
6. Peppermint Buttercream Frosting: Adjust the amount of peppermint extract in the frosting to suit your taste for peppermint flavor. Start with less and add more gradually.
7. Crumb Coat: Before the final frosting layer, apply a thin "crumb coat" to trap any loose cake crumbs. This makes for a neater finish.
10. Decorating: Use an offset spatula to create decorative textures on the sides of the cake. Experiment with different sizes and styles for a personalized touch.
13. Storing: Keep your cake fresh by storing it in an airtight container. It can also be refrigerated for longer shelf life.
Chocolate Peppermint Cake
As I was making this I was positive it was going to be an epic fail. I actually forgot to add eggs to the cake and I didn't realize until the first two pans were in the oven. I added the egg to the third layer but then realized I should have just let them be. In case you're wondering it didn't affect things as badly as I thought. The egg-free layers were denser but super fudgy. The layer I remembered the egg for was light & fluffy. They all tasted the same though. (Just in case you ever forget- in this cake- the end is not lost!!)
Then, as I was making the ganache it actually split. (Which means the fat separates from the protein and creates a weird oily affect.) I almost scrapped it but a quick Google search suggested I whip some air in with my mixer until it was smooth. I did and it came back together! Needless to say, I was convinced I was going to be scrapping this entire cursed cake and that I had wasted my morning for nothing.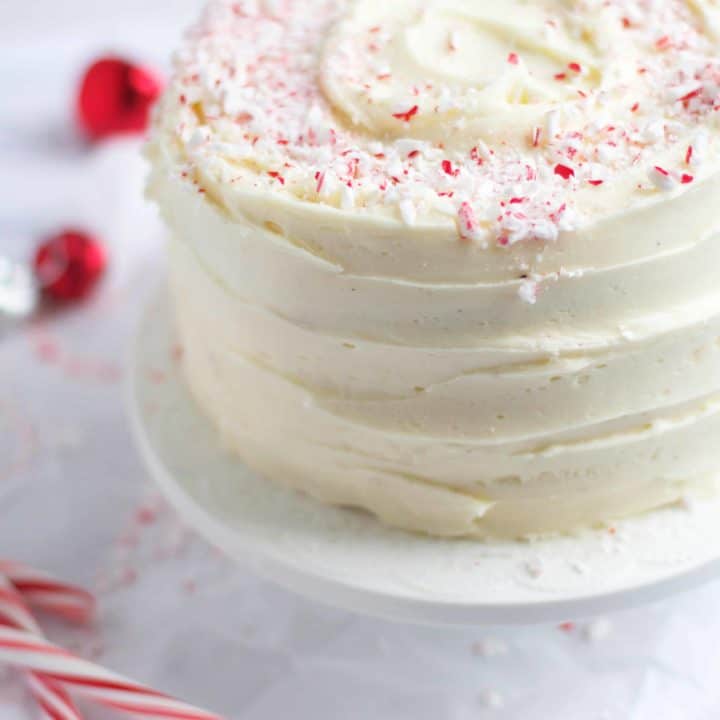 Dark Chocoalte Peppermint Layer Cake
Yield:
1- 8-9 inch layer cake
Ingredients
For the Cake:
1 cup plus 2 tablespoons dark cocoa powder
2 and 1/4 cups all-purpose flour
2 and 1/4 cups sugar
2 and 1/4 teaspoons baking soda
1 teaspoon baking powder
1 teaspoon salt
3 large eggs
1 cup plus 2 tablespoons warm water
1 cup plus 2 tablespoons buttermilk
4 1/2 tablespoons safflower oil
1 1/2 teaspoons pure vanilla extract
For the Ganache:
6 ounces dark chocolate, chopped
1/2 cup heavy cream
a few drops of peppermint extract
For the Frosting:
4 oz of cream cheese, softened
3 sticks (1 1/2 cups) butter, softened
5-7 cups powdered sugar
1 teaspoon vanilla extract
1/4 teaspoon peppermint extract
large pinch of salt
milk as needed (I used about 1 tablespoon)
2 crushed candy canes for decorating
Instructions
Preheat the oven to 350 F. Butter three 8 or 9 inch round cake pans, sprinkle with flour and line with parchment rounds. Set aside.
In a large bowl combine all the dry ingredients (flour, sugar, cocoa powder, baking powder, soda and salt.) Whisk together until well combined.
Add all the rest of the ingredients- (eggs, buttermilk, warm water, oil and vanilla,) and whisk until smooth, clump-free and glossy. (Don't over-mix)
Divide the batter evenly among the pans, and bake for 30-40 minutes, (depending on your oven,) or until a cake tester inserted into the center comes out clean. Cool completely before frosting.


While the cake cools, make the ganache:
Place the chopped chocolate in a heatproof bowl.
In a small saucepan, heat the cream until the edges start to bubble (don't let it get to boiling!) pour it over the chocolate and let it be for a few minutes.
Stir until smooth and glossy. Whisk in the peppermint extract
For the Frosting:
Beat together the cream cheese and butter. Add the extracts and salt. Slowly mix in the powdered sugar, 1/2 cup or so at a time until frosting is smooth and thick. Add a few splashes of milk as needed until the frosting is good spreading consistency.


To assemble:
If needed, level your cake layers to remove a domed top using a serrated bread knife. Place the cake face down on a turn table with some parchment paper strips around the edges. Spread some ganache over the cake and let it chill for a minute to set. Top with frosting and use an off-set spatula to spread to the edges. Top with another cake layer and repeat with the 2nd and 3rd layer.
After spreading ganache on the top later and letting it set, give the cake a thin "crumb coat" of frosting and let it set in the fridge or freezer. Continue to pile the frosting on, smoothing it over the sides and top of the cake.
Sprinkle crushed candy cakes on the cake to garnish and let the whole thing set for another 15 minutes before serving.
Notes
Chocolate Cake recipe adapted from Martha Stewart