DIY Homemade Soy Candle Tutorial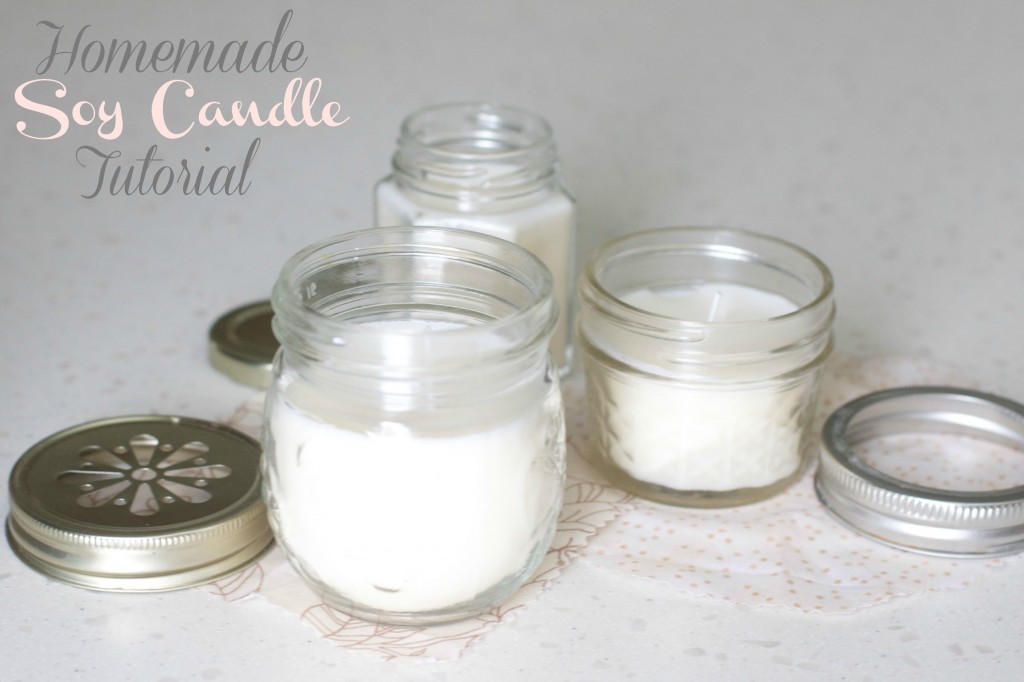 I have a recipe for you today, but it's not for food. You don't mind too much do you? You see ever since my Mom & I made soy candles as favors for my wedding, and after the wedding was featured here, I got several requests to share our recipe/process. Our guests absolutely loved them and we've made more candles since with lots of success. They make such a wonderful gift with a special, personalized touch- and the options for scents and colors are endless! Would you believe that making them is really pretty simple once you get the hang of it?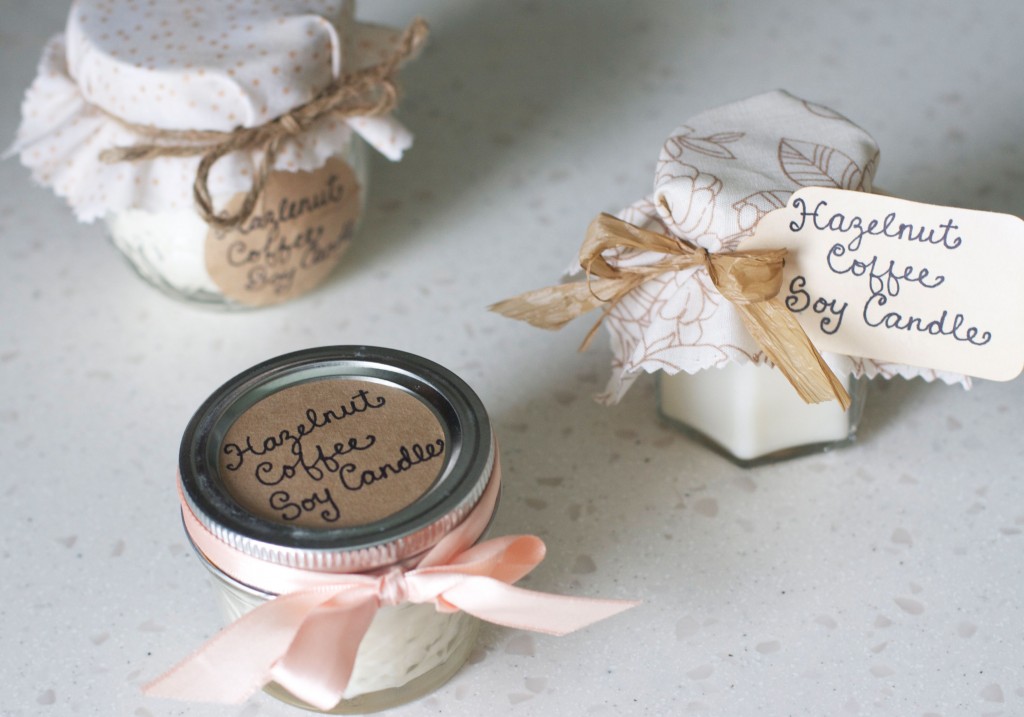 We chose to use soy wax, and have made them in a variety of scents. These were Hazelnut Coffee (amazing,) and we did Cinnamon Vanilla for the wedding. All of our supplies came from Candle Science, including the jars, wicks, wax, and scents. When ordering, you can choose the right wick size for your jar which is helpful- and there are customer service reps who can help you figure out the right quantity of supplies to order for what you need. (I'm not paid to promote them I swear!) We experimented a ton before the wedding to create a candle that smells great before and while it's burning.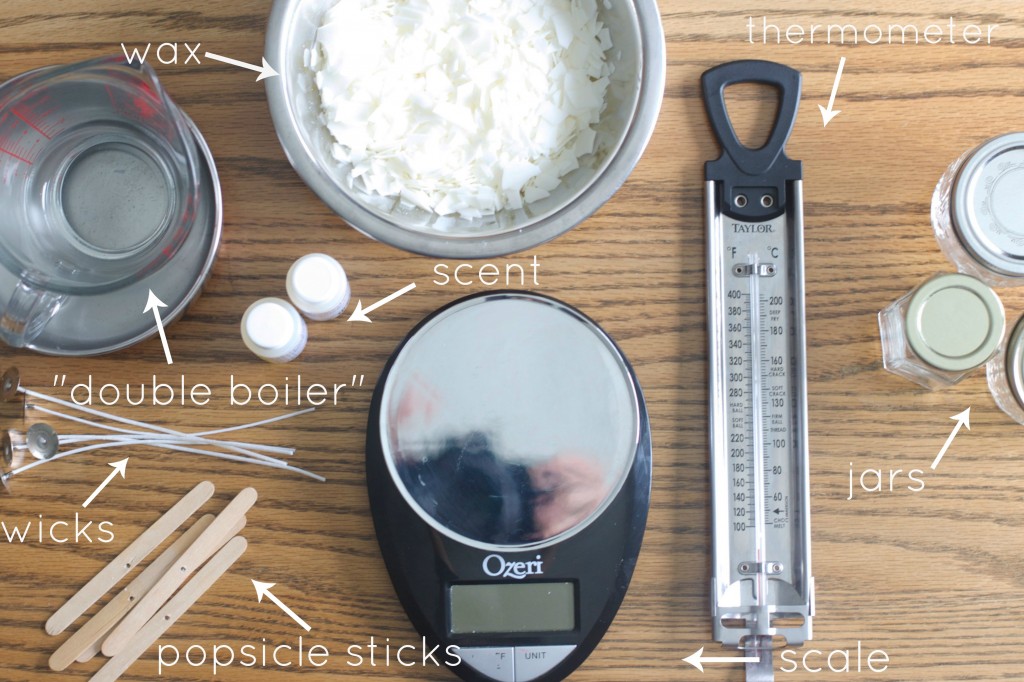 Some of the supplies needed to make these candles at home may be already stocked in your kitchen, others may need to be special ordered. You can buy jars, or use anything you have around- tea cups, mason jars and anything heat-proof would work! The recipe below makes about 2 small/medium candles (depending on your jar size,) but you can of course increase the size as needed.
Supplies:
8 oz. soy wax flakes
1/2-3/4 oz. scent drops of choice
wicks
popsicle sticks with a small hole drilled into the center, or another tool to stabilize wick
2 small jars (4-6 oz. in size)
kitchen scale
candy thermometer
glue gun
pyrex measuring cup, or other spouted heat-proof vessel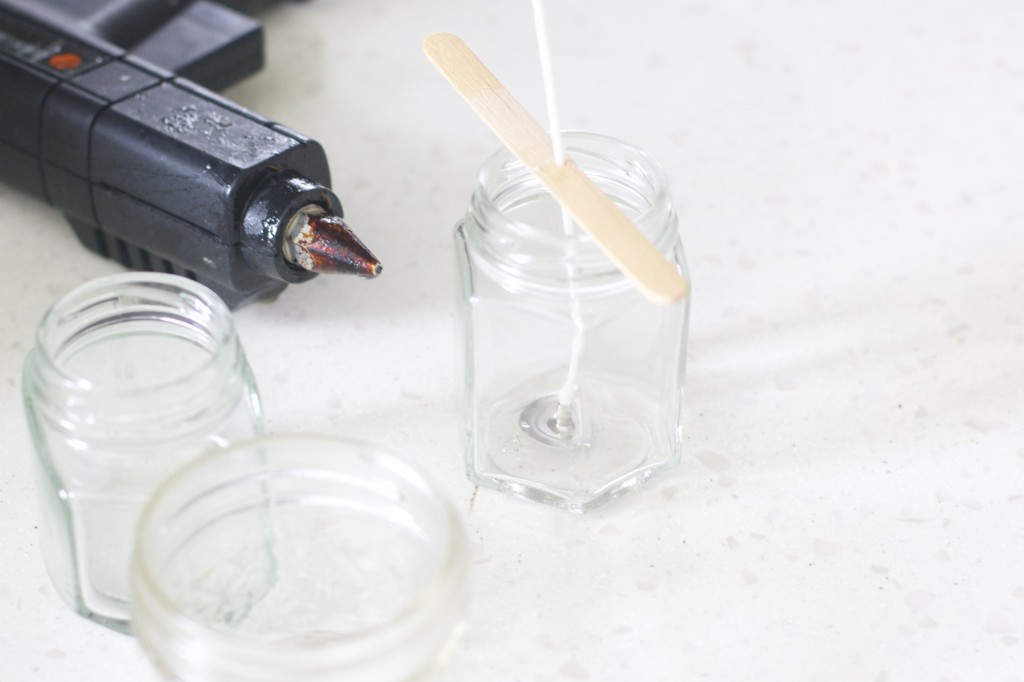 To begin, using a glue gun, prepare your jars by securing the tabbed wicks to the bottom of your jars. (they also sell sticker-type things for this if you prefer that.) Thread the wick through the hole in the popsicle sticks and center it. (Use some tape to secure the stick if it seems to be moving too much to the side.)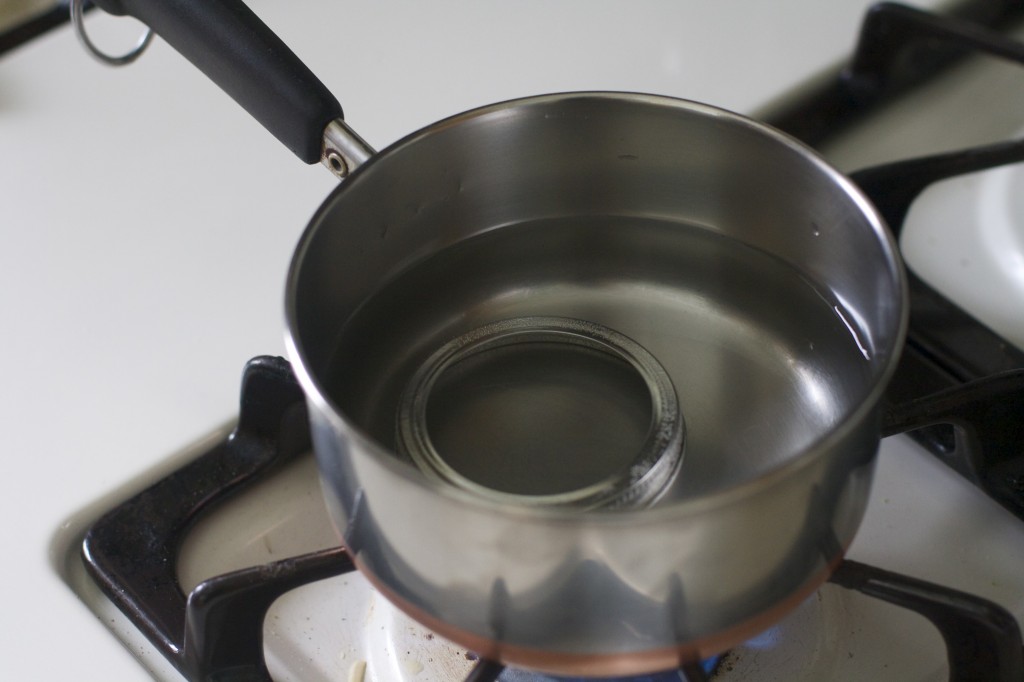 Prepare a small kettle of water with the lid of a jar in the bottom. This may seem weird, but basically you don't want your measuring cup to touch the bottom of the pot. We found that one of our jar lids worked perfectly for this.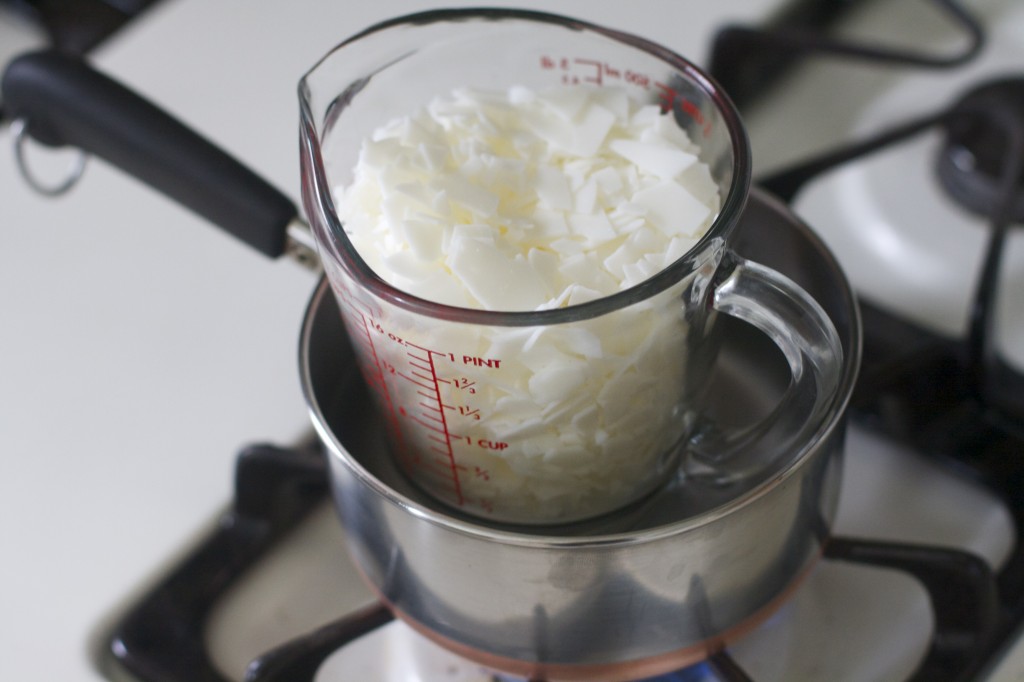 Weigh your wax flakes, and place them in a heat-safe measuring cup or something similar. Nestle it onto the jar lid and turn heat to medium-high.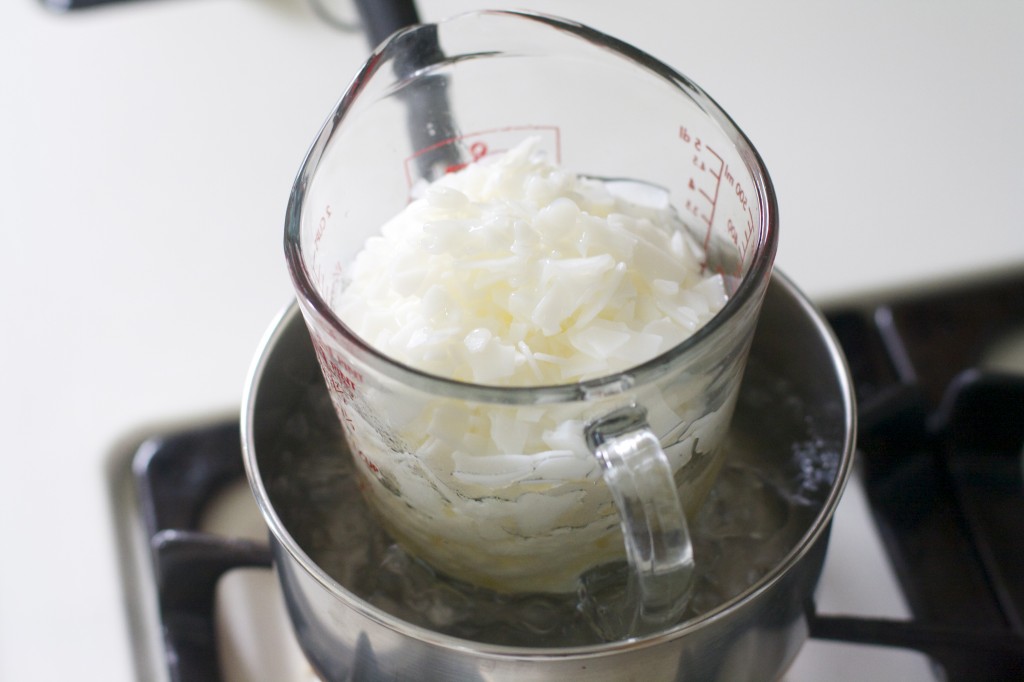 Leave the wax be as it melts.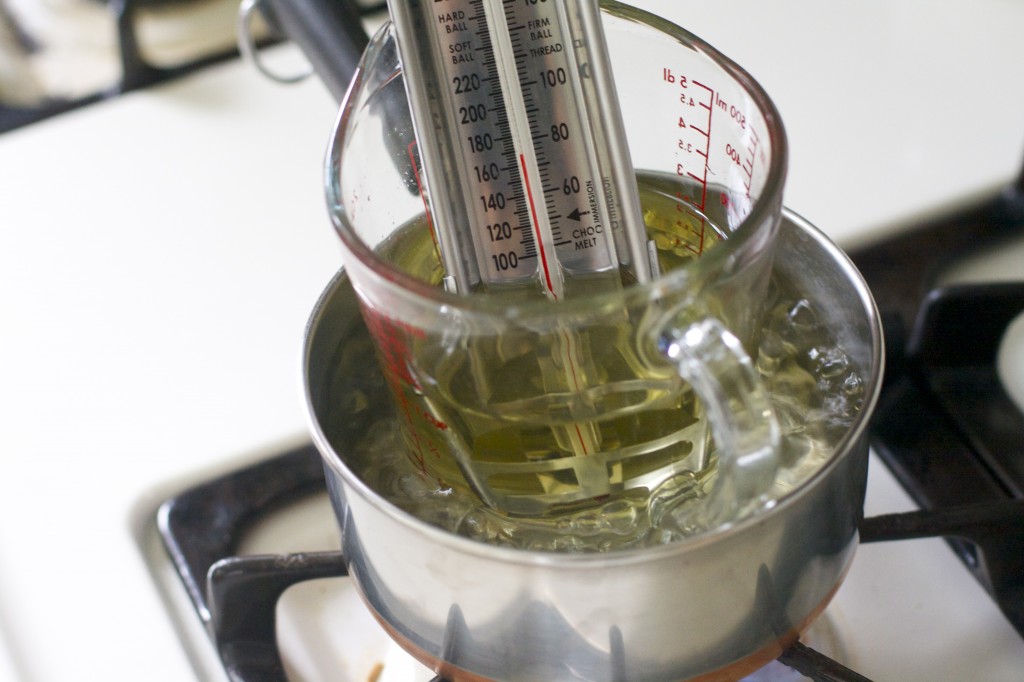 Once it's melted, place your candy thermometer inside the wax and let it heat to 185 degrees F.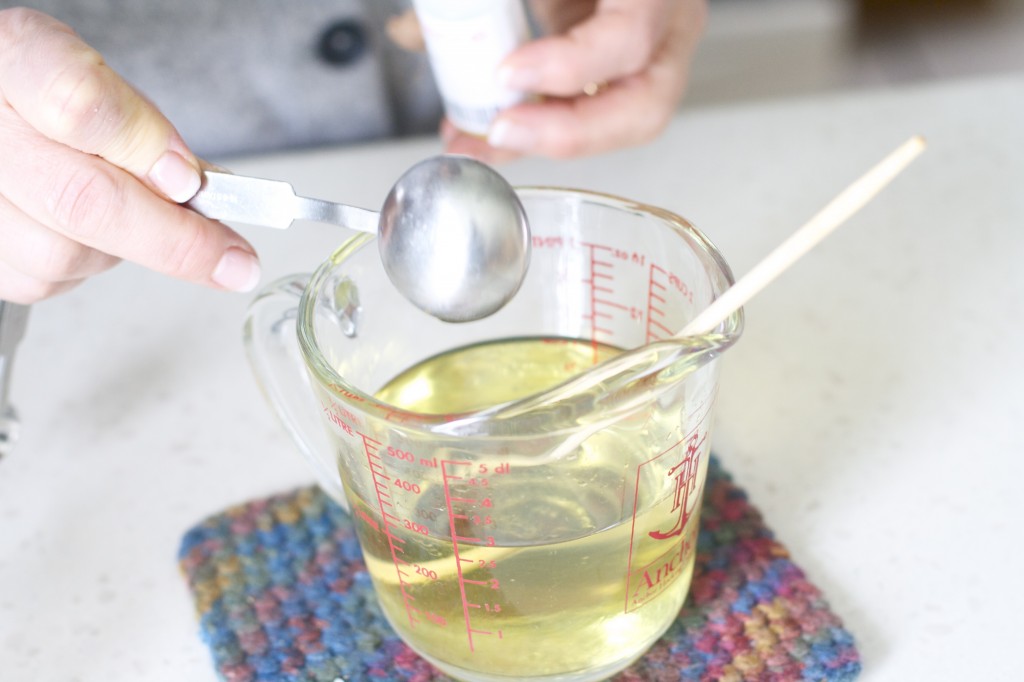 Remove the measuring cup from the heat and add your fragrance. Stir with a spoon (or in our case a chopstick) for 2 minutes. (Thanks Mom for the hand modeling!)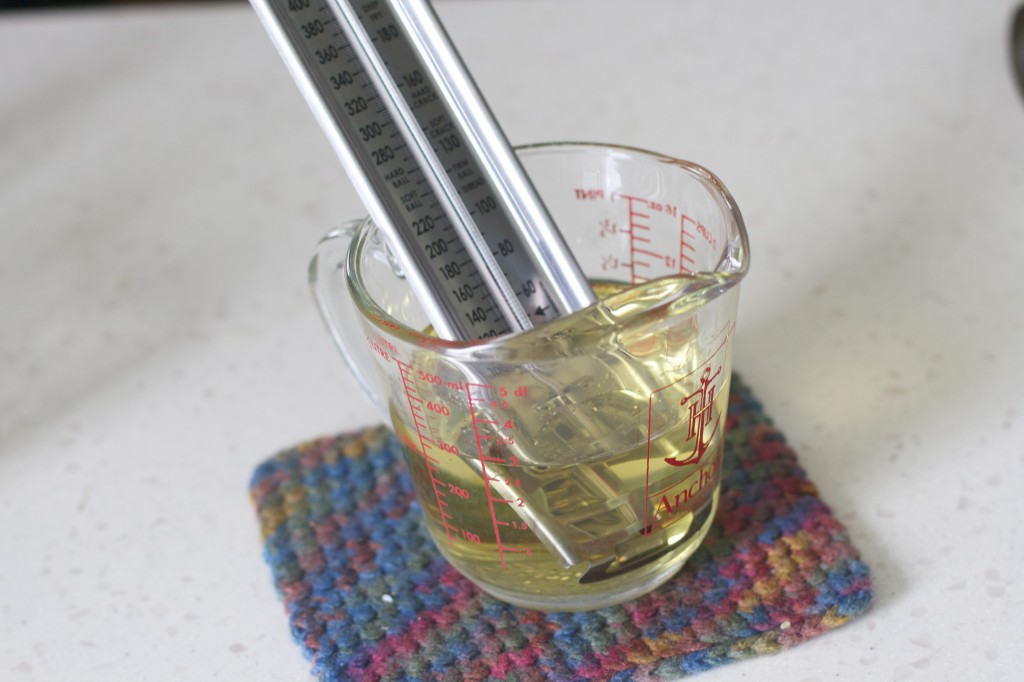 Back in goes the candy thermometer, and let the wax cool to 135 degrees F.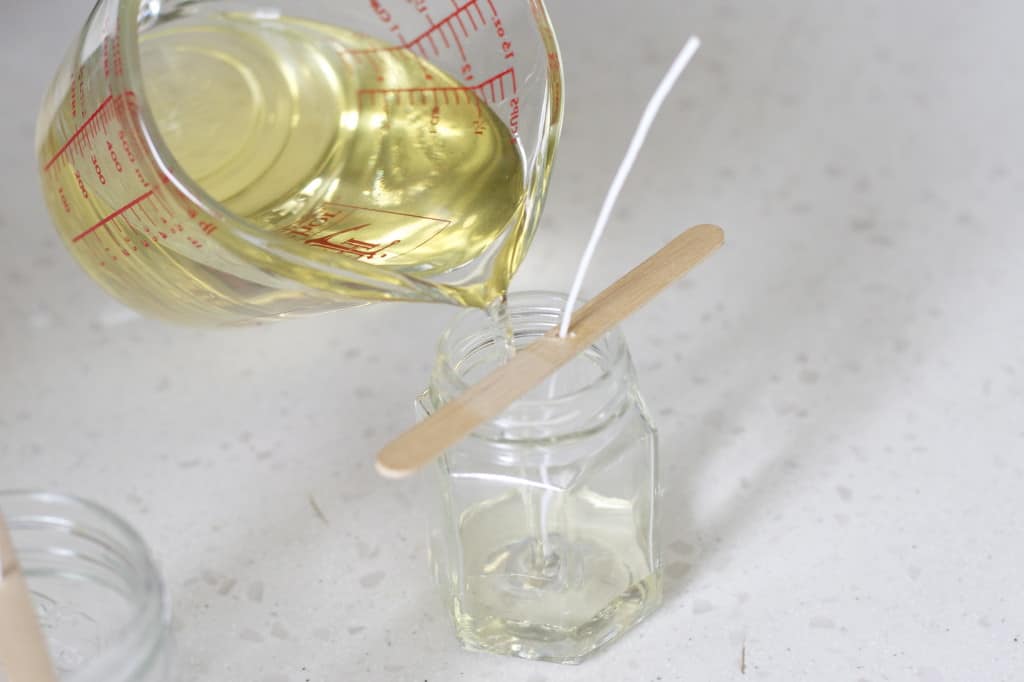 When the wax has cooled, carefully pour it into your jars.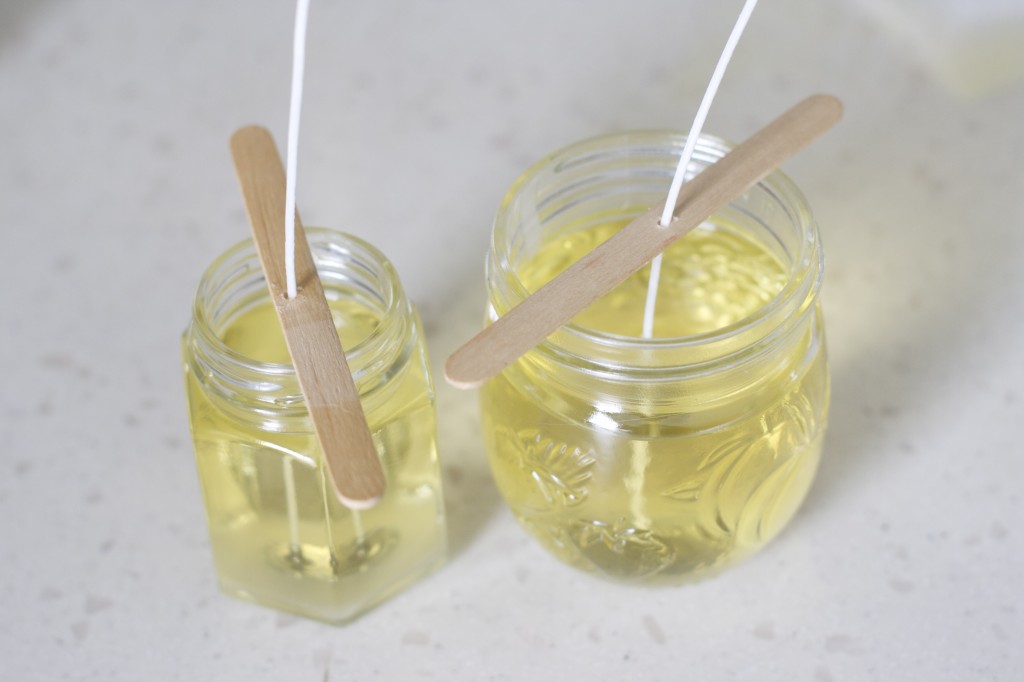 Don't touch them, stir the wax or mess with them until the wax has a chance to solidify.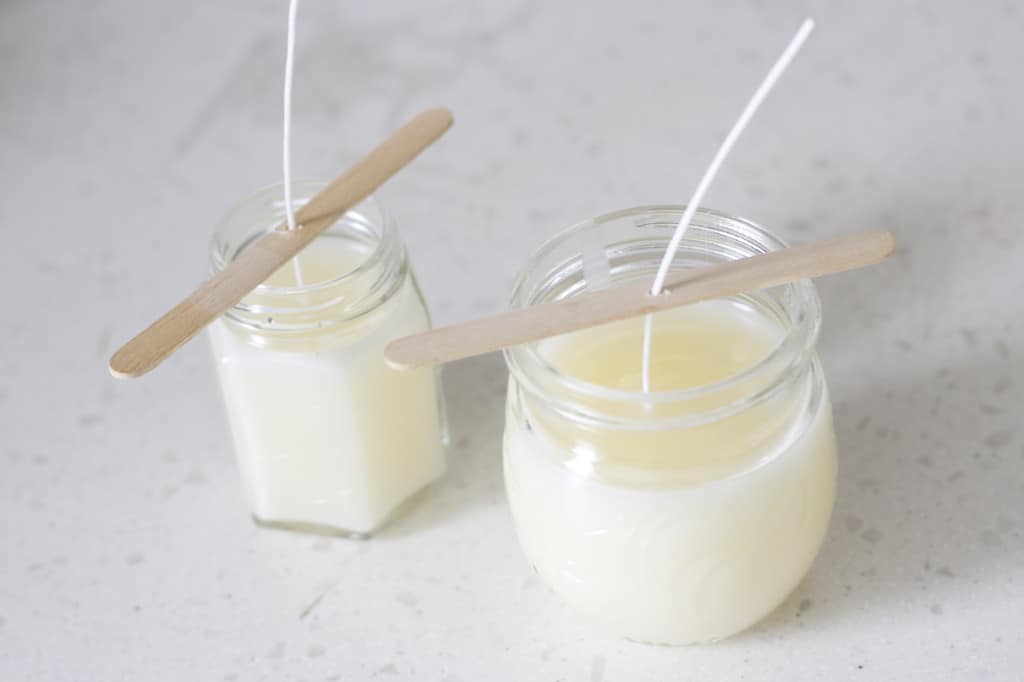 They will look opaque and relatively solid after an hour or so, but don't touch the wick until they are completely cooled.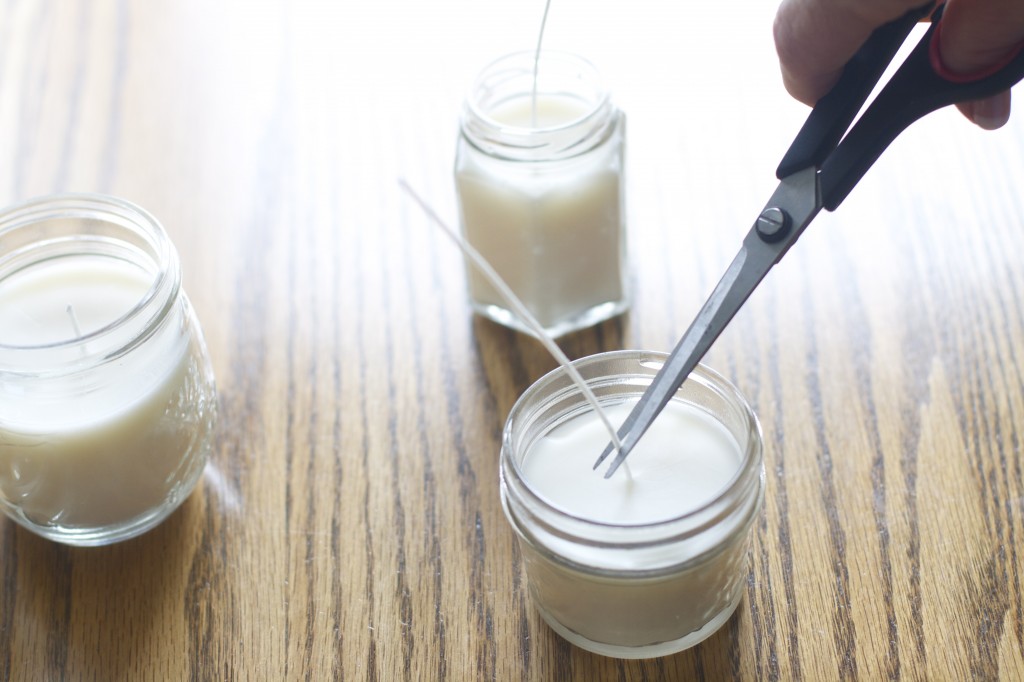 Trim the wicks.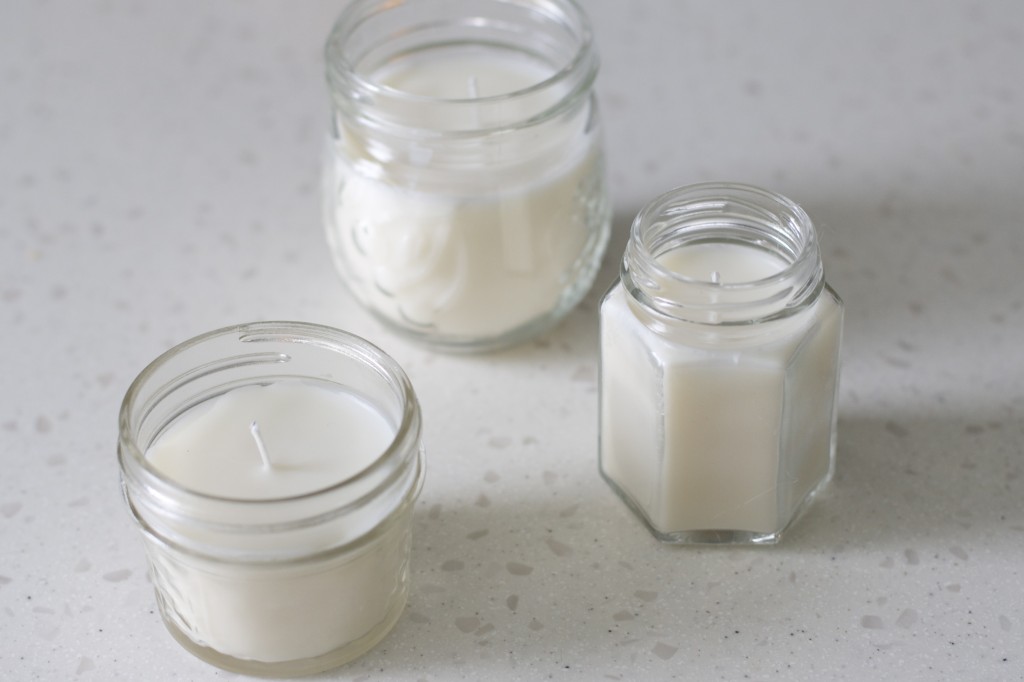 And there you go! You don't want to burn your candles until two weeks after making, but that doesn't mean you can't make them pretty and ready to be gifted!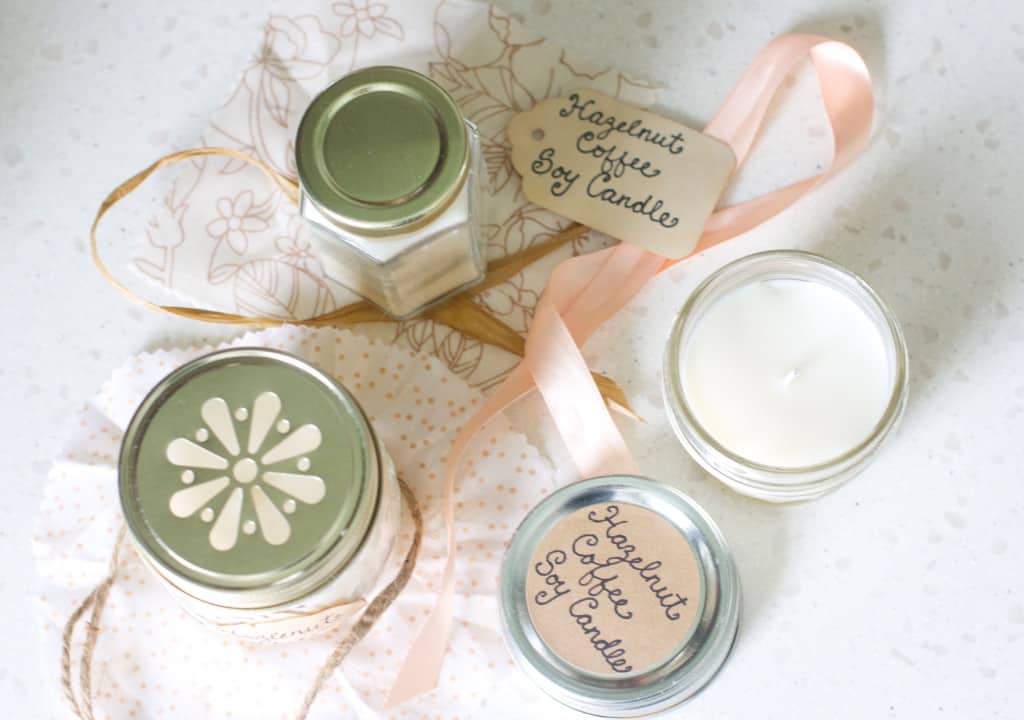 I use a couple different fabric swatches, ribbons, some hemp thread and labels to decorate my candles. The tie-on tag was just cut carefully out of card stock, but you can get them on Etsy too. (You can buy round kraft paper labels here.)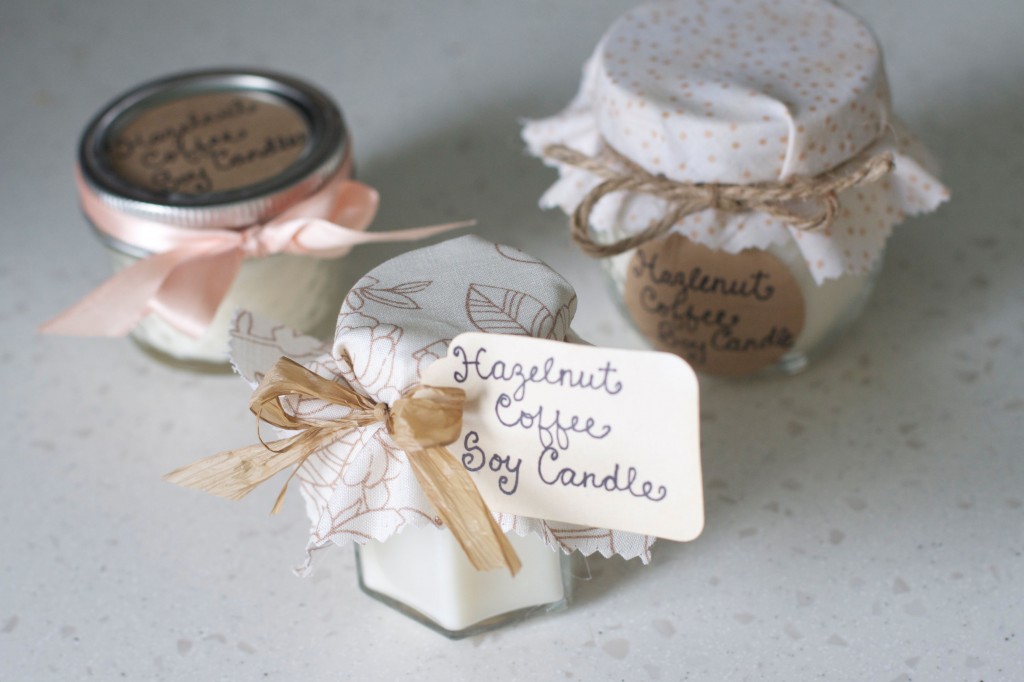 That's all there is to it? Really not that hard right? These make wonderful gifts/favors for baby or bridal showers, holiday gifts, or even as part of a gift basket for a hostess. Any vessel can become a candle so get creative! I look forward to seeing what pretty things you come up with too! :)