Double Chocolate Cookies with Sea Salt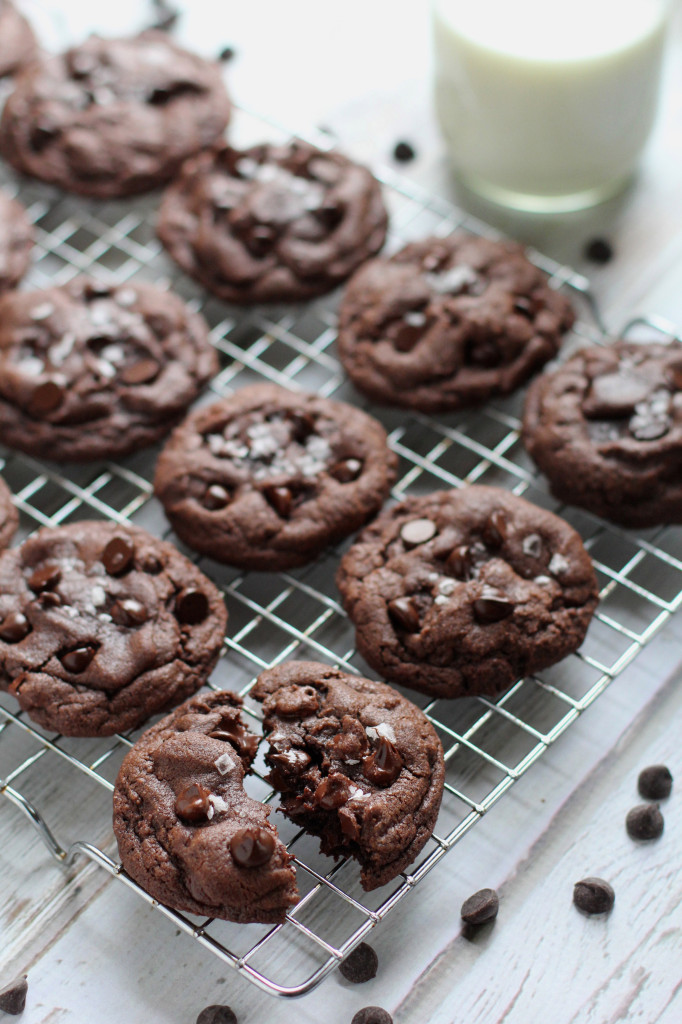 What is your go to bitter cold/too frigid to go outside activity? Without a doubt, when it's a nasty day outside and I'm cooped up with Hugo, my favorite thing to do is crank up the oven and bake some cookies. Thick, chewy, sweet & salty cookies with a tall glass of milk, to me- perfection.
These here cookies are just that- perfect. The edges are crispy, the middles are super chewy, and they have rich dark chocolate taste. Andy called them "brownie cookies," and I'd have to agree that's almost exactly what these are. Chewy, gooey, dunk them in milk goodness.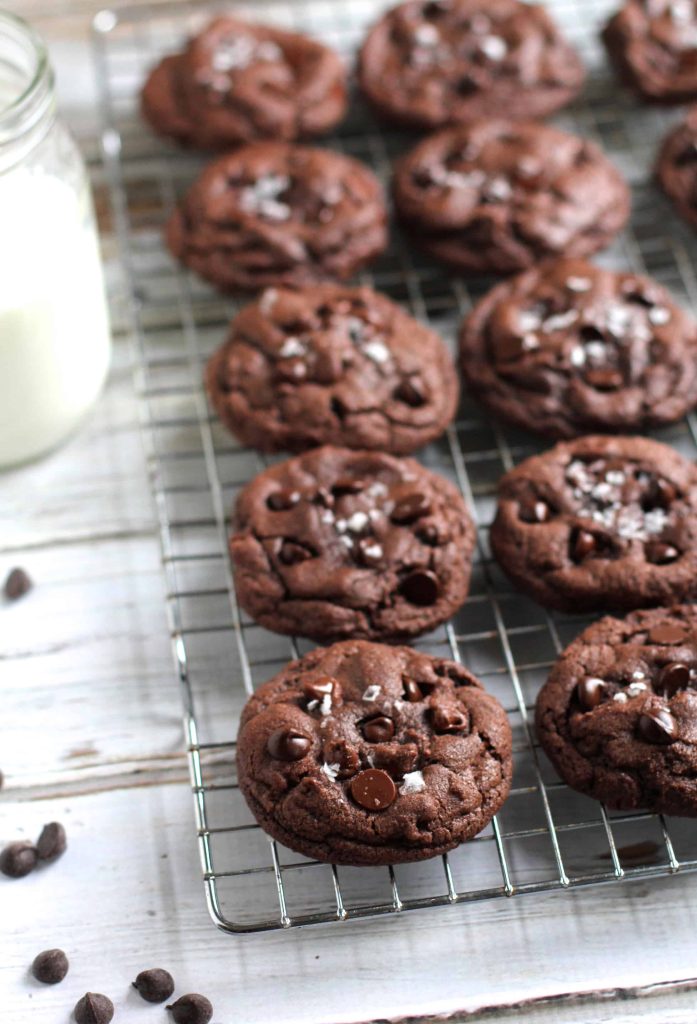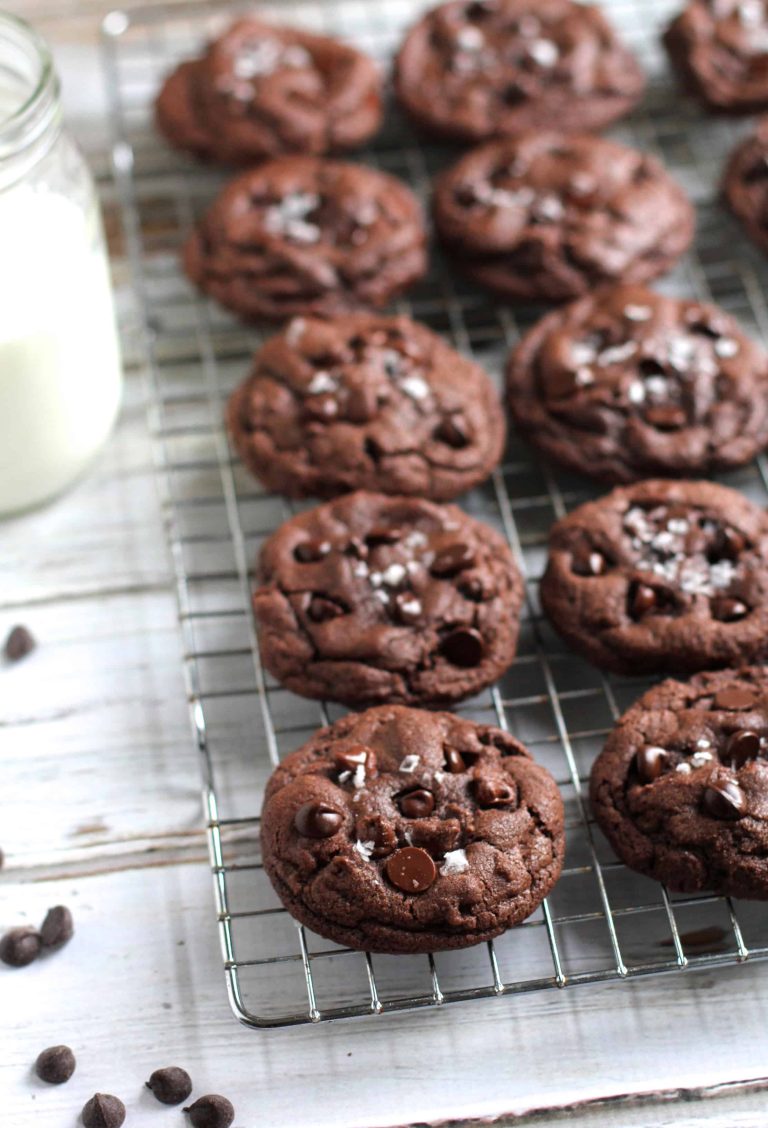 The one step of this recipe that I think really helps to make these cookies extra thick & chewy but may be tempting to skip, (because believe me, I'm the first one to look for recipe shortcuts,) is freezing the scooped dough for a full hour. Will these cookies be disastrous if you don't freeze the dough? No, but they won't be nearly as thick as these and I think that's one of the best parts. I love thinner cookies too, but this specific texture is out of this world.
So…chances are you'll have plenty of more cold, bitter days that call for baking cookies. If you like sweet & salty chocolate fudgy cookie goodness, well…what are you waiting for? :)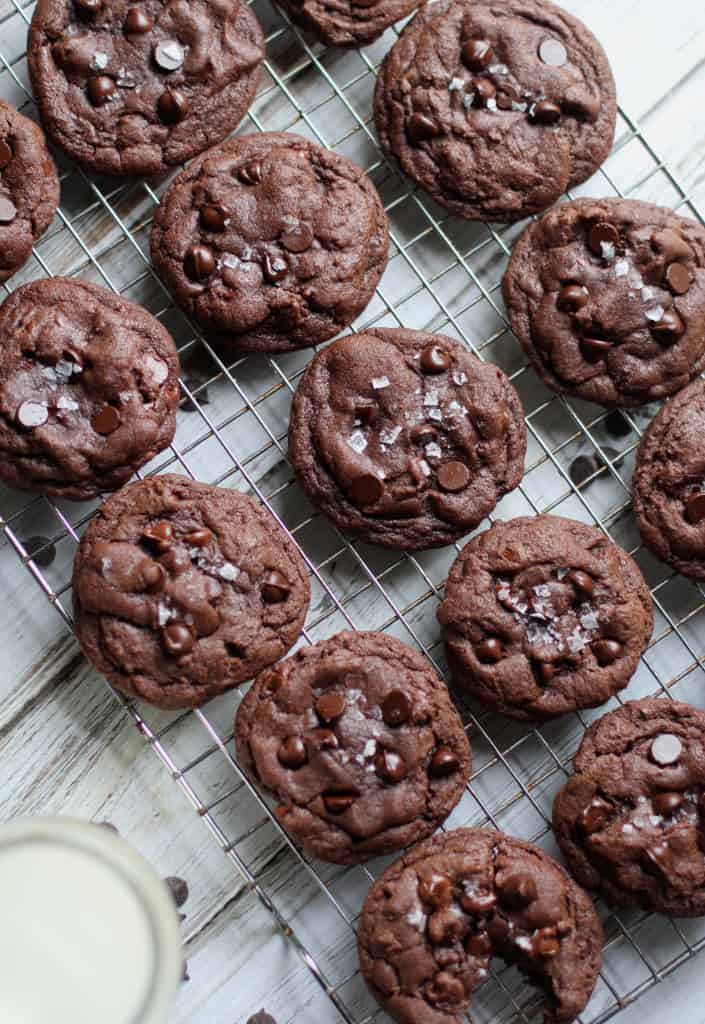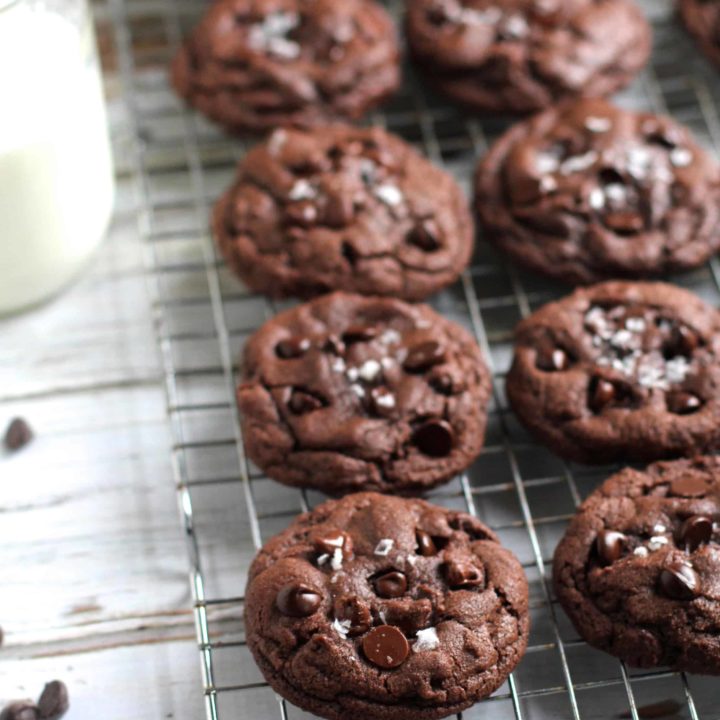 Double Chocolate Chip Cookies with Sea Salt
Ingredients
3/4 cup butter, softened (1 1/2 sticks)
3/4 cup brown sugar
1/2 cup granulated sugar
1 large egg
2 teaspoons vanilla extract
1 3/4 cups all-purpose flour
3/8 cup dark cocoa powder
1 tablespoon cornstarch
1 teaspoon baking soda
1 teaspoon salt
1 1/2 cups semi-sweet or dark chocolate chips
Flaky sea salt
Instructions
In a medium sized bowl, whisk together the flour, cocoa powder, baking soda, cornstarch, and salt set aside.
In a large mixing bowl, cream together the butter and sugars until light and fluffy. Add the egg and vanilla and mix for another minute or two until smooth and creamy.
Gradually add the dry ingredients and mix until just combined. Fold in the chocolate chips.
Scoop dough into 2-inch balls and arrange on a cookie sheet or plate. Freeze for an hour.
Preheat oven to 350F.
After dough has cooled, Place cookie dough on sheet. 2 inches apart. Sprinkle with flaky sea salt.
Bake for 12-14 minutes or until the edges are set. Cool for a few minutes before removing from cookie sheet and cooling on a wire rack. Repeat with remaining dough!
Nutrition Information:
Yield:

18
Serving Size:

1 grams
Amount Per Serving:
Unsaturated Fat:

0g