Ultimate Salted Caramel Cupcakes
These are the Ultimate Salted Caramel Cupcakes with delicious salted caramel sauce in the center, some more caramel sauce swirled into the frosting, and a drizzle of caramel on top. They are a must make!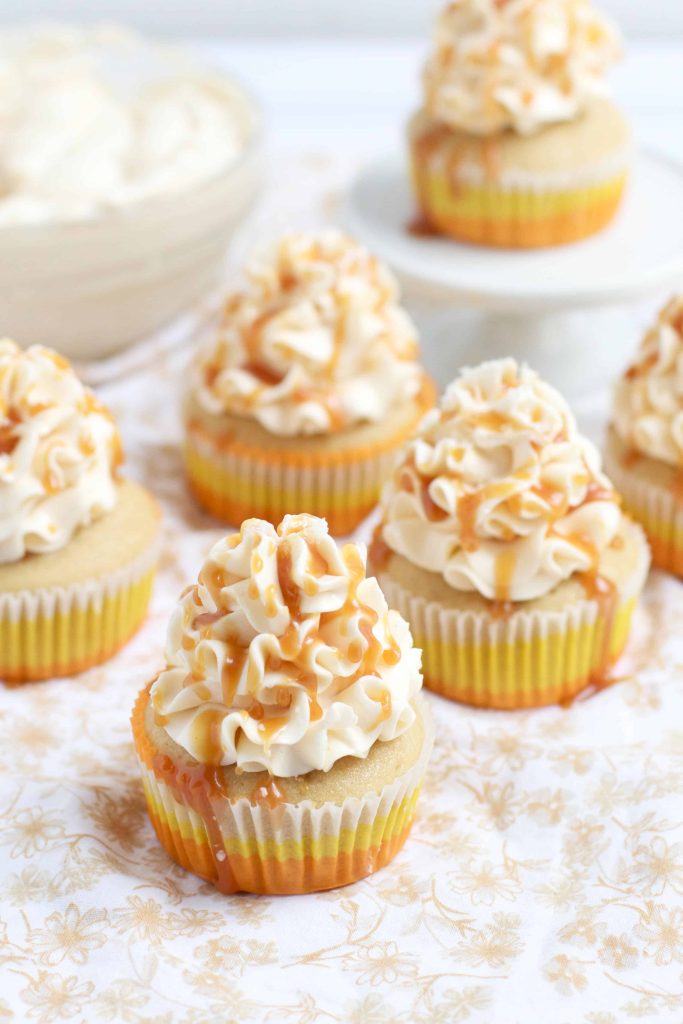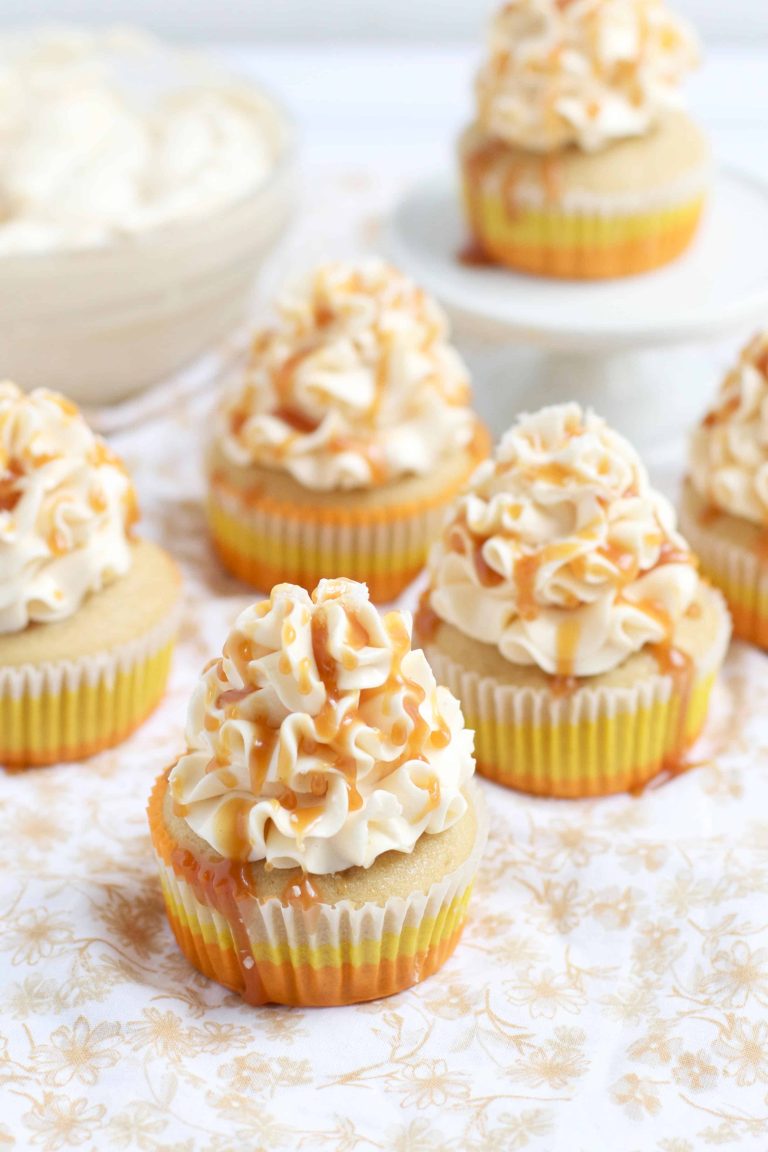 Do you guys have a "Baking Bucket List?" You know, a list of all the things you want to tackle either in your mind or written down? I have been meaning to share mine here, hoping that having it in a public place will keep me accountable and also possibly inspire some readers to bake along with me. Hopefully I'll be able to get that done sometime soon!

Anyway- Swiss Meringue Buttercream has been on this list for as long as I have had this blog. Everyone raves about it as being far fluffier and dreamier than regular buttercream, and I knew it was something I needed to try.
It never seemed necessarily difficult, but just complex enough that I would tend to be lazy and just make regular buttercream. (It involves heating egg whites and sugar, whipping them into a meringue, and then adding the butter and powdered sugar.)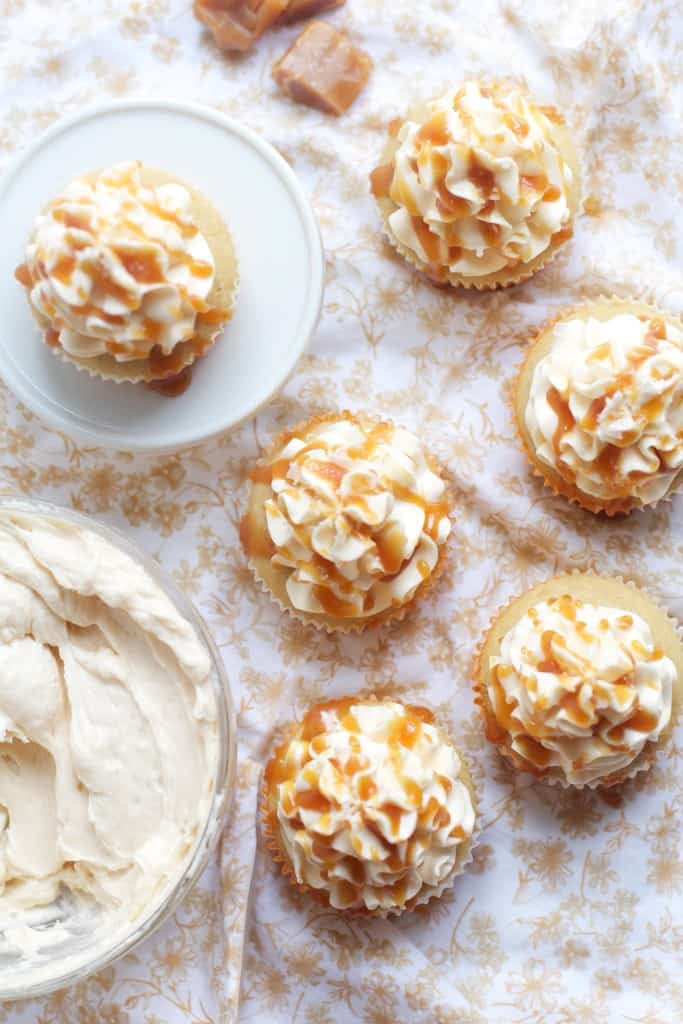 I love the regular stuff- but often times I end up making it sugar-y sweet in order to be stiff enough to hold shape which can be overpowering at times. This stuff though- light as air, fluffy as a cloud and not too sweet at all. In fact the entire recipe only uses a cup of sugar, and yields enough for 24 cupcakes or a layer cake. I'm sold.
I wanted to pair the frosting with my favorite flavor on the planet, so I made the Ultimate in Salted Caramel Cupcakes: Light and fluffy cake, Salted Caramel filling, the fluffiest Salted Caramel Swiss Meringue Buttercream and of course some more caramel on top with a sea salt sprinkle. In short- to die for. Neither the cake or the frosting are super sweet which gives room for the caramel inside to shine.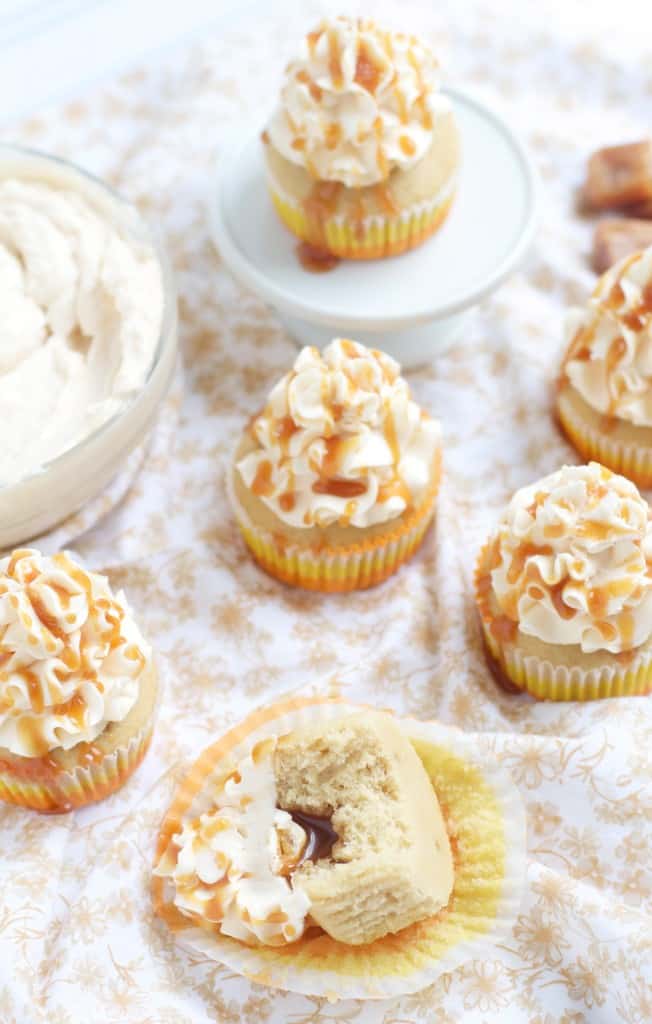 If you like salted caramel, these Salted Caramel Cupcakes will be your new favorite dessert- trust me!
Ultimate Salted Caramel Cupcakes
Ingredients
Cupcakes:
2 1/2 cups flour
2 1/2 tsp. baking powder
1/4 tsp. salt
1 stick of butter, at room temperature
1 3/4 cups sugar
2 large eggs, at room temperature
2 1/2 tsp. vanilla
1 1/4 cups whole milk, at room temperature
For the frosting:
6 egg whites*
1 ½ cups (300g) granulated sugar
½ teaspoon coarse kosher salt
1 ½ cups (340g) unsalted butter at room temperature
Instructions
Preheat oven to 350F. Line cupcake pans with liners, set aside.

In a medium bowl, whisk together flour, baking powder, and salt.

In a large mixing bowl, cream the butter and sugar until light and fluffy. Add eggs, one at a time, beating well after each addition, mix in vanilla.

Add flour mixture and milk alternately, beginning and ending with flour. Scrape down the bowl- don't over mix the batter.

Divide batter evenly among liners, filling each about three-quarters full. Bake until tops spring back when touched, about 20 minutes. Transfer to a wire rack; let cool for 5 minutes and then remove from pan. Let cupcakes cool completely.

Use a paring knife to core a small little but out of each cupcake and fill with a small dollop of caramel.
For the frosting:
Over a double boiler, heat the whites and granulated sugar and salt, whisking constantly, until all the sugar is dissolved and it reaches 160°F (70°C) stirring continuously, about 5 minutes. Heat this slowly!! You don't want scrambled eggs!
Place the mixture in a stand mixer and whip on high until a peak forms and the mixture is cool, about 5 minutes.
Turn the mixer to medium speed and add the softened butter a little at a time. Make sure the butter is fully incorporated before adding the next piece. (NOTE: It's normal if buttercream starts to curdle half way. Keep adding the butter!)
Switch to a paddle attachment and add 3/4 cup of caramel sauce. Beat the buttercream until well combined, about a minute.
Pipe or spread onto cupcakes. Drizzle with remaining caramel sauce and sprinkle with sea salt.
Notes
*When beating egg whites to stiff peaks you need to make sure they are clear of any yolk and that your bowl is very clean.
Base cupcake recipe adapted from Georgetown Cupcakes