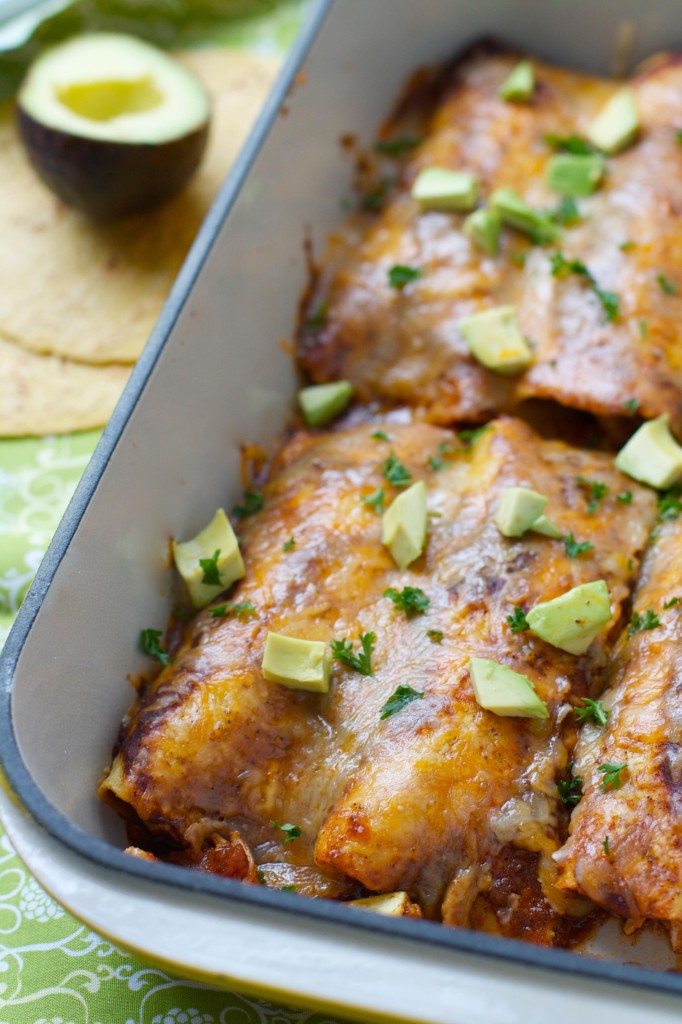 I've been pretty bad about the whole cooking thing lately as my number one priority has been to get as many blog posts saved up as possible and well- those are normally baked goods. This has been awesome for my sugar cravings, but not so much for actually eating good dinners and preparing leftovers for after the baby comes. One of my mail goals last week was to change that so I tried to think of a meal that sounded good and also would make enough to freeze some to save. Spicy food has been on my mind lately (perfect for "starting labor" right?) and I'm a sucker for enchiladas so this recipe was the one.
These smoky spicy enchiladas are simple to make, yield 2 whole 9×13 pans worth, and are super delicious. Andy and I both loved them and actually ended up eating what was in the freezer this week as surprise surprise I didn't really feel like cooking. :) The addition of a chipotle pepper adds a really amazing flavor that can be amped up depending on your spicy preference.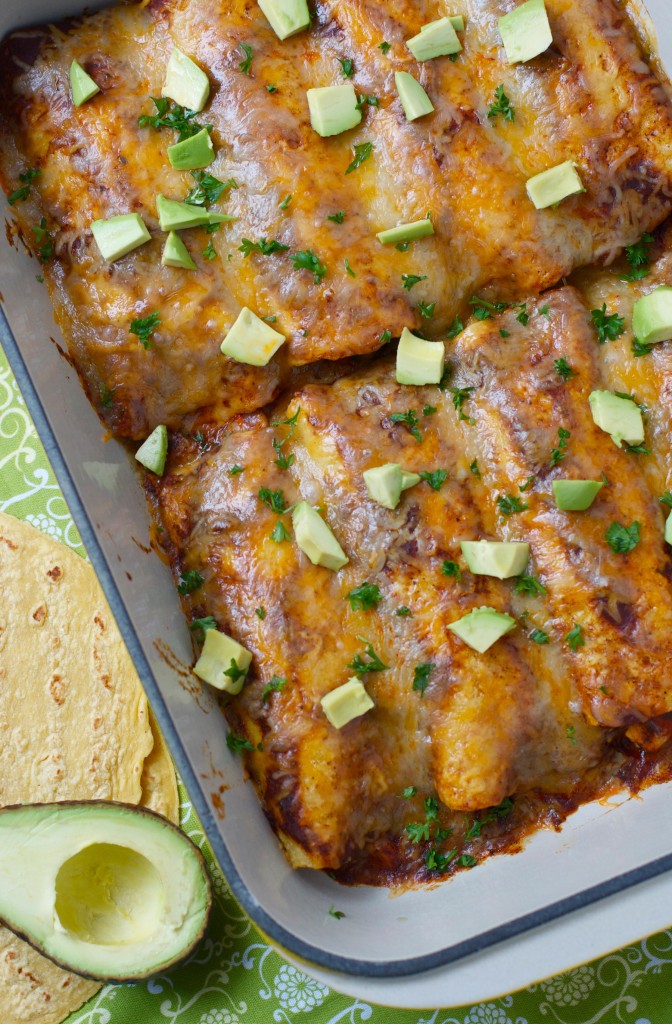 Even though I no longer have leftovers for after the baby comes, I know I'll be making this as a Mama- any recipe that requires less than an hour for 2 full pans is a winner for me!! :)
Ingredients
3 tablespoons vegetable oil
1 1/2 pounds skinless boneless chicken breast
Salt and pepper
2 teaspoons cumin powder
2 teaspoons garlic powder
1 teaspoon oregano
1 teaspoon chili powder
1 red onion, chopped
2 cloves garlic, minced
1 cup frozen corn, thawed
1-2 canned chipotle chiles with a little of their sauce, minced*
1 28-ounce can stewed tomatoes
1/2 teaspoon all-purpose flour
16 corn tortillas
1 1/2 cups enchilada sauce
1 cup shredded cheese, jack, cheddar etc would work!
Avocado, sour cream, green onion etc. for garnish (optional)
Instructions
Coat large saute pan with oil. Season chicken with salt and pepper and brown the chicken over medium heat- about 7 mins on each side. Sprinkle chicken with cumin, garlic powder, chili powder and oregano. Transfer chicken to a plate to cool.
Saute onion and garlic in chicken drippings until tender for about 5 minutes or until tender. Add corn and chiles. Stir well to combine. Add canned tomatoes- breaking apart with a spoon if needed, saute 1 minute.
Shred the cooked chicken with your hands or two forks and add to the pan with the veggies- adding the flour to help thicken.
If needed- microwave the tortillas for 30 seconds to soften. (I used Trader Joe's 1/2 corn 1/2 wheat which are super soft.)
Coat the bottom of 2 (13 by 9-inch) pans with a ladle of enchilada sauce. Dip each tortilla in enchilada sauce to lightly coat. Spoon 1/4 cup of the chicken mixture in each tortilla. Fold over filling, place 8 enchiladas in each pan with seam side down. Top with remaining enchilada sauce and cheese.
Bake for 15 minutes in a preheated 350 degree F oven until cheese is melty. Garnish if desired before serving.
If cooking from frozen- bake for an additional 30 minutes or until heated through and melty.
Nutrition Information:
Yield:

8
Serving Size:

1 grams
Amount Per Serving:
Unsaturated Fat:

0g