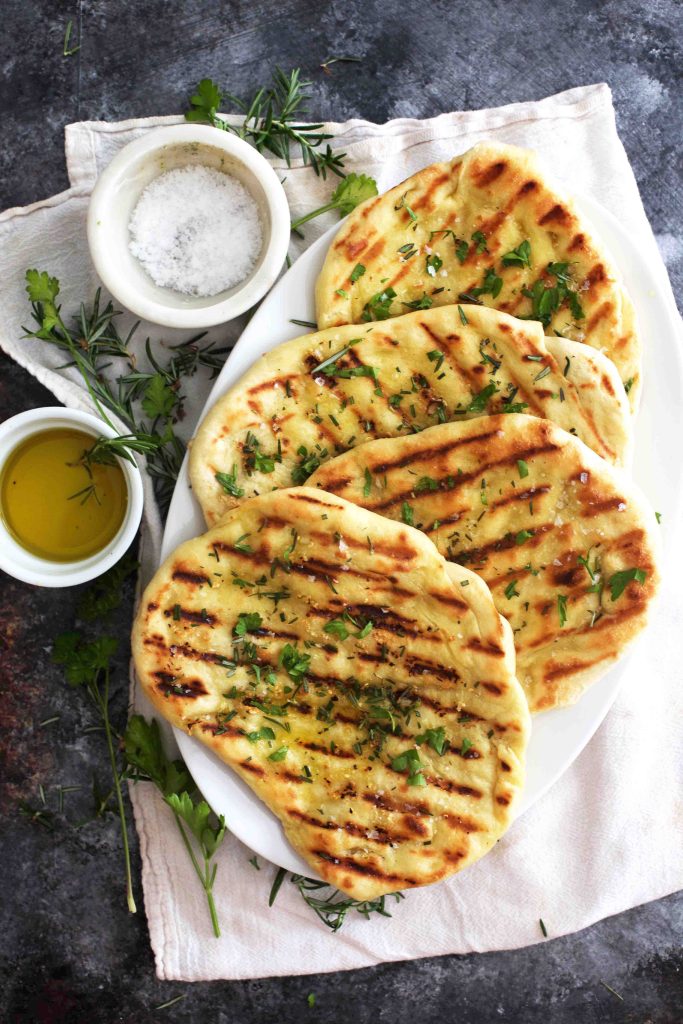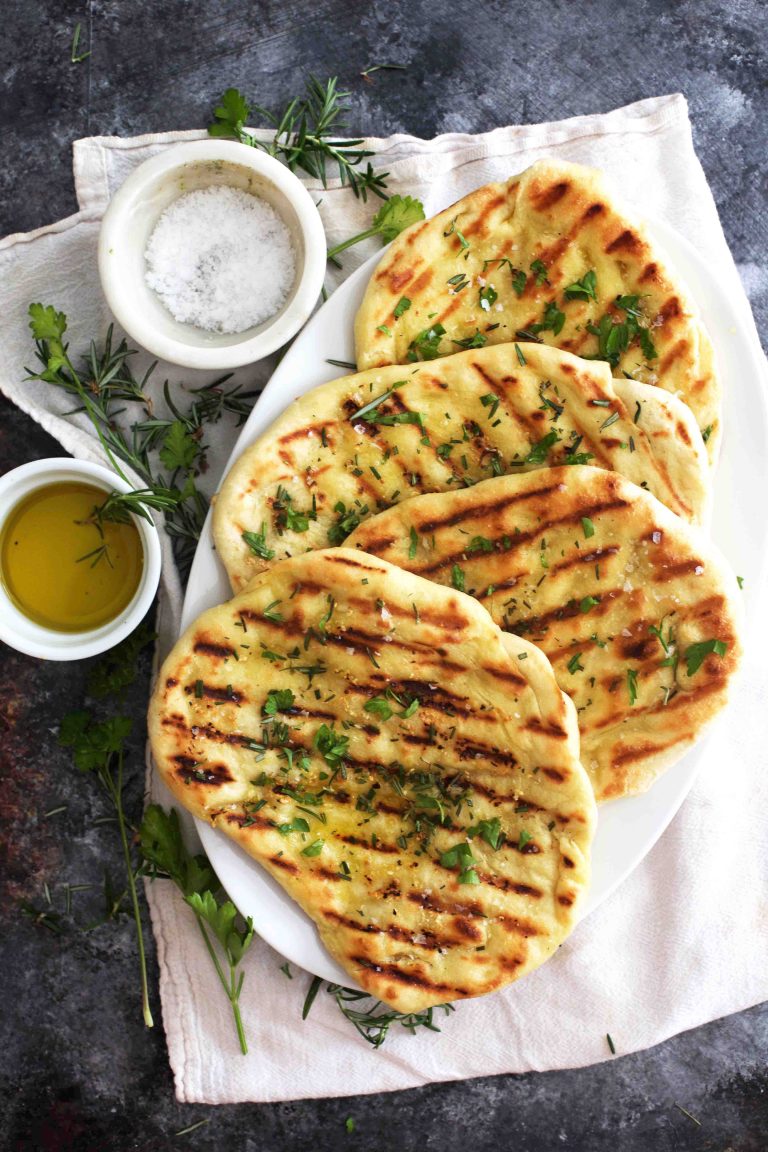 Sometimes I make something so wonderful I have to drop everything to photograph it and share it with you. Even with a handful of recipes in the queue, some things are too delish to hold back from you and this is one of those recipes!
This grilled flatbread is not only easy as can be, but it's a fabulous way to get fresh, warm, bread for your summer dinners without turning on your oven.
I've been loving baking sourdough lately, but having my oven at 500F for 1-2 hours has just been too much with this midwest heat wave. This bread is the answer to all my problems.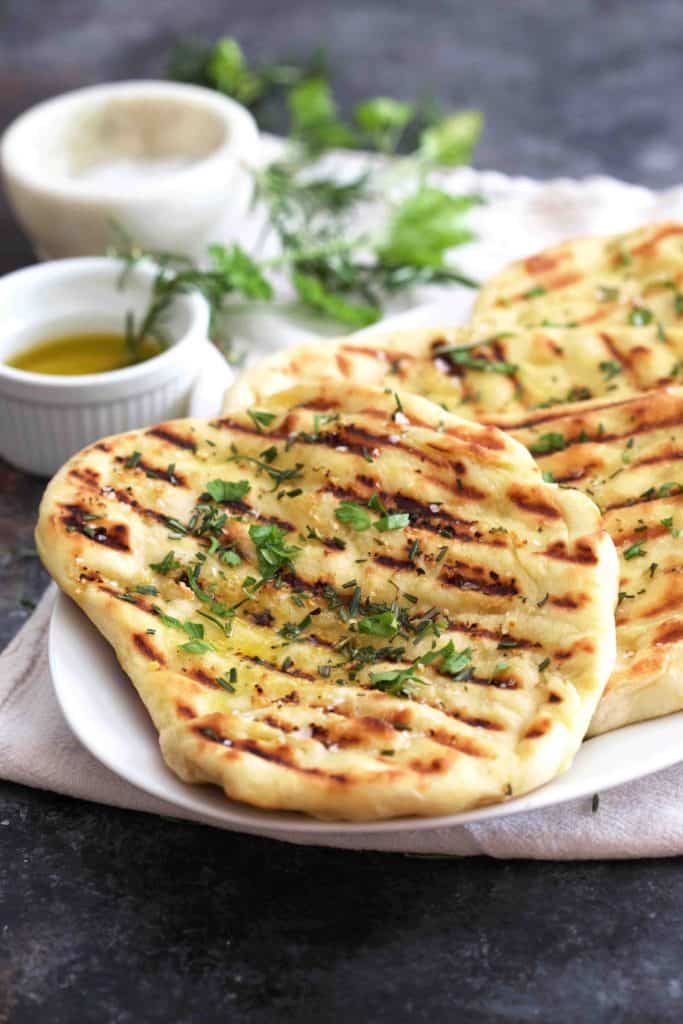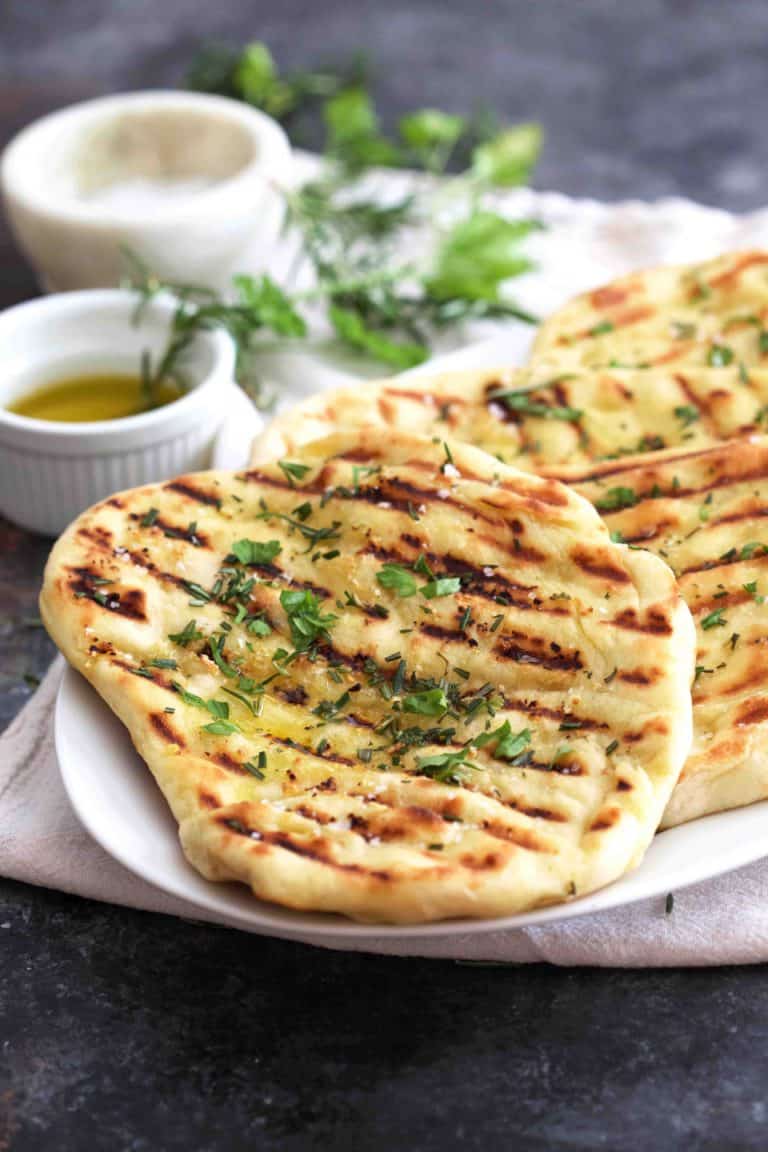 A super simple and basic bread dough is kneaded together and left to proof on your counter for 30-60 mins while you prep the rest of your meal. While your grill heats up, you seperate the dough into 4 sections and spread out a bit. Smush in some fresh garlic or chopped olives if you wish, brush with olive oil, and you're good to go.
When the grill is ready, place the dough rounds on for 3/4 mins, flip, and grill for 3/4 mins more. Brush with more olive oil, sprinkle with flakey salt and fresh herbs and you're good to go! Seriously you can have this bread on your table in an hour or less and that's a huge win in my book.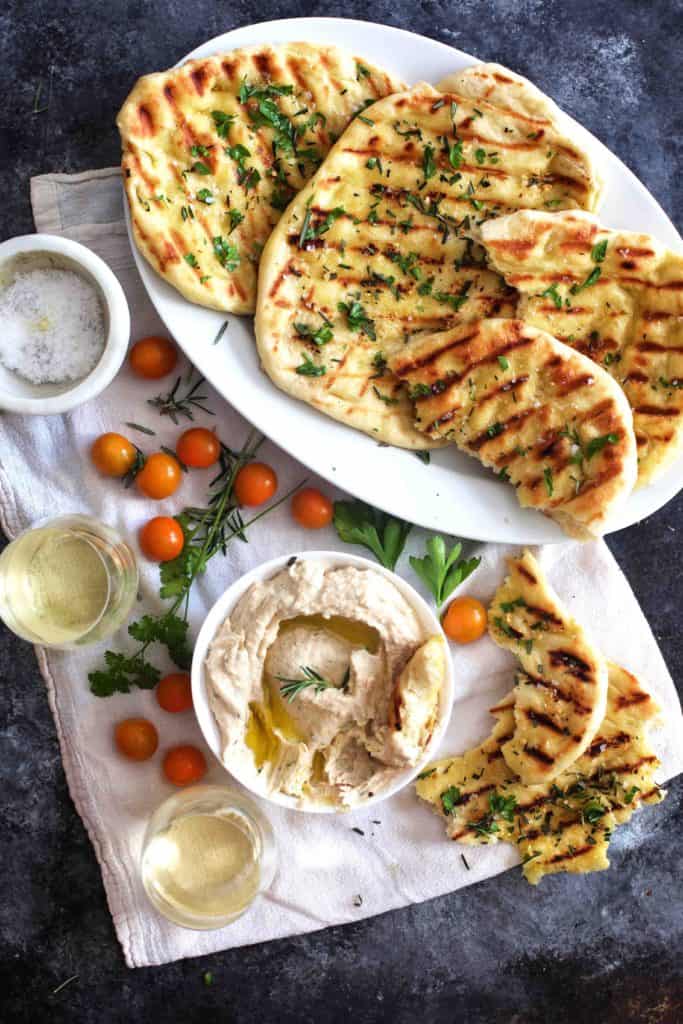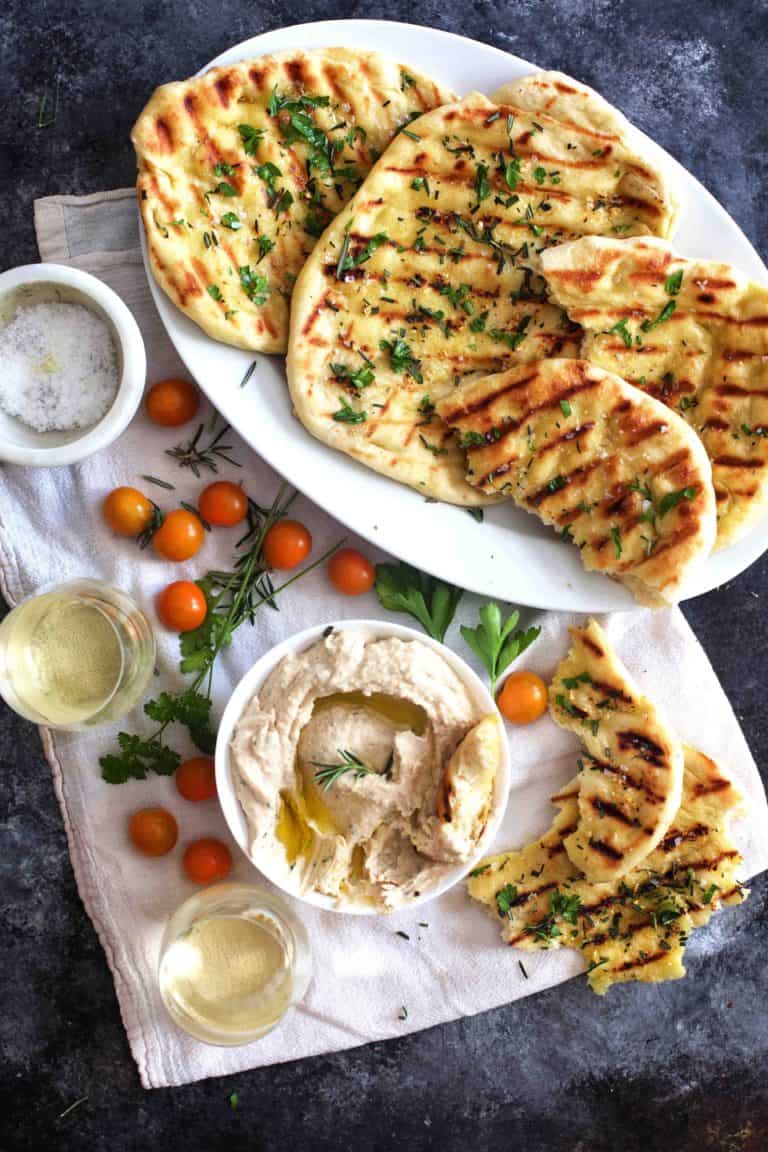 We've been enjoying this as part of one of my favorite types of meals: a spread of dips, meats, cheeses, and spreads with this crisp bread on the side and a glass of chilled wine. Is there anything better?
I made these with garlic, rosemary, and parsley, but the options are endless. I can't wait to try with chopped kalamata olives worked into the dough, and I'm thinking sprinkling grated parmesan on top of the freshly baked loaves would be fantastic as well. Are you going to try it or what? Hop to it!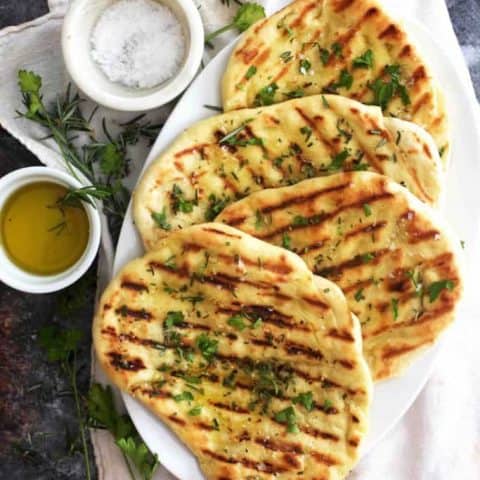 Easy Grilled Flatbread
Ingredients
3 cups flour, bread or all-purpose* (396 g)
1 teaspoon salt (3.5 g)
1 teaspoon instant yeast (4 g)
1 1/4 cups warm water
1/4 cup extra-virgin olive oil, plus more for brushing (43 g)
Flaky salt, for finishing
4 cloves of garlic, minced
(a large sprig of rosemary and parsley, chopped
Instructions
In a large bowl (regular or the bowl of a stand mixer,) stir together the flour, salt and yeast.
Made a well in the middle of the bowl and add the warm water and oil.
Stir together until the mixture forms a shaggy mass. If using a stand mixer, use the dough hook and and mix on low speed for 3-4 minutes.
If mixing by hand, turn dough onto a lightly floured surface and knead until the dough is soft and smooth, 6-8 minutes. (If dough feels sticky sprinkle on additional flour.)
Transfer the kneaded dough into a lightly oiled bowl, cover with a clean towel, and let proof for 30-60 minutes, until almost doubled in volume.
Preheat your grill, (or you could use a grill pan.)
Divide the dough into 4 even pieces with oiled hands. Smush a clove of minced garlic into each round. Make sure the dough is covered with oil on both sides.
When the grill is ready, place the dough rounds onto the grate with the garlic side up. (They can lose shape a bit, it's Ok if they aren't perfect.)
Grill for 3-4 mins per side, checking to make sure the bottom is golden before flipping.
When done, brush with olive oil and sprinkles with flakey sea salt and fresh herbs.
Enjoy warm or room temperature, but I think they are best warm.
Notes
* I have tried this with both bread and AP flour and while I prefer bread flour, if you only have AP it will work too!

Instead of/in addition to garlic you could also try chopped greek olives or other herbs kneaded into the dough.

Recipe adapted slightly from Food52