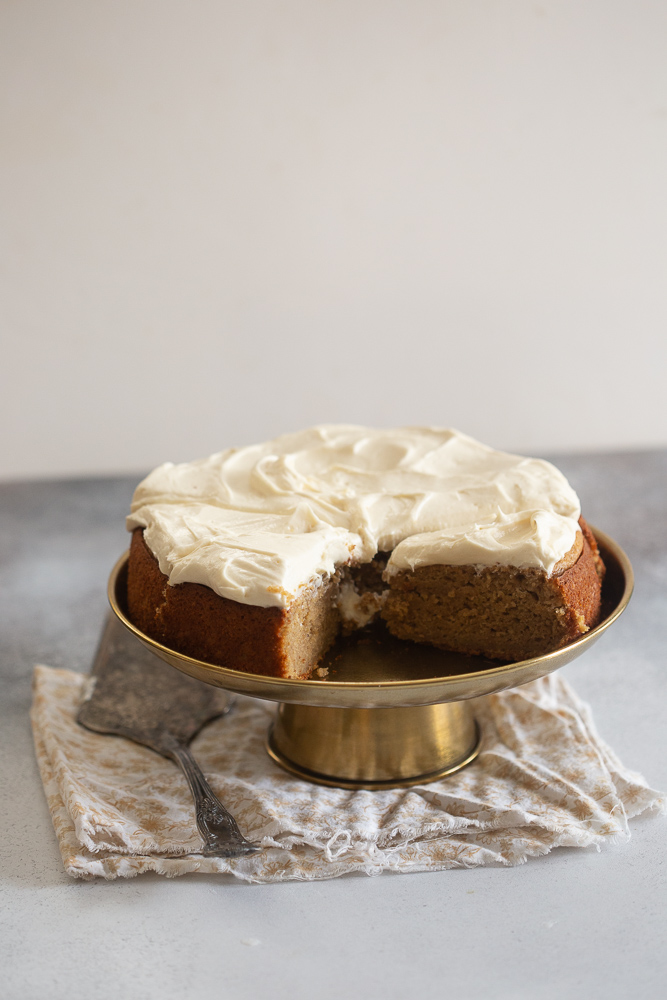 You may be aware of my eternal love for easy, one-bowl desserts. Yes, we can all get excited about a complex, more advanced cake recipe now and then, but in my heart of hearts, simple straightforward desserts will always be my fave.
This cake is just that. One bowl- easy, and you can make it all with just a whisk!
Plus- it is truly the most moist and flavorful Spice Cake I've ever had. You must try it!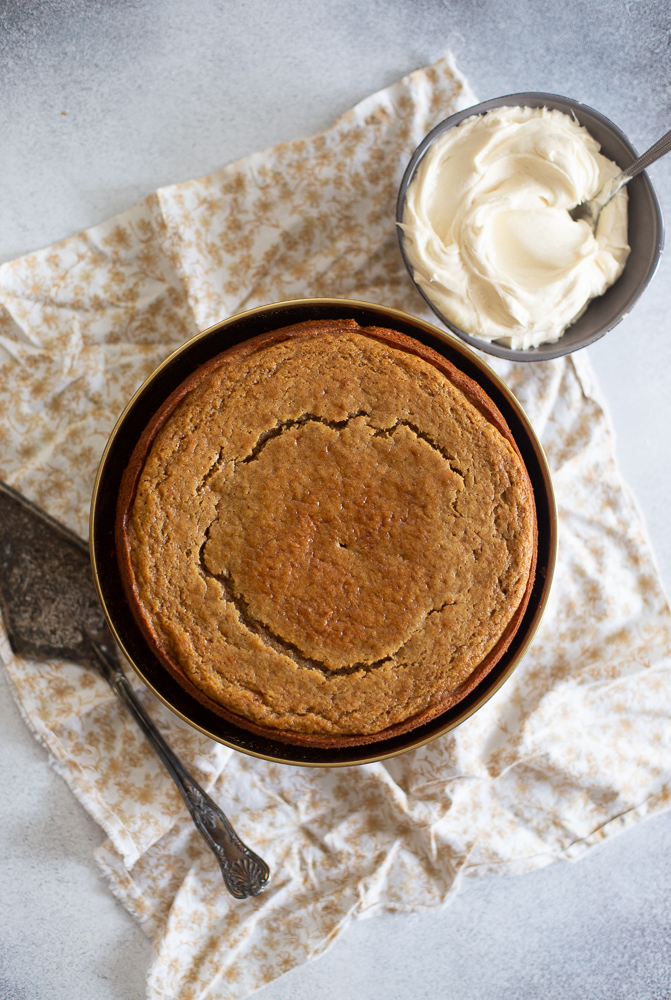 What makes this cake so wonderful you may ask? I think it's a few things:
1- Applesauce which not only adds a subtle apple flavor, but also a wonderful, moist texture.
2- Olive Oil as the fat which means even after storing it in the fridge the cake's texture is perfect.
3- Warm spices that mesh together perfectly but don't overpower each other.
4- Slightly tart, fluffy, cream cheese frosting to top the whole thing off. (A must!)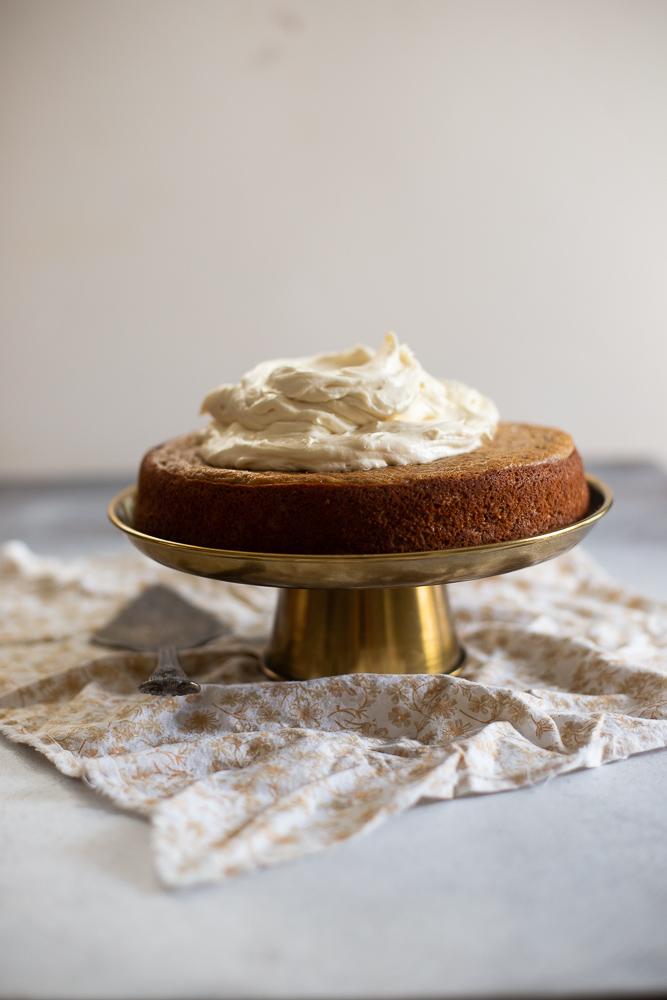 Another thing I love about this cake is that it tasted even better on days 2 and 3 than it did on the first day. You know those cakes that become more flavorful as they sit? This is one of them. Now don't get me wrong, we polished most of this off on day 1, but what was left just got better and better.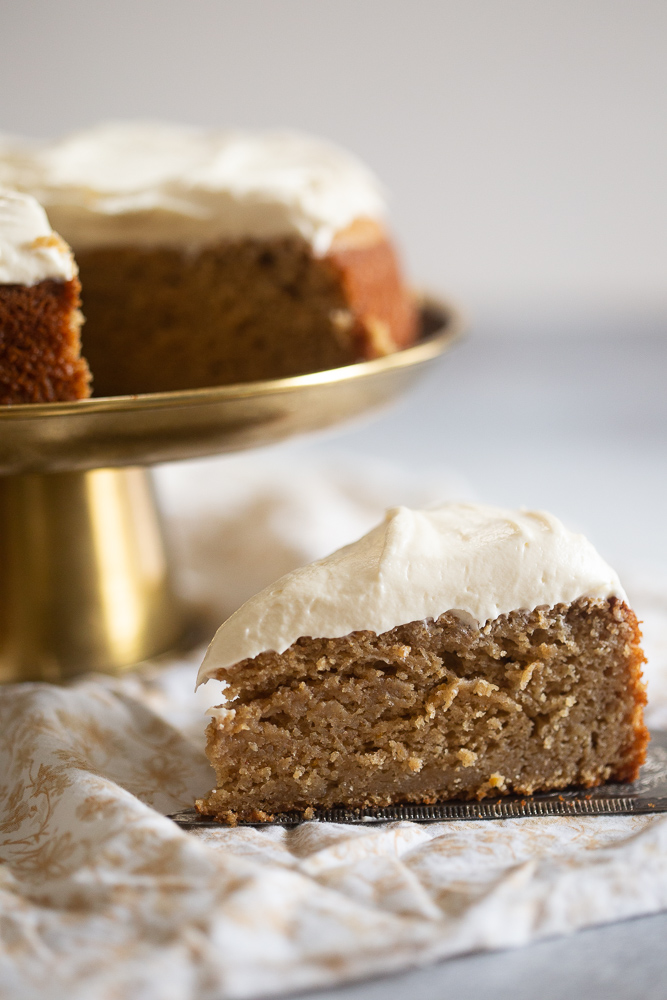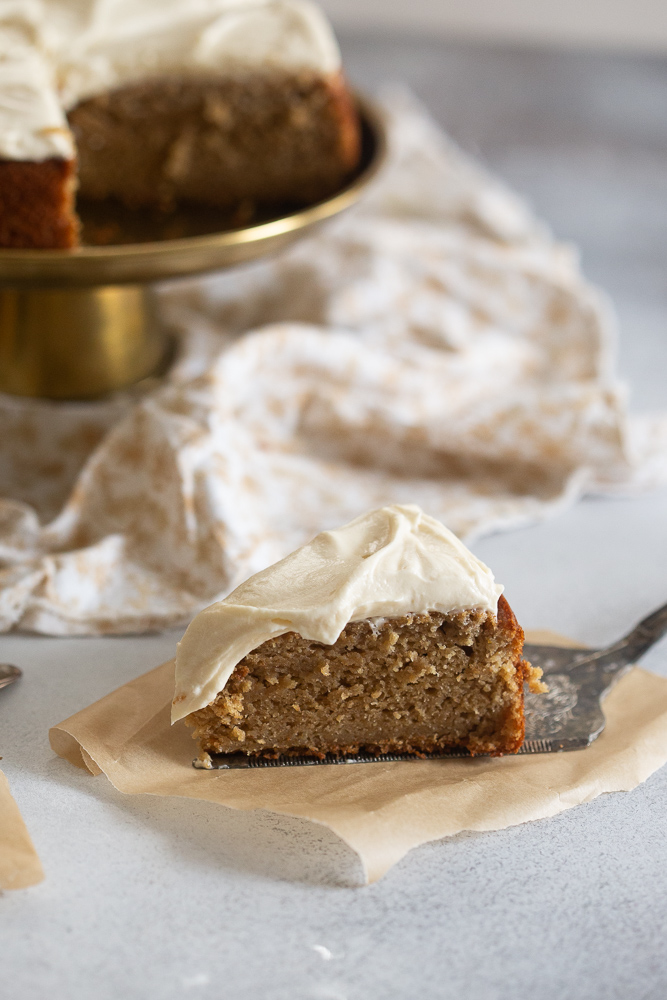 So trust me on this one you guys: warm up your kitchen with the most wonderful-smelling cake and treat your family and friends to fall baking perfection!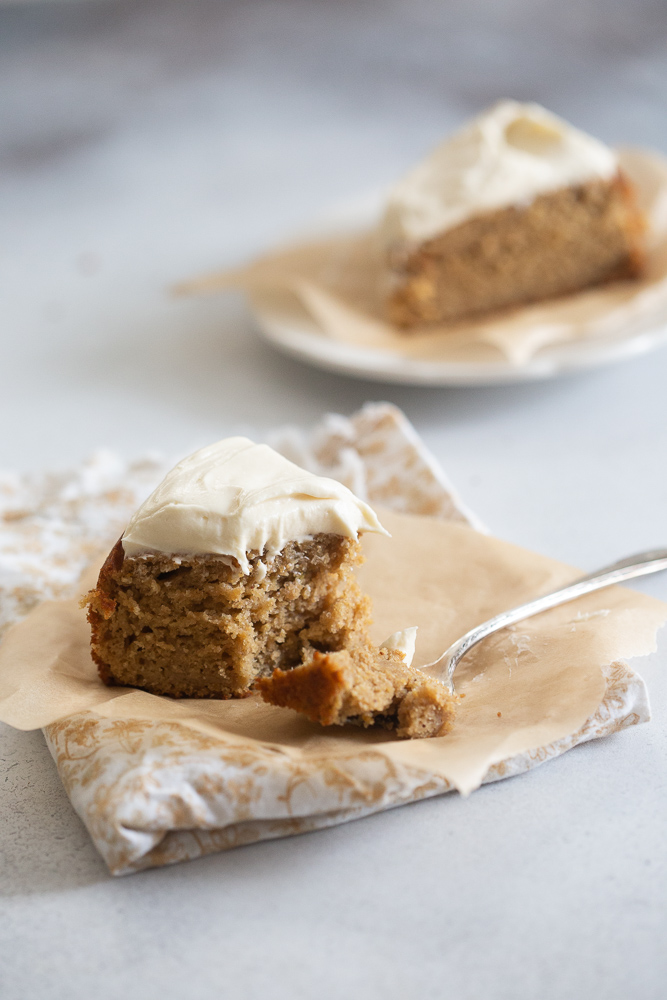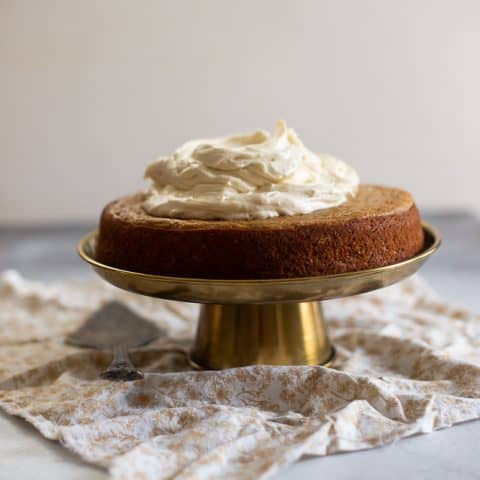 Easy One-Bowl Spice Cake
Quick and easy spice cake that is fall dessert perfection!
Ingredients
For the cake:
2 1/4 cups (270g) all-purpose or whole wheat flour*
1 1/2 teaspoons baking powder
1/2 teaspoon baking soda
1/2 teaspoon salt
1 teaspoon ground cinnamon
1/2 teaspoon ground nutmeg
1/4 teaspoon ground ginger
1/4 teaspoon ground cloves or allspice
1 cup light brown sugar (lightly packed)
3 eggs, room temperature
1/2 cup extra virgin olive oil
1 teaspoon vanilla extract
1 cup (240 g) unsweetened applesauce
1/4 cup (85g) honey
1/2 cup (120ml) whole milk
1 tablespoon finely grated orange zest
For the frosting:
8 oz cream cheese, softened
4 tablespoons (4 oz.) unsalted butter, softened
1 1/2 cups powdered sugar, sifted
1 teaspoon vanilla extract
Instructions
Preheat oven to 350. Generously butter or spray a 9-inch springform pan or other similar-sized pan (See notes!)
In a large mixing bowl, combine the flour, baking powder, baking soda, salt, spices and brown sugar. Stir to combine.
Make a well in the middle of the bowl and add the eggs, olive oil, vanilla, applesauce, honey, milk and orange zest. Mix together gently and then incorporate into dry ingredients, mixing until just combined, with no streaks or dry areas.
Spoon into prepared pan and smooth with the back of a spoon. Bake on a middle shelf for 33-38 minutes, or until a toothpick inserted into the middle of the cake comes out with a few moist crumbs.
Allow cake to cool on a wire rack before frosting. (You can release from the springform after 10-15 minutes to cool it more quickly. Just run a knife around the edge first.)
For the frosting:
In a medium-sized bowl, cream together the butter and cream cheese until smooth. Add in the sifted powdered sugar and vanilla, and mix until fluffy.
Use the back of a spoon or an offset spatula to dollop the frosting on the cooled cake. Frost just the top of the sides as well.
Cake lasts well in the fridge, wrapped in plastic wrap for up to 5 days.
Notes
*I used half whole wheat flour and half AP flour but I think any combo of the two would work!
A note on the baking pan: No springform pan? No problem. You can use a 9x13 baking pan, a 10 inch round baking pan, or even a bundt pan. Just adjust baking time if needed, the thinner the batter, the less baking time will be.
Recipe adapted slightly from Simple Cakes by Odette Williams