Egg Nog Cupcakes with Bourbon Caramel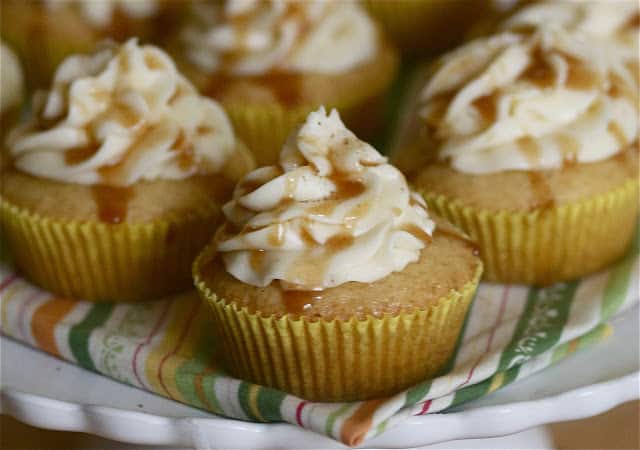 Are you in the "like eggnog" camp or the "egg nog is gross" camp? I know it's pretty divided amongst folks- but I'm happy to say that I absolutely adore it. I don't know what it is that makes it taste like a Holiday milkshake, but that's exactly how it tastes. Thick, creamy, spicy and one of those sensory-recall things that automatically make me think of Christmas. You know what I'm talking about? Sometimes a smell or taste just brings you back to a certain moment in life….happens to me all the time….especially with smells line pine needles and nutmeg and gingerbread. Mmmm.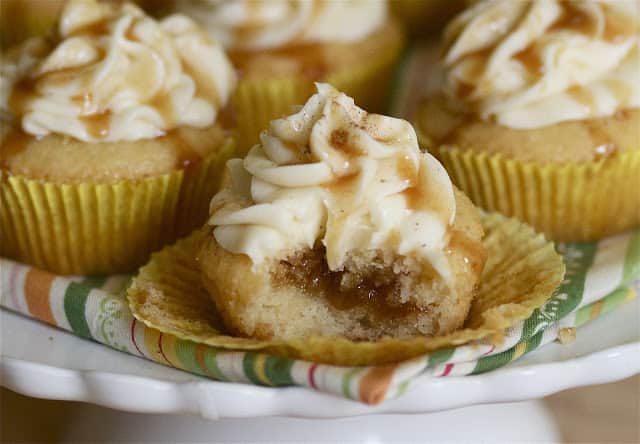 These cupcakes were divine. I mean there is not much I like more than egg nog with a splash of bourbon in it (or whiskey or rum,) and since I am obviously obsessed with caramel, what could be better than a combination of all three? The eggnog flavor in these cupcakes is subtle, but present enough that you'd know what it was if you tried it. And I must point out that these were pretty darn easy to make. I had these baked, filled, frosted and photographed in under two hours. Not bad huh?
Also- I got some engagement pictures taken over the weekend by my talented sister Nadia. Here is a sneak preview of a few of my favorites. :)
Egg Nog Cupcakes with Bourbon Caramel
Ingredients
1 1/3 cups all-purpose flour
¼ tsp. baking soda
½ tsp. baking powder
½ tsp. salt
¼ tsp. freshly ground nutmeg
¼ cup dark rum or bourbon, optional
1 cup eggnog
¼ cup vegetable or canola oil
1 tbsp. apple cider vinegar
1 tsp. vanilla extract
1 cup sugar
For Caramel:
1 cup sugar
1/4 cup water
6 tablespoons butter cut into small pieces
3/8 cup heavy cream
1/8 cup bourbon
For Frosting:
2 sticks of butter
4 1/2 cups powdered sugar
4 tablespoons egg nog
pinch of nutmeg
pinch of salt
Instructions
To make the Cupcakes:
Preheat the oven to 350? F. Line cupcake pans with paper liners. In a medium bowl, combine the flour, baking soda, baking powder, salt and nutmeg; whisk to combine. In the bowl of an electric mixer, combine the rum, eggnog, vegetable oil, vinegar, and sugar. Beat on medium-low speed until well blended. Add in the dry ingredients and mix on low speed just until incorporated.
Divide the batter between the prepared cupcake liners, filling the cups 2/3 full. Bake 22-24 minutes, or until a toothpick inserted in the center comes out clean. Allow to cool in the pan 5 minutes, then transfer to a wire rack to cool completely.
For Caramel:
Whisk together the sugar and water in a medium saucepan and whisk over high heat until sugar is dissolved. Don't stir the mixture but gently swirl the pan until it has reached a dark brown amber color. At that point whisk in the butter. (Careful- it will bubble up- don't burn yourself.) Remove from the heat and whisk in the cream and bourbon. Allow caramel to cool in the fridge before filling/drizzling.
For Frosting:
Using an electric mixer, beat the softened butter until it is creamy and pale. Gradually add the powdered sugar until thick and creamy. Add the egg nog one tablespoon at a time until the texture seems right. Add the nutmeg and salt and beat for another minute or so.
To Assemble:
Once the cupcakes have cooled, scoop a tablespoon-size amount out of each one with a small spoon or paring knife. Fill with caramel, pipe on frosting and drizzle with remaining caramel. Sprinkle with a dash of nutmeg and enjoy!
Nutrition Information:
Yield:

18
Serving Size:

1 grams
Amount Per Serving:
Unsaturated Fat:

0g
Cupcake Recipe adapted from: Annie's Eats
Engagement Pics taken by Nadia Quinn: www.wahhabphotography.com