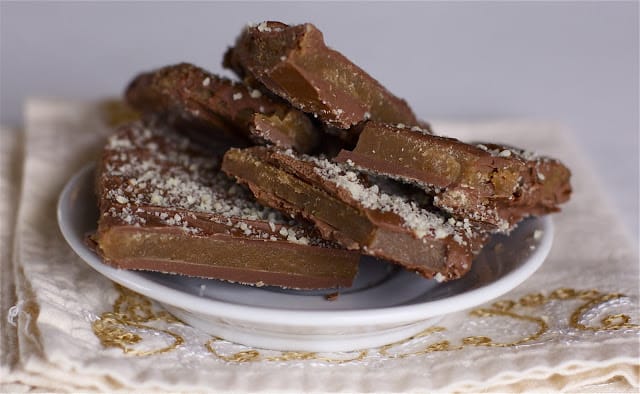 During WWII my Granddad James McCann served as a soldier overseas. He had a huge family with many siblings back home in Wisconsin, and his sweet sisters would gather together and send him care packages filled with homemade candy. I remember hearing stories about how popular this made him with the other soldiers who I'm sure all missed the comfort of something sweet made from the heart.
Since then, making candy around the holidays was a yearly tradition. It got passed down to my Mom's cousin Rosemary, who taught my Mom the tricks to perfect toffee, caramels and turtles. The last few years they have gotten together along with my Aunt Shari to make big batches of candy for everyone to take and give as gifts or serve to guests for holiday get-togethers. Since I was actually home for Thanksgiving this year, I made sure that the candy-making could happen when I was around to document it and learn it. Being a sentimental sap, nothing gets me quite like family traditions. Pair it with buttery, crunchy, melt-in-your-mouth toffee and you may have my favorite thing ever.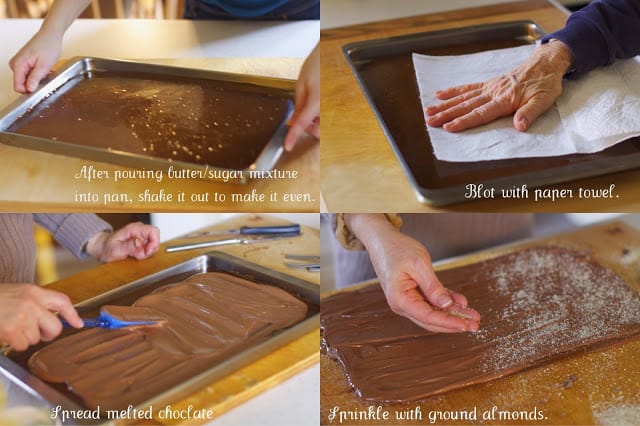 This toffee is simple but amazingly delicious. It consists of heating butter and brown sugar until it gets to just the right temperature, pouring it onto a cookie sheet, spreading chocolate on both sides (after one side hardens of course,) and sprinkling it with ground almonds. Now that I know the basics of this simple recipe, I'm already scheming up alterations. (sea salt?) Just as is though, I must say it's perfect. I can't think of a better treat to whip up around the holidays. And if you do- just remember the little bit of family history that comes along with it!
PS- Wedding Venue- check! Wedding Date-check! AND- I think I already found my dress too. Am I efficient or what?
Ingredients
1 lb butter
2 c dark brown sugar
1 1/2 lb. Melting chocolate., The official recipe says to use "Ambrosia's real dipping chocolate." I think any sort of chocolate candy melts would be fine.
Ground blanched almonds, about 1/2-3/4 cup.
Instructions
In large saucepan, combine butter and brown sugar, mix using a wooden spoon until mixture reaches just over 275 on a candy thermometer. (Must be a hair over 275- if it's under that- the toffee will stick to your teeth.)
Stir occasionally (not too much), watch carefully, use an ACCURATE thermometer, treat the thermometer carefully. When it gets to 275, let it stay there for about a minute, then pour into cookie sheet. (The traditional way is to use a stainless steel one, I think that any rimmed one would be fine, and in the future, I will line the pan with parchment or foil to make it easier.)
Pour sugar mixture into cookie sheet and shake to spread it. After it has cooled slightly blot with a paper towel to pick up any excess oil.
Meanwhile melt the half the chocolate in a glass measuring cup. The method my Grandma had written in the recipe suggested 2 minutes at medium heat, 1 minute at medium and then 30 seconds at medium stirring the chocoalte well in between each time.
Spread chocolate over hardened sugar. Spread it with a spatula and sprinkle with ground almonds. Cool outside (or in the fridge) until chocolate is firm, flip and add same to reverse. Break into pieces. Enjoy!!
Nutrition Information:
Serving Size:

1 grams
Amount Per Serving:
Unsaturated Fat:

0g