Flourless Chocolate Cookies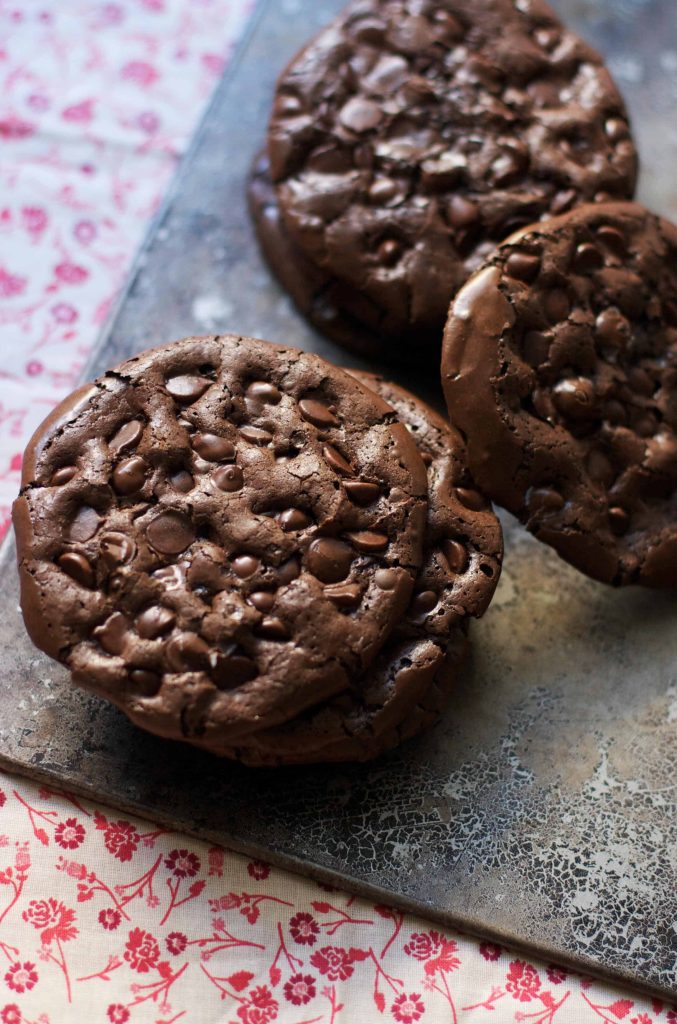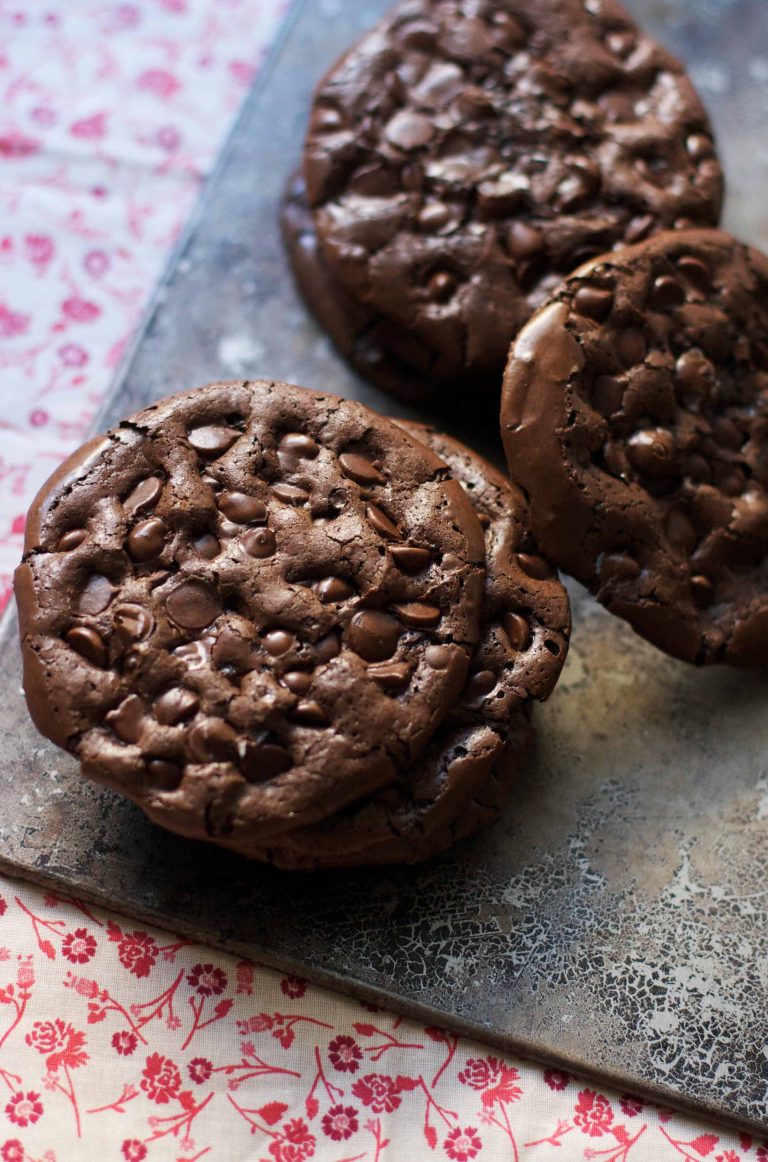 Anything called "flourless chocolate" always hooks me from the get go. I love a rich and dense flourless chocolate cake, or tart or cupcakes and these cookies are no exception. They seem too good to be true. No gluten? No dairy? Other than the chocolate and powdered sugar- they actually seem dare I say "healthy-ish"? I mean without butter/oil/flour it's a step beyond regular cookies right? I think so…especially when you bite into one and discover the texture. Crispy edges, chewy, fudgy centers and loads of chocolate- what is not to love?
An added bonus is that these are gluten free so they are the perfect treat to make for any loved ones who can't handle the wheat. (Though to be honest- they are SO good that they'll possibly not even believe that these don't contain any flour.)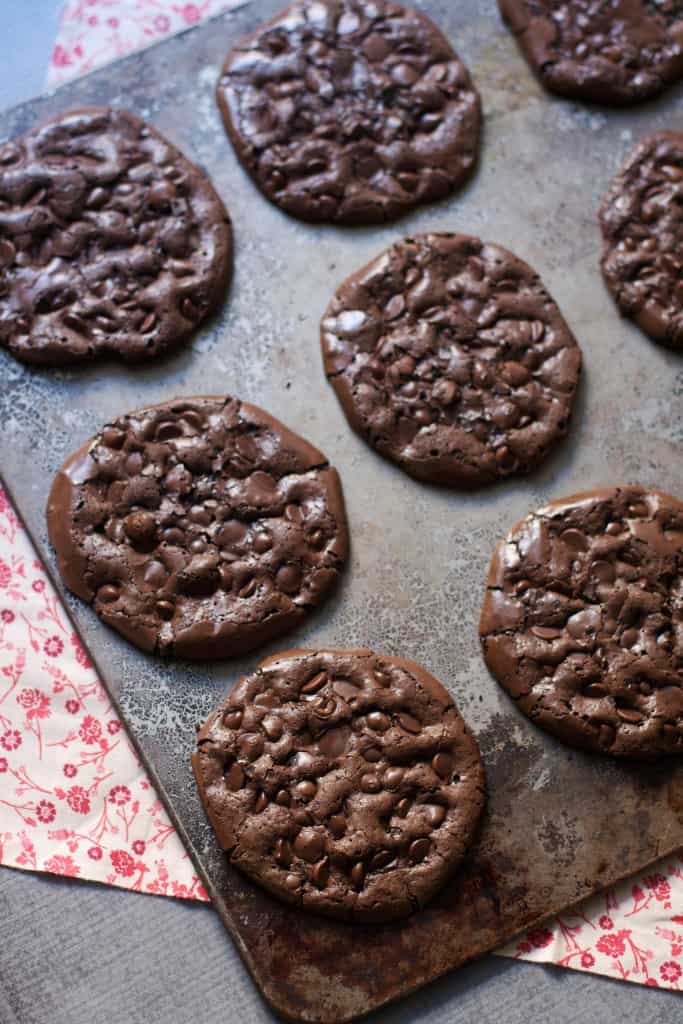 Even though I don't really "celebrate" Valentine's Day, I love any excuse to make chocolatey desserts for the ones I love the most. Any holiday that seems to be generally centered on sweets is a winner in my book right? These cookies are definitely a crowd pleaser and too easy to not go whip up a batch right now!! :)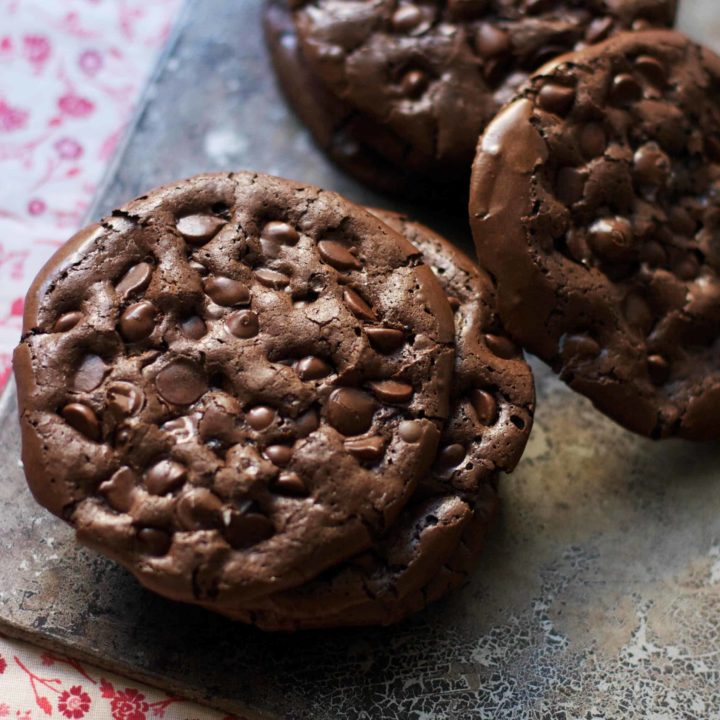 Flourless Chocolate Cookies
Ingredients
2 1/2 cups powdered sugar
1/2 cup unsweetened cocoa powder, I used dark dutch process
1/2 teaspoon kosher salt
3 egg whites, from large eggs
1 teaspoon vanilla extract
2 cups semisweet chocolate chips or roughly chopped chocolate
flaky sea salt, for topping (optional)
Instructions
Preheat oven to 350 degrees F and line cookie sheets with parchment paper or silpats. (Using 2 helps to keep a nice rotation of cooling/baking going.) Set aside.
In a large bowl stir together the powdered sugar, cocoa powder, and salt. Fold in the egg whites until well combined, followed by the vanilla, and chocolate chips. (The batter will look like brownie batter with lots of chocolate chip lumps.)
Using a small/medium cookie scoop- portion dough about 2 inches apart on your cookie sheet. (They spread quite a bit.) Sprinkle with sea salt. (the dough looks a bit funny but they will bake up beautifully)
Bake for 13-15 minutes or until the edges are set, the tops are shiny and slightly cracked. Allow cookies to cool 100% before removing from the trays with a spatula.
Nutrition Information:
Serving Size: 1 grams
Amount Per Serving: Unsaturated Fat: 0g