Focaccia with Rosemary, Parmesan and Sea Salt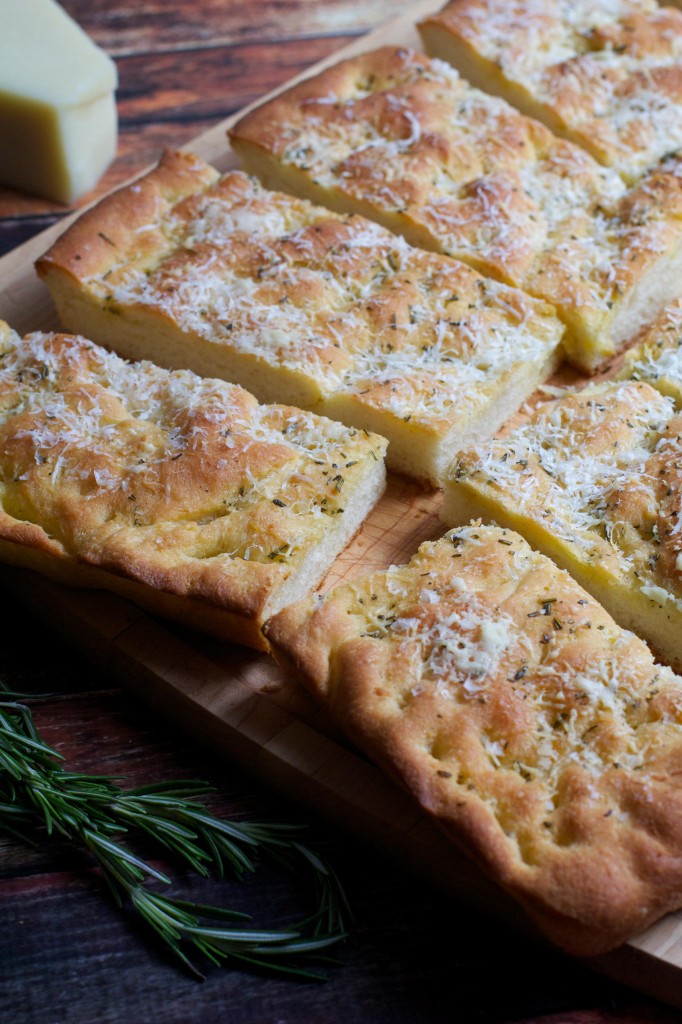 Last week when my sweet mother-in-law was visiting, I expressed my wish to get back into the kitchen while I had an extra set of hands around to hold the baby if need be. The problem though was that after 3 weeks of nothing but baby love, I didn't really have any ideas or inspiration. Luckily, she mentioned having made a version of this recipe a few weeks ago and said it was outstanding and easy so I had to give it a try! (It went perfectly with the dozens of meatballs she was making that night for our dinner and freezer!)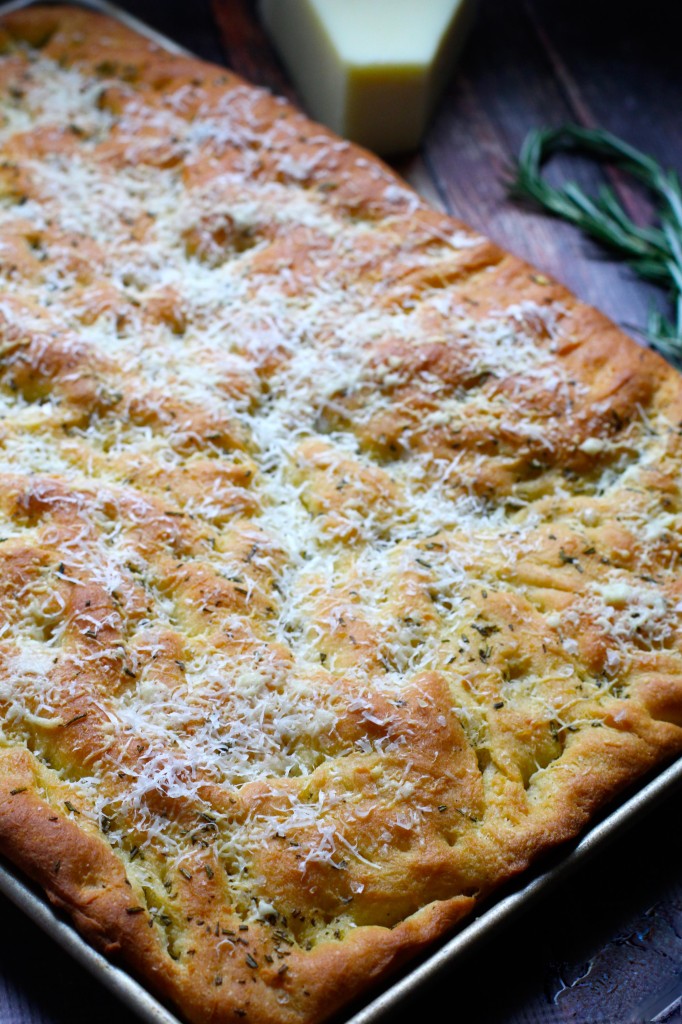 There is a not-so-secret ingredient in this recipe that in my opinion is why it's so darn good. Ready- well, it's a WHOLE cup of olive oil. Yeah…a lot- but man oh man does it make this recipe amazing. The dough is coated with it, giving it a crispiness that is to die for. We kneaded in some chopped rosemary and sprinkled flaky sea salt and parmesan on top but the flavors combos are endless. What we have is an excellent base recipe which could be used with so many other ingredients. I just love having these types of recipes in my arsenal and I think you will absolutely love it!
PS- Wedges can be put into freezer bags and then put right into the toaster oven for a quick snack!
Foccacia with Rosemary, Parmesan and Sea Salt
Ingredients
1 package active dry yeast
1 tablespoon sugar
5 cups all-purpose flour, plus additional for kneading
1 tablespoon kosher salt plus flaky sea salt for sprinkling
1 3/4 cups warm water
1 cup extra-virgin olive oil, divided
2 tablespoons chopped rosemary
1/2 cup finely grated parmesean cheese
Instructions
In the bowl of a mixer fitted with a dough hook, combine the flour, yeast, sugar, 1 tablespoon of kosher salt and mix in low speed until combined. Add 1/2 cup of olive oil and water and mix the dough for 5-6 minutes on medium speed, until is lifts off the bottom of the bowl and is smooth and soft. Sprinkle in more flour if the dough seems too sticky. (I added about 1/4 cup extra)
Transfer the dough to a clean, lightly floured surface, then knead it by hand 1 or 2 times- adding a bit more flour if dough is sticky.
Coat the inside of the mixer bowl lightly with olive oil and return the dough to the bowl, turning the dough so it's coated. Cover it with plastic wrap or a clean kitchen towel, and put it in a warm place until the dough has doubled in size, at least 1 hour.
Coat a jelly roll pan (half sheet pan) with the remaining 1/2 cup olive oil. Turn the dough onto the pan and use your fingers to spread and pat it out to the edges. Flip the whole dough over and continue to press and dough into the pan and out to the edges. Sprinkle the rosemary on top of the dough and press it into the dough with your fingertips as well. (You can really use your fingers here- even making holes in the dough- it will look perfect and rustic after it proofs again.)
Put the dough in the warm place until it has doubled in size again, about another hour. Preheat the oven to 425 degrees F.
Liberally sprinkle the top of the focaccia with the flaky sea salt and lightly drizzle a little oil on top. Bake the dough until the top of the loaf is golden brown, 20 minutes. Remove the focaccia from the oven and sprinkle with parmesan and return it to the oven for 5 more minutes.
Allow bread to cool slightly and cut into wedges or squares.
Nutrition Information:
Yield:

8
Serving Size:

1 grams
Amount Per Serving:
Unsaturated Fat:

0g