Food and Fun at the Lobster Roll Rumble
Last week, the wonderful folks at Foodbuzz sent me to one of the most amazing events I've ever attended. I mean, anything called the Lobster Roll Rumble is bound to be great right? Plus Haagen Daaz was the dessert sponsor, which made me confidant I was in for a major treat.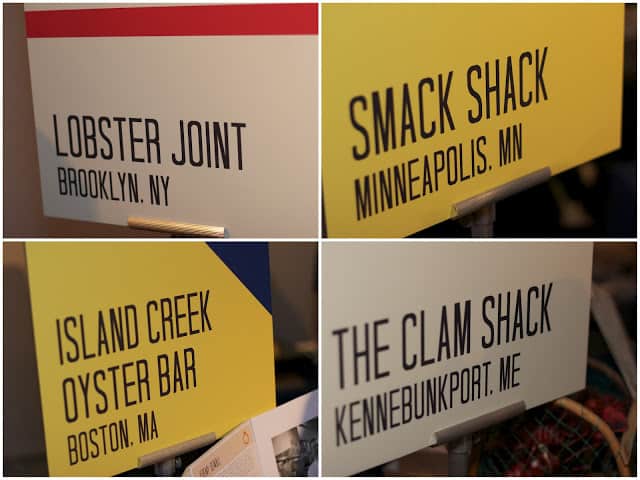 The event was essentially a Lobster Roll Cook-off, which was sponsored by Tasting Table here in NYC, and also a big benefit for the charity Share Our Strength. Guests milled around a spacious and twinkle-lit pavilion, tasting some of the best Lobster Rolls in the country. Twenty Lobster Roll-serving restaurants had stations set up around the perimeter of the room, and we milled around tasting each one, trying to find our favorite. In lieu of paper ballots, we all got fancy black bracelts that allowed us to clock in a vote after we'd tried them all. The results were updated on a huge screen as the votes came in.
Considering that Lobster Rolls are a luxury I don't get to enjoy all that often, I had a hard time picking favorites. They were all SO good. Most belong to one of two camps- the mayo-based salad style roll OR the drawn butter, more simple kind. The photo above is from one of my all-time favorite places in NYC- Luke's Lobster. I've had their reasonably-priced roll a couple times and it is truly amazing. Lightly grilled bun, tender buttery lobster, and a sprinkle of seasoning. Simple, delicious, and one of my top rolls of the night. (PS- THE Luke of Luke's Lobster- is behind the hands holding is famous roll above.)
My other favorite roll is on the opposite side of the spectrum in terms of style and flavor. Mary's Fish Camp in the West Village is famous for their mouth-watering Lobster Roll. So famous in fact, that customers line up outside to get a seat in their tiny restaurant before they open. (I know, I've done it.) I feel a little lame choosing my two favorites from places I've already been, but they really and truly were my my best bites of the night. Plus- the girls from Mary's were quite the hilarious musical sensation which made it that much better.
The energy of all the guests and vendors was another amazing part of the night. The chefs were engaging, festive, and always eager to discuss what made their recipe so special. Throughout the pavillion, Men dressed like lobsters milled around the floor handing out large foam claws and obliging countless requests for photo ops. (See below…can you blame me? How can you be at a Lobster Roll event and NOT get a picture with a Lobster??)
The whole event kinda made me feel like I was a judge on top chef or something. You know those challenges where the Chefs cook for a huge event and all the guests vote on their favorite? There are always clips of people chatting about what they liked and didn't. I think everyone felt that way, as tables of friends laughed and joked with a cocktail in hand, and a notebook in the other, taking notes on each roll they tried.
After everyone had their fix of Lobster, guests lined up at the Haagen-Dazs station to devour some delicious ice cream bars. I was so excited to see they had their Dulce de Leche bars which I'm generally obsessed with!
As part of the Foodbuzz Tastemaker Program, I received a stipend and free Lobster Roll Rumble VIP admission from Häagen-Dazs® ice cream