Foodbuzz 24×24: Confectionary Calander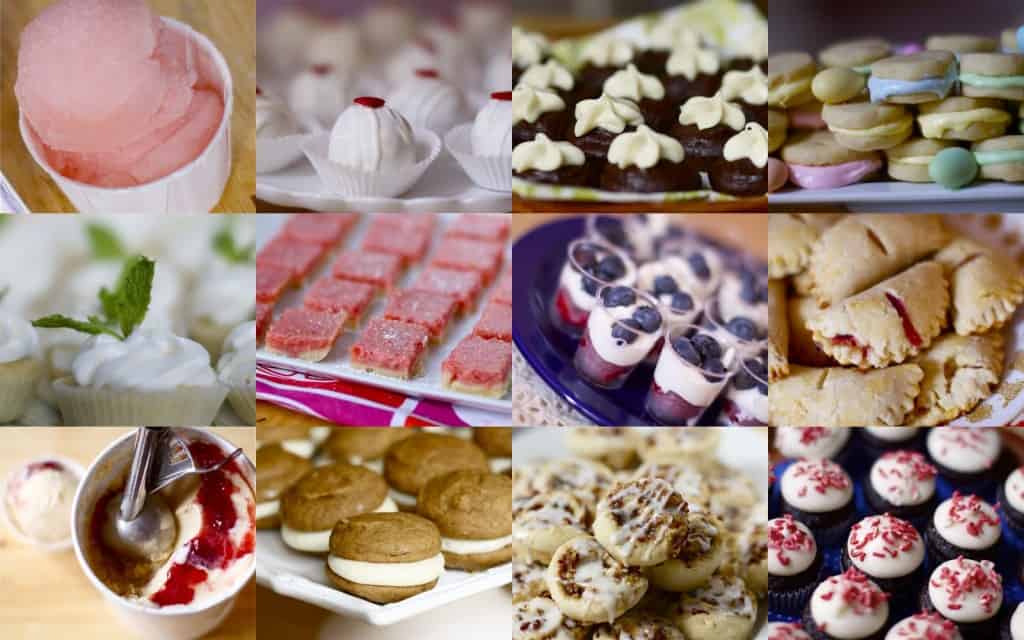 This month I was chosen to participate in Foodbuzz's 24×24 event. What is that you ask? It is an amazing opportunity to get sponsored to host a creative "dinner party" of your choice! 24 food bloggers each host their respective event on the same day and then we share them all with you. Isn't that the coolest? I was SO excited when my idea, "Confectionary Calendar" got chosen this month. I love any chance to get my friends together and have them eat some of my creations. Last night, all my guests left with a big smile and a huge sugar coma. Mission accomplished!
When coming up with my idea, I decided to stick with what I do best- sweets. "Confectionary Calendar" is a Dessert Party featuring 12 desserts, all themed after a different month of the year. I chose recipes based on a holiday, season or event that takes place in each month. After planning my menu I prepared the 12 different treats and had them set out "buffet" style for my friends to enjoy. I tried to make everything as "bite-sized" as possible so people could try as many things as they could without getting too full. Throughout the night everyone tried a couple things at a time but only a few people made it through all twelve! (That's pretty impressive, this stuff was rich.
Over the next week I am going to do individual posts for each treat with the full recipe and source. But for now, I am going to do a rundown of each month's "confection" along with my inspiration! (I have to thank my sis Nadia for the cute cards she decorated!)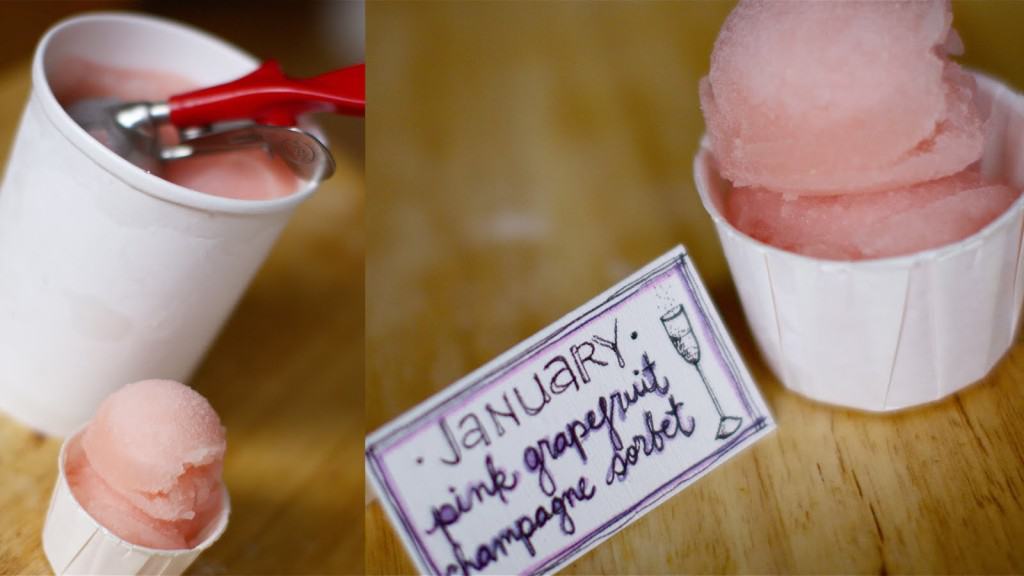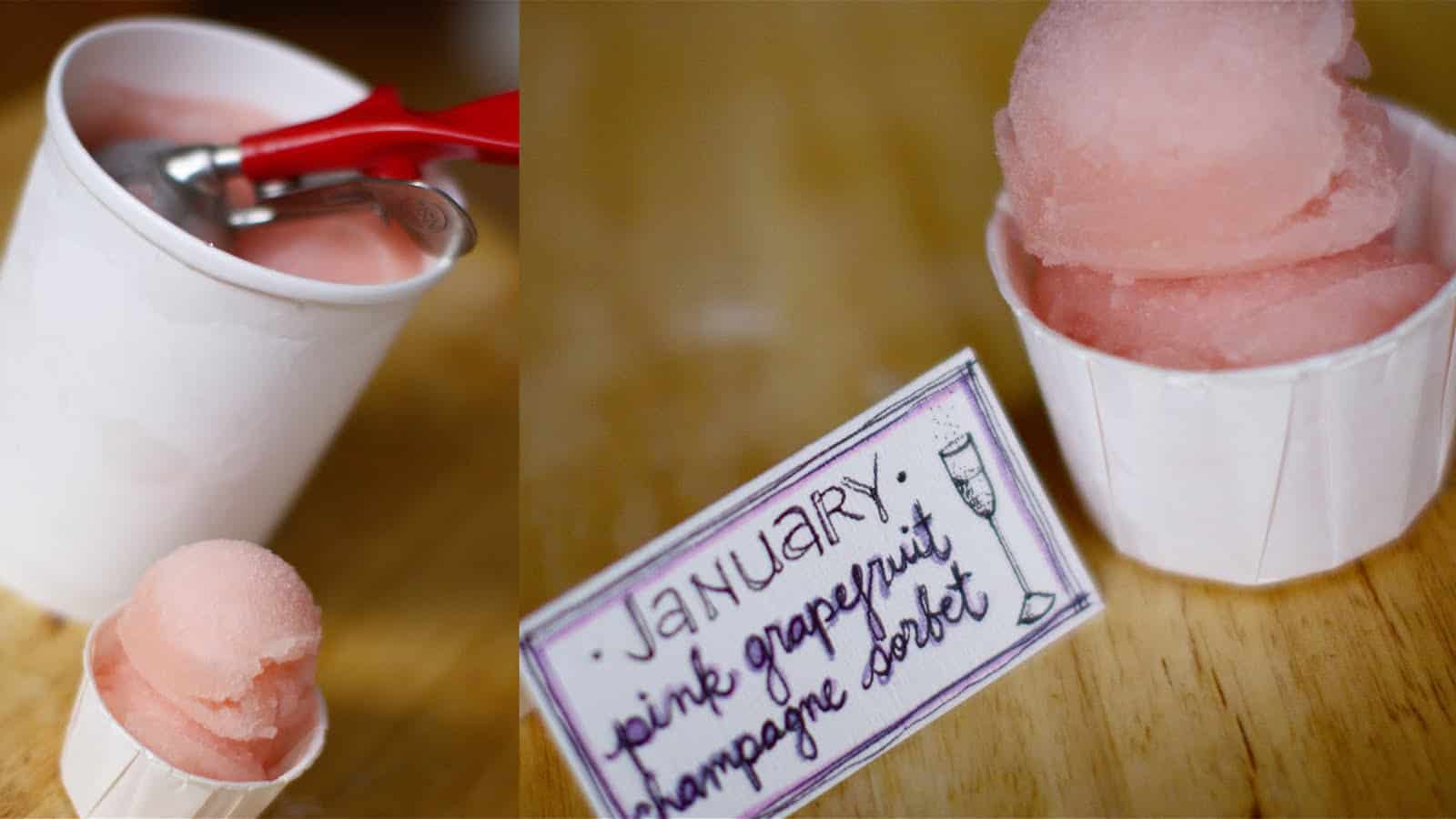 For the month of January I knew that I wanted the emphasis to be on New Years Eve and celebrations. After tossing a few champagne-themed treats around, I chose to start light with a tangy Pink Grapefruit Champagne Sorbet. If was definitely the lightest treat on the spread and everyone loved it. It was both tangy and sweet with lots of champagne flavor. This will definitely be an Ice-Cream-Maker staple.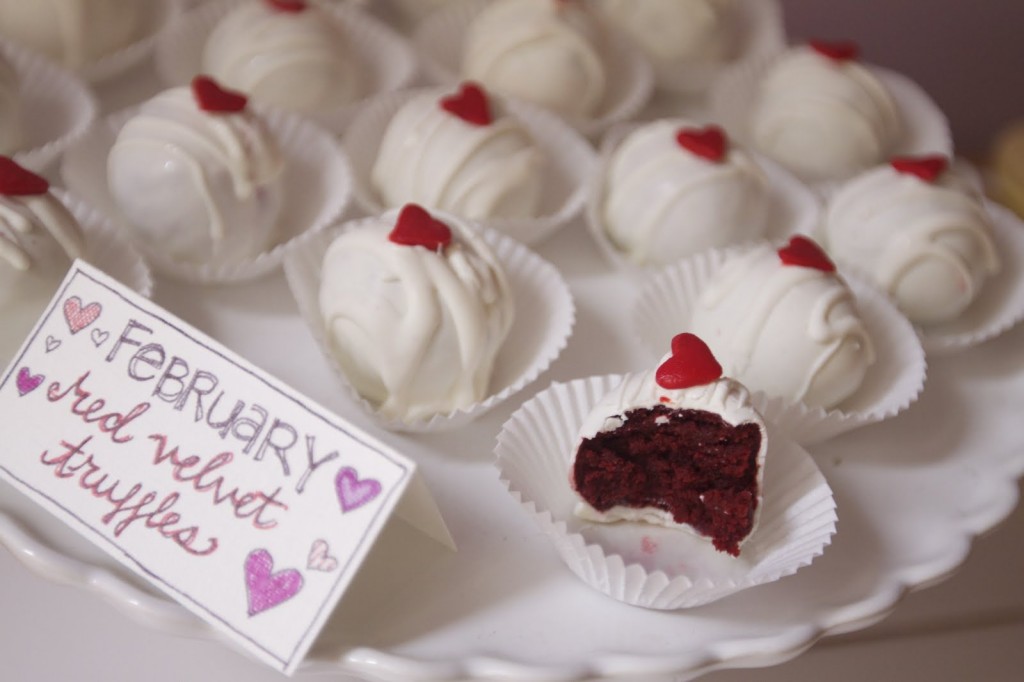 For February it was Valentines all the way. I wanted to make something that just oozed love. The winner was Red Velvet Truffles dipped in White Chocolate with a heart on top, (essentially a cake ball.) These were one of my favorites, especially since I think they actually looked like what you could get in a box of V-day chocolates. Though I probably will save this recipe for next February, I can't wait to make other flavors now that I know how well they turn out!!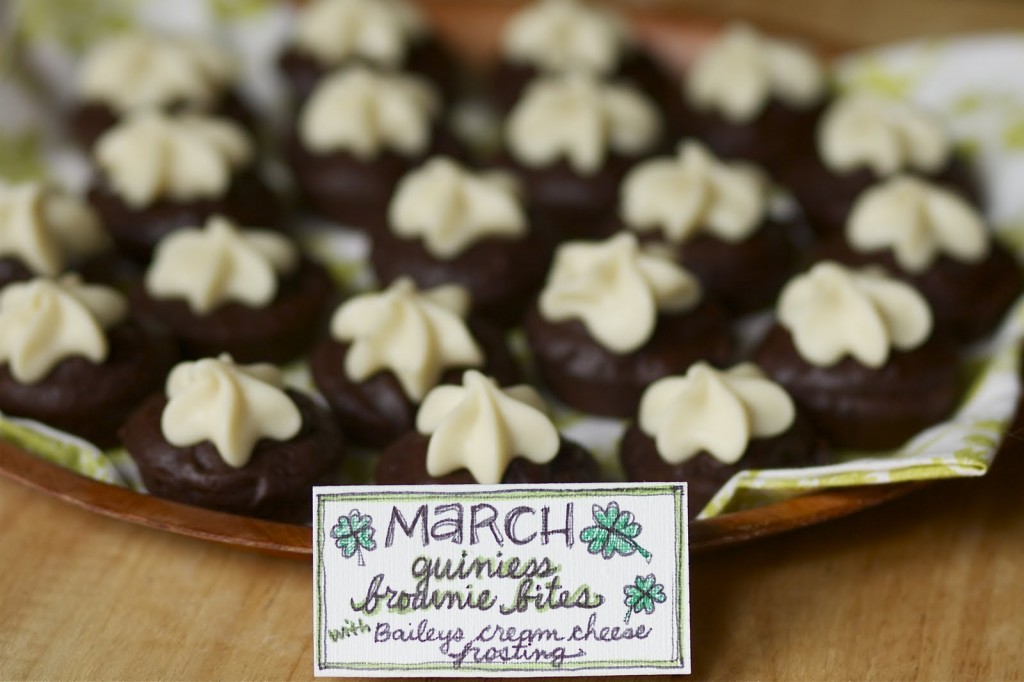 Given that I am part Irish, I knew that I had to represent for March. Now everyone tried to veto my Guinness brownie idea saying it would be too rich and weigh everyone down. But I wouldn't give up, figuring that a brownie bite with just a dollop of frosting would be Ok. And I have to say they were better than OK. In fact the Guinness Brownie Bites with Baileys Cream Cheese Frosting were Andy's favorite of the night! Even though these are perfect for tapping into your Irish roots on St. Patty's day- I'd make these anytime of the year!
a href="https://www.thebakerchick.com/wp-content/uploads/2011/06/IMG_0268.jpg">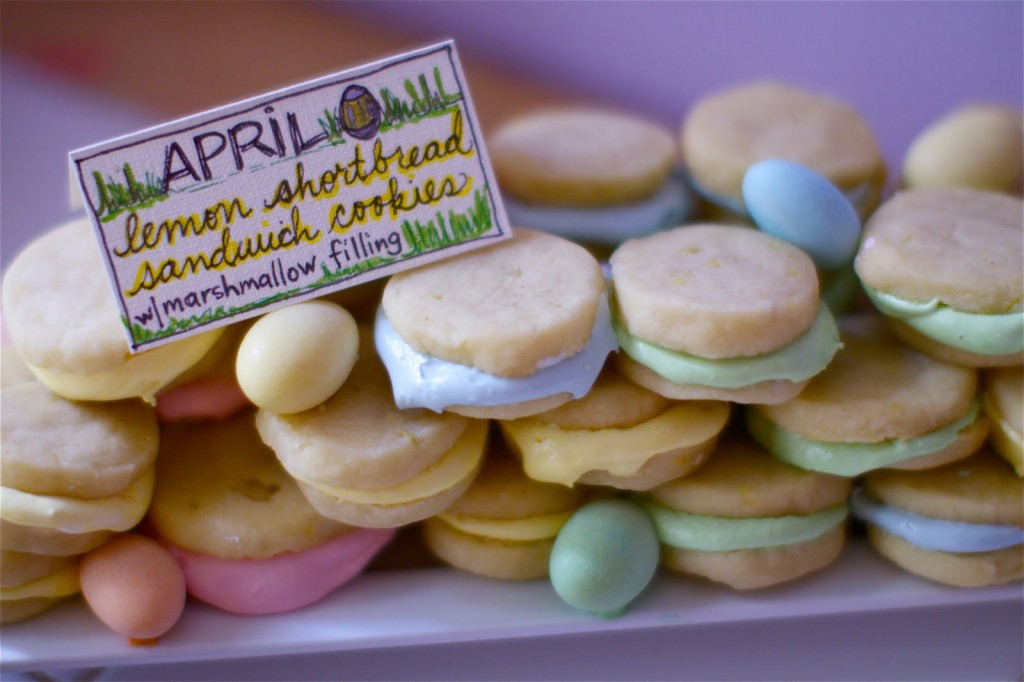 The month of April was tricky for me. The images that came to mind were Easter and Spring, but neither of those immediately lent me an idea. A friend suggested the pastel color palatte, and I think that's what finally helped me come up with these! I wanted something with marshmallow and pastel (I must have had peeps on the brain,) and these pretty things were born. Lemon Shortbread Sandwich Cookies with Marshmallow Filling. (I somehow found those "Eggs" which were actually Jordan almonds! I thought they went perfectly with the cookies!)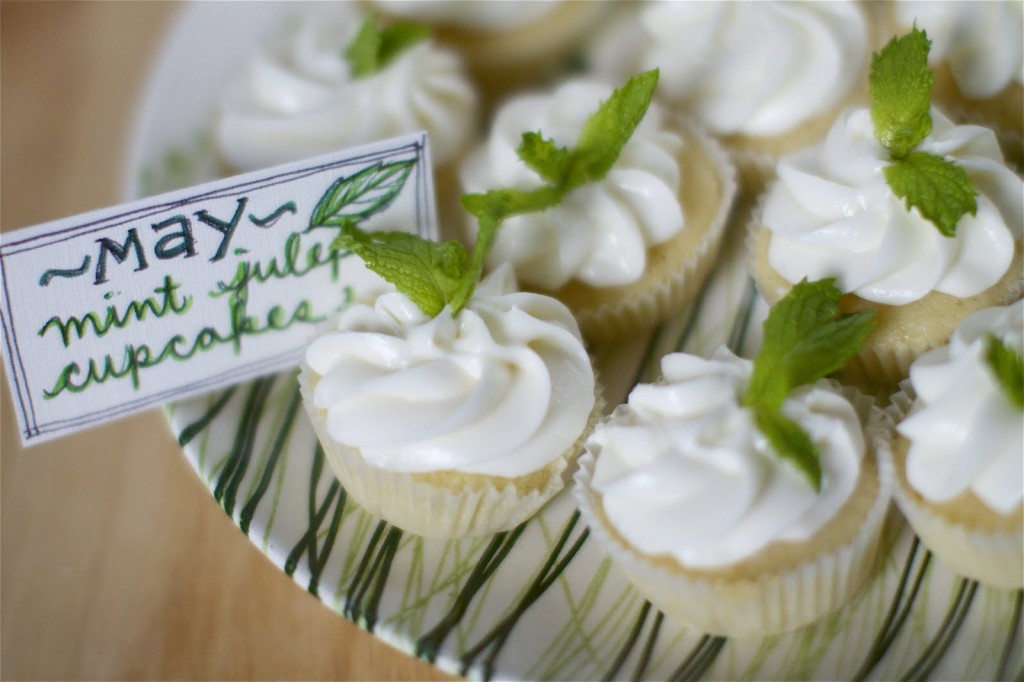 This past May I thought of baking a treat in honor of Derby Day a little too late. In fact I think that I thought of it on Derby Day, making a mental note to do better next year. So when it came to thinking up a treat for May I jumped at my chance! The Mint Julep is the cocktail of the Kentucky Derby (held the first Saturday in May,) so I of course had to make Mint Julep Cupcakes. These were super boozy and super delicious. A couple of people claimed each one was essentially a shot of Bourbon…..which was fine by me….and everyone.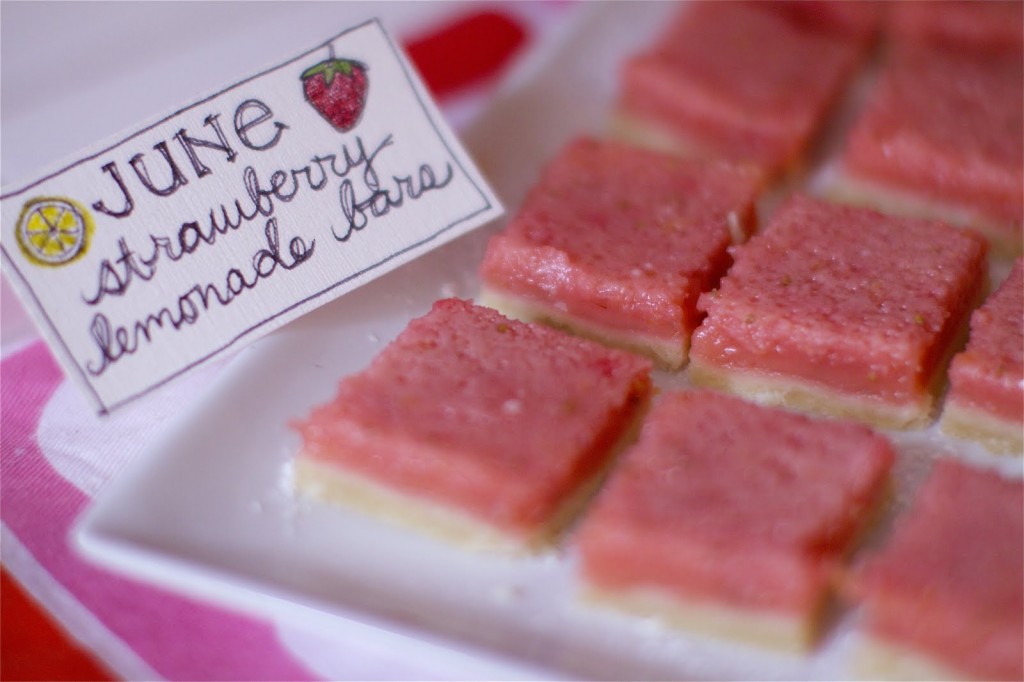 June was an easy choice. Mostly because I've already been wanting to make these Strawberry Lemonade Bars. And also maybe because it actually is June so thinking of what I'd feel like on a given June day was way easier. And what do I feel like on any given June day? Lemonade. Especially Strawberry Lemonade. which is exactly what these bars tasted like. These were definitely my favorite, most likely because I love anything lemony and tart. Mmmmm.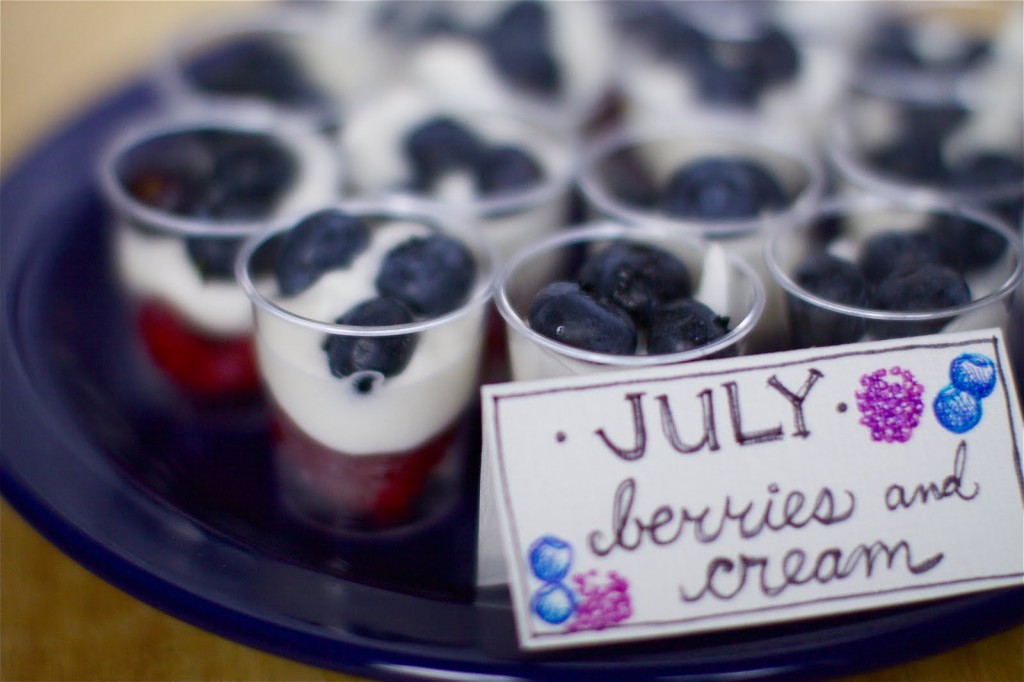 I needed to take a break for July. I knew that if I didn't have one month be something easy and mostly effortless I'd have a baking-induced-nervous-breakdown. For this reason, I decided to go super simple for July. Berries and Cream. Summery, fruity, patriotic and mostly effortless. I found cute mini shot glasses and made them into perfect bite sized treats!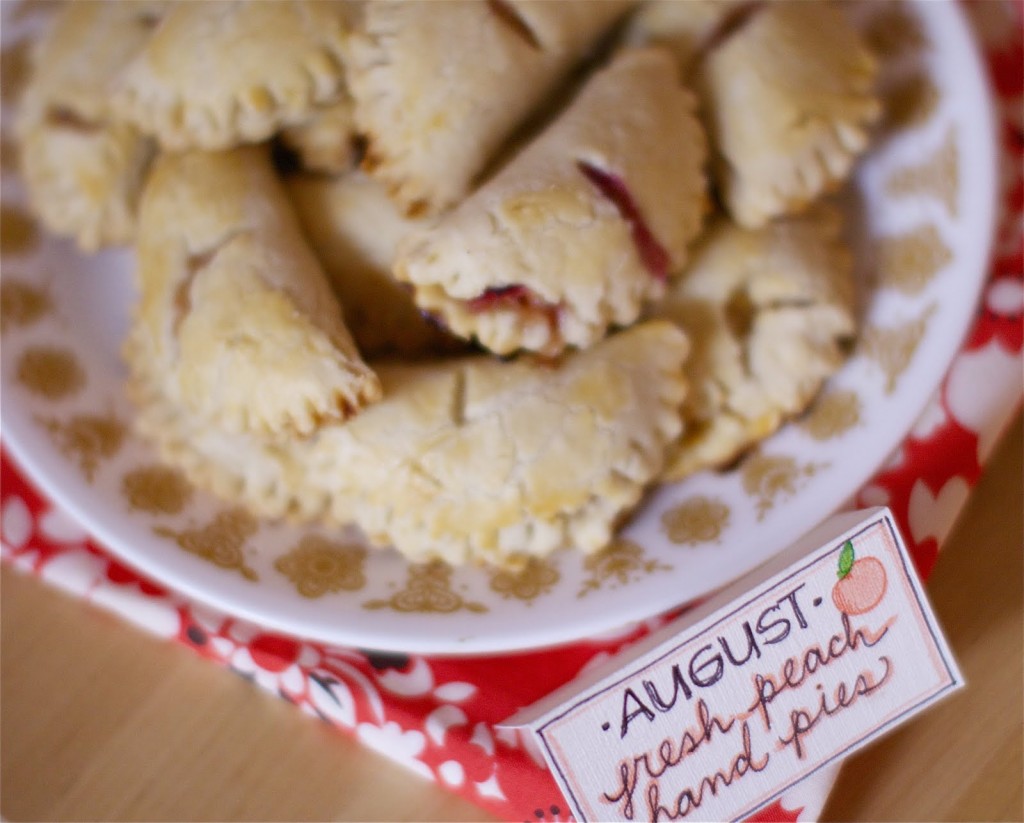 I don't know about you, but when I think of August I think of peaches. Ripe, perfect, juicy peaches at their best. I knew I wanted to center this month's treat around that perfect fruit, but it wasn't until right before the party that I decided on Fresh Peach Hand-pies. I was originally going to do ramekins of cobbler, but figured finger food would be best. These little pie-lets were adorable and delicious, with a flaky crust and a juicy peach filling. This is one to keep around when peaches hit the stands!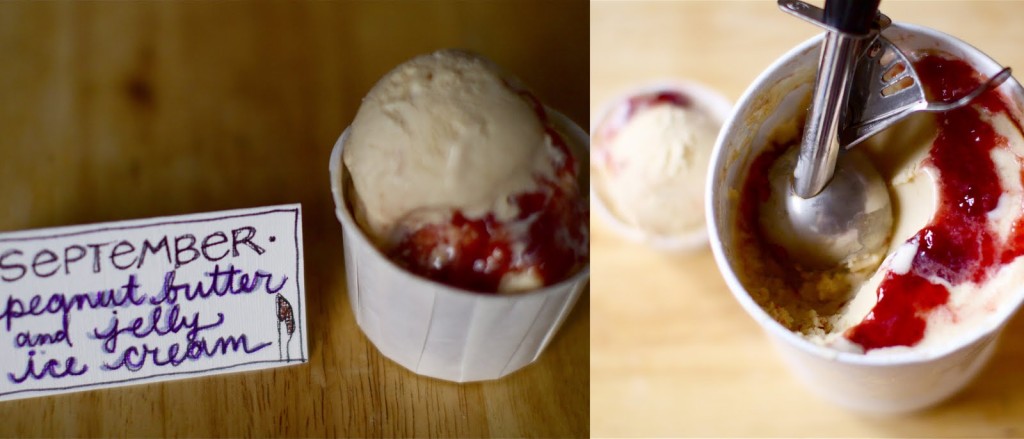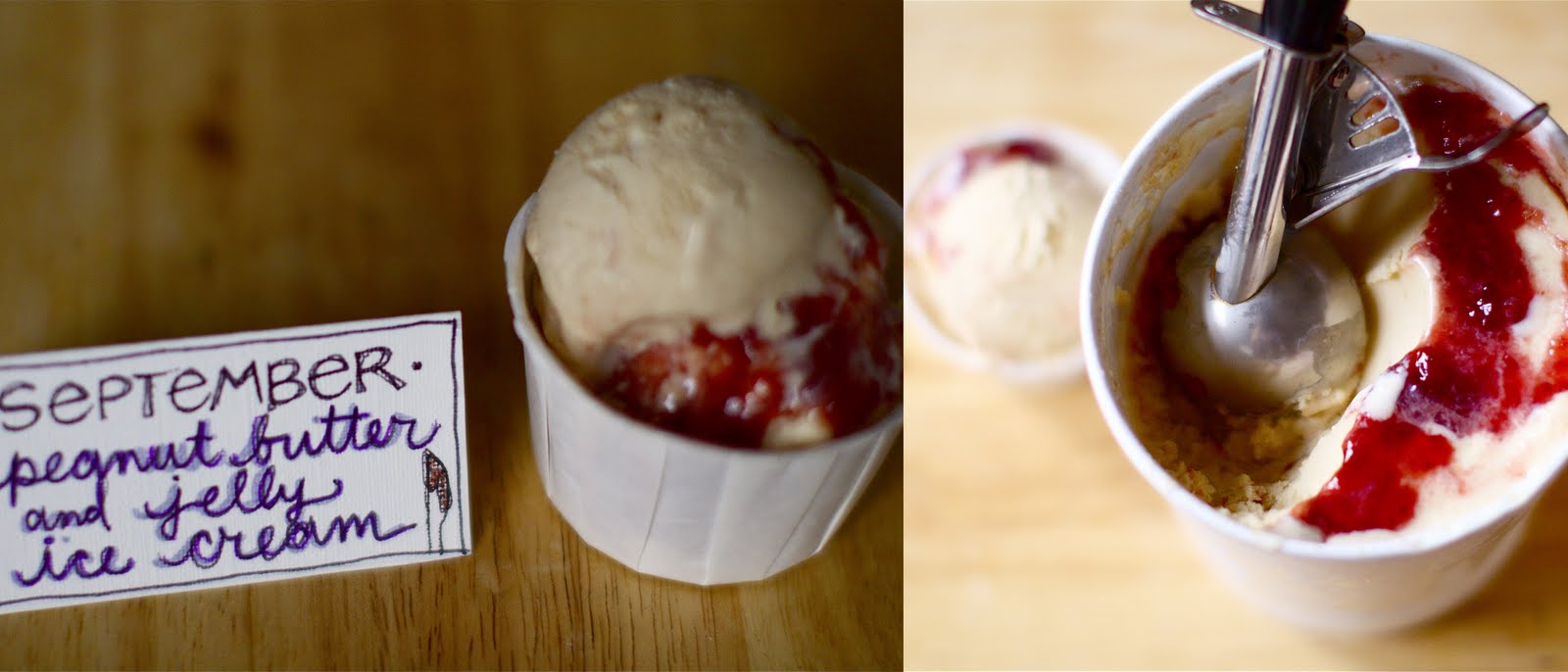 No matter how old I get, September will always remind me of back to school. I think of new school supplies, schedules, and fresh starts. I also think of the bagged lunches with PBJ sandwiches that I ate most days. The PBJ-themed desserts are endless, but I chose to do a Peanut Butter and Jelly Ice Cream. This turned out soooo well. I actually think most people chose this as their favorite. See-we all like reverting back to childhood. :) I sent most of the leftover treats home with my guests, but obviously the rest of this is still in my freezer. I'm ok with that. :)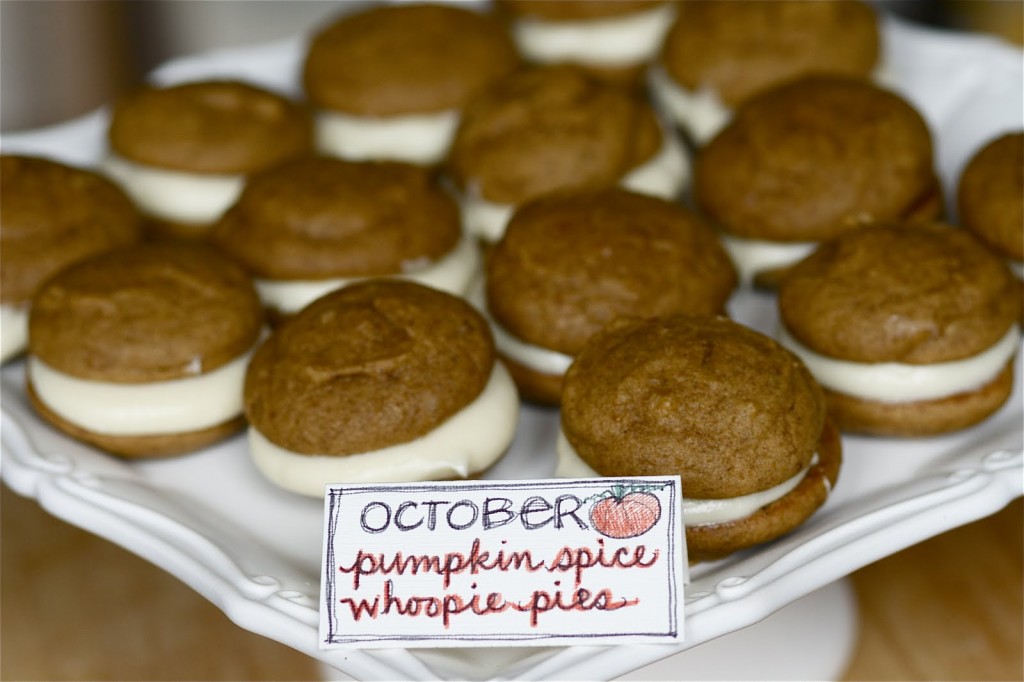 So….turns out it is REALLY hard to find canned pumpkin in the summer. I mean that makes sense, but I honestly thought that stores would still sell it even in off-season. I mean it's not totally unheard of to cook or bake with it in the summer is it? Anyway- I was lucky to find one can in the way back of the shelf at the third store I checked. I'm sure glad, because otherwise it would have been near impossible to make these delicious Pumpkin Spice Whoopie Pies. :) I'll be making these again…..when the pumpkin becomes plentiful!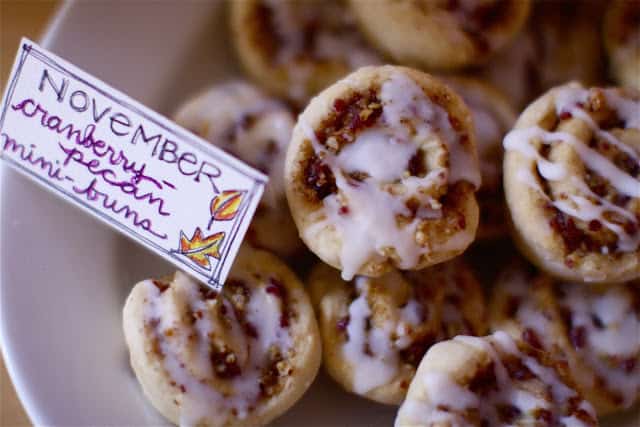 Since I already used Pumpkin for October, I went with Cranberries and Pecans for the month of Thanksgiving (November.) My favorite is Pecan Pie and just recently, I've come to appreciate a quality Cranberry sauce along with the Turkey. These Cranberry-Pecan Mini Buns are actually an excellent breakfast (which I'm glad about since I made too many and have tons leftover.)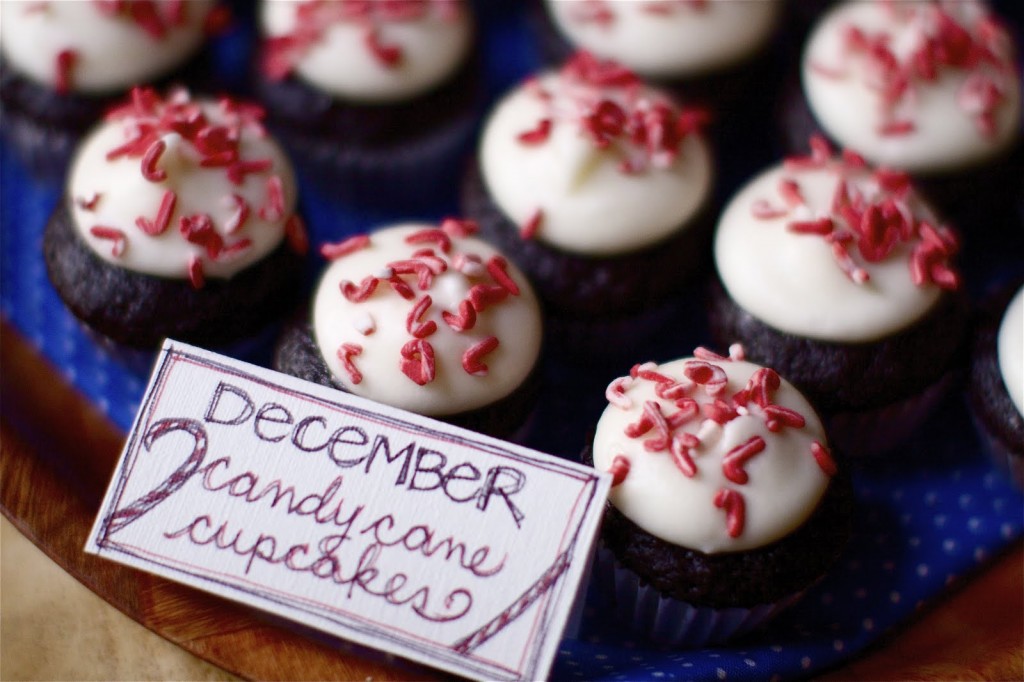 And finally comes December. One of my favorite months to eat all the delicious holiday treats! The choices for this month are obviously endless. I could have made almost anything and I'm sure that we eat it around the Holidays. I decided, however, to end the "year" with a mini Candy Cane Cupcake. Chocolate Cake with a Peppermint Frosting. (Aren't those sprinkles the cutest?) I love these because they kinda taste like an after dinner mint and somehow feel totally guilt-free considering how little they are.
Anyway- that's my party! Everyone had a blast and once I had a second to catch my breath, I did too. There were quite a few times I kinda wished there were only 6 or 7 months in a year….12 desserts was a LOT to make…but it was worth it and now I know how much I can bake in one day! :) I am so thankful to Foodbuzz for choosing to sponsor my party and for my friends and family who lent a hand yesterday. I couldn't have done it alone!