Freezer-ready Breakfast Burritos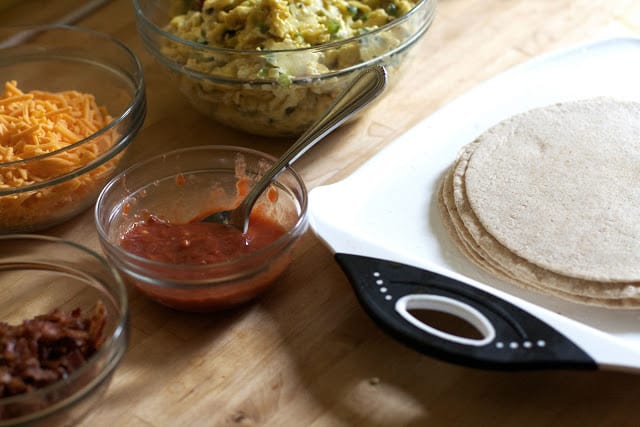 As I mentioned last week, two of my goals for the new year are to cook more (vs. mostly baking,) and to stop comparing myself to others. One of my biggest faults in this department is trying to figure out exactly what I should and shouldn't post on The Baker Chick. You may say, "It's your blog- post whatever you want!" and you're probably right, but I have always wanted this space to have a through-line, so my readers know what they're going to get when they stop by. Does that mean I can still post about my personal life? What about savory food and dinners? Will you guys be as interested in a meal as you are in a fabulous dessert? Well- I figure I can spend my time worrying and wondering, or just go for it and see what happens. This recipe has truly made my life so much easier and I think it's worth sharing! And- an hour in the kitchen has created home-cooked breakfast for 2 weeks which is a big deal for this non-breakfast-eating gal..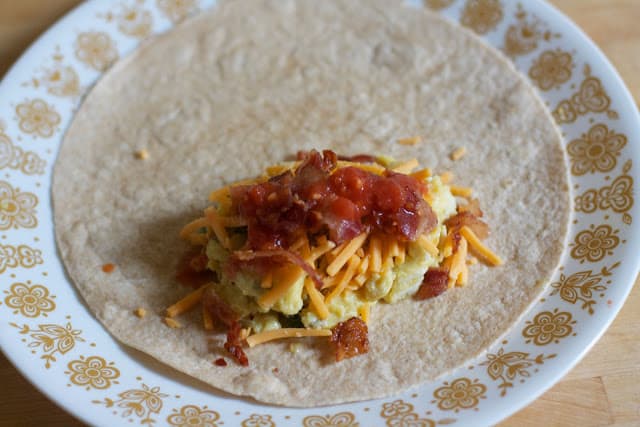 The idea here is to make a huge batch of breakfast burritos that can easily be frozen for a quick hearty breakfast that requires little effort to heat and eat. Obviously these can be adapted to your taste based on what you have around. I scrambled my eggs with some sauteed onion and green pepper and topped each burrito with cheddar, crispy bacon and a bit of hot salsa. They are then wrapped tightly in plastic wrap and put into a freezer bag. The batch I made yielded 15 burritos, but you could obviously make even more if you have a large family.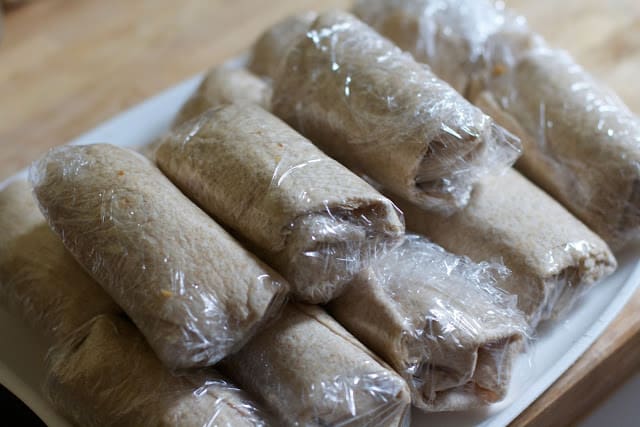 I used whole wheat tortillas which can be a little slimy when microwaved. To remedy this: I highly suggest nuking them for 60 seconds followed by a trip to the toaster oven, regular oven or even a frying pan to crisp up the wrap and add a wonderful texture. Is it too soon to say I'm a breakfast convert?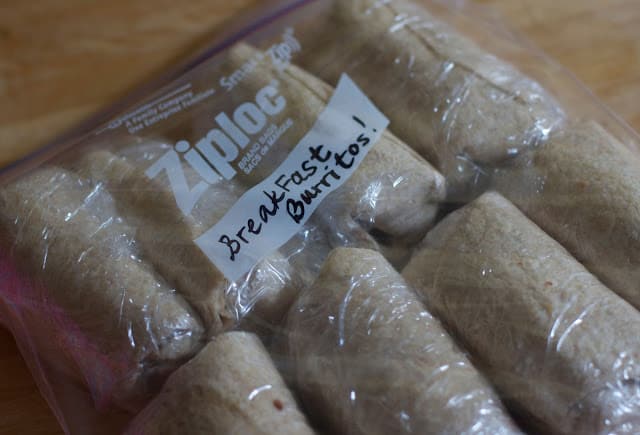 Freezer-ready Breakfast Burritos
Ingredients
15 whole wheat tortillas
16 eggs- beaten with a splash of milk, salt and pepper
1 green pepper chopped
1 medium sized onion chopped
2 cups grated cheddar cheese
1 1/2 cups of cooked, crumbled bacon
hot salsa, optional
Instructions
Sauté the onion in some olive oil until lightly browned.
Add the peppers and cook for another few minutes or until soft.
Add the beaten eggs and cook on medium heat and stir frequently until cooked through.
Assemble the burritos- being careful not to put too much filling in or they won't roll up as easily.
Wrap each one snugly with plastic wrap and place them in freezer bags.
To prepare: remove plastic wrap, and loosely wrap the burrito in a paper towel. Microwave for 60 seconds, and toast to finish in a toaster oven or in a skillet. (You can also just nuke for 2 minutes but I prefer the toasty texture.)
Nutrition Information:
Yield:

15
Serving Size:

1 grams
Amount Per Serving:
Unsaturated Fat:

0g
Idea from: Lovely Little Snippets