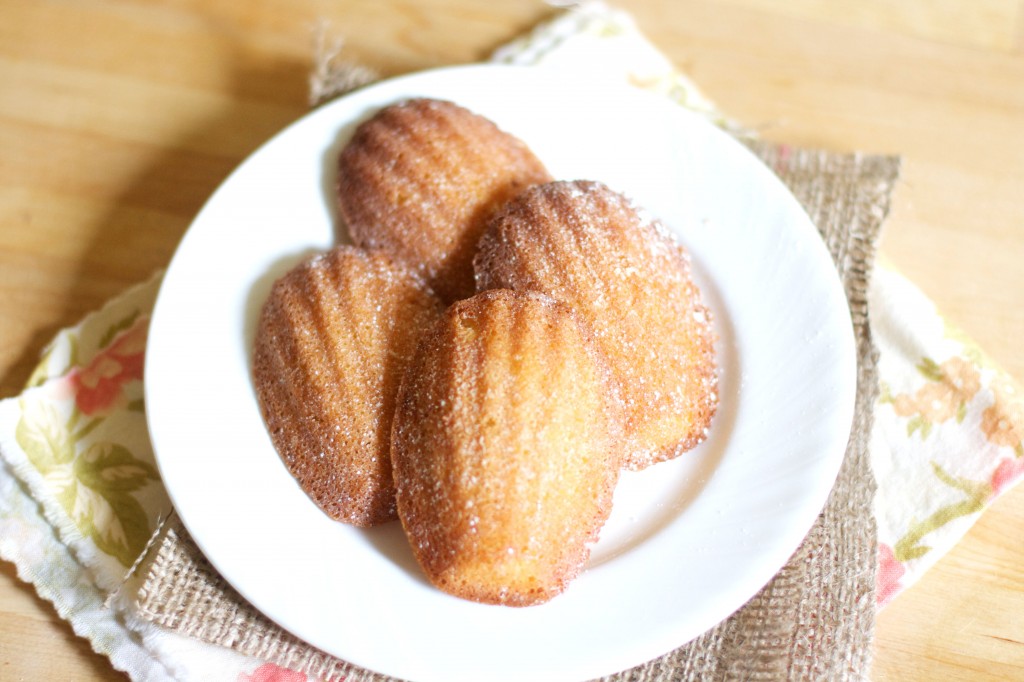 I've had this post ready for days, but I've been spending every spare moment trying to re-format all my old posts that it's taken me a couple days to do much else. Thank you all for the kind words and feedback. I'm aware of a few little things that need fixing, and hopefully it will all be smoothed out soon.
Anyway, onto these little French beauties…With our upcoming trip to Paris (and Venice/Florence/Rome,) coming up in less than 2 months, I've had French desserts on the brain nonstop. I've been doing lots of research on all the delicious French pastries,breads and chocolates that I need to try and where I need to go to get them. I've also been addicted to my "Coffee Break French" podcast as I try to learn just a bit of the language. With Paris on the brain, I must warn you that you may be seeing a handful of French favorites in the coming weeks! (not like you mind.)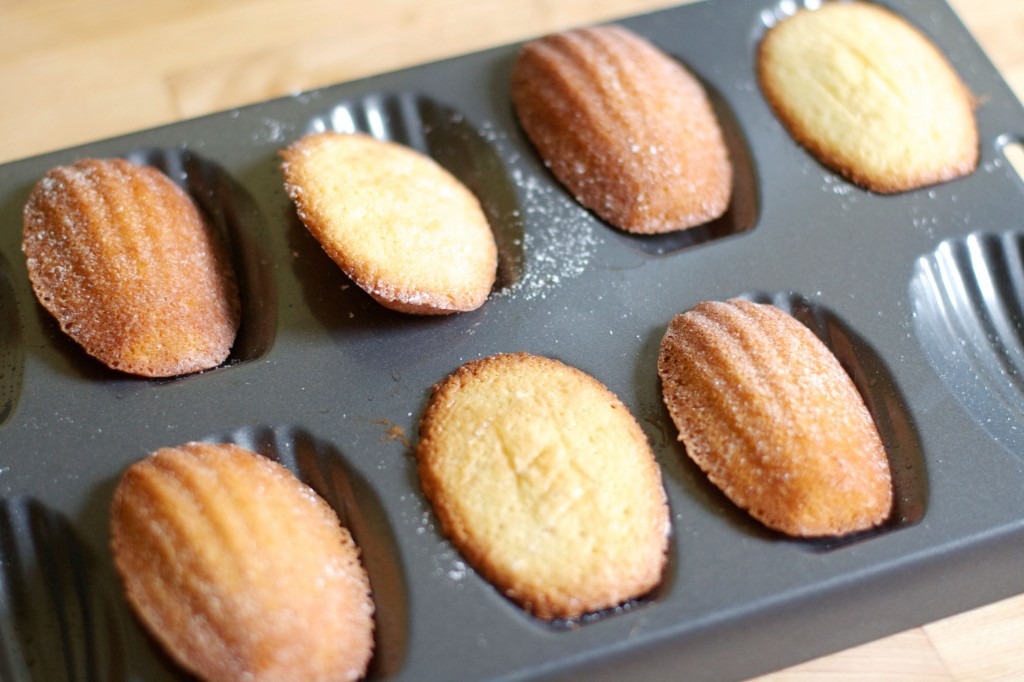 I never really understood the appeal of Maeleines until I tried them. I mean they just looked like little cakes in a fancy mold. What's the difference between them and the same batter poured into a mini muffin tin? Well it turns out a lot. I tried one a few weeks ago from the Laudreé here in NYC and I was smitten. It was the most spongey, fluffy cake with perfectly crisp edges. It was buttery and soft and just what I wanted to dunk into my coffee.
So, I bought a madeleine pan and couldn't wait to whip up a batch. I chose a simple recipe that is just like Parisians apparently like them- (with a smooth top,) other bakeries outside Paris seem to prefer the signature bump in the middle. (I decided to stick with the Paris way since the recipe seemed a bit easier!)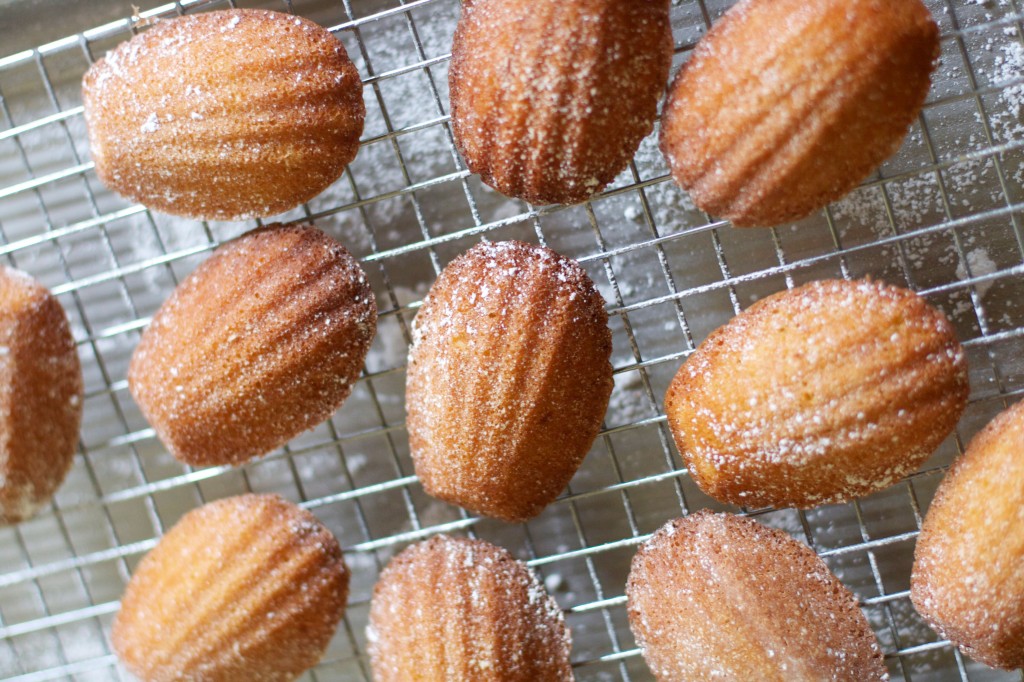 I think invested in the pan is definitely worth it. I will be making these in many variations and flavors for many tea parties and baby showers to come!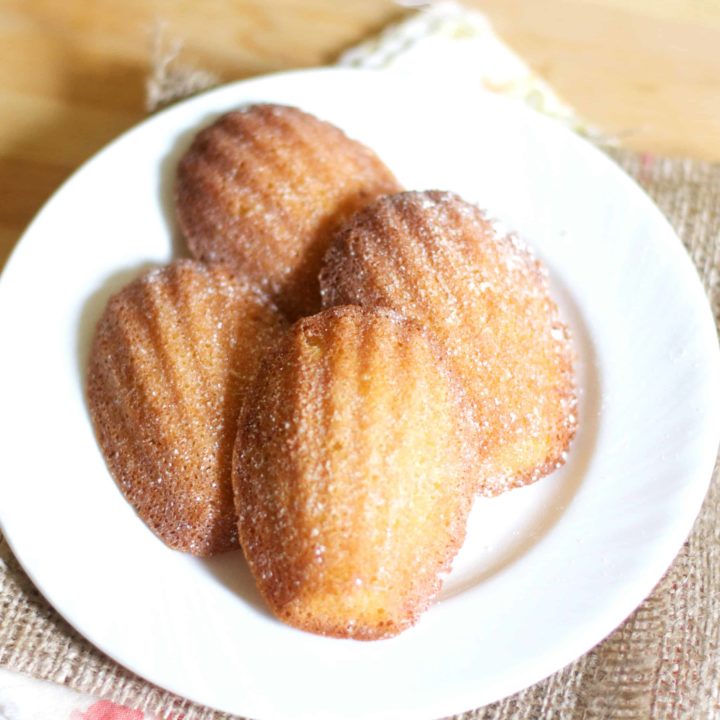 French Madeleines
Ingredients
2 eggs room temperature
3/4 teaspoon vanilla extract
1/8 teaspoon salt
1/4 cup white sugar
1/4 cup all-purpose flour
1/4 cup cake flour
1 tablespoon lemon zest
1/4 cup butter
powdered sugar for sprinkling
Instructions
Preheat oven to 375 degrees F. Lightly grease 12 (3 inch) madeleine molds; set aside.
Melt butter and let cool to room temperature.
In the bowl of a stand mixer with a whisk attachment, beat eggs, vanilla and salt at high speed until light.
With the machine running, gradually add sugar; and continue beating at high speed until mixture is thick, creamy, pale and ribbons when beaters are lifted, for about 5 to 10 minutes.
Sift in flours and gently fold into batter.
Add lemon zest and melted butter. Quickly but gently fold into batter. Spoon batter into molds; it will mound slightly above tops.
Bake 12 to 14 minutes, or until cakes are golden and the tops spring back when gently pressed with your fingertip.
Use the tip of the knife to loosen madeleines from pan; invert onto rack. Immediately sprinkle warm cookies with powdered sugar.
Nutrition Information:
Yield:

12
Serving Size:

1 grams
Amount Per Serving:
Unsaturated Fat:

0g
Recipe adapted from Cook's Illustrated